Venice Architecture Biennale Lithuanian Pavilion 2018, Swamp School, Pippo Ciorra, Exhibition Images, Design
Venice Biennale Lithuanian Pavilion 2018 News
Architecture Exhibition in Italy – The Swamp School, curated by Nomeda and Gediminas Urbonas, commissioned by Pippo Ciorra
28 Apr 2018
Venice Biennale Pavilion of Lithuania 2018
Venice Biennale Lithuanian Pavilion 2018
16th International Architecture Exhibition – La Biennale di Venezia
Learning from The Swamp: Lithuania Presents Its First Individual Pavilion at the 16th International Architecture Exhibition of Biennale Architettura 2018
Vilnius, April 2018 – As part of Freespace, the 16th International Architecture Exhibition of Biennale Architettura 2018, Lithuania presents its first individual pavilion titled The Swamp School, curated by Nomeda and Gediminas Urbonas, commissioned by Pippo Ciorra, presented by the Lithuanian Council for Culture and produced by the Architecture Fund.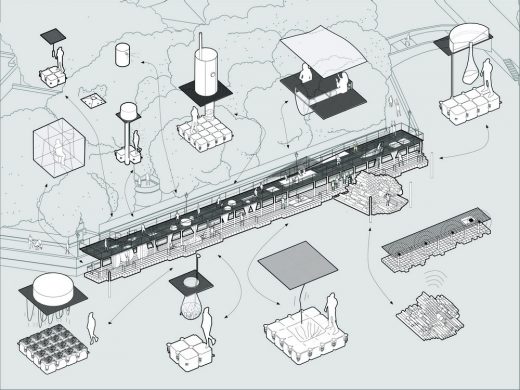 image courtesy of The Swamp School
In a time marked by existential threats of war and climate change, the pavilion will highlight the vital urgency of human cohabitation with other forms of life.
"The swamp is a very good metaphor for the contemporary condition of both architecture and inhabited space. Today architecture is suspended between nature and artefact, ecology and politics, while space is bouncing back and forth between material and immaterial. Just like the swamp, which is at the same time water and land – just like Venice – borderless and in motion, a resource and a danger," – Pippo Ciorra, the commissioner of the Lithuanian pavilion, is quoted in the statement.
Acts of revalorising the Swamp over solid ground and exploring its complex web of interactions are both conceived as pedagogical exercises by the project's initiators with aims to transmit possibilities of speaking for the silenced voices of this planet.
Nomeda and Gediminas Urbonas: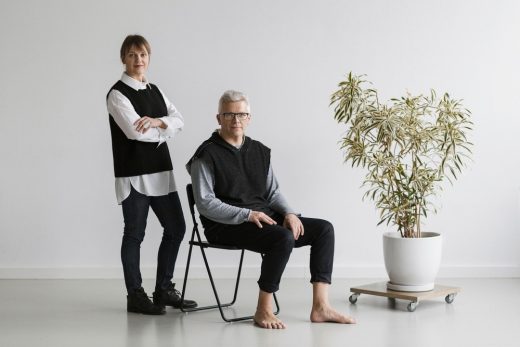 photo : Dovaldė Butėnaitė
Nomeda and Gediminas Urbonas, the curators of the pavilion, noted, "Swamps seem to be the opposite of architecture, given that every construction starts from land reclamation. Today, made evident by global environmental disasters, wetlands are physically pushing back on our attempts to industrialize and control them.
Instead of fighting our watery neighbors, we must embrace them as a place for future co-habitation. Indeed, swamp turns out to be a perfect milieu, the place, to learn, to understand, and to hear other species, forces and ecosystems that have been silenced and downgraded by us. Let's try to envision: how could swamps benefit architecture?"
The pavilion will be inaugurated with the launch of live broadcast on the Swamp Radio, programmed by the intelligence of the mud bacteria. The sonic engagement with the environment in Venice will explore the range of invisible architecture from transmission to radio, and to "antenna as a central element of spatial self- reproduction".
Throughout the Biennale Architettura 2018, The Swamp School will be performed as a series of public interfaces that will function as a changing and open-ended structure to support experiments in design, pedagogy, and artistic intelligence. A globally recognized group of tutors and interlocutors from MIT and partner network including artists, architects, designers, urbanists, and philosophers will shape installations and workshops in both – the pavilion and Venice, turning the whole city into the learning environment.
In exploring the imaginary of the Swamp – a living organism in which borders defined by social, political and cultural factors are porous and permeable – the school will host a collaborative investigation of the open architectural form.
Pippo Ciorra: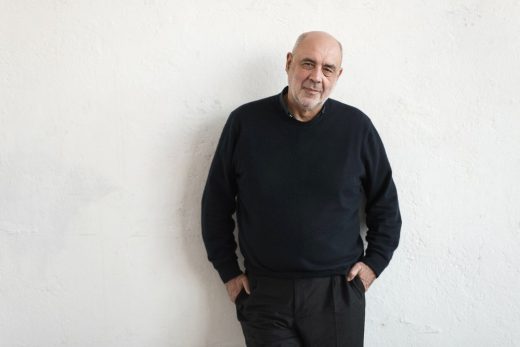 photo : Dovaldė Butėnaitė
Inaugurating the concept of marshes as a tool to conceive 'immaterial materiality', The Swamp School will consist of three chapters. The Swamp Radio will be followed by Futurity Island which will concentrate on symbio-poetics and emphasize the new forms of living as well as associated technologies necessary as we move into a future shaped by drastic environmental change.
The last series of events, will engage notion of Commonism, focusing on the speculative forms of citizenship and cohabitation between people, and also between humans and non-human residents. Echoing the spatially dislocated sensations of pirate radio or the international abyss just outside of passport control, The Swamp School will take advantage of participants' jet lagged sensorium to impress a pedagogical experience of fermentation, deep time, olfaction, fecundity, filtration, and, among other concepts, the future.
Venice Biennale Lithuania Pavilion 2018 – Background
The Swamp School, curated by Nomeda & Gediminas Urbonas
Commissioned by Pippo Ciorra and produced by the Architecture Fund
Presented by: The Lithuanian Council for Culture
Venue: Via Giuseppe Garibaldi, 1814, 30122 Venezia VE, Italy
Website: www.swamp.lt
A partial list of tutors and contributors to The Swamp School:
Sam Auinger, sound artist (Austria); Sigurjôn Baldur Hafsteinsson, anthropologist (Iceland); Lars Bang Larsen, curator (Denmark); Lorena Bello, architect (USA/Spain); Nikola Bojić, architect (Croatia); Kyle Branchesi, architect (USA); Chelsea Bruck, urbanist (USA); Santiago Cirugeda (Recetas Urbanas), architect (Spain); Beatriz Colomina, architecture theorist (USA); Nico Dockx, artist (Belgium); Jennifer Gabrys, landscape architect (UK/USA); Erin Genia, artist (Sisseton-Wahpeton Oyate); Pascal Gielen, sociologist (Belgium); Tinna Grétarsdóttir, anthropologist (Iceland); Tomas Grunskis, architect (Lithuania); Monica Hutton, architect (Canada); Nicolás Kisic Aguirre, architect (Peru); Eric Kluitenberg, media theorist (The Netherlands); Jonas Kubilius, neuro-scientist (Lithuania); Lina Lapelytė, sound artist (Lithuania); Nicole L'Huillier, architect (Chile); Brandon LaBelle, sound artist (Germany); Hannes Lárusson, artist (Iceland); Thuy Le, architect (USA); Francisco López, sound artist (Spain); Sara Marini, architect (Italy); Chus Martinez, curator (Switzerland); Antonio Moya-Latorre, urbanist (Spain); Toni Negri, philosopher (Italy); Petteri Nisunen & Tommi Grönlund, architect and sound artist (Finland); Kate Orff, landscape architect (USA); Paléo-Energétique, energy designers (France); John Palmesino and Ann-Sofi Rönnskog (Territorial Agency), architects (UK); Dimitris Papadopoulos, sociologist (UK); Thomas Pausz, designer (France/Iceland); Doina Petrescu and Constantin Petcou (AAA), architects (France); Nataša Petrešin-Bachelez, curator (France/Slovenia); Armina Pilav, architect (Bosnia-Herzegovina/The Netherlands); Marjetica Potrč, artist (Germany/Slovenia); Maria Puig de la Bellacasa, STS scientist (UK); François Roche, architect (France/Thailand); Tobias Putrih, artist (USA/Slovenia); Shane Reiner-Roth, Brent Ryan, urbanist (USA); Rasa Smite and Raitis Smits, media artists (Latvia); Kristupas Sabolius, philosopher (Lithuania); Indrani Saha, art historian (USA); Marco Scotini and Andris Brinkmanis, curators (Italy); Laura Serejo Genes, architect (USA); Hildigunnur Sverrisdóttir, architect (Iceland); Rirkrit Tiravanija, artist (Thailand); Indrė Umbrasaitė, architect (Austria/Lithuania); Aline Veillat, researcher (Switzerland); Angela Vettese, art historian (Italy); Yvonne Volkart, curator (Switzerland); Judith Wielander and Matteo Lucchetti, curators (Italy); Mark Wigley, architecture theorist (USA); Jana Winderen, sound artist (Norway); Gary Zhexi Zhang, artist (UK).
Design workshop with architects in Lithuania: Jautra Bernotaitė, Rasa Chmieliauskaitė, Aidas Čergelis, Aušra Černiauskienė, Justinas Dūdėnas, Jurga Katakinaitė-Jakubauskienė, Milda Kulvičiūtė, Donatas Linkus, Andrius Ropolas, Antanas Šarkauskas & Gabrielė Šarkauskienė, Indrė Umbrasaitė, Kęstas Vaikšnoras, Paulius Vaitiekūnas, Reda Valentinavičienė.
About Nomeda and Gediminas Urbonas
The project's curators, Nomeda and Gediminas Urbonas, are artists, educators, and co-founders of the Urbonas Studio, an interdisciplinary research practice that facilitates exchange amongst diverse nodes of knowledge production and artistic practice in pursuit of projects that transform civic spaces and collective imaginaries. The Urbonas' work has been exhibited at the São Paulo, Berlin, Moscow, Lyon, Gwangju Biennales; Folkestone Triennale; the Manifesta and Documenta exhibitions; in solo shows at the Lithuanian Pavilion in the 52nd International Art Exhibition of La Biennale di Venezia (2007) and the MACBA in Barcelona (2008) among others.
Gediminas co-edited the volume Public Space? Lost and Found (MIT Press 2017), an examination of the complex inter-relations between the creation and uses of public space and the roles that public art plays therein. Urbonas are currently working on Zooetics – a research project that explores the potential to connect with the noethics and poetics of non-human life in the context of the planetary ecological imbalance. Gediminas is Associate Professor at the MIT Program in Art, Culture and Technology in the School of Architecture and Planning. Nomeda is a MIT research affiliate and PhD researcher at the NTNU, Norway.
About Pippo Ciorra
The project's commissioner, Pippo Ciorra, is an architect, critic and professor, member of the editorial board of Casabella (1996-2012), and author of many essays and publications. In 2011 he published an overview of the conditions of architecture in Italy, Senza architettura. Le ragioni per una crisi (Laterza). He has published monographic studies on Ludovico Quaroni (Electa, 1989), Peter Eisenman (Electa, 1993), and on museums, cities, photography and contemporary Italian architecture. Ciorra teaches design and theory at SAAD (University of Camerino) and is the director of the international PhD program Villard d'Honnecourt (IUAV).
He has curated and designed exhibitions in Italy and abroad. Since 2009, Ciorra has been Senior Curator of MAXXI Architettura in Rome. His major exhibitions include "Re-cycle," "Energy," and "Food," as well as "Small Utopias," a traveling show on ten Italian architects. He curates the Italian branch of YAP, the MoMA PS1 international program for young architects.
About the Architecture Fund
The project's producer, the Architecture Fund, is a voluntary, non-profit, non-governmental public institution operating in the fields of architecture, education, and culture. The institution functions as an open platform hosting 'bottom-up' initiatives and is funded by the culture support programs of the Republic of Lithuania, commercial sponsors, and international funds.
Since 2004, the Architecture Fund has initiated a long list of projects including Lithuanian representation in the 15th International Architecture Exhibition – La Biennale di Venezia 2016; the Open House Vilnius festival; and Lithuanian representation in The International Architecture Biennale Rotterdam – IABR 2014; for which the Architecture Fund invited more than 100 speakers from all over the world.
The Swamp School Pavilion of Lithuania – Building Information
Title: The Swamp School Pavilion of Lithuania
Event: 16th International Architecture Exhibition of La Biennale di Venezia
Venue: Via Giuseppe Garibaldi, 1814, 30122 Venezia VE, Italy.
Curators: Nomeda and Gediminas Urbonas
Commissioner: Pippo Ciorra
Producer: Sandra Slepikaite, the Architecture Fund
Assistant Curators: Jautra Bernotaite, Andrius Ropolas, Kristupas Sabolius, Indre Umbrasaite, Paulius Vaitiekunas
Project Ambassador: Julija Reklaite
Project Manager: Mindaugas Reklaitis
Production Coordinators: Adelė Dovydavičiūtė, Indrė Ruseckaitė, Alessandro Zorzetto
Editors: Jonathan Crisman, Mariel Villeré
Graphic Design: NODE Berlin/Oslo and Anna Haas
Communication: AUTORIAI and Marta Atzeni
Presented by: The Lithuanian Council for Culture
Partners: MIT School of Architecture and Planning; Royal Academy of Fine Arts Antwerp; Antwerp University; Università Iuav di Venezia; NABA Milan; Academy of Art and Design FHNW Basel; University of Iceland; Vytautas Magnus University Kaunas; a.pass Brussels; Vilnius Gediminas Technical University, Städelschule Architecture Class – Staatliche Hochschule für Bildende Künste Frankfurt, HFBK University of Fine Arts Hamburg, Contour Biennial 9 Mechelen
With the support of: MIT School of Architecture and Planning; MIT Program in Art, Culture and Technology; MIT Center for Art, Science & Technology; The Nordic Culture Fund; Office for Contemporary Art Norway
Location: Venice Biennale, Italy
Venice Architecture
Venice Architecture Designs – chronological list
Venice Architecture Tours by e-architect
Vatican Pavilion at the Venice Architecture Biennale
Architects: Foster + Partners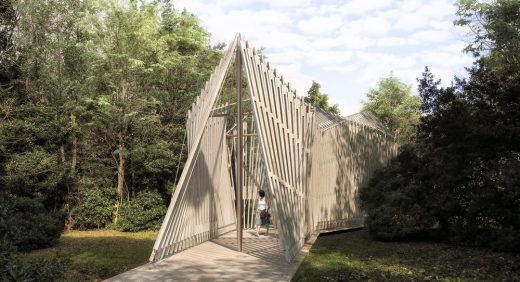 image courtesy of architects
Vatican Pavilion at the Venice Architecture Biennale
Venice Biennale Korean Pavilion 2018 by KECC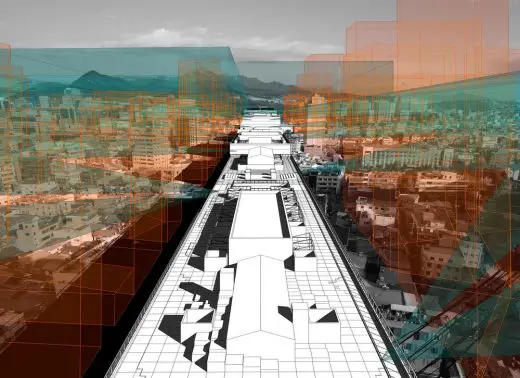 image © N.E.E.D. Architecture, Sungwoo Kim (N.E.E.D. Architecture)
Venice Biennale Korean Pavilion 2018
Venice Biennale Irish Pavilion 2018
Venice Biennale Irish Pavilion 2018
Pavilion of the Holy See at Venice Biennial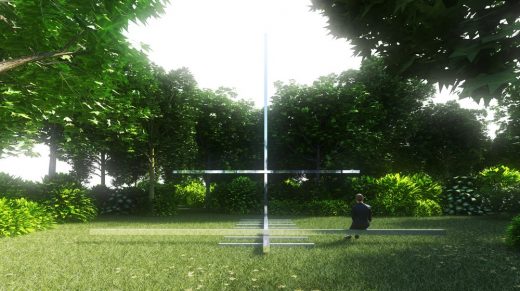 image courtesy of architects
Pavilion of the Holy See at Venice Biennial
British Pavilion at the 16th International Architecture Exhibition La Biennale di Venezia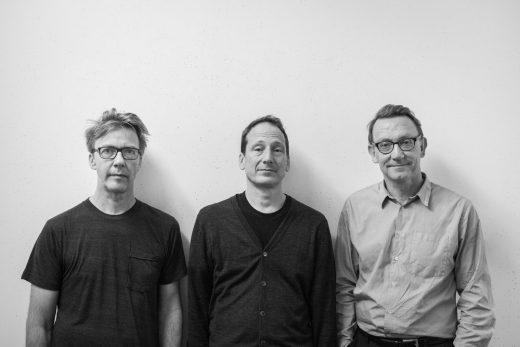 image courtesy of architects
British Pavilion Venice Biennale 2018
Lithuania Architecture News
Architectural Projects in this Baltic State
Lithuania Architecture Designs, chronological list
Kaunas M.K. Čiurlionis Concert Centre Architecture Competition Finalists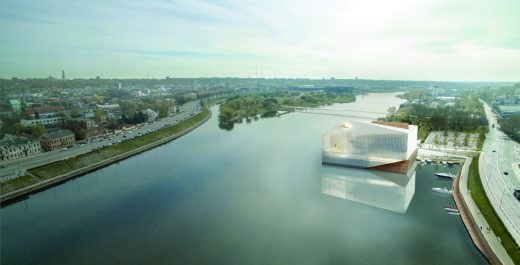 image from architects
Kaunas M.K. Čiurlionis Concert Centre Architecture Contest
Martynas Mažvydas National Library, Vilnius
Architects: 2XJ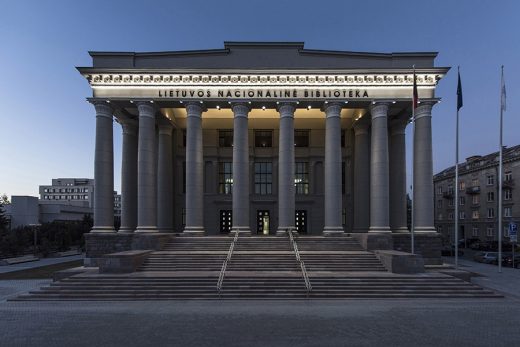 photo : Leonas Garbačauskas
Martynas Mažvydas National Library of Lithuania
Science Island International Design Contest Winners Onlinem Nemuno sala (Nemunas Island), Kaunas
Entry by SimpsonHaugh and Partners: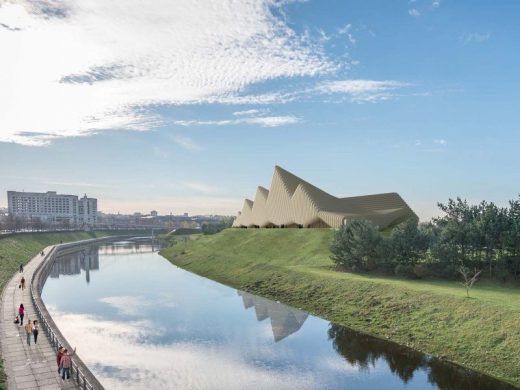 image from architects
Science Island International Design Contest, Kaunas
The Volcano – Subterranean Science Museum, Science Island, Kaunas,
Architects: Bread studio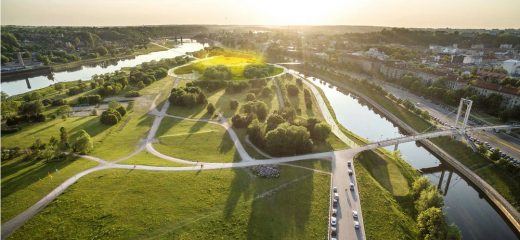 image from architects
Subterranean Science Museum in Kaunas
Venice Architecture Biennale – Review + Images
Website: La Biennale di Venezia
Comments / photos for the Venice Biennale 2018 Lithuanian Pavilion page welcome