Porcelain benchtops merits & demerits, Kitchen material tips, Home interior decor advice, Property cooking space decor
Porcelain Benchtops Merits & Demerits
28 September 2022
Undoubtedly, porcelain benchtops are becoming more and more popular. Porcelain, which was formerly only used for items like ceramic pottery and bathtub coating, is now gaining more recognition as a benchtop and cladding substitute for genuine stone or ordinary quartz.
Although porcelain suitability depends on the exact purpose, we have included the essentials below even though there are several benefits and drawbacks of using it as a benchtop.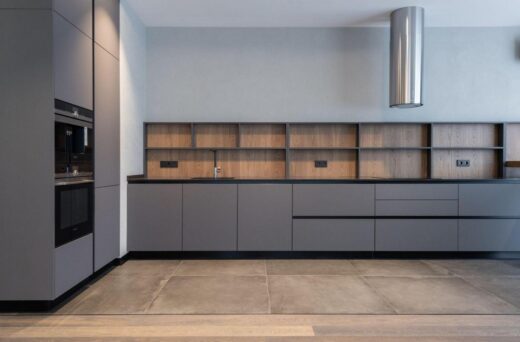 Merits of porcelain benchtops
Porcelain is a relatively light material that can be found in slabs as thin as 6 mm thick, depending on the brand, color, or supplier utilized. Because of this, porcelain is perfect for wall cladding and splashbacks.
Porcelain is a non-porous substance, much like its common quartz stone equivalent. Due to its resistance to bacteria growth and stain absorption, it is simple to clean and maintain. Additionally, as porcelain naturally resists moisture and stains, there is no need to seal and reseal your benchtops or porcelain panels.
Ceramics is a strong, extremely hard substance. This has advantages and disadvantages, but porcelain will undoubtedly live up to expectations if durability is a factor.
Porcelain is heat resistant, unlike typical engineered stone, making it ideal for uses like fireplace cladding and outdoor BBQ benchtops. Porcelain is starting to overtake marble and granite in terms of popularity for applications requiring sensitivity to heat due to its non-porous nature and ease of maintenance. Porcelain's ability to withstand heat is a result of how it is made, which is at incredibly high temperatures in a kiln.
Demerits of porcelain benchtop
Despite the astonishing range of colors, patterns, and finishes available in porcelain, the surface pattern is only surface deep. Hence,any stone chipping will reveal a plain, unpatterned surface.
Porcelain is less flexible and more fragile than its regular engineered stone equivalent since it does not include resin. Because of this, porcelain can crack under pressure or when too much force is used (such as when cabinets move or settle over time).
The material is generally durable once installed. However, you must take extra care during fabrication and installation. Due to this fragility and rigidity, porcelain fabrication requires a longer lead time to provide extra time and safety measures needed and to ensure the slab is unharmed throughout the manufacturing process.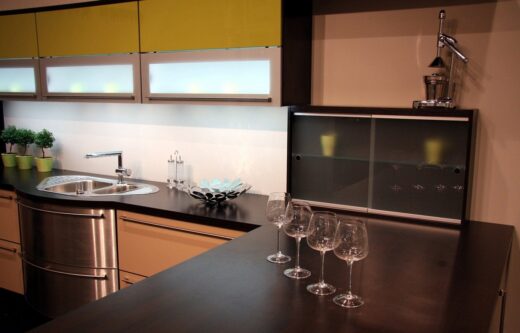 Porcelain has so far been a popular option for home remodeling projects, but keep in mind that it has only recently been utilized for benchtops and other basic house applications. Hence, the stone's durability for these uses has not yet been determined.
In place of surfaces made of quartz, porcelain is a common material for kitchen worktops. Porcelain benchtops provide further advantages and versatility that appeal to discerning homeowners, developers, renovators, and builders alike.
It's crucial to seek professional guidance when selecting the correct benchtops for your house or project to fully comprehend all of their benefits and potential drawbacks.
Comments on this guide to Porcelain benchtops merits & demerits: kitchen material article are welcome.
Kitchens
Kitchen Design Style Posts
Enhance Your Kitchen with A Dramatic Island Bench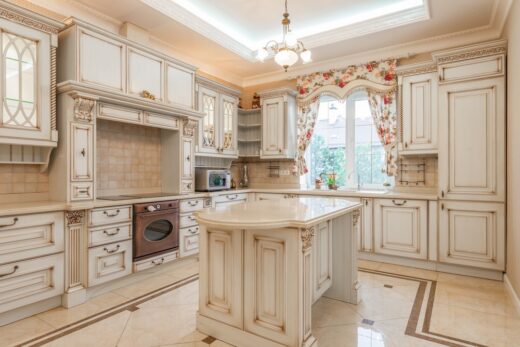 9 expert tips to nail your UK kitchen extension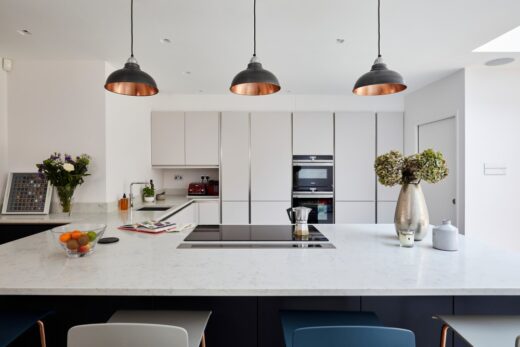 Design A Sleek Contemporary Kitchen
Kitchen design ideas that are eco-friendly
Top ways to bring color into an all-white kitchen
Buildings
Residential Architecture Articles
Comments / photos for the Porcelain benchtops merits & demerits: kitchen material advice – page welcome