New Victoria & Albert Museum Shop, West London Retail Interior Design, Store Photo
Victoria & Albert Museum Shop
New Architecture at the V&A London Museum, England, UK – design by Friend and Company
21 Jun 2017
Victoria & Albert Museum Shop Design
V&A Museum Shop in London
Design: Friend and Company, Architects
Friend and Company 'total architecture' re-design of Victoria & Albert Museum shop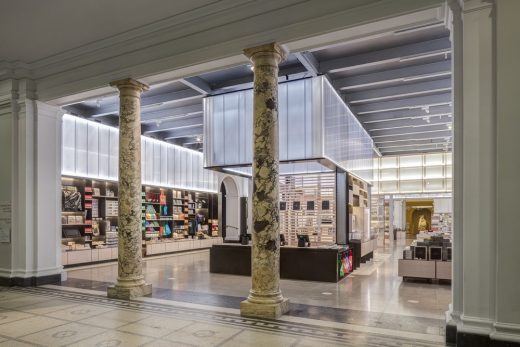 All photos by Ed Reeve
Architecture practice Friend and Company has led the new design of the Victoria & Albert Museum shop, opened on May 4th. With their signature total architecture approach the new shop embraces craftsmanship, and is set to be an inspirational space for the 21st century museum-goer.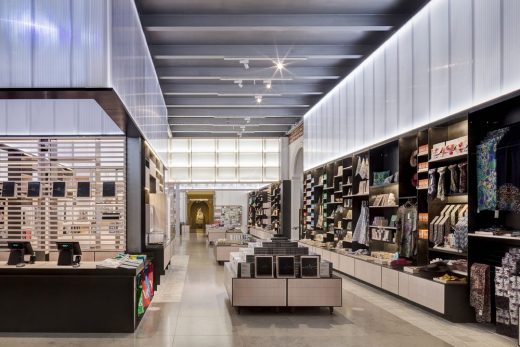 London-based Friend and Company won an international competition in 2016, leading a collective of
designers with an approach true to the V&A's ethos. After 12 months of collaborative work the eagerly anticipated new shop is open.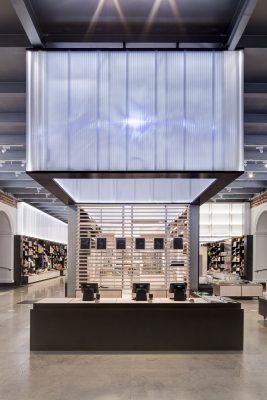 Situated at the heart of the museum, the site is crucial in defining the V&A
experience. The V&A archives at Blythe House reveal that the first V&A shop, as
early as 1863, was a showcase for new crafts and a place for visitors to connect
with the museum collections. This remodel creates a multi-functional space in
keeping with the museum, capable of hosting diverse events, as well as classic
retail areas, to respond to its growing audience. Friend and Company's design is
true to the V&A's ethos, creating a new destination that embraces the museum's
legacy, and celebrates art and design.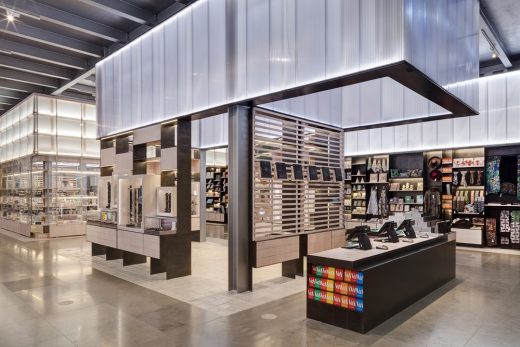 Inventive spaces
Spatially the new shop substantially increases its displayable wall space through
a concept of lanes and street facades that grew from a close examination of
previously hidden steel structures. A suspended ceiling, installed in the 1970s,
has been removed to increase height and reveal the historic development of the
building and project films to reveal new narratives connecting the shop to the
collections. This structure is echoed with bespoke 10mm mild steel shelving
'weldments'.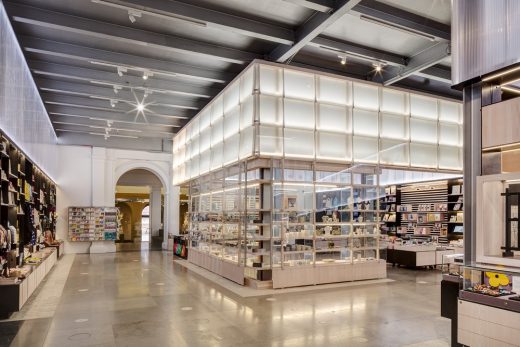 The new Pocket Workshop demonstration space for craft will have a quarterly
materials focus, starting with ceramics. A new Jewellery Pavilion shows the
collections to their best advantage. Visitors will connect with the museum
catalogue through these innovative spaces that also recall with the taxonomy of
the first V&A shop. It was integral to the museum, selling catalogues and, in the
1860s, lantern slides to allow people to study the exhibits at home.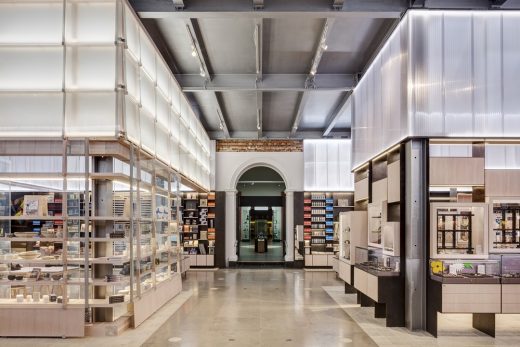 Both pavilions make use of latest robotic craft and are made from digitally
fabricated components that have been beautifully hand-finished. This bespoke
21st Century applied art uses new materials and tailored finishes that are
usually only achieved in workshops, and levels of precision normally only found
in latest manufacturing technologies. The Jewellery Pavilion is formed of four
mild steel 'weldments' weighing half a ton each. They have been laser-cut to a
precise pattern, hand-welded, and finished in a zinc spray that is then patinated.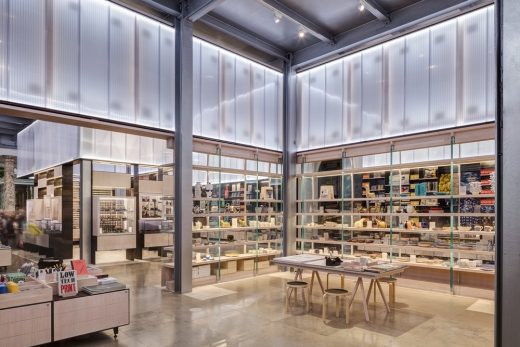 The Pocket Workshop displays a glass and timber structure in which timber
shelves are stacked and slotted into water-jet cut structural glass fins so they
appear to float on 'structural air'. This glass and timber structure is then clad in
glass shingles held in place with timber stakes.
A completely new 3D printed ceramic carpet, a form of robotic craft, was made
for this space of the shop (detail below). Thanks to these interventions the V&A's
desire to create distinctive experimental spaces that transcend the galleries, and
celebrate a spirit of invention, is continued in the Workshop and Pavilion.
Architecture, Materiality and Innovation
Natural materials and textures reflect the taxonomy of the museum, to
seamlessly link with its history; Samurai swords (folding steel weldments),
Charles and Ray Eames (Douglas Fir timber shelving), and Patrick Rylands
(Perspex lanterns). But the design also pushes traditional boundaries by using
digital fabrication techniques. Friend and Company show how handcrafts can be
scaled up to suit architecture, combining robotic processes and layers of hand
finishing techniques. Throughout, the practice has instigated partnerships with
craftspeople and worked with the V&A team resulting in exceptional
collaborations: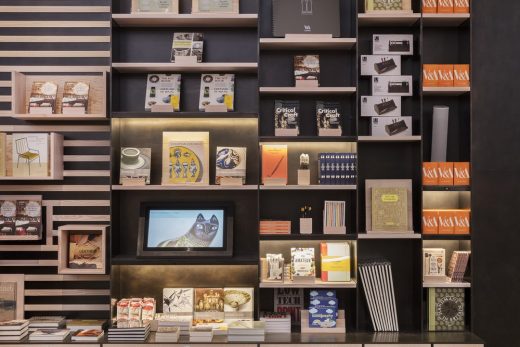 3D Printed Ceramic Carpet
The world's first ever 3D-printed ceramic tile has been created for segments of
the floor. Designed with Guan Lee of Grymsdyke Farm, a continuous and
changing pattern flows over each unique tile, like the unfurling of a carpet. A
20th Century Chinese bowl formed the basis of the design, its pattern was
digitally altered and reinvented using algorithms, printed by a robotic arm, and
then hand-glazed.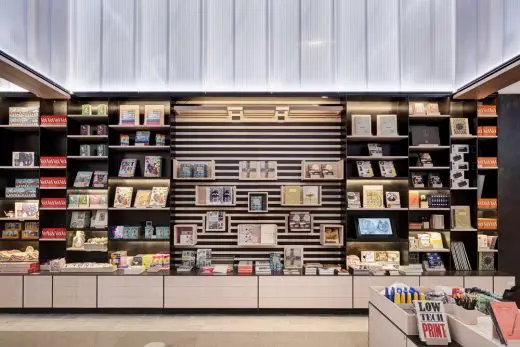 Flip-Flop Shop Kit
Multi-purpose, 'flip-flop' visual merchandising (VM Kit), cleverly includes trays
and boxes that flip from tabletop to wall display, maximising space and
versatility. Fabricated with Millimetre.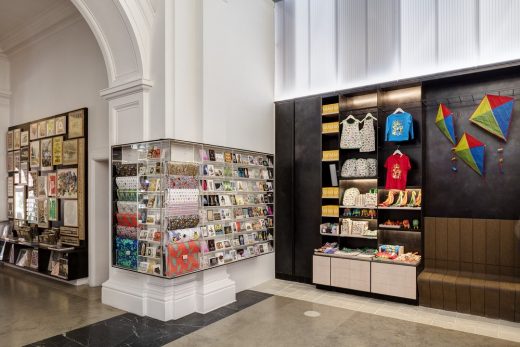 Bespoke Digital Craft Finishes
By design, all materials have been digitally manufactured, either laser cut, cnc
routed or 3d printed before painstaking application of a custom hand finish so as
to radiate more than one colour depending on how they are viewed, to create a
shimmer effect. These include a silver zinc base coat for black patinated mild
steel weldments, the green / blue glazes for the ceramic carpet, the timber white
oil and the white silver custom car paint applied to the newly exposed historic
zinc galvanized steel columns and beams.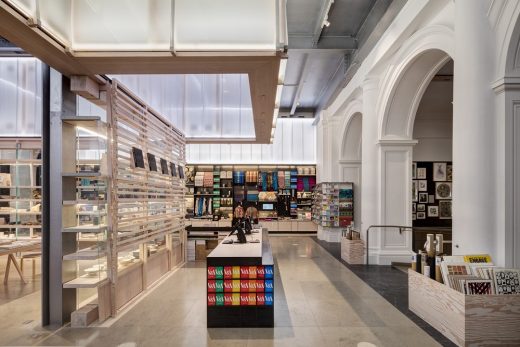 Timber and Glass Stacked Façade
Using stacking and slotting timber and glass components, the façade of the
pocket workshop is the third prototype of an autonomous housing assembly method that Friend & Company has pioneered. It can be seen in their 21st Century
Span House and the Helix Studio.
Dynamic Lighting
The lighting system is designed to be tuneable. It can change colour with the
time of the day, as well as the seasons, to harmonise with light colour levels
outside the museum. This will help create the most comfortable environment
inside the new shop.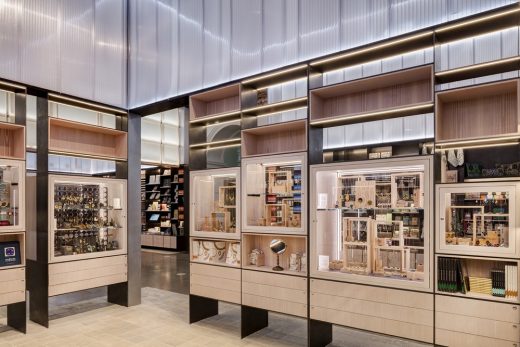 Adrian Friend, Founder of the eponymous practice, says;
"The shop design was inspired by our fascination with digital craft processes and
is now as much a showcase of latest building technologies as it is a new space to
display new designers work and additions to the shop collection."
"We are fascinated with how architecture is made and through our work try to
take control of the socio-economic tools of production to push the envelope of
possibilities through owning, influencing and ultimately showcasing in the final
design the industrial processes of manufacturing."
The new V&A Shop opened to the public on Friday 5th May 2017.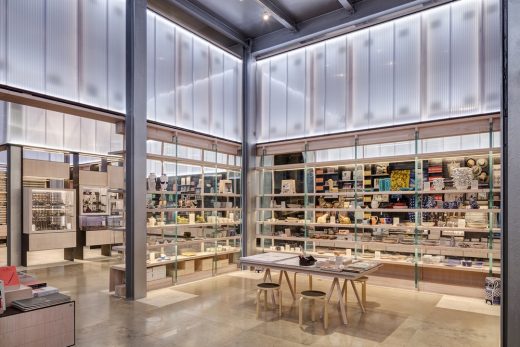 About Friend and Company
Friend and Company creates beautiful, simple work through a dialogue with clients, end-users and collaborators. Each project is the result of detailed research into context and site characteristics, regardless of scale.
Friend and Company is adept at creating imaginative solutions to complex architectural problems. The practice experiments with the application of new construction materials to change the way buildings are built, specialising in the role of digital manufacturing to raise design quality and demonstrating how architecture can be made from factory made kits assembled on site. The portfolio of work includes award-wining new build developments, sensitive conversions of historic buildings, and educational buildings. Friend and Company was founded in November 2006 by Adrian Friend, and is based in London. It is an RIBA Chartered Practice.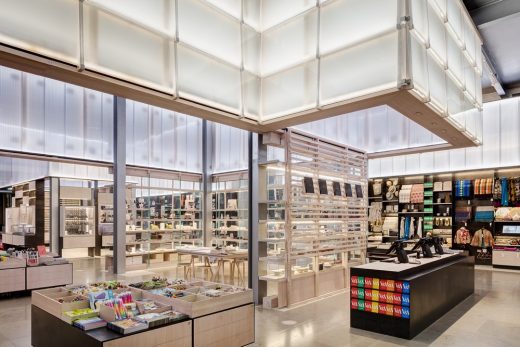 Awards include: 2007 Young Architect of the Year Award Finalist. 2008 Wallpaper* Architects Directory. 2008 Young Architect of the Year Award Finalist. 2010 Don't Move, Improve! Finalist. 2011 Animal Architecture Awards. Honorable Mention. 2012 Bird College RIBA Competition Finalist. 2013 Don't Move, Improve! Finalist. 2014 24th Biennial of Design, Ljubljana, Slovenia – Affordable Living Team Member 2014 Monumental Masonry Shortlisted – Sir John Soane Museum. 2014 Don't Move Improve Finalist. 2015 Innovation Voucher – Flying Factory Autonomous Housing Construction. 2015 Wood Awards 2015 – Highly Commended. 2016 New Architects 3 – Work of practice published by Architecture Foundation.
www.friendandcompany.co.uk
@friendcompany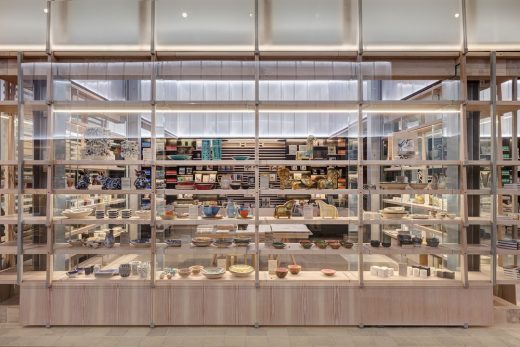 DESIGN TEAM
Friend and Company Architects www.friendandcompany.co.uk Lead Designer and Maker Architect responsible for design of the new V&A Main Shop, retail concept, lighting design and visual merchandising design as well as coordinating interface with Product Designer (Erin Deighton) Maker (millimetre) and ceramic researcher (Guan Lee).
Products designed by Friend and Company that came out of the architecture include the V&A Cork bench as well as the retail shelving display system.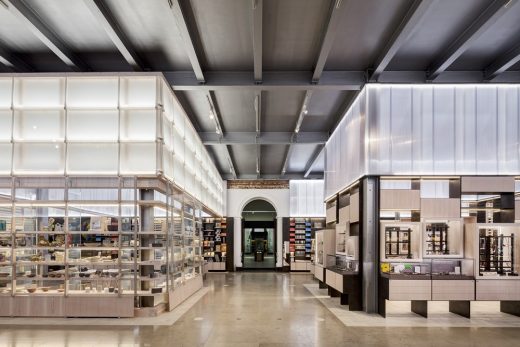 Products that Friend and Company co-designed include the V&A Tile and Ceramic Carpet with Guan Lee of Grymsdyke Farm and the Flip-Flop VM Kit co-designed with millimetre and product designer Erin Deighton. Staff Credits: Adrian Friend, Esko Willman, Solène Thierry, Christopher Pittway, Erin Deighton (Product Designer)
Millimetre www.millimetre.uk.net Joinery and Maker responsible for building a prototype of the steel weldments with integrated visual merchandising designed by Friend and Company. Millimetre was also commissioned to make the VM Kit (see below). Staff Credits: Karn Sandilands,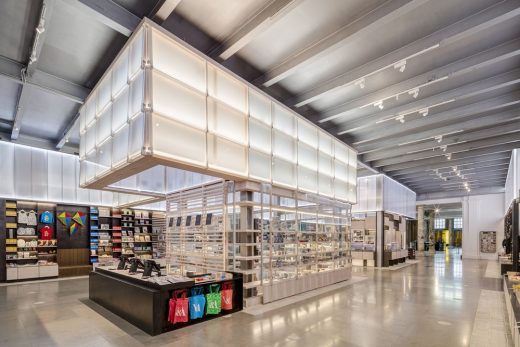 ARUP Lighting www.arup.com Responsible for detail lighting design. Staff Credits: Melissa Mak, Arfon Davies
ENGINEERS
ARUP Engineering Staff Credits Director: Andrew Lerpiniere Structures: Nina Tabink Glass Engineer: Peter Lenk Electrical: Mark Freeman Mechanical: Riccardo Zara
PROJECT MANAGERS
Equals www.equalsconsulting.com Staff Credits: Simon Birchall, Claire O'Brien
QUANTITY SURVEYORS
Currie and Brown www.curriebrown.com Staff Credits: Sean McAvoy and Julie Urquhart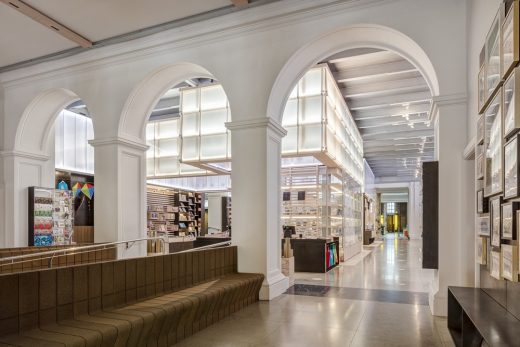 MAKERS
Millimetre www.millimetre.uk.net Made 200 solid douglas fir components of the Flip-Flop VM Kit designed by Friend and Company. Team: Karn Sandilands, Adam Harris, Dirk
Grymsdyke Farm www.grymsdykefarm.com Prototypes and final products of the V&A Ceramic Tile, both circular examples that were used to plug holes in the existing limestone floor as well as square examples that were used to make new floor finishes ('ceramic carpets') to the perimeter wall weldments and pavilions. Team: Guan Lee, Jessie Lee, Heyoung Um plus students from UCL School of Architecture.
MAIN CONTRACTOR AND SHOP FITTER
www.umdasch-shopfitting.com Umdasch Shopfitting Limited Team: Steve Bell, Ian White and Roman Fussthaler
V&A Museum London Architecture
V&A Photography Centre in London
Design: David Kohn Architects (DKA)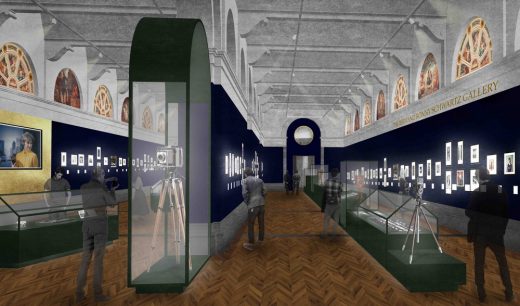 image courtesy of architects
V&A Photography Centre, London – 2 Jun 2017
The Victoria and Albert Museum (V&A) reveals the first visual of its new, state-of-the-art Photography Centre, and announces its first major supporter for the project – The Bern Schwartz Family Foundation.
14 Jun + 7 May 2016
Elytra Filament Pavilion by Achim Menges at the V&A
Elytra Filament Pavilion by Achim Menges at the V&A
Design: Achim Menges with Moritz Dörstelmann, Jan Knippers and Thomas Auer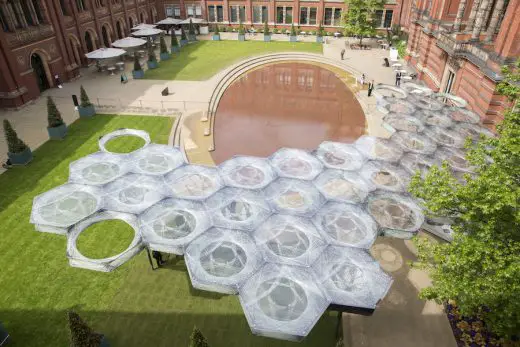 image courtesy of architects
V&A Installation
19 Aug 2016
Victoria & Albert Museum Shop Competition Winner
Design: Friend and Company Architects, with Millimetre and RA Projects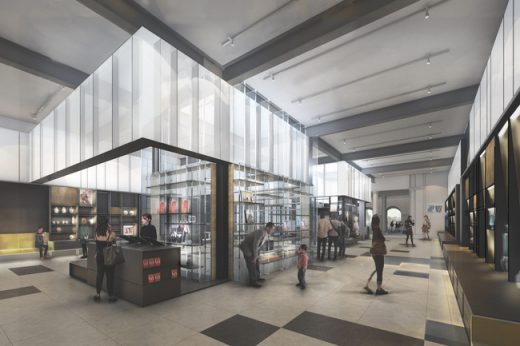 image courtesy Victoria and Albert Museum
Victoria & Albert Museum
Date: 1852
Design: various architects
Location: South Kensington, west London
Address: Cromwell Gardens / Exhibition Road
Victoria & Albert Museum in London
Entry Facade – 1909, designed by Aston Webb:



photo © Nick Weall
Internal Court – Cafe on north side (pictured), Shop on south side:



photograph © Adrian Welch
Entry – 1909, designed by Aston Webb:



photograph © Adrian Welch
More recent architectural interventions:
Victoria & Albert Museum Jewellery Gallery
Design: Eva Jiricna Architects



photograph : Katsuhisa Kida
V&A Medieval and Renaissance galleries
Design: McInnes Usher McKnight Architects



photo © Alan Williams
Victoria & Albert Boilerhouse Yard, Exhibition Road:
Design: AL_A
V&A Booktower
Design: Rintala, Eggertsson, Jenssen
V&A Museum Women's Amenities
Design: Glowacka Rennie Architects
V&A European Galleries – Europe 1600-1800 galleries
Design: ZMMA
Renewal of main entrance rotunda, new shop, tunnel, sculpture galleries
Design: Eva Jiricna Architects



photographs © Adrian Welch
Victoria & Albert Museum Gallery
Design: Gareth Hoskins Architects
Location: Victoria & Albert Museum, West London, England, UK
London Building Designs
Contemporary London Architectural Designs
London Architecture Links – chronological list
London Architecture Tours – bespoke UK capital city walks by e-architect
Victoria & Albert Museum London
Buildings close to the Victoria & Albert Museum London
Victoria & Albert Museum Building in Dundee
Comments / photos for the Design of New Victoria & Albert Museum Shop page welcome