Avery Associates, London Architect Office, England Building Project, Studio, Photoss
Avery Associates Architects : Architecture
Contemporary English Architectural Practice, UK Design Office
post updated 25 February 2023
Avery Associates Architects News
Architecture News – latest additions to this page, arranged chronologically:
Bryan Avery receives an MBE in the first investiture of 2016
2 Feb 2016 – Bryan Avery MBE, founder and director of Avery Associates Architects was awarded an MBE for his Services to Architecture in the Queen's Birthday Honours List 2015. The investiture ceremony took place on Friday, 29th of January of this year at Buckingham Palace when HRH Prince Charles formally bestowed the medal on Bryan.
Bryan says: "Being the only architect present was a singular honour and knowing His Royal Highness' keen interest in architecture it was an occasion not without piquancy."
Previously on e-architect:
Bryan Avery MBE
Architect Bryan Avery recognised on the Queen's Birthday Honours list in 2015. Bryan was born in Berkshire, England in 1944. He studied architecture at Leicester College of Art (now the De Montfort University), followed by a MA in the History and Theory of Architecture at Essex University under Professors Joseph Rykwert and Dalibor Veseley. His practice is based in London.
1 Undershaft Tower, City of London skyscraper, UK (new design by Eric Parry Architects, updated 9 + 8 Dec 2015)
Original design by Avery Associates, located immediately right of 122 Leadenhall Street: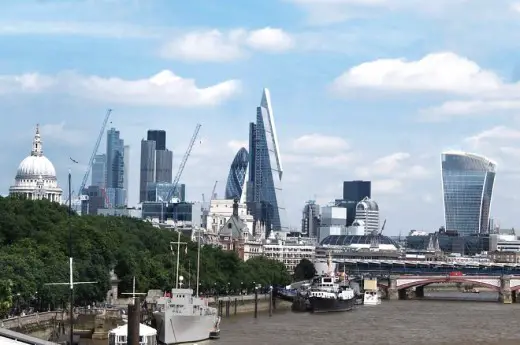 In January 2015 plans emerged of a replacement office building for the St Helen's tower in Undershaft. The proposal, named 1 Undershaft, was designed by Avery Associates for the then owner of the site Simon Halabi in 2010. With a height of 270 m (885 ft) it would have become the third tallest building in London and the United Kingdom behind The Shard and the stalled Bishopsgate Tower.
Original design by Avery Associates: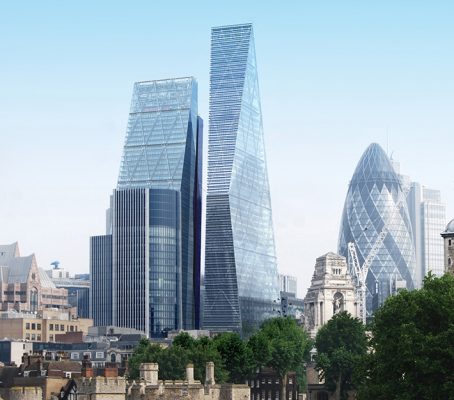 Citicape House, Holborn Viaduct / Snow Hill, City of London, England – 16 Jul 2013
Design: Avery Associates Architects + Axis Architects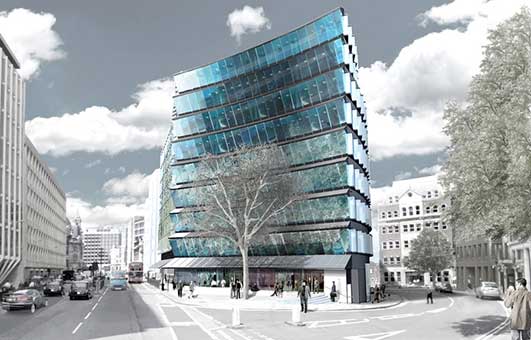 image from architect
Avery Associates Architects have received planning permission for a 10,800 sqm office building and 246 room hotel at the junction of Holborn Viaduct and Snow Hill in the City of London. The construction phase has now been given the go ahead. The site presented some unusually challenging constraints. It is not only restricted below by a Thameslink railway tunnel and above by five of the six protected views to St. Paul's Cathedral, but sits opposite and in close proximity to the Church of the Holy Sepulchre without Newgate.
Residential Building Victoria – 16 Jul 2013
Design: Avery Associates Architects



image from architect
Avery Associates were recently invited to submit designs for a new landmark residential building in the heart of Victoria, London. The site abuts the Victoria Railway Station and incorporates a large electrical substation and a major arterial road. Through the resolution of a number of contextual constraints, the proposal takes a prominent but awkward site and turns it into a landmark with a very distinctive character.
400 Hall Theatre, Derbyshire, England
Design: Avery Associates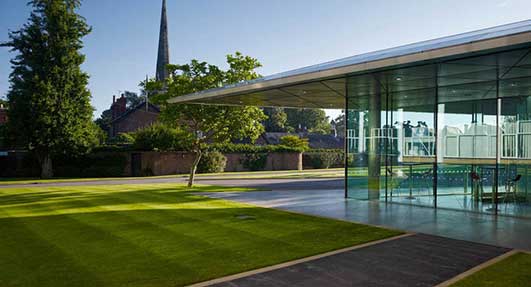 photo : Tim Soar
400 Hall Theatre – 15 Jul 2013
Avery Associates Architects' new 400 Hall Theatre at Repton School has just won a Royal Institute of British Architects East Midlands Regional Award, and its Building of the Year Award, the top prize for the region. Last year, it won the Royal Institute of Chartered Surveyors Design and Innovation Award and the Chartered Institute of Architectural Technologists Gold Award for Technical Excellence.
Broken Wharf House, City of London, England
Avery Associates Architects + Sidell Gibson Architects



image from architects
Broken Wharf House London – 11 Mar 2013
Avery Associates, working in association with Sidell Gibson Architects recently received planning permission for a prestigious residential redevelopment for the Hermes Property Unit Trust at Broken Wharf in the City of London.
Avery Associates – Major Projects
Museum of the Moving Image, South Bank Arts Centre, London
1988



picture courtesy of Avery Associates Architects
Museum of the Moving Image
This world famous museum – MOMI – was built under a fast-track 'design, manage and construct' contract. The funding came from private donations, sufficient at commencement for a simply serviced shell covering 3,716 sqm. The design had to have the flexibility to grow incrementally during the construction process.
BFI London IMAX Cinema, South Bank Centre, Southwark, London, UK
1999



picture courtesy of Avery Associates Architects
BFI London IMAX Cinema
This 500-seat large screen IMAX cinema was built for the British Film Institute (BFI). It is by far the largest screen in Britain, and one of the biggest in the world. This area of the South Bank had long been notorious for crime and rough sleeping but it has been transformed into a lively landscaped pedestrian oasis with a café and a huge new public artwork by the internationally renowned fine artist Howard Hodgkin.
1 Neathouse Place, Wilton Rd / Vauxhall Bridge Rd, Victoria, southwest London
1997



picture courtesy of Avery Associates Architects
1 Neathouse Place
Commissioned by Chesterfield Properties, No1 Neathouse Place was a major reconstruction of a redundant 1960s office block near London's Victoria Station. The main challenge was that the floor-to-floor heights of the existing structure were well below the standard required for modern air-conditioned offices.
Royal Academy of Dramatic Art Project, Bloomsbury, central London
2000



picture courtesy of Avery Associates Architects
Royal Academy of Dramatic Art
RADA, a prestigious drama school, celebrated its centenary year with the completion of a new award-winning, state-of-the-art building. It contains workshops, rehearsal rooms and other support facilities, plus three new theatres and a foyer/bar where, for the first time at RADA, the public can meet the future stars of stage and screen.
Avery Associates Book
Fragments of Wilderness City
by Bryan Avery
Fragments of Wilderness City reviews the work of renowned architect Bryan Avery.
Authors: Edwin Heathcote, Joseph Rykwert, Mathew Teague, Richard Weston, John Worthington
"Avery Associates Architects have worked in close collaboration with a diverse range of clients, including universities, commercial developers, government organisations, and charitable trusts. Fragments of Wilderness City presents perspectives from academics and architecture historians, exploring projects in India and the Middle East; major cultural commissions such as the IMAX cinemas in London and Dubai, the National Film Theatre, the Museum of the Moving Image, London Transport Museum, and the Royal Academy of the Dramatic Arts' headquarters in Bloomsbury, London; masterplanning work for Oxford Street in London, The Horniman Museum, and the Avenue of the Emirates in Abu Dhabi. Alongside profiles of their innovative work in product design and within the workplace is an essay by director Bryan Avery, providing insights into his notion of the sustainable 'wilderness city'.
This manifesto sets out a vision of an accountable architectural and planning approach to the contemporary city, situated in a natural landscape and taking on board references to both the walled cities of the medieval period and the self-contained urban environments of the twentieth century 'new towns'. Fully illustrated with photographs, plans, and technical and conceptual drawings, this volume will appeal to all those interested in architectural innovation at every scale, from planning to design to sustainable developments."
July 2011
Paperback
192 pages
183 b/w and colour ills
28.0 x 23.0 cm
11.0 x 9.0 in
ISBN13: 978 1 904772 58 3
Buy Avery Associates Architects London : Fragments of Wilderness City – external link
Recent Proposal by Avery Associates
Leicester Square mixed-use development – proposal, central London
–



photograph © Adrian Welch
Location: Swiss Centre site
For British Land Co. Ltd.
Retail, offices, restaurant, cinema
Key Projects by Avery Associates
Major Buildings by Avery Associates, alphabetical:
Charterhouse Mews, London
1990
For Hewitt Associates
Commonwealth Institute – Restoration, Knightsbridge, west London
2001
£3m
Commonwealth Institute Refurbishment
Kolkata mixed-use development – proposal, India
–
London's Transport Museum – proposal, Covent Garden, London
2001-
Refurbishment / Extension
Cost: £15m
Architecture Competition win
Existing building:
Grade II listed market buildings
1872
Cubitts & William Rogers
National Film Theatre, London
1994
National Film Theatre : For British Film Institute
£1.5m
Oakham School Concert Hall – proposal, Rutland, England
2007-
For Oakham School
new 400-seat public concert hall
Plantation House, London
1991
For The British Land Company
£10m
Royal Over-Seas League Concert Hall, Over-Seas House, London
2006
Princess Alexandra Hall
More projects by Avery Associates online soon
Location: 270 Vauxhall Bridge Road, London, SW1V 1BB, south east England, United Kingdom
Avery Associates – Practice Information
Avery Associates Architects office based in London
London Architecture : news + key projects



photo © Adrian Welch
Comments / photos for the Avery Associates Architecture page welcome
Website: www.avery-architects.co.uk