Masdar Photovoltaic building Ichtershausen, Erfurt Architecture, German alternative energy development design
Masdar Photovoltaic Factory, Germany : Erfurt Building
Neue Deutsche Architektur : Ichtershausen Project, Thuringia, Germany
21 Aug 2008
Masdar Breaks Ground on Photovoltaic Factory in Germany
Location: Ichtershausen, Ilm-Kreis, Thuringia, Germany
First phase in its drive for alternative energy leadership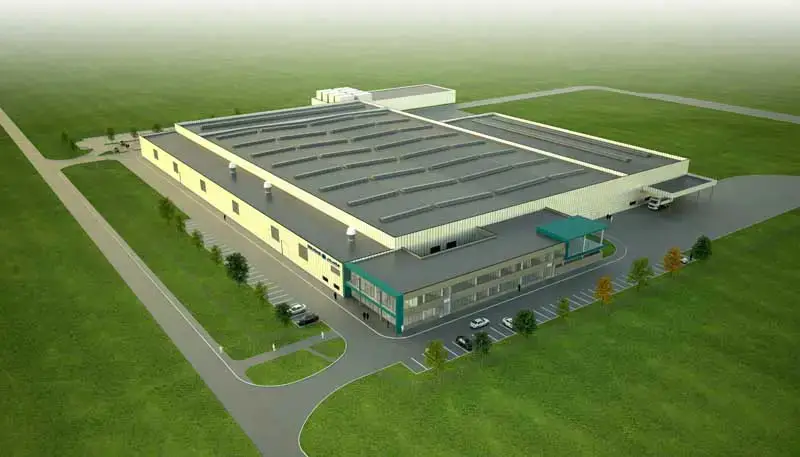 image courtesy of architects practice
Masdar Photovoltaic Factory Germany
Abu Dhabi, August 21, 2008 – Less than three months after announcing a strategic investment into thin-film photovoltaics, Masdar, the Abu Dhabi renewable energy company, yesterday broke ground on its first photovoltaic production plant in Ichtershausen, Germany.
The plant will use advanced production technologies to bring PV closer towards grid parity, and enhance a local economy with a rich history of manufacturing and technology.
The $230 million (EUR 150 million) German plant marks the first phase of Masdar's $2 billion (EUR 1.3 billion) investment in thin-film PV manufacturing, one of the largest investments ever made in solar. To be opened in Q3 2009, the plant has a targeted annual production capacity of 70MW, and will create more than 180 green jobs. It will produce the world's largest (5.7 m2) and most powerful PV modules, on equipment from the world's leading supplier Applied Materials, to drive the cost reductions necessary to make solar energy an affordable reality.
As a leading global centre for PV technology, Germany was selected as Masdar's first PV plant location. The German plant will act as a blueprint for technology and knowledge transfer to a 140MW Abu Dhabi plant, which will begin initial production by Q3 2010. Output from both facilities has already been committed to major PV system installers in Europe, and for Masdar's own energy generation needs.
"Thuringia is a modern business location", says Dieter Althaus, Prime Minister of State of Thuringia. "Within Germany we hold a leading position in modern environmental technologies especially in trendsetting solar energy. We are pleased that Abu Dhabi chose Germany and particularly Thuringia as a model for technology and knowledge transfer. Germany's technology base combines well with Masdar's vision to accelerate the development and adoption of clean energy solutions on a global basis."
Masdar PV represents a significant advancement of German-UAE trade relations, particularly as it addresses a new area of cooperation in providing clean and sustainable energy solutions for both countries. The United Arab Emirates is one of Germany's major trading partners in the Gulf region with non-oil trade, currently worth nearly US$7 billion. In addition, it furthers Masdar's existing investment and research ties with German companies and organizations, including Siemens, RWTH Aachen University and the German Aerospace Centre (DLR).
"Abu Dhabi's geography and our vision to become a world leader in renewable energy, makes thin-film PV a natural area of focus for Masdar," said Dr. Sultan Al Jaber, CEO of Masdar. "Germany, with its technology, highly-skilled workforce, attractive investment climate, and direct access to the European market, make it an ideal partner for Masdar."
"It is especially satisfying to be working together in bringing the world one step closer to a future of clean energy", Al Jaber added.
Present at the groundbreaking were Dieter Althaus, Prime Minister Thuringia; His Excellency Mohammed Ahmed Al Mahmoud, UAE Ambassador to Germany; Dr. Sultan Al Jaber, CEO of Masdar; Dr. Hermann Scheer, Member of the German Parliament; Klaus von der Krone, Mayor Ichtershausen; and representatives from the Masdar PV Management team.
Location: Ichtershausen, Ilm-Kreis, Thuringia, Germany, western Europe
Architecture in Germany
German Architecture
German Architectural Designs – chronological list
Masdar Design Contest, UAE : LAVA win
Laboratory for Visionary Architecture



image from architect
Masdar Design Competition
Masdar Development
Foster + Partners



image : Foster + Partners
Masdar City Buildings
Masdar Headquarters
Adrian Smith + Gordon Gill Architecture



image from Edelman
Masdar Headquarters Building
About Masdar
The Masdar Initiative is Abu Dhabi's multi-faceted, multi-billion dollar investment in the development and commercialization of innovative technologies in renewable, alternative and sustainable energies as well as sustainable design. Masdar is driven by the Abu Dhabi Future Energy Company (ADFEC), a wholly owned company of the government of Abu Dhabi through the Mubadala Development Company. In January 2008, Abu Dhabi announced it will invest $15 billion in Masdar, the largest single government investment of its kind.
For more information about the Masdar Initiative, please visit www.masdaruae.com
Comments welcome re Masdar Photovoltaic Factory Building