Masdar Abu Dhabi Image, UAE Zero Carbon Building News, Architect Eco Development Proposal
Masdar City Abu Dhabi
Eco Architecture in UAE: Zero Carbon Development design by Foster + Partners
5 Dec 2015 – update:
Construction began on Masdar City in 2008 and the first six buildings of the city were completed and occupied in 2010. However, due to the impact of the global financial crisis, Phase 1 of the city, the initial 1,000,000 sqm (0.39 sq mi), will be completed in 2015. Final completion is scheduled to occur between 2020 and 2025, according to wikipedia.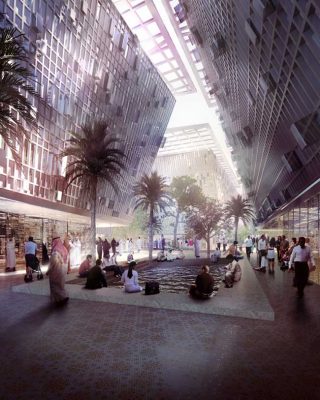 images Courtesy architecture office
8 May 2007
Masdar City
Masdar Development, UAE
2007-
Design: Foster + Partners, architects
World's first zero carbon, zero waste city in Abu Dhabi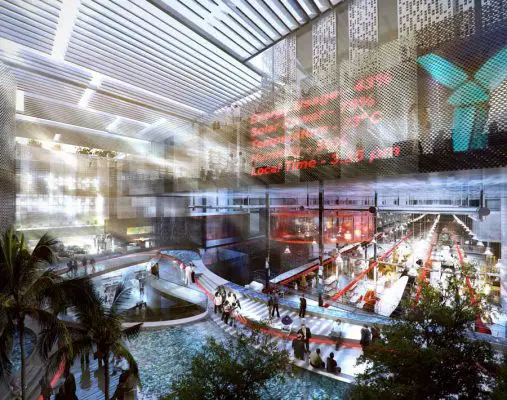 The first project as a result of the Masdar Initiative is a new 6 million square meter sustainable development that uses the traditional planning principals of a walled city, together with existing technologies, to achieve a zero carbon and zero waste community.
Masterplanned by Foster + Partners, the initiative has been driven by the Abu Dhabi Future Energy Company, and will be a centre for the development of new ideas for energy production. Masdar responds to the urban identity of Abu Dhabi while offering a sustainable urban blueprint for the future.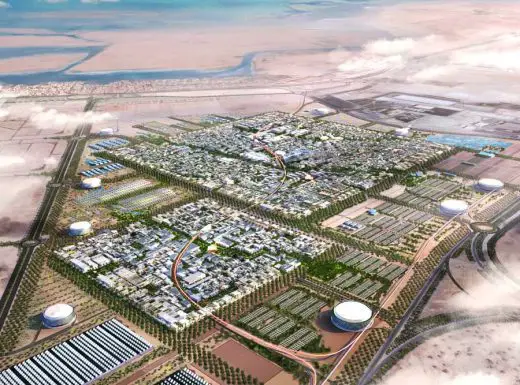 Due to be launched at Cityscape Abu Dhabi 2007, it is an ambitious project that will attract the highest levels of international expertise and commerce, providing a mixed-use, high-density city. The exciting programme includes a new university, the Headquarters for Abu Dhabi's Future Energy Company, special economic zones and an Innovation Center.
Norman Foster said:
"The environmental ambitions of the Masdar Initiative – zero carbon and waste free – are a world first. They have provided us with a challenging design brief that promises to question conventional urban wisdom at a fundamental level. Masdar promises to set new benchmarks for the sustainable city of the future."
The principle of the Masdar development is a dense walled city to be constructed in an energy efficient two-stage phasing that relies on the creation of a large photovoltaic power plant, which later becomes the site for the city's second phase, allowing for urban growth yet avoiding low density sprawl. Strategically located for Abu Dhabi's principal transport infrastructure, Masdar will be linked to surrounding communities, as well as the centre of Abu Dhabi and the international airport, by a network of existing road and new rail and public transport routes.
Rooted in a zero carbon ambition, the city itself is car free. With a maximum distance of 200m to the nearest transport link and amenities, the compact network of streets encourages walking and is complemented by a personalised rapid transport system. The shaded walkways and narrow streets will create a pedestrian-friendly environment in the context of Abu Dhabi's extreme climate. It also articulates the tightly planned, compact nature of traditional walled cities. With expansion carefully planned, the surrounding land will contain wind, photovoltaic farms, research fields and plantations, so that the city will be entirely self-sustaining.
Masdar City Images : Foster + Partners
Masdar Abu Dhabi design : Foster + Partners
About Masdar
Masdar is Abu Dhabi's multi-faceted, multi-billion dollar investment in the development and commercialization of advanced and innovative technologies in renewable, alternative and sustainable energies as well as green design. By applying scale and leveraging Abu Dhabi's low-cost, tax-free manufacturing base, businesses will enjoy significant competitive advantages, allowing them to compete internationally and provide significant diversification to the Abu Dhabi economy. On February 9, 2008, Masdar broke ground for Masdar City, the world's first zero-carbon, zero-waste, car-free city.
Location: Abu Dhabi, United Arab Emirates, the Middle East, southwestern Asia
Masdar Institute Campus, Abu Dhabi
Foster + Partners



photo : Nigel Young / Foster + Partners
Masdar Design Competition : won by LAVA in Aug 2009
Masdar Headquarters design by AGi architects



image from the architect
Masdar Institute of Science and Technology – MIST:
UAE Buildings by Foster + Partners architects
Abu Dhabi market building



image © Foster + Partners
Masdar headquarters building designer : Adrian Smith + Gordon Gill Architecture
Website: Masdar City Abu Dhabi Zero Carbon Development – Foster + Partners project page
Website: Masdar City, Abu Dhabi – wikipedia page on this Zero Carbon Development in UAE
Abu Dhabi Investment Council Headquarters
Comments for the Masdar Buildings UAE – Abu Dhabi Zero Carbon Development design by Foster + Partners Architects, London, England, UK, page welcome
Website: www.masdaruae.com