Masdar Abu Dhabi Image, UAE Building Competition, Architect News, Development Proposal
Masdar City Abu Dhabi Competition
Architecture Contest in UAE – design by LAVA architects
page updated 27 Sep 2016 with new pictures
Design: LAVA, architects
Masdar, world's first sustainable city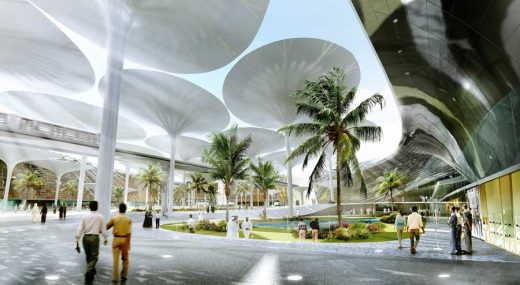 Masdar Design Competition
Giant umbrellas, with a design based on the principles of sunflowers, will provide moveable shade in the day, store heat, then close and release the heat at night in the plaza of a new eco-city in the United Arab Emirates.
The 'sunflower umbrellas' are one aspect of the winning design by the international practice Laboratory for Visionary Architecture [LAVA] – this year's recipient of the European Prize for Architecture – for the city centre for Masdar in the UAE – the world's first zero carbon, zero waste city powered entirely by renewable energy sources.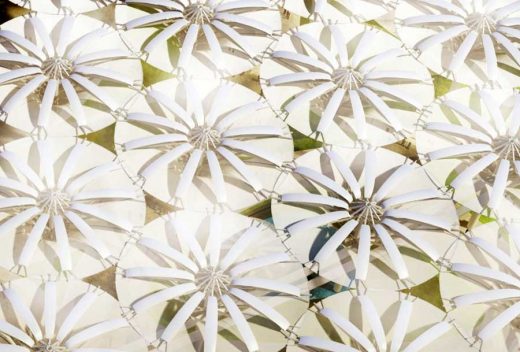 Masdar is a planned city located 17 kilometres from Abu Dhabi. A government initiative, the city is being constructed over seven phases and is due to be completed by 2016.
The city centre includes a plaza, five-star hotel, long stay hotel, a convention centre and entertainment complex and retail facilities.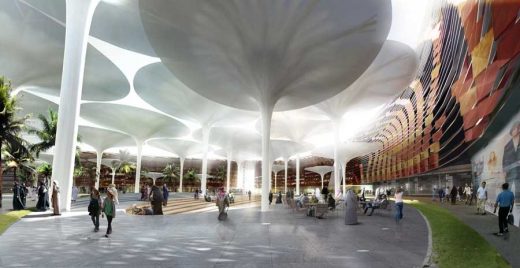 LAVA wins international design competition for the heart of Masdar, world's first sustainable city
2009-
LAVA won the design in an international competition against several hundred entries and strong competition from some of the world's most high-profile architects.
LAVA was founded in 2007 by Chris Bosse, Tobias Wallisser and Alexander Rieck and has offices in Sydney, Stuttgart and Abu Dhabi.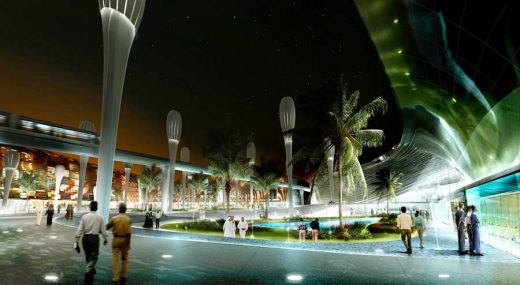 Chris Bosse said: 'Masdar City is the world's most prestigious project focusing on sustainable energy design. It is the city of the future and a global benchmark for sustainable urban development. We believe in the Masdar slogan "One day all cities will be like this"'.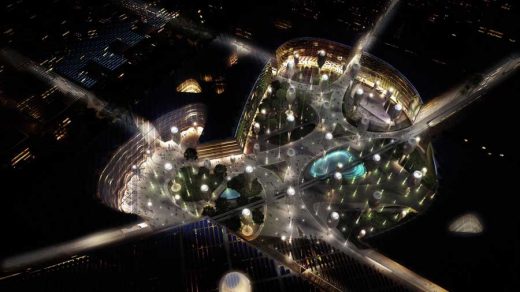 The solar powered 'sunflower' umbrellas capture the sun's rays during the day, fold at night releasing the stored heat, and open again the next day.
They follow the projection of the sun to provide continuous shade during the day. Chris Bosse said: 'the sunflower principle is eco-friendly and can be adapted mto anywhere in the world – it opens opportunities for outside living, even in the desert'.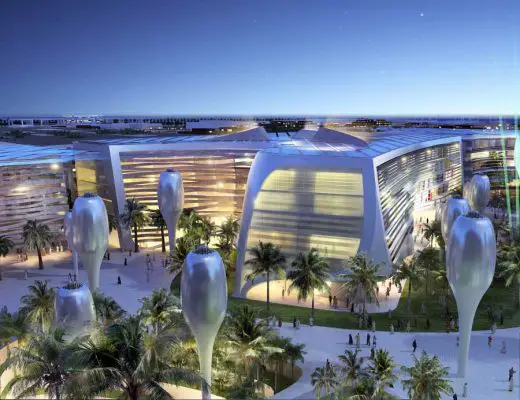 Mr Rieck added: 'The entire city is car-free with a magnetic public transport system includes individual pods that drive you to your destination using solar power'.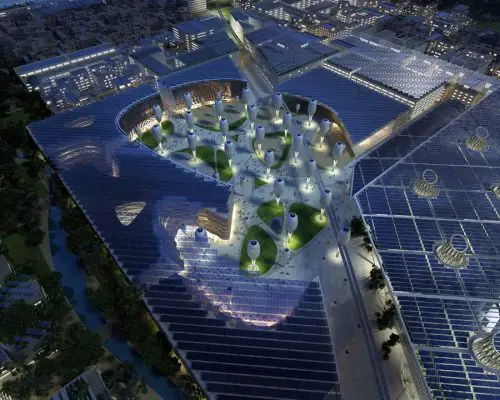 Some other key innovations of the winning plan include:
• Building façade angles that can be altered to offset or optimise solar glare.
• Materials on wall surfaces respond to changing temperatures and contain minimal embedded energy.
• Water features can be stored underground during the day and at night trickle or flow strongly, triggered by passersby.
• Interactive light poles, inspired by the oasis fire, transform the plaza into a 3-dimensional interactive media installation.
• Interactive, heat sensitive technology activates lighting in response to pedestrian traffic and mobile phone usage.
• Roof gardens integrate food production, energy generation, water efficiency and the reuse of organic food waste.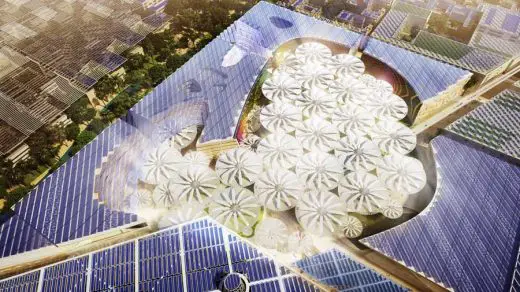 Tobias Wallisser said 'the idea behind our concept is the use, inspiration, and adaptation of nature and our plans combine innovative design and sustainability'.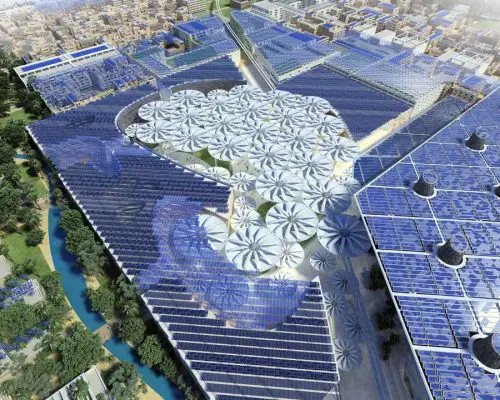 East and west are fused in the plaza design inspired by both the oasis, as the epicenter of Arabic nomadic life, and the iconic piazza of historical European cities. The organic forms created by the forces of natural erosion in geographical landmarks such as great canyons and wadis are the design inspiration behind the key buildings in the city centre.
After winning stage 1 in January this year, LAVA teamed up with the Sydney/Dubai based Kann Finch group, engineering firm Arup (with whom Chris Bosse previously worked on the Watercube in Beijing), Transsolar (worlds leading energy consultancy), and a team of international experts.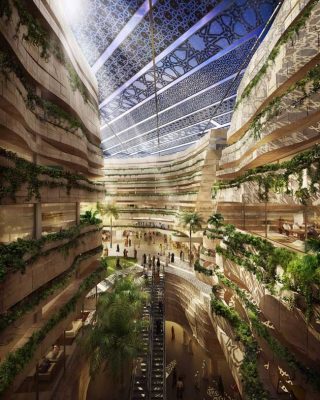 MASDAR – BACKGROUND
MASDAR CITY
'As part of the Masdar Initiative, a long-term strategic commitment by the government of Abu Dhabi to accelerate the development and deployment of future energy solutions, Masdar City will take sustainable development and living to a new level and will lead the world in understanding how all future cities should be built.
Masdar City will be built over seven years at an investment in excess of US$20 Billion. The City will be built in seven carefully designed phases, incorporating the latest technological advances generated in its clean-tech cluster and globally. Masdar headquarters building under construction receives its power for construction from a vast PV array on its roof built ahead of the remaining structure – a world-first.
Strategically located at the heart of Abu Dhabi's transport infrastructure, Masdar City will be linked to the centre of Abu Dhabi and the international airport, by a network of existing road, and new rail and public transport routes. The City will be car free and pedestrian friendly. With a maximum distance of 200 meters to public transport and amenities, and complemented by an innovative personal rapid transport system, the compact network of streets will encourage pedestrians and community social life.'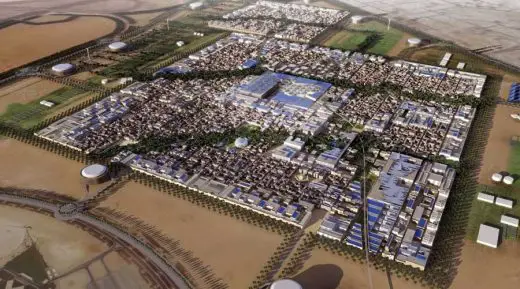 CITY CENTRE PROJECT
The International Design Competition for the provision of design services for Masdar Hotel & Conference Centre (MHCC) Project Development. Abu Dhabi Future Energy Company (Masdar), a wholly owned subsidiary of the Mubadala Development Company (Mubadala).
Located in the heart of the new city, the MHCC will become a focus for shopping, leisure and entertainment. The mixed-use development will consist of a five-star hotel, long-term stay serviced apartment, a conference centre, a themed entertainment centre, cultural facility related to future energy and shopping centre complete with a food court and cinema.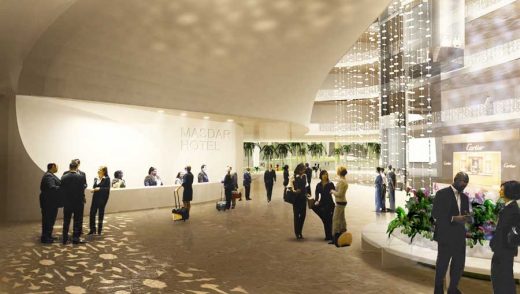 PROCESS
A global jury of world-renowned design and urban planning experts chose LAVA's design from the finalists. The jury included: Gerard Evenden, Foster + Partners; Gordon Gill, Adrian Smith + Gordon Gill Architects; Professor Guy Chemla, Sorbonne University; and David Choi, David Choi Design. Eighteen proposals were shortlisted from several hundred entries and in December 2008 Kohn Pedersen Fox and LAVA were both further shortlisted. LAVA was announced as the winner in August 2009.
BRIEF
The brief included:
The Project is intended to be a world-class innovative landmark of sustainable architecture and engineering design, exceeding the current highest standards of green building energy and waste efficiency, material technologies, and integrated design thinking. MHCC Project Development will be one of the landmark structures of MASDAR City. It will exemplify the city's commitment to the environment and the development of innovative and viable renewable technologies.
The highest standards of sustainable development will include zero emissions; zero waste; 100% power generation through renewable energy sources; energy efficiency; and a paperless document management system.
The criteria for selection included building functionality, water and wastewater efficiency, indoor environmental quality, zero carbon emission, carbon footprint reduction and firm experience.
Masdar Design Competition images / information from LAVA 280809
Masdar Design Competition architects : LAVA
About Masdar
Masdar is Abu Dhabi's multi-faceted, multi-billion dollar investment in the development and commercialization of advanced and innovative technologies in renewable, alternative and sustainable energies as well as green design. By applying scale and leveraging Abu Dhabi's low-cost, tax-free manufacturing base, businesses will enjoy significant competitive advantages, allowing them to compete internationally and provide significant diversification to the Abu Dhabi economy. On February 9, 2008, Masdar broke ground for Masdar City, the world's first zero-carbon, zero-waste, car-free city.
Location: Abu Dhabi, UAE
Abu Dhabi Architecture
Abu Dhabi Architecture Designs – chronological list
Masdar Plaza : further information on LAVA's design
Masdar Abu Dhabi by Foster + Partners
Masdar Headquarters Abu Dhabi by Adrian Smith + Gordon Gill Architecture
Masdar Institute Campus
Foster + Partners



photo : Nigel Young / Foster + Partners
Masdar Institute Campus
Masdar Headquarters design by AGi architects



image from the architect
Masdar Abu Dhabi Design : Foster + Partners
Masdar Headquarters Building designer : Adrian Smith + Gordon Gill Architecture
Abu Dhabi Investment Council Headquarters
Comments for the Masdar Building Contest page welcome