French Building Design, Contemporary Architecture Projects Images, Houses, Office, Property Photos
French Building Designs
Architectural Developments across France, Europe
post updated 24 October 2021
Building Designs in France
Diriger aux Bâtiments de Francais
We've picked the most interesting of French Building Designs. The focus is on contemporary French building designs.
French Building Designs from M-R
Recent additions to this page:
Paul Chevallier School Complex, Lyon, south France
Design: Tectoniques Architects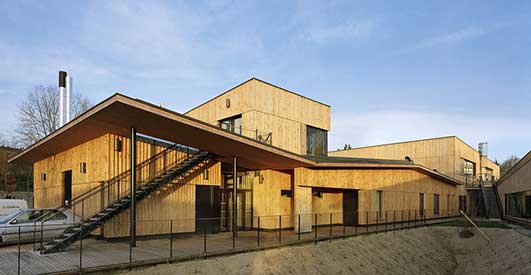 photo : Renaud Araud
Paul Chevallier School Complex – 2 Jul 2013
The Paul Chevallier school complex is situated in Rillieux-la-Pape, a northern suburb of Lyon. At 5,034 m2, it is an unusually large project; and this indicates the growing attractiveness of the area. The complex currently comprises a nursery school and an elementary school. In 2014, a gym will be added, which will also be available for community activities. The site occupies an entire block, close to the centre of the district.
New Law Courts of Caen, north west France
Design: BE Hauvette Paris and Atelier d'Architecture Pierre Champenois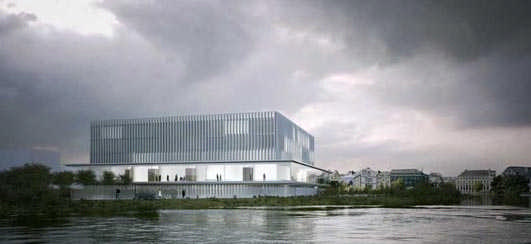 image from architects
New Law Courts of Caen – 22 Jan 2013
Concerning urbanistic planning, the law courts of Caen redefines a new domain in the centre of the City. The design of BE Hauvette Paris and Atelier d'Architecture Pierre Champenois for this public building was recently presented to the public. It comes with a quadratic shape which comprises several duties and responsibilities: The cube underlines by its form the importance of jurisdiction by the means of architecture.
Mozart ZAC Housing, Lyon, southern France
Tectoniques



photo : Renaud Araud
Mozart ZAC Housing – 10 Dec 2012
For Tectoniques, this project represents a relatively recent process of reflection and production – that of collective housing in an urban landscape. The team is familiar with the theme of habitats: accommodation for elderly and/or dependent people, tourist residences or private houses. But this is their first design for urban social housing.
Public Toilets in Tête d'Or Park, Lyon, southern France
JS Architecture Urbanisme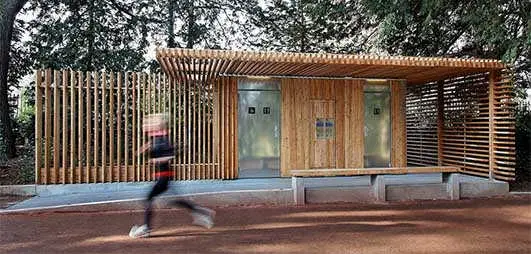 photo : Franck Fleury
Tête d'Or Park Lyon – 5 Dec 2012
Jacky Suchail Architecture Urbanisme has recently installed eight new public toilets in the Tête d'Or. They are easily visible and conveniently located on the perimeter of the park and at strategic points within it. They are all different, though with a similar basic form in wood and concrete: plinth, superstructure, screen and sun shades.
Music School Louviers, Normandy, northern France
Design: Opus 5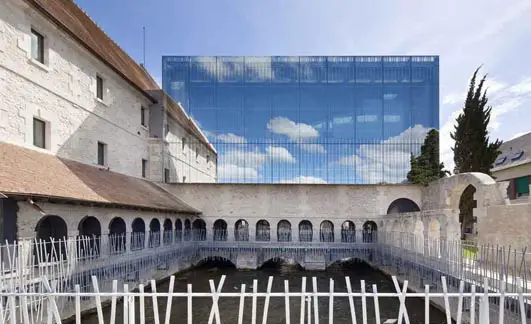 photograph : Luc Boegly
Music School Louviers – 17 Sep 2012
The antique convent of the Penitents, in the city center of Louviers – Normandy, is a very exceptional example of "cloister on water", made of a complex assembly of successive constructions.
Médiathèque Romain Rolland, Paris
Philippe Gazeau architecte



picture : Philippe Ruault
Médiathèque Romain Rolland – 16 Jul 2012
The Romainville multimedia library is located in the heart of a dormitory town that is being completely renovated. The town planners wanted to open up the district by fragmenting the housing blocks, creating a central plain to provide a large park and two facilities, including the multimedia library which is intended to act as an attractive magnet on a neighbourhood level. The new building floats between two 'flying carpets'.
maison L, Yvelines, northern France
Architect: architecturespossibles



photo : George Dupin
maison L Yvelines – 2 Jul 2012
RIBA Awards 2012 Winner
The brief suggested the L-shaped general plan and the use of an indigenous stone for retaining walls. But it did not suggest half burying a series of interconnecting cave-like rooms, nor the five three-storey board-marked concrete towers that poke out of the rockery roof. This is where the genius of the architect comes in.
Maison de l'Économie Créative et de la Culture en Aquitaine, MÉCA, Bordeaux, south west France
Design: BIG + FREAKS freearchitects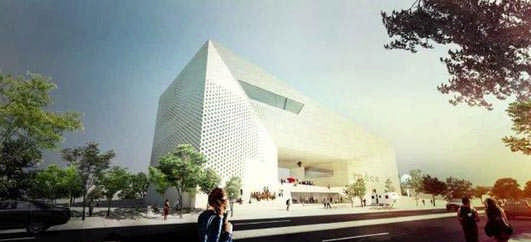 image from architects
MÉCA Bordeaux – 20 Jun 2012
Team BIG+FREAKS freearchitects, dUCKS scéno, Khephren Ingénierie, VPEAS, ALTO Ingénierie, Vincent Hedont, PBNL, Mryk & Moriceau, Ph.A wins the competition to design a new 12 000 m2 cultural center on the riverfront of Bordeaux, merging three cultural institutions into one single building.
Musée des Beaux-arts Rheims, northeast France – 30 May 2012
David Chipperfield Architects



image © David Chipperfield Architects
The new Musée des Beaux-arts is situated on the periphery of a long green space, arising from the town fortifications, between the old and new town. The Gallo- Roman gate and the modernist market hall, located in its vicinity, are evidence of Reim's architectural history from antiquity to modern times. An excavation site with mediaeval findings is situated at the site of the new museum.
Musée de la Romanitée Narbonne, southern France – 17 May 2012
Foster + Partners



image : Foster + Partners
Following an international competition, Foster + Partners, working with museum designer Adrien Gardere, is designing a new museum for Roman artefacts in the city of Narbonne.
As a vital Roman port, Narbonne has an impressive legacy of buildings, ancient relics and archaeological sites. The centrepiece of the museum is a collection of more than 1,000 ancient stone relief funerary blocks excavated nearby. Their display forms a natural barrier at the heart of the simple, rectilinear building, separating the public galleries from the more private restoration spaces.
Musée des Beaux-arts Reims, north east France – 11 Apr 2012
X-TU Architects



image from architects
Competition for the Arts Museum of Reims
Total floor area: 13,700 m² SHON
Cost: 35,000,000 €
Marseille Vieux Port Masterplan, southern France – 8 Mar 2012
Foster + Partners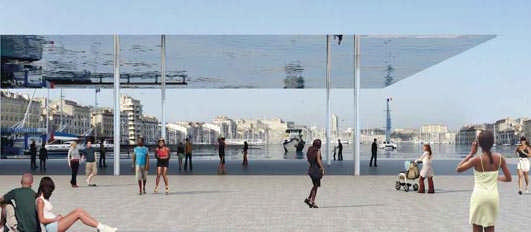 image : Foster + Partners
Marseille's Vieux Port, one of the great Mediterranean ports, is about to be transformed. Work has started on Michel Desvigne's and Foster + Partners' competition-winning masterplan for its regeneration. The project will reclaim the quaysides as a civic space, creating new informal venues for performances and events and removing traffic to create a safe, semi-pedestrianised public realm.
We have 7 pages of French Building Design selections.
French Architecture : news + key projects
French Buildings : A-C
French Architectural Designs : D-F
French Building Developments : G-J
French Architecture Designs : K-L
French Building Designs : M-R (this page)
French Architecture Developments : S-Z
New French Building Designs
Contemporary Building Designs in France, alphabetical:
MBA Building, Paris
David Chipperfield Architects



picture : David Chipperfield Architects
MBA Building Paris
Mantes-la-Jolie Aquacenter, nr Paris
Agence SEARCH



photo © Michel Denancé
Mantes-la-Jolie Aquacenter
Marché Permanent, Béthune
Architects: Zvi Hecker



image from architect
Béthune Architecture–
The Metaphone – Oignies, northeast France
Hérault Arnod Architectes



image : Thomas Seriès – Labtop, Hérault Arnod
The Metaphone – Oignies
Millau Viaduct
Foster + Partners


photo © Nick Weall
Millau Viaduct
Mine site 9-9bis – Oignies
Hérault Arnod Architectes



building image : Labtop-rendering
Oignies building
Modern Music Centre Evreux, North France
Hérault Arnod Architectes



image : Labtop-rendering
Modern Music Centre Evreux
Monolith in Lyon
Designed by Erick van Egeraat + others



image © Designed by Erick van Egeraat
Monolith in Lyon
Multiplex Europalaces Gaumont, Rennes
Christian de Portzamparc



image from architect
Rennes building
Nantes Tripode Buildings, Nantes
Christian de Portzamparc



image from architect
Nantes Tripode
New General Building of Council of Europe
Art & Build Architect



picture from architect
New General Building of Council of Europe
The Orange Cube
Jakob + Macfarlane



photo : Nicolas Borel
The Orange Cube Lyon
Origami Building, Paris
Manuelle Gautrand



© Manuelle Gautrand Arch. photo Vincent Fillon
Origami Building
Orleans Médiathèque
Du Besset-Lyon Architectes



image from architect
Orleans Mediatheque
Pajol sports centre, Paris
Brisac Gonzalez Architects



photo : Sally Spencer Davies
Pajol sports centre
Paladru Archaeology Museum and Park
Hérault Arnod Architectes



image © André Morin
Paladru Archaeology Museum
Parc des Expositions, Toulouse
OMA



image © OMA
Parc des Expositions Toulouse
The Phare, Paris
Morphosis



image from architect
The Phare
Philharmonie de Paris
Ateliers Jean Nouvel



picture © Jean Nouvel
Philharmonie de Paris
Pierre Vives Project, Montpellier
Zaha Hadid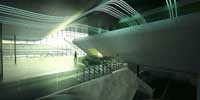 picture from ZHA
Pierre Vives
"Pôle Sud" Skating Rink, Grenoble
Hérault Arnod Architectes



image © André Morin
Grenoble Skating Rink
RBC Design Center, Montpellier
Ateliers Jean Nouvel



image © Ateliers Jean Nouvel
RBC Design Center
Renaissance Paris Wagram Hotel
Atelier Christian de Portzamparc



image from architect
Renaissance Paris Wagram Hotel
Rossignol Global Headquarters, Grenoble
Hérault Arnod Architectes



building image : Labtop-rendering
Rossignol Grenoble
Rungis Médiathèque
Du Besset-Lyon Architectes



image from architect
Rungis Mediatheque
More French Building Designs online soon
French Building Designs – No Images
French Buildings – M-R:
Maison Carré, Bazoches-sur-Guyonne
1956-59
Alvar Aalto
Millau Viaduct, Gorge du Tarn, south France
2005
Foster + Partners
One of the greatest – if not The Greatest – bridges in the world
Mixed-use project, Quartier de l'Amphitheatre, Metz
2007-
Erick van Egeraat Architects
Musée Champollion, Figeac
2007
Agence Moatti et Rivière
Musée Fabre, Montpellier
2007
Agence d'architecture Brochet Lajus Pueyo / Atelier d'Architecture Emmanuel Nebout
Museum, Metz
2005-08
Shigeru Ban with Jean de Gasties & Gumuchdjian Architects
Provincial Capitol Building, Toulouse
–
Venturi, Scott Brown & Associates
Reims University Library
–
Chabanne & Partners architects
Rouen Stadium
–
Dominique Perrault Architectes
Rudin House, Leymen
1997-98
Herzog de Meuron Architects
More Building Designs in France online soon
Location: France, western Europe
France Architectural Design
French architect : Claude Ledoux
Buildings / photos for the French Architecture Design page welcome