Paris Philharmonic, Parisian Symphony Hall Building, Court Case News, Architect, Jean Nouvel Design
Paris Philharmonic Building : French Concert Hall
Philharmonie de Paris design by Ateliers Jean Nouvel, France, Europe
2 Jan 2017
Philharmonie de Paris Nominated for Mies van der Rohe 2017 Awards
Mies van der Rohe 2017 Award Nominations
11 Dec 2016
Philharmonie de Paris Court Case
French court rules on the moral rights of well-known architect Jean Nouvel
On 5 September 2016, the French Court of Jurisdictional Conflicts (Tribunal des Conflits) issued a decision with respect to the extent of the authority of competent courts to hear disputes related to the infringement of moral copyrights of architects involved in the construction or renovation of public buildings, reports www.lexology.com.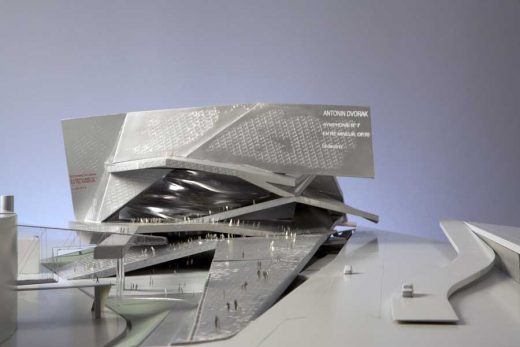 image : Gaston & Septet
This decision was rendered within the frame of a legal dispute initiated by the well-known French architect Jean Nouvel against the owner of the Paris Philharmonie, a concert hall commissioned by the French State and the city of Paris. Jean Nouvel designed the Paris Philharmonie, which opened in Paris in 2015.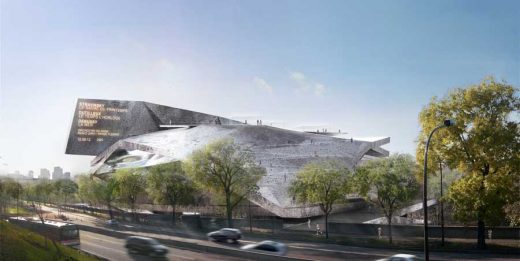 picture : Atelier Jean Nouvel
Taking the view that the owner of the Philharmonie had modified and thus defiled his architectural work, Jean Nouvel had sued the former before the Paris Court of First Instance (civil court) asking the court to order the owner to perform all works necessary for the restoration of his work so as to comply with the architectural plans he had initially drawn.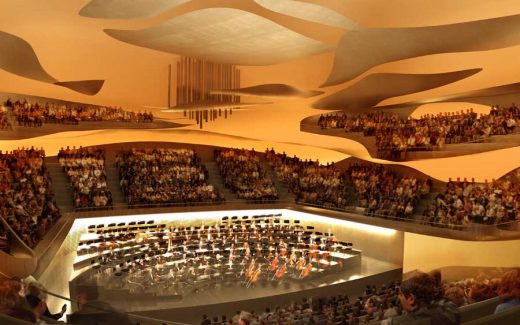 picture : artefactory
Philharmonie de Paris Court Case
28 Mar 2011
Philharmonie de Paris Design
The Paris Philharmonic, Paris, France
Dates built: 2007-12
Design: Ateliers Jean Nouvel
Start on site
The Paris Philharmonic Building by Atelier Jean Nouvel has now started construction.
Approx. cost: $260m
Philharmonie de Paris
French text from Ateliers Jean Nouvel:
Harmonies, accords…
Dans le mot philharmonie on peut déjà facilement imaginer l'amour de l'harmonie. Nous jouons d'harmonies successives, d'harmonies urbaines. La philharmonie existe comme un événement prestigieux qui entretient des relations harmonieuses avec le Parc de La Villette, la Cité de la Musique et le boulevard périphérique.
Primo : harmonie avec la lumière de Paris, le rai de soleil dans les nuages gris, la pluie… Architecture de reflets dosés et composés, créée par un relief calme, matérialisée par des pavés de fonte d'aluminium dessinant au sol un graphisme esherien.
Secundo : harmonie avec le Parc de la Villette, continuité des thèmes tschumiens, abri-jardin horizontal sous le bâtiment, ponctuation-folies, reflets des ombres dans les brillances architecturales et création d'une petite montagne, d'une butte de La Villette, relief minéral parcourable qui, à l'instar des Buttes-Chaumont est un observatoire du paysage urbain.
Tertio : harmonie avec la Cité de la Musique par le dessin de plans obliques et pavages de lignes de force déjà initiées.
Quatro : harmonie avec le boulevard périphérique et la banlieue par la création d'un signe à l'échelle d'une vue dynamique et lointaine ; signe de lumière la nuit : ponctuation du relief, programmes…
Un autre type d'accords est à établir avec la musique aujourd'hui et le (la) mélomane que le confort de l'audition devant sa Hifi et ses CD peut rendre paresseux (se). La philharmonie est un lieu ouvert.
Primo : le hall et les foyers offrent des plaisirs terrestres qui font qu'ici on peut se donner rendez-vous, passer des heures à flâner dans les boutiques, boire ou manger dans les bistros avec vue sur jardin, lire dans les salons.
Secundo : la salle évocatrice des nappes immatérielles de musique et de lumière suspend des auditeurs-spectateurs dans l'espace sur de longs balcons qui offrent des sièges plus larges et plus profonds pour un confort exceptionnel. Cette suspension crée l'impression d'être entouré, immergé dans la musique et la lumière. L'enveloppe « cyclorama volumétrique » reçoit des éclairages choisis en fonction du répertoire. De temps à autre des fenêtres sur le parc et la banlieue peuvent être ouvertes.
Tertio : il s'agit de redonner son lustre au concert, à cette expérience unique que représente chacun d'entre eux qui ne sera pas seulement le ravissement provoqué par la musique mais aussi celui, visuel, sensoriel, de faire plaisir, de créer ce désir qui fait les philharmonies les plus prestigieuses. Celle de Paris se doit d'y appartenir. Elle y sera aidée par une esthétique puissante mais calme, marquée par la monomatière de la fonte d'aluminium avec ses nuances de tons nacrés, délicatesse qui ajoute au mystère de la présence de la salle qui, dans les plis gris et argent de l'édifice, luit.
Jean Nouvel
Philharmonie de Paris Location: Parc de la Villette
Competition Information:
Entries: 98
Shortlist: 6




pictures : Atelier Jean Nouvel



pictures : Atelier Jean Nouvel
Address: 211 Avenue Jean Jaurès, 75019 Paris, France
Contact: 01 40 40 67 00
Philharmonie de Paris Competition – Shortlisted Architects
Ateliers Jean Nouvel, Christian de Portzamparc, Coop Himmelb(l)au, Francis Soler, MVRDV, Zaha Hadid
Location: 211 Avenue Jean Jaurès, 75019 Paris, France
New Paris Architecture
Contemporary Paris Architecture
Paris Architecture Design – chronological list
Architecture Tours in Paris by e-architect
Auneau Cultural Center, Place du Marché, Auneau
Architecture: Agence Patrick Mauger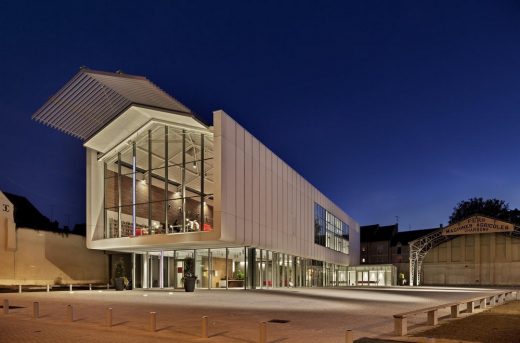 photo : Michel Denancé
Auneau Cultural Center Building
Comments / photos for the Philharmonie de Paris Building page welcome