Royal Academy of Arts Summer Exhibition Review, London Architecture Event
Royal Academy of Arts Summer Exhibition, London
Review of English Architecture Event – Awards News for 2018
26 Jul 2018
Royal Academy of Arts 250th Summer Exhibition
Professor Nic Clear's underground city exhibits at Royal Academy 250th Summer Exhibition
Professor Nic Clear's underground city for three million people is on display as part of the Royal Academy's Summer Exhibition. The model, entitled Chthonopolis, is Professor Clear's vision of the future – an underground city for three million people, whose homes are built by droids from modified salt and their diet is based on insect protein.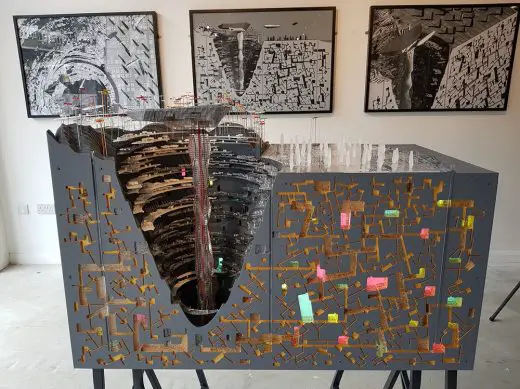 photograph courtesy of University of Huddersfield
Royal Academy of Arts 250th Summer Exhibition
RA Summer Exhibition 2018 Awards
The Royal Academy of Arts' Summer Exhibition in 2018 Awards
Matthew Bloomfield named as the recipient of the Turkish Ceramics Grand Prize for Architecture in the Royal Academy's Summer Exhibition.
The award is chosen on the criteria of being the most outstanding work of architecture exhibited within the architecture gallery of the summer exhibition and comes with a £10,000 prize.
The Royal Academy's announcement of the prizes can be found here:
RA Summer Exhibition 2018 Awards
Matthew Bloomfield
525 – THE PARLIAMENTARY CAMPUS OF GOD'S OWN COUNTRY
Architecture models | Pine, plywood, greyboard, 3d print and fabric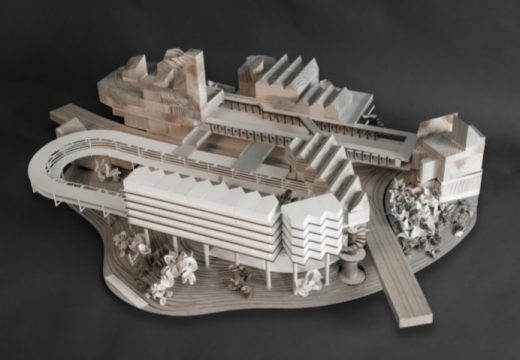 image courtesy of Matthew Bloomfield
Matthew Bloomfield told e-architect that, "The model that I submitted to the Summer exhibition was completed in my final year at the University of Sheffield. I am now working as a Part 2 Architectural Assistant at Allies and Morrison. This places me in contrast with the previous recipients of the Turkish Ceramics Grand Prize for Architecture, who have all been well established and highly respected figures within the architectural profession; Will Alsop, Peter Barber, Richard Rogers and Herzog and de Meuron."
Speculating upon current political trends within the UK and internationally, the project imagines the prospect of Yorkshire's Independence from the UK and therefore proposes a Parliamentary Campus for the Independent Nation State of God's Own Country. The project narrative charts the rise of a demagogic Everyman, and his ultimate fall from grace, as a vehicle to address localism and identity, protectionism, democratic accountability and inclusive liberalism.
Situated within the city of Sheffield, the Campus houses political and governmental functions set alongside leisure facilities and essential services. The political assembly is complemented by and juxtaposed with a range of civic spaces, a retail precinct, community refectory, greyhound track, sports facilities and residential accommodation. The provision of this range of typologies in one place unifies different spheres of life, creating an ideal civic model and delivering a more accountable, more engaged politics.
The thesis draws heavily on Harry Frankfurt's "On Bullshit" and intends to act as a critique of contemporary political discourse, which tends towards soundbites and empty rhetoric. This is taken as parallel to our contemporary commodified architecture which lacks critical value or meaningful nuance. Railing against this tendency of architectural reductionism, the Parliamentary Campus of God's Own Country.
Matthew Bloomfield will give a talk about his work at the Royal Academy on the 20th July: https://www.royalacademy.org.uk/event/turkishceramics-grand-prize-for-architecture
The Hugh Casson Drawing Prize:
£5,000 for an original work on paper in any medium, where the emphasis is clearly on drawing.
Mark Beesley, Mock Tudor
27 Jun 2017
RA Summer Exhibition 2017 Awards
The Royal Academy of Arts' Summer Exhibition in 2017 Awards
Each year the Royal Academy of Arts presents a number of significant prizes for outstanding works within the Summer Exhibition. Over £50,000 is offered in awards and prizes for every category of work in the exhibition, including sculpture, architecture, drawing, works on paper, painting, photography and prints. The prestigious £25,000 Charles Wollaston Award, one of the most significant art prizes in the country, is also presented to the 'most distinguished work' in the exhibition. This year's architectural prize winners are listed below:
Turkishceramics Grand Award for Architecture
£10,000 awarded to the most outstanding work of architecture.
This prize is to be shared by two winners:
£5,000 Prize: Herzog & De Meuron, ELBPHILHARMONIE HAMBURG, HAMBURG, GERMANY, 2001 – 2016, LEVEL 17 FLOORPLAN WITH MECHANICAL DUCTWORK OF THE MAIN CONCERT HALL (Cat no. 407, Architecture Room)
Royal Academy of Arts' Summer Exhibition in 2017 work by Herzog & de Meuron: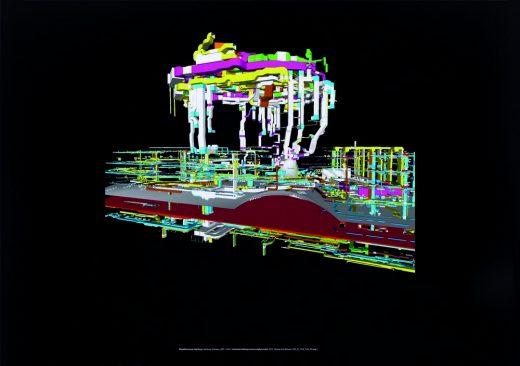 Herzog & de Meuron
Elbphilharmonie Hamburg, Germany, 2001–2016, Technical Buildings Services
Digital print
84 × 119 cm
£5,000 Prize: Lord Rogers of Riverside CH RA, ONE OF SEVEN, GENEVA AIRPORT (Cat no. 349, Architecture Room)
Royal Academy of Arts' Summer Exhibition in 2017 work by Lord Rogers of Riverside CH RA: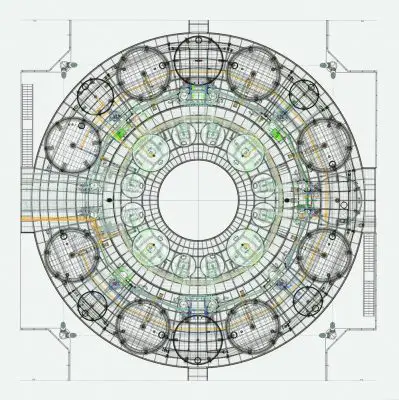 Lord Rogers of Riverside CH RA
The Finest Cut II, Macallan Distillery
Ink and paper
110 × 110 cm
Bahadir Kayan, Chairman of Turkishceramics, said: "We are delighted to present the 'Turkishceramics Grand Award for Architecture' for the third time in three years. Farshid Moussavi's call for construction coordination drawings brought together an outstanding show that unveils the unseen beyond models and images. Congratulations to Lord Rogers of Riverside and Herzog de Meuron, who got to share the prize this year, for their outstanding submissions."
The Hugh Casson Drawing Prize
£5,000 for an original work on paper in any medium, where the emphasis is clearly on drawing.
This prize is to be shared by two winners:
£3,000 Prize: Lok-kan Chau, CONSTRUCTION MANUAL FOR LANTAU COMMUNE (Cat no. 353, Architecture Room)
£2,000 Prize: Peter Matthews, 9 HOURS IN AND WITH THE ATLANTIC OCEAN (ENGLAND) (Cat no. 194, Gallery I)
ARUP's Architecture Award for Emerging Talent
£5,000 for emerging talent in architecture.
Yuji Tanabe, FLOWER APARTMENT (Cat no. 390, Architecture Room)
Nigel Tonks, Group Leader Buildings London, Arup, said: "Amongst the entries from young and emerging practices, Tanabe's restrained drawing for Flower Apartment speaks closely to the curator's aim of architecture as an instruction-based art. This elegant piece works as a drawing and a model, depicting boundaries and scale in an engaging way. Tanabe's approach to layering information authentically conveys a feeling of space in this simple apartment building".
9 Jun 2017
RA Summer Exhibition 2017 Architecture Review
The Royal Academy of Arts' Summer Exhibition in 2017 Review
Exclusive Review by London architect Eleonora Nicoletti for e-architect
The first piece I saw when I entered the courtyard was the colourful Wind Sculpture VI by Yinka Shonibare, evoking the frozen movement of a piece of fabric. What struck me as I walked into the galleries was the amount and diversity of the artworks in terms of sizes, media used and contents displayed.
The works are so densely assembled that there are no labels and so they are a bit difficult to identify, although they are numbered and a list of works is provided at the entrance. According to that list, the exhibition includes 1092 artworks!
Royal Academy of Arts' Summer Exhibition in 2017 work by Barkow Leibinger: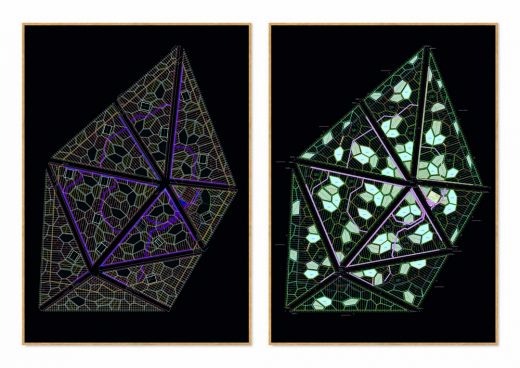 Barkow Leibinger
Campus Restaurant Ditzingen, Germany – Reflected Ceiling Plan (detail)
Digital print
120 × 85 cm
Courtesy Barkow + Leibinger
Despite the diversity of the works, ranging from sculptures and paintings to prints, photographs, films and architectural drawings as well as models, there is an attempt to create visual links between the artworks, for instance based on colours.
Although architecture drawings and models are concentrated in the Large Weston Room, I could see some architectural elements in other works, such as the use of certain materials or geometric patterns in some cases. For instance, the painting Full House by Sean Scully seems to evoke a wall with its blocks of colours that occupy a whole side of Room II, while the work EC3 by Danny Rolph interestingly includes Triplewall polycarbonate. You can see many of the artworks at this link:
The Royal Academy of Arts' Summer Exhibition in 2017
The architecture exhibition, curated by Farshid Moussavi, has a clear emphasis on the importance of construction drawings in the architectural design process. There are both hand drawings of architectural details and computer-generated drawings in 2D and 3D, sometimes showing less architectural and more engineering aspects, from structural diagrams to drawings of the services.
Royal Academy of Arts' Summer Exhibition in 2017 work by Farshid Moussavi: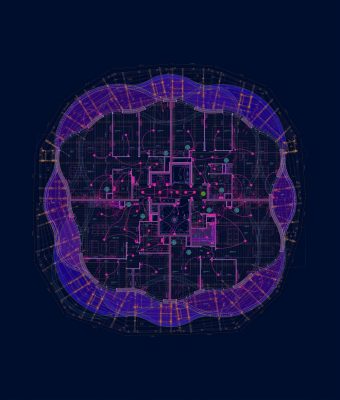 Farshid Moussavi RA
Planometric Coordinations, Montpelier housing
Digital print
102 × 87 cm
The drawings include a section of the Leadenhall Building by Lord Rogers, a cutaway coordination drawing of the Mexico Airport by Lord Foster, a coordination model of the Guggenheim Abu Dhabi Museum by Frank Gehry, and digital 3D drawings of the National Taichung Theater by Toyo Ito, among many others (some of which are for sale!). You can see overall how computer-aided design has changed the profession giving architects access to levels of complexity that were probably unimaginable in the past.
Royal Academy of Arts' Summer Exhibition in 2017 work by Chris Wilkinson: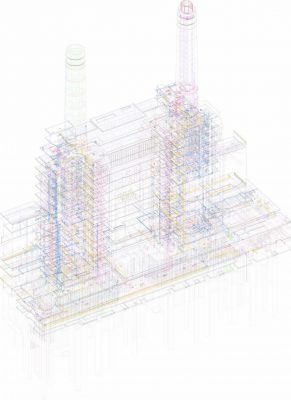 Chris Wilkinson OBE RA
Battersea Power Station
Digital print of BIM model
180 × 150 cm
Courtesy of WilkinsonEyre
Eleonora Nicoletti, e-architect London
Address: Burlington House, Piccadilly, Mayfair, London W1J 0BD, UK
Phone: +44 20 7300 8090
21 May 2017
Architecture at RA Summer Exhibition 2017
The Royal Academy of Arts' annual Summer Exhibition in 2017
Summer Exhibition 2017
Main Galleries, Burlington House
The Royal Academy's 249th Summer Exhibition will be co-ordinated by Eileen Cooper RA.
The hanging committee will consist of Royal Academicians Ann Christopher, Gus Cummins, Bill Jacklin, Fiona Rae, Rebecca Salter and Yinka Shonibare.
This year, the Architecture Gallery will be curated by Farshid Moussavi RA.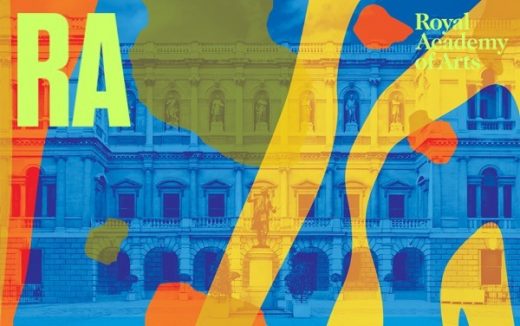 The exhibition is open to the public on these dates:
13 June – 20 August 2017
10am – 6pm, Fridays until 10pm
Join the conversation: #RASummer or royalacademy.org.uk
Royal Academy of Arts
Piccadilly site:
Burlington House,
Piccadilly
London
W1J 0BD
Architect Farshid Moussavi was one of the key figures at FOA. A mjor work by this architecture studio is the Museum of Contemporary Art Cleveland Building.
24 Jun 2014
Architecture at RA Summer Exhibition
London, England
The Royal Academy of Arts' annual Summer Exhibition in 2014
The Royal Academy of Arts' annual Summer Exhibition heralds the start of the British summer season. As the world's largest open submission exhibition it provides a unique platform for emerging and established artists to showcase their works to an international audience comprising a range of media from painting to printmaking, photography, sculpture, architecture and film. This year the Royal Academy received 12,000 entries, from which the hanging committee of Royal Academicians led by Hughie O'Donoghue, the coordinator of the Summer Exhibition 2014, will make a selection to hang on the walls of the Main Galleries in Burlington House. For the first time, artists have submitted their works digitally for the initial round of judging. Over 1,200 artworks will go on display, the majority of which will be for sale offering visitors an opportunity to purchase original artwork by high-profile and up-and-coming artists.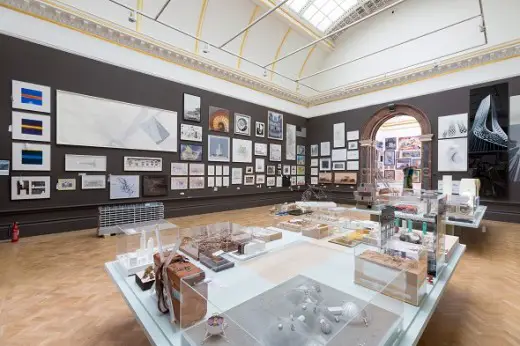 Architecture plays an important part in this year's exhibition. 140 works have been selected and hung by the architect Eric Parry RA after some early dialogue with Sir Richard MacCormac CBE RA. Focusing on the development of designs and exploration of ideas during the process of conceiving and designing buildings, Parry puts equal emphasis on incomplete or theoretical projects as completed projects.
Newly elected Royal Academicians Thomas Heatherwick and Louisa Hutton will be represented in the Architecture Room and the Central Hall; Heatherwick presents a model of his Bombay Sapphire Gin Distillery, while Hutton, from the Berlin-based practice Sauerbruch Hutton, presents two prints of her designs for M9 Museum in the old city centre of Mestre and Immanuel Church in Cologne. Other Royal Academicians represented in the Architecture Room include Ron Arad, Gordon Benson, Peter Cook Edward Cullinan, Trevor Dannatt, Norman Foster, Spencer de Grey, Nicholas Grimshaw, Zaha Hadid, Louisa Hutton, Eva Jiricna, Paul Koralek, Leonard Manasseh, Michael Manser, Eric Parry, Ian Ritchie, Richard Rogers and Chris Wilkinson.
Eric Parry, Principal at Eric Parry Architects, said:
"The Architecture room is rich in its propositions for buildings and places. Nowhere else will you find the international juxtaposition of the work of students alongside great practitioners and it makes a fascinating survey. Three walls are hung with more intimate work at a lower register, whilst the fourth introduces film and architecture.

Two plinths house models, one at the scale of the city the other at the scale of buildings."
Other highlights will include a room curated by sculptor Cornelia Parker RA. Focusing on the theme of black and white, Cornelia Parker has invited Royal Academicians Michael Craig-Martin, Richard Deacon, Tacita Dean, and Michael Landy to exhibit works, as well as other high-profile artists such as Martin Creed, Jeremy Deller, Mona Hatoum, Christian Marclay, Laure Prouvost and David Shrigley. Many of the artists will be creating new works specifically for this room.
In the past year, the Royal Academy has elected a record-number of Members, creating a new generation of Royal Academicians. To celebrate this renewal of the Membership, there will be a dedicated room for the display of works by newly elected Academicians, who include Thomas Heatherwick, Neil Jeffries, Chantal Joffe, Tim Shaw, Conrad Shawcross, Yinka Shonibare, Bob and Roberta Smith and Wolfgang Tillmans amongst others, and also newly elected Honorary Academicians, such as El Anatsui, Marlene Dumas and Rosemarie Trockel.
The Print Room will be overseen by Chris Orr and Emma Stibbon; and John Maine will arrange a room dedicated to sculpture. The Summer Exhibition 2014 will also feature works in memory of the Royal Academicians John Bellany (1942 – 2013), Ralph Brown (1928 – 2013), Sir Anthony Caro (1924 – 2013), Maurice Cockrill (1936 – 2013) and Alan Davie (1920 – 2014).
One of the founding principles of the Royal Academy of Arts was to 'mount an annual exhibition open to all artists of distinguished merit' to finance the training of young artists in the Royal Academy Schools. The Summer Exhibition has been held every year without interruption since 1769 and continues to play a significant part in raising funds to finance the current students of the RA Schools, who pay no fees for the duration of their studies.
This year, the Royal Academy will be working in partnership with BBC Arts to create a broad range of coverage on TV, radio and online about the Summer Exhibition 2014.
Eric Parry Biography
Eric Parry established Eric Parry Architects in 1983. The practice is renowned for cultural projects involving sensitive historic buildings as well as several highly prestigious commercial projects in London's City and West End, including the recently completed One Eagle Place in Piccadilly, working with clients such as The Crown Estate, Henderson Global Investors and Generali.
The practice has developed an excellent portfolio of high-end residential interiors and spas, and has built a reputation for bespoke designs including furniture, ironmongery and textiles, which confirms the practice's holistic approach and dedication to details and craftsmanship.
In addition to his work in architectural practice, Eric sits on the Mayor's Design Advisory Panel and serves on the Royal Academy Architecture Committee, amongst others.
He was elected Royal Academician (RA) in 2006 and awarded the honorary degree of Doctor of Arts from the University of Bath in 2012.
His contribution to academia includes fourteen years as Lecturer in Architecture at the University of Cambridge.
Summer Exhibition Committee
The Summer Exhibition Committee for 2014 includes the following Royal Academicians: Hughie O'Donoghue (coordinator), Eileen Cooper, Gus Cummins, John Maine, Chris Orr, Cornelia Parker, Eric Parry and Emma Stibbon.
Events
Lundahl & Seitl:
Symphony of a Missing Room: archive of the forgotten and remembered
Lundahl & Seitl's immersive tours will lead visitors on a collective and personal journey through the Royal Academy's public and private spaces, giving a unique insight into the Summer Exhibition and revealing the building as never before. Using multi-sensory technology, invisible dance and whispered illusion, these guided tours planned by the Swedish-born artist-duo Christer Lundahl and Martina Seitl are radically different to any in the Summer Exhibition's 246-year history.
Presented by LIFT and the Royal Academy of Arts. Supported by Festivals in Transition – Global City Local City, with the support of the Culture Programme of the European Union.
Six performances daily from 10am, 19 May—8 June, Tickets £25 (£18 concs.)
Book via the LIFT website: www.liftfestival.com
Wollaston Award and other Prizes
Established in 1978, the Royal Academy of Arts Charles Wollaston Award is, at £25,000, one of the largest and most prestigious art prizes in Britain. Previous winners include: El Anatsui Hon RA (2013), Anselm Kiefer Hon RA (2012), Alison Wilding RA (2011), Yinka Shonibare RA (2010), Jeff Koons Hon RA (2008), Gavin Turk (2007), Jake and Dinos Chapman (2003), Alan Charlton (2002), Marc Quinn (2001), Gerard Hemsworth (2000) and David Hockney RA (1999). The winner of the 2014 Wollaston Award will be announced on BBC2, Saturday 7 June.
A total of over £60,000 is offered in awards and prizes for every category of work in the Summer Exhibition.
Sponsor's Statement
"Insight Investment is proud to continue its long association with the Royal Academy of Arts. This is our ninth year as sponsor of the Summer Exhibition, which is celebrating 246 years at the heart of the cultural life of the nation.
Our partnership with the Royal Academy reflects shared values: the importance of excellence, the value of education, a willingness to embrace new ideas and the potency of creative thinking. The Summer Exhibition demonstrates extraordinary diversity; artistic inspiration that mirrors both the vast range and singularity of human experience. It is the world's largest open exhibition and an established part of the summer social calendar.
The partnership between Insight and the Royal Academy is almost as long as the history of our firm. From modest beginnings, a questioning attitude and a willingness to challenge conventional thinking have been the foundations of our approach. Delivering solutions to clients that are suited to their needs has contributed to Insight becoming one of the UK's leading investment managers.
We are honoured that Insight Investment is the lead sponsor of the Summer Exhibition once again in 2014 and we hope that all visitors will be inspired by the skill, passion and creativity on display on the walls and around the galleries." Abdallah Nauphal, Chief Executive Officer.
Dates and Opening Hours
Press View: Wednesday 4 June, 10am – 2pm
Open to public: Monday 9 June – Sunday 17 August 2014
10am – 6pm daily (last admission 5.30pm)
Late night opening: Fridays until 10pm (last admission 9.30pm)
Admission
Admission prices include the List of Works giving details on every exhibit in the show.
Adult ticket £13.50 (without Gift Aid donation £12); concessions available; under 16s go free. Friends of the RA go free.
Tickets
Tickets are available daily at the RA or by visiting www.royalacademy.org.uk.
Group bookings: Groups of 10+ are asked to book in advance. Telephone 020 7300 8027 or email [email protected]
Royal Academy of Arts Summer Exhibition information from the Royal Academy
Location: Burlington House, Piccadilly, Mayfair, London W1J 0BD, UK
London Architecture
London Architecture Links – chronological list
London Architecture Walking Tours
City of London Buildings
Comments / photos for Royal Academy of Arts Summer Exhibition page welcome
London, UK