Royal Academy of Arts 250th Summer Exhibition London, Nic Clear Architecture, Event
Royal Academy of Arts 250th Summer Exhibition, UK
Professor Nic Clear underground city at English Architecture Event – Awards News for 2018
26 Jul 2018
Royal Academy of Arts 250th Summer Exhibition
Professor Nic Clear's underground city exhibits at Royal Academy 250th Summer Exhibition
26 July 2018 – Professor Nic Clear's underground city for three million people is on display as part of the Royal Academy's Summer Exhibition. The model, entitled Chthonopolis, is Professor Clear's vision of the future – an underground city for three million people, whose homes are built by droids from modified salt and their diet is based on insect protein.
Chthonopolis: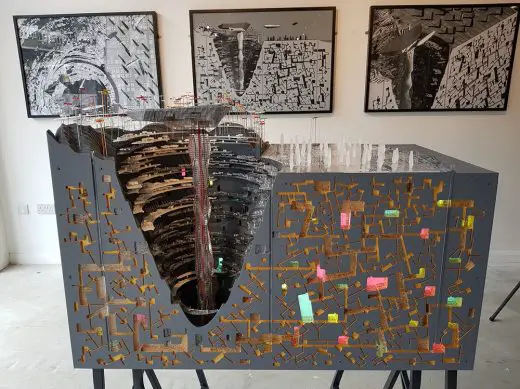 photograph courtesy of University of Huddersfield
Visitors to one of the world's most popular annual art exhibitions have been intrigued by a University of Huddersfield professor's vision of the future – an underground city for three million people. Their homes are built by droids from modified salt and their diet is based on insect protein.
Nic Clear insists that his large architectural model, which is on display at the Royal Academy as part of its famous Summer Exhibition, running until 19 August, is an optimistic interpretation of things to come.
"It is a utopia. I am fed up with a dystopian notion of the future. I am someone who believes in improvements through technological progress," said Professor Clear, who came to the University of Huddersfield at the start of 2018 to head the Department of Architecture and 3D Design.
"One of my main research threads is architecture as science fiction and like certain sci-fi authors I am assuming a series of technological advances and how architecture might respond."
The model that he is exhibiting at the Royal Academy is titled Chthonopolis, meaning underground city. It is installed in the same room as works by some of the biggest names in contemporary architecture, such as Lord Rogers, Lord Foster and Thomas Heatherwick.
Professor Clear – himself a leading figure in the use of digital technology and animation in the development and production of architecture – is a previous exhibitor at the Royal Academy. "It's a great showcase for architectural projects. It's curated and it's an international exhibition that exposes your work to a huge audience," he said.
Professor Nic Clear: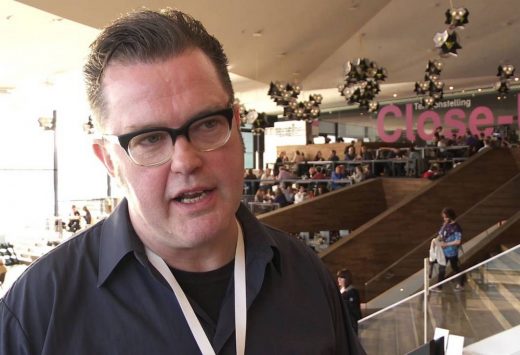 photo courtesy of University of Huddersfield
Surrealism in Architecture
The project that led to Chthonopolis, which is featured in 2018 book Celebrating the Marvellous: Surrealism in Architecture, began in 2014 when Professor Clear was asked to exhibit at a World Science Fiction Convention in London.
"The research team that I led built a very big model of a futuristic city at Canvey Island in Essex – near where I grew up – and at the centre of it was a caldera in which a series of labyrinths were created."
Professor Clear draws on a wide range of influences, including sci-fi – he wrote the architecture section in the Oxford Handbook of Science Fiction – and computer games as well as other architectural visionaries. He has a chapter in the 2014 book Future Details of Architecture and in this he explores some of the logistics of his underground city, such as its materials, methods of construction and food sources – including genetically-grown insect protein.
The structures in the kilometre-wide and kilometre-deep city represented in Chthonopolis would be made from a nano-modified form of sodium chloride, with robotic droids doing the building work.
In his teaching at the University of Huddersfield, Professor Clear encourages students to take a more speculative approach to their architectural projects and he believes that by ensuring that they have a sophisticated skillset – including animation – they will be more ambitious and more employable.
"One of the most dangerous things that a student can do is to play it safe and think that all they should be leaving university with is the skills that employers already need.
"A lot of practices employ my students because not only have they the conventional drafting, technical and professional skills, but they are also able to do something – such as animation – for which practices otherwise have to look externally."
Examples of the work by students of Professor Clear dating back to 1999 can be found at http://unitfifteen-archive.com.
Royal Academy of Arts 250th Summer Exhibition images / information from the The University of Huddersfield
Previously on e-architect:
RA Summer Exhibition 2018 Awards
The Royal Academy of Arts' Summer Exhibition in 2018 Awards
Matthew Bloomfield named as the recipient of the Turkish Ceramics Grand Prize for Architecture in the Royal Academy's Summer Exhibition.
Royal Academy of Arts 250th Summer Exhibition
Matthew Bloomfield
525 – THE PARLIAMENTARY CAMPUS OF GOD'S OWN COUNTRY
Architecture models | Pine, plywood, greyboard, 3d print and fabric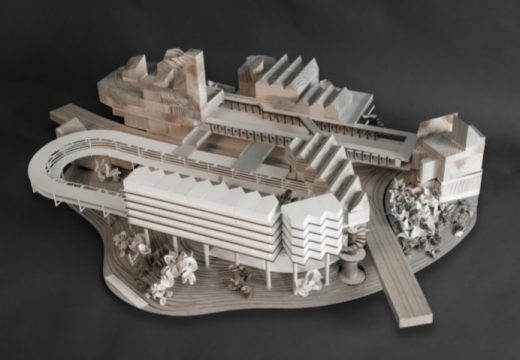 image courtesy of Matthew Bloomfield
Royal Academy of Arts Royal Academicians 2019
Location: Burlington House, Piccadilly, Mayfair, London W1J 0BD, UK
London Architecture
London Architecture Links – chronological list
London Architecture Walking Tours
City of London Buildings
RA Summer Exhibition 2018 Awards
Comments / photos for Royal Academy of Arts 250th Summer Exhibition page welcome