Home of 2030 Design Competition Winners, UK Housing, Residential Architecture News
Home of 2030 Design Competition News
4 Dec 2020
+Home and Connector Housing are joint winners of Home of 2030 Design Competition
Rt Hon Christopher Pincher MP, Minister of State for Housing, has today (Friday 4 December 2020) announced the joint winners of the Home of 2030 competition.
Launched in March 2020, and managed by the RIBA, the competition encouraged the design of environmentally friendly homes that support people in leading independent, fulfilling lives as our society ages.
Home of 2030 Design Competition Winners
+Home designed by igloo Regeneration with Useful Projects, Expedition Engineers and Mawson Kerr and Connector Housing designed by Openstudio with Hoare Lea, LDA Design and Gardiner & Theobald are the joint winners of the competition.
+Home entry to Home of 2030 Design Competition by igloo Regeneration: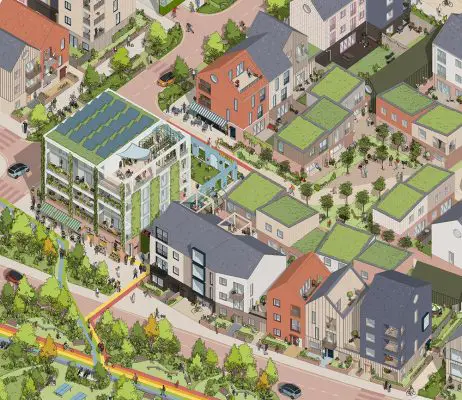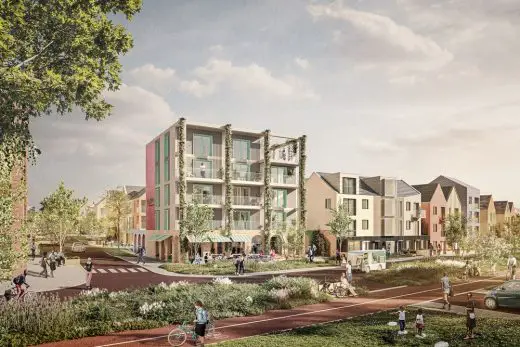 images © igloo
The +Home scheme proposes community-led self-build homes that people can design themselves. Simple to build with affordable frames and components, the homes would be climate friendly and recyclable at the end of their use.
+Home entry to Home of 2030 Design Competition: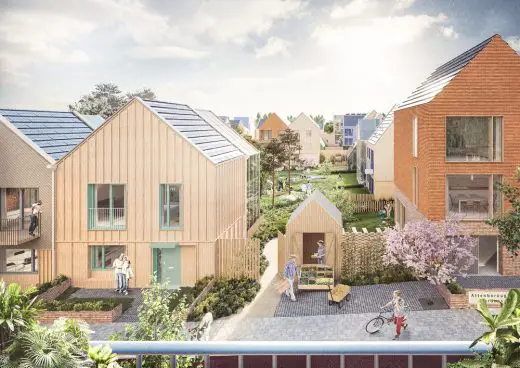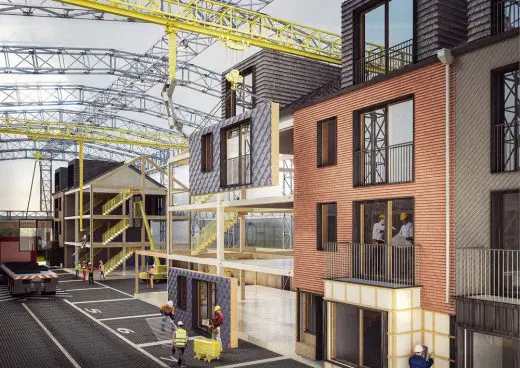 images © igloo
Connector Housing is a flexible and adaptable system for age-friendly, multi-generational housing and neighbourhoods. It proposes varying densities of houses and apartments, with a variety of site configurations, vertical heights, external appearances and internal layouts that can be adapted to respond to changing occupant needs.
Connector Housing entry to Home of 2030 Design Competition by Openstudio with Hoare Lea, LDA Design and Gardiner & Theobald: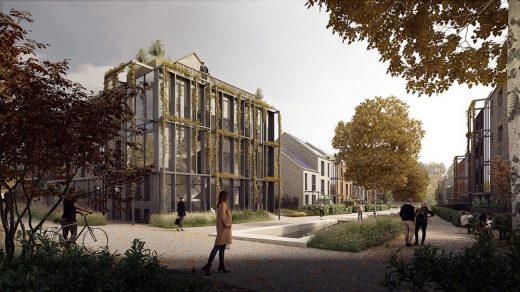 images © Openstudio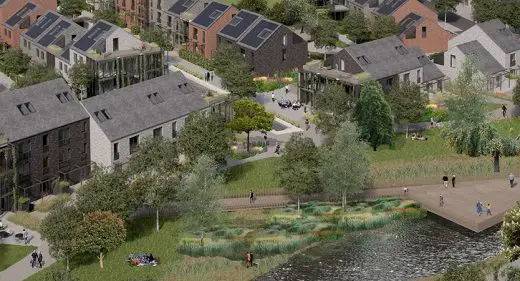 The winners and other shortlisted teams will now be invited to meet Homes England's development partners to discuss their ideas further.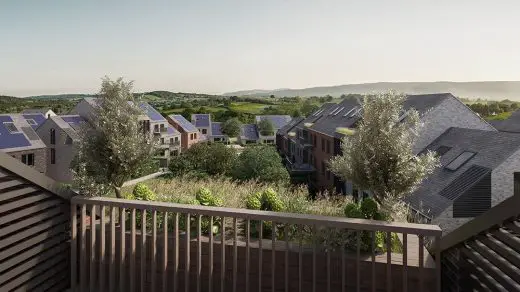 image © Openstudio
Speaking at the HOMES UK conference, Minister of State for Housing Rt Hon Christopher Pincher MP said: "The Home of 2030 competition was born out of this Government's ambition to meet the grand challenges of our time: helping our country adapt to an ageing society, whilst fighting climate change and boldly pursuing our 2050 net zero commitments. Two entries really captured the judges' imaginations – their designs show the way housing in this country can be reimagined and for that I would like to sincerely congratulate both winners of these worthy awards."
Peter Freeman, founder of Argent, chair of the competition judging panel and newly appointed chair of Homes England, said: "We had an outstanding shortlist for the competition, and making the final selection was very difficult. Our two winners reflect the very best of British design. Connector Housing shows how good design can deliver the excellent performance and scalability demanded for the flexible home of the future around attractive communal gardens. +Home is leading the way with a fully digitised housing manufacturing process which delivers a bespoke appearance, diverse aesthetics and mix of uses".
RIBA President, Alan Jones, said: "Congratulations to the two winning design teams. The UK urgently needs new, affordable, well-designed, accessible and sustainable housing that will last for future generations – and these two proposals provide exactly that. The winning schemes show what's possible when architects and designers collaborate and offer intelligent solutions to tackle the housing shortage we currently face."
The other four shortlisted teams, and their proposals, were:
Perpendicular Architecture, humblebee and changebuilding, with a team including EcoSystems Exterior Architecture and Arup. Their proposal named Positive+ House seeks to maximise the positive contribution to society and the environment, and utilises the latest in industry digitalisation and a distributed offsite manufacturing.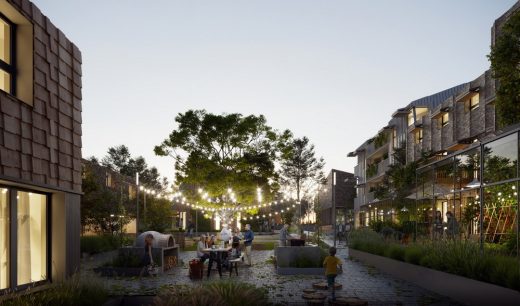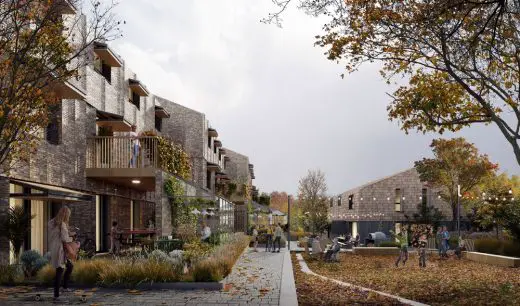 images © Perpendicular Architecture team
HLM Architects with University of Sheffield Advanced Manufacturing Research Centre (AMRC), Mid Group, Hydrock and Greenbuild. The team proposed a 'Forever Home', with a universal manufacturing platform that enables flexible, affordable, and sustainable homes that perpetuate a circular economy.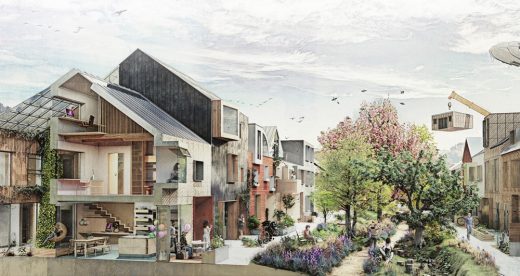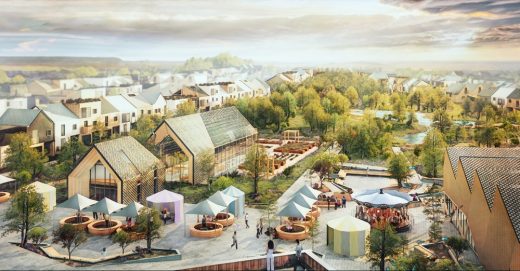 images © HLM Architects team
Outpost with Propagating Dan, Strawworks, Gaia Group, Max Fordham, Milk, Momentum and EcoCocon. Their proposal, Janus, combines traditional bio-based construction materials with modern 21st century techniques to create homes that are designed for a post fossil fuel age.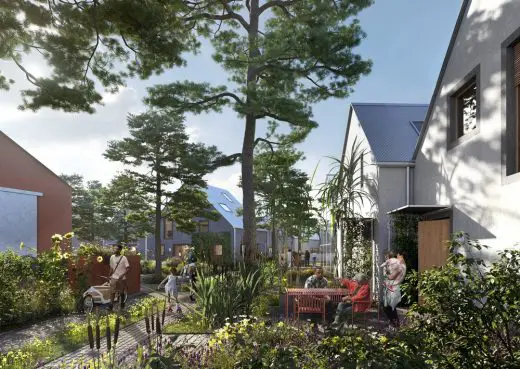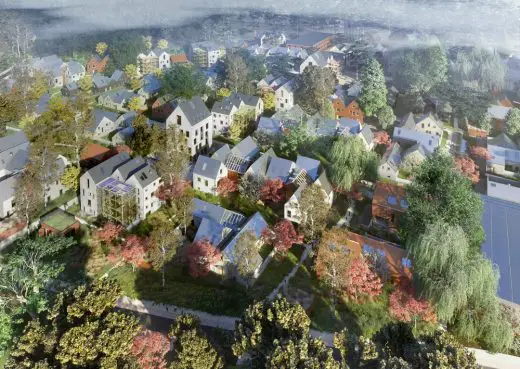 images © Outpost team
Studio OPEN with Elementa Consulting. Their proposal is a community-focused 'Forest City' design, with a central garden shared between four homes which are built from locally sourced materials and with modern construction methods. At end of life, homes will be disassembled, and components reused and recycled.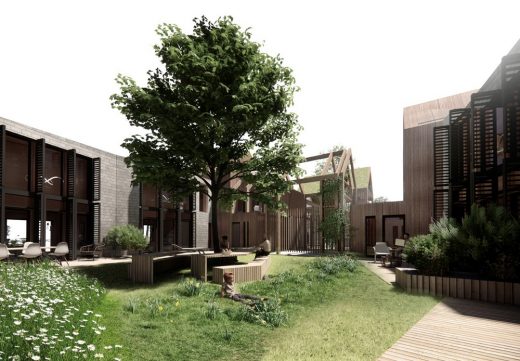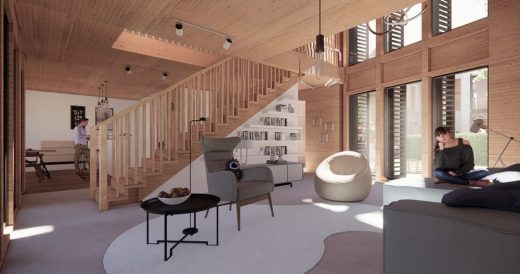 images © Studio OPEN team
The Home of 2030 programme also included a Young Persons' Challenge, an innovation challenge for manufacturers of new products and systems and a public engagement exercise to understand what people want from future homes. Find out more.
The Home of 2030 design competition was launched by Housing Minister Rt Hon Christopher Pincher on 2nd March 2020. It is a cross-departmental initiative funded by HM Government, with a steering group that includes the Ministry of Housing, Communities and Local Government (MHCLG), the Department of Business, Energy and     Industrial Strategy (BEIS) and the Department of Health and Social Care (DHSC). Home of 2030 aims to attract the best and brightest talents of the housing industry to design the homes of the future and is focused on four themes:
Age-friendly and inclusive – appealing to a variety of age groups and adaptable to how needs will change as people become older;
Low environmental impact – applying technology and construction techniques to deliver net zero carbon emissions;
Healthy living – promoting better health and wellbeing, such as through access to green spaces and communal areas;
Deliverable and scalable – homes that can be rolled-out across the country;
In addition to a professional design competition, a Home of 2030 Young Persons' Challenge was launched in November 2019 aiming to inspire young to let their imaginations run free by designing an innovative and inspirational green home that meets the changing needs of future generations, including promoting wellbeing, quality of life and healthy ageing. Rachael Milliner from the University of Nottingham was announced as the winner yesterday.
The Home of 2030 programme is managed by a multi-faceted consortium led by BRE, the leading international building science centre. RIBA Competitions are managing the design competition element of the initiative. Design Council are providing public and SME engagement, and educational charity MOBIE are responsible for outreach to young people.
Previously on e-architect:
13 July 2020
Design Council Home of 2030 Guide
Design Council has today launched findings into how homes of the future should be designed.
Design Council Home of 2030 Guide
New UK Housing News
8 July 2020
Construction Industry Reaction To Summer Economic Update
UK Summer Statement Response
6 July 2020
Is 'build build build' best for England's planning system?
Alister Scott, Professor of Environmental Geography and an expert in urban planning and infrastructure, writes for The Conversation on proposals to change the UK's planning system.
18 Jun 2020
Timber Frame: Accommodating The Differential
With sales of timber homes and buildings heading towards £1bn in the next 12 months*, Andy Swift, sales and operations manager, UK & ROI for ISO-Chemie, considers sealant tapes for timber frame structures and accommodating differential movement:
3 Jun 2020
UK Architects welcome landmark ARCO Report
We post comments from Mark Rowe, principal at Penoyre & Prasad and Félicie Krikler, director at Assael Architecture in support of ARCO's landmark report launched earlier today:
Too little, Too late? Housing for an ageing population
UK Housing Links
English Architecture:
English Architecture Designs – chronological list
Location: UK
Contemporary British Homes
Recent British Home Designs
Black House, Kent, Southeast England
Architect: AR Design Studio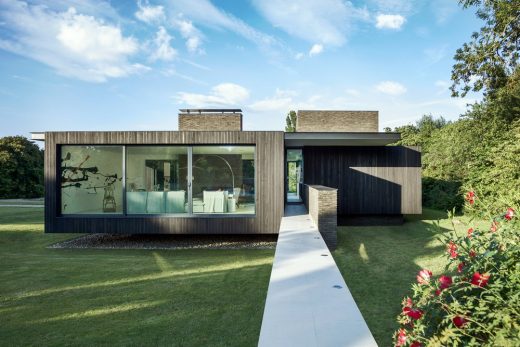 image courtesy of architects
Black House in Kent
Hurst House, Buckinghamshire, Southern England
Design: John Pardey Architects with Ström Architects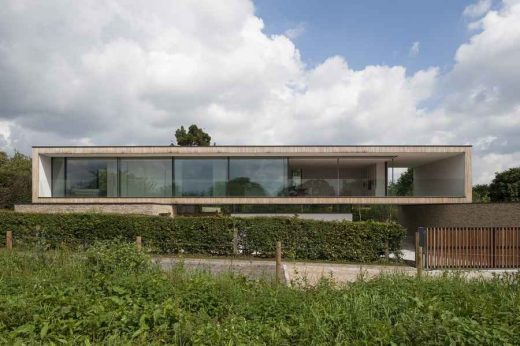 photo : Andy Matthews
Buckinghamshire Property
Comments / photos for the Home of 2030 Design Competition page welcome