Radical Innovation Design Competition 2017, Hotel Architecture Contest, Building Prize News
Radical Innovation Award
Design Contest in 2017: Hotel Space Award Winner – Prize Details
1 Sep 2017
Radical Innovation Design Competition Finalists
Play Design Hotel – Finalist of 8th Annual Radical Innovation Competition
This year, the Radical jury selected three professional finalists to compete for the grand prize. Each was asked a few questions to provde some information about the design team behind the concepts.
Play Design Hotel by Ting-Han Daniel Chen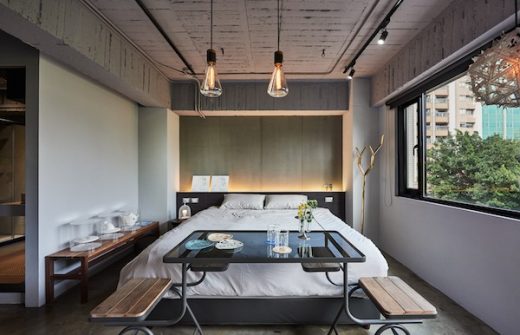 One of three professional finalists picked to compete in this year's competition, Play Design Hotel has already moved beyond concept into reality. The hotel is up and running in Taiwan. Here, founder Ting-Han Daniel Chen elaborates on his vision.
Tell us about Play Design Hotel.
Play Design Hotel is an inhabitable design gallery in Taiwan featuring thematic rooms outfitted with carefully curated furniture, fixtures, and accessories by local designers.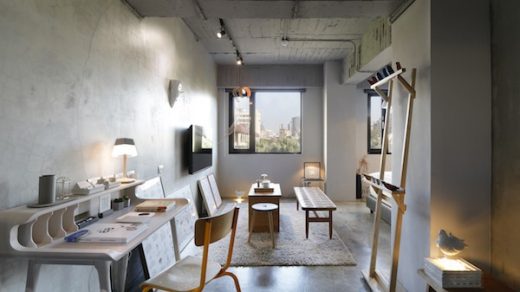 What inspired your concept?
We were inspired by the following questions: Beyond attending international exhibitions, is there any other way for local designers to contact international markets? Is it possible for our hotel to function as an interface between international travelers and Taiwanese design and culture?
What makes Play Design Hotel unique within the realm of hospitality design?
Many of the industry's "design hotels" distance themselves from their local origins. Most of the time, travelers stay in a hotel room, and its design tells them nothing of the larger location. But with Play Design Hotel, design is a personalized and genuine experience. We use indigenous works to connect lodgers with the local culture and design community.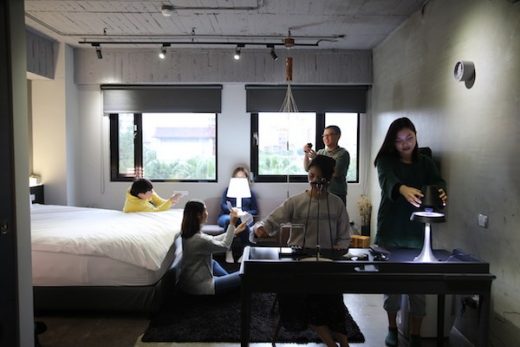 What are your ambitions for the project?
We want to implement the Play Design Hotel model in major cities in different countries to act as a portal and starting point for people to learn about and experience the design culture of that country.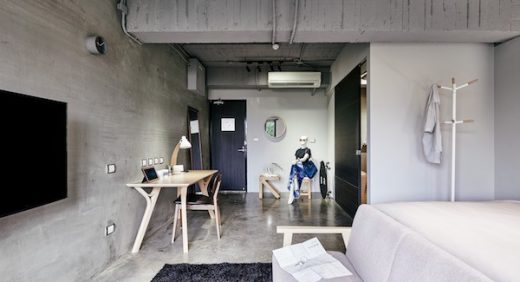 Why should a guest want to stay there?
Guests in search of a design experience can start their journey by learning the stories behind the furnishings in their hotel rooms. The hotel becomes not simply a place to stay but a creative destination where one can be immersed in local culture.
1 Sep 2017
Five Finalists of 8th Annual Radical Innovation Competition
Vertical Micro-Climate Resort by Arno Matis Architecture, Vancouver, BC, Canada
First up, Arno Matis, founder of his Vancouver-based namesake company, takes us through his inspiration, ambitions, and the inherent challenges in realizing his sophisticated, sustainable solution, the Vertical Micro-Climate Resort.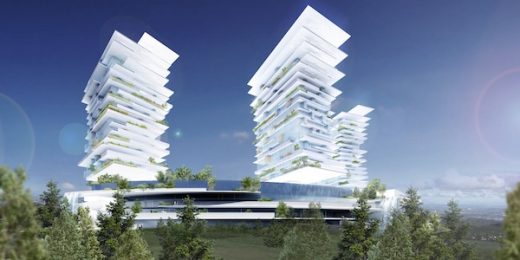 Tell us about Vertical Micro-Climate.
Vertical Micro-Climate Resort uses natural thermal and solar technology to warm and brighten resort grounds, providing a brighter, warmer, year-round indoor/outdoor resort living experience within temperate northern climates.
What inspired your concept?
This fall, winter, and spring were particularly dreary in Vancouver. After 6 months, I really started to feel the effects of the weather, particularly the lack of natural light and ability to spend time outdoors. My work schedule did not allow me to travel south, so I started thinking of alternatives. This happened to be when I was working on this resort site concept.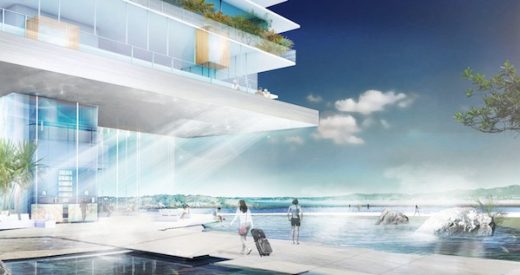 What makes Vertical Micro-Climate unique within the realm of hospitality design?
Concave-shaped towers use reflective guardrail systems to redirect additional light down and naturally brighten resort grounds. Natural light apertures within the deck slab refract additional light into the suites and indoor amenity spaces. Resort grounds use organic PCM-infused concrete to maintain a comfortable outdoor resort setting year-round. Natural geothermal heat warms cliff edge pools, while greenhouse-like pool cabanas make the retreat space functional and enjoyable in winter/shoulder climates. Vertically oriented resort suites are ideal for the world's first eco-drone concierge. Receive pool-side resort food and beverages in the comfort of your suite.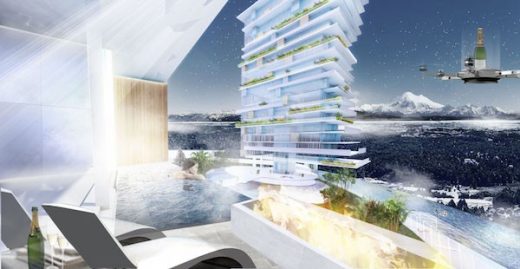 When do you think your project might be realized?
It's at the early concept stage: an initial, revised design concept for a partially built site, which was stopped during the financial crash of 2007. No timeline for construction has been established at this time. However, the real estate market is red-hot in Vancouver and surrounding areas and options are being explored. Hopefully we will have an update for you in the coming months!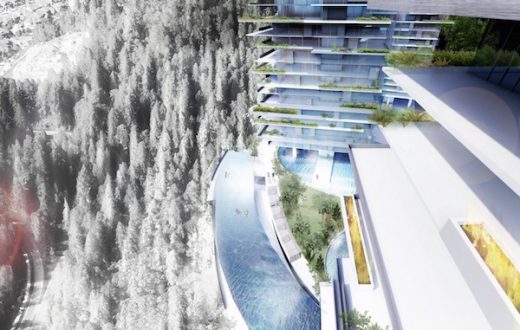 What is the biggest obstacle to its realization and how might you overcome this challenge?
Constructing a building of this scale on the site's unique mountaintop terrain is likely this project's biggest obstacle. We are working around this challenge by designing many components that can be pre-fabricated en masse: window systems, partition walls and guardrails, modular interior suite elements including kitchen, bathroom and sauna pods; as well as tilt-up concrete for podium elements.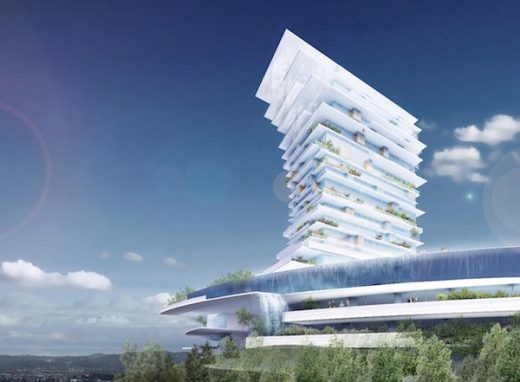 Why should a guest want to stay there?
Guests can enjoy a local, tropical-inspired resort experience without having to travel long distances or spend significant sums. Patrons can sit outside, mountaintop by a cliff-edge pool and suntan in the dead of the Canadian winter. Vertically oriented units maximize southern sunlight, and feature stunning mountain and water views. Each suite boasts an expansive, fully appointed deck complete with sauna-pod, jacuzzi, linear fireplace and lounge area, providing for a private, tropically inspired outdoor resort/spa experience year-round.
Join the 11th annual Radical Innovation Award to be held October 4th in NYC as five finalists present their concepts.
18 Feb 2017 update ; 11 Jan 2017
Radical Innovation Design Competition 2017
8th Annual Radical Innovation Competition
April 22, 2017 – submission deadline
RADICAL INNOVATION 2017 CALL FOR ENTRIES
Design Competition Open for Submissions January 17th through April 22nd
January 11, 2017 (New York, NY) – Radical Innovation, a platform promoting disruptive, industry-changing ideas within the hotel space, announces the opening of the annual Radical Innovation Award for 2017. Professionals and students are invited to submit their ideas online January 17th through April 22nd.
Since being founded in 2006, Radical Innovation has awarded over $150,000 to creative thinkers with visionary ideas in hotel design and operations. Past winners have included Driftscape, a drone-hotel concept designed by architecture and design firm HOK; Koi, a bridge hotel concept designed by MM Architects in Paris; and ZOKU, a concept that blends co-work spaces with the hotel. ZOKU opened its first property in Amsterdam in 2016.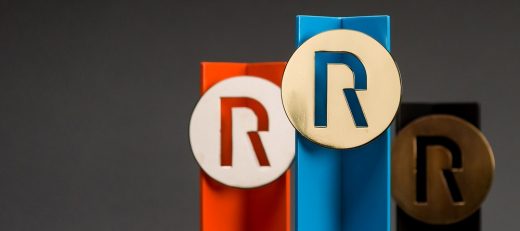 "Over the past decade, Radical Innovation has come to influence the hotel industry in very real, tangible ways," says John Hardy, Founder of Radical Innovation and CEO of The John Hardy Group. "Show us what you think is missing from hospitality and we'll show you how it can be realized."
With an expanded interest in moving ideas from concepts to reality, Radical Innovation is asking participants to submit hospitality concepts that provide not only new meaningful travel experiences for consumers, but also new revenue growth opportunities for owners, investors, operators, contractors and vendors. All entries require a clear and compelling brief, along with realistic design renderings and cost analysis, illustrating how the concept could be implemented in the next 3-5 years. An esteemed panel of jurors, including executives from hospitality, design, and investment industries, evaluate concepts on originality, creativity, design, and potential impact on the industry.
Jurors select finalists to participate in the Radical Innovation Awards, a live event where they will pitch their ideas on-stage at the New Museum in New York City. A live vote by audience members will determine the grand prize-winner, the recipient of a $10,000 prize. The runner-up will take home a $5,000 prize.
A student winner will receive a $1,500 prize and be offered a graduate scholarship in the Masters of Architecture program at the University of Nevada Las Vegas. Total two-year value is estimated at over $50,000. The awarding of funds will be based on certain prerequisites that must be carried out by the potential recipient.
The Radical Innovation Award is organized by leading development services firm The John Hardy Group with support from founding sponsor Global Allies, official partner Sleeper magazine and media partner Architizer.
Radical Innovation Award Process
• Through a blind judging process, the jury will review all submissions entered online at
RadicalInnovationAward.com.
• All concepts will be judged on originality, creativity, design, feasibility, and quality of
presentation.
• Finalists will be shortlisted and the jury will mentor the concepts of their choosing.
• Finalists will be flown to New York to present their ideas live at the Radical Innovation event in
Fall 2017, in front of a room of top hospitality, design and business leaders.
Radical Innovation Jury
Michael Medzigian, CEO and Director, Carey Watermark Investors
Jena Thornton, LEED AP, Managing Director, Magnetic ERV
Simon Turner, Former President, Global Development, Starwood Hotels
James Woods, COO, The Bowls
Wing T. Chao, Founding Principal, Wing T. Chao Architect
Claude Amar, President, The John Hardy Group International
John Hardy, CEO, The John Hardy Group International
About Radical Innovation
Radical Innovation challenges the hotel industry to elevate the guest experience by calling for new ideas
in design and operations. Each year, submissions are received and reviewed by a jury of hotel insiders.
Select finalists present their concepts in front of industry influencers and investors during a live event
where the audience votes to determine the winner. Since its founding, Radical Innovation has awarded
over $150,000 to progressive architectural and hospitality-minded thinkers.
About The John Hardy Group
The John Hardy Group is a strategic, transformational development services firm for investors and
brands engaged in hospitality real estate. Leveraging its international expertise, the group delivers
feasibility analysis, project management, development management, and construction management, as
well as project accounting for capex, renovations, redevelopment, and new development for both
individual deals and entire portfolios.
JHG is recognized as the leader in providing creative solutions to complex building challenges, tapping
its diverse team, using proprietary project research and planning, and specialized in-house software that
tracks progress and budget conformance. The firm excels as a bridge between the ambition of its clients
and project realization, having managed more than $6 billion in development-related assignments
encompassing 870 hospitality projects in 35 countries. Offices are located in Atlanta, Los Angeles, New
York, Paris and Honolulu.
Radical Innovation Competition information received 110117
8th Annual Radical Innovation Competition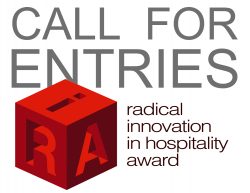 image from architect
Radical Innovation Design Competition
Radical Innovation Award 2016 Competition
Location:Atlanta, Georgia
Hotel Buildings
Hotel Architecture Developments
Architecture Competitions
Architecture Competitions : links
YAC Castle Resort Competition, Italy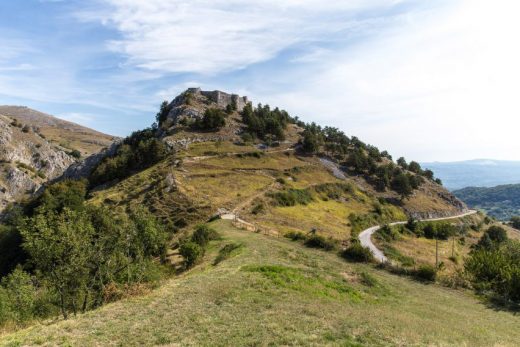 Castle Resort Architecture Competition
10th Theatre Architecture Competition, Hsinchu City, Taiwan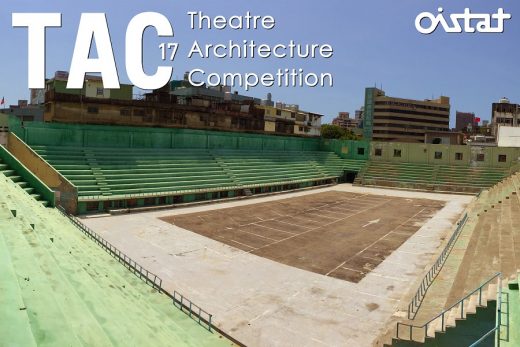 Theatre Architecture Competition
Architecture Prizes
World Architecture Festival Awards



photo : Roland Halbe
NYC Aquarium Architecture Competition
Central Park Summer Pavilion Architectural Competition
2016 SEGD Global Design Awards
airBaltic New Terminal Design Competition
Royal London Children's Hospital : RIBA Competition
Los Angeles Cleantech Corridor and Green District Competition
Building Competitions : Archive
Comments / photos for the Radical Innovation Award – Hotel Design Competitionn page welcome
Radical Innovation Award