Radical Innovation Design Competition, Building News, Hotel Architecture Contest
Radical Innovation Competition
Hotels Design Contest
3 Dec 2013
Radical Innovation Competition News
8th Annual Radical Innovation Competition
In The Search For The Next Big Idea for Hotels
ATLANTA – On December 3, 2013, the 8th Annual Radical Innovation Competition—the only global award that provokes innovative hotel concepts—will again call for entries that propose feasible ideas to revolutionize the hospitality guest experience in the near term. This year, Radical 8 has refined its mission as it looks for strategies that can be implemented within 3-4 years, solving real problems within the hotel industry.
Entrants have until February 3, 2014 to submit a thoughtful new concept, which will be judged based on a design narrative and renderings.
"Last year, we received a groundbreaking number of submissions from 25 different countries, and nearly 75 new concepts for hotels," said John Hardy, CEO of The John Hardy Group and founder of the Radical Innovation competition. "In 2014, we're looking for more immediately implementable innovations for incubation."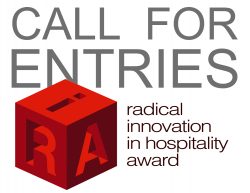 How Radical Works
Of the entries received, the Radical Innovation jury—a group of hotel industry insiders— will select their favorite hotel concept entries based on a narrative and renderings. These finalists will be flown to Las Vegas to present their ideas in front of the jury and a live audience at Hospitality Design Expo on May 15, 2014.
Voting machines are handed out at the event, and the audience will rate the contestants after watching their concept pitches.
Radical Innovation awards $10,000 to the grand prize winner, $5,000 to a runner up, $1,500 to an honoree and $1,500 to an outstanding student work.
Updated Judging Process
Radical 8 will see greater competition on the Radical Innovation stage in Las Vegas. The
jury will be broken up into teams designed to support the contestants prior to and during
the presentation pitches. Early mentoring, through one-to-one phone calls, will prepare
the finalists to make a strong defense for their concepts during the live competition and
raise the stakes for the teams. The jury members will then introduce their teams during
the event.
Who's Involved
The jury: Michael Medzigian, CEO and director, Carey Watermark Investors
Incorporated; Jena Thornton, LEED AP, managing director, Eagle Rock Ventures,
Simon Turner, president, global development, Starwood Hotels; James Woods, COO,
The Bowls; Wing T. Chao, Wing T. Chao Architect. The event will be moderated by
Claude Amar, managing director, The John Hardy Group International.
Radical Innovation is produced by The John Hardy Group and sponsored by Global
Allies.
How to Submit
The competition is open to all individuals, firms, and brands. Students are encouraged to
enter (as the entry fee is waived for them). Concepts must include check-in capabilities,
guestrooms and public areas, and food and beverage facilities or other amenities are
highly encouraged but not required. All entries are scored on concept, design creativity,
immediate impact on industry, narrative, graphics, and viability.
Enter at RadicalInnovationAward.com.
About The John Hardy Group
The John Hardy Group provides strategic development services to investors, joint
venture partners, asset managers and major brands engaged in hospitality real estate,
globally. Recognized as the leader in creating creative solutions to complex challenges
in building developments, the company uses propriety project research, planning and
execution processes established by the group since 1992.
JHG has successfully managed more than $6 billion in development-related
assignments and completed projects with more than $2 billion in value, encompassing
866 hospitality projects in 35 countries. JHG operates internationally from offices located
in Atlanta, New York and Paris. The firm is also responsible for the production of the
annual Radical Innovation Award, a competition that challenges students and
professionals to imagine a new concept for hospitality.
Radical Innovation Competition information received 031213
Radical Innovation Award – 2017
Radical Innovation Award 2016 Competition – 2016
Location: Atlanta, Georgia, United States of America
Latest Architecture Competitions
Holcim Foundation Awards 2013



image from Holcim Awards
Holcim Awards competition
Moved To Care International Design Competition
Moved To Care International Design Competition
Architecture Contests
airBaltic New Terminal Design Competition
Royal London Children's Hospital : RIBA Competition
Los Angeles Cleantech Corridor and Green District Competition
Building Competitions : Archive
Comments / photos for the Radical Innovation Competitionn page welcome