Castle Resort Competition, Roccamandolfi Young Architects Competitions, Italy Architecture Contest
YAC Castle Resort Competition
Italian Architecture Contest at Roccamandolfi, Isernia, Molise – organised by Young Architects Competitions (YAC)
18 Apr 2017
YAC Castle Resort Competition Winners
Design Contest by Marlegno, YAC and Agenzia del Demanio
Location: Castle of Roccamandolfi, Province Isernia, Molise, Italy
Winners of YAC Castle Resort Competition
Marlegno s.r.l., YAC and Agenzia del Demanio have promoted Castle Resort, an open architectural competition aiming at the landscape renewal of the area around the Castle off Roccamandolfi, in Southern Italy.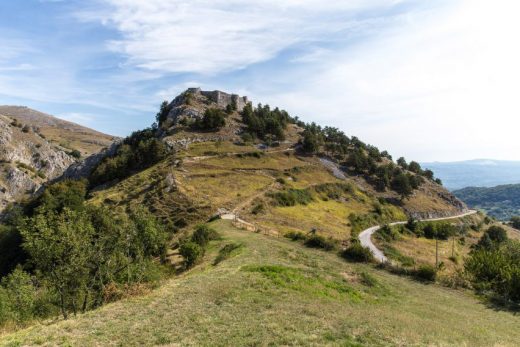 The architecture competition hase been arranged in cooperation with the Italian State Property Agency – Italian Government, the Municipality of Roccamandolfi, Touring Club, Associazione Italiana Confindustria Alberghi, the University of Bologna. The internationally-renowned jury gathered, among the others, Eduardo Souto de Moura, Todd Saunders, Alain Laurens of "La Cabane Perchée".

The designers were invited to imagine the creation of a fabulous tourist facility surrounded by nature and nestled between the traces of a majestic castle, a place of dreams, able to leverage the imagination of the tourist to give rise to a suspended time holiday, surrounded by the comforts of modern life, but caressed by landscapes, silences and ancient ruins.
Team: 559 participating teams
Dates: November 2016 – March 2017
WINNERS
FIRST PRIZE
– BSoD
Elias Terzitta, Eugenia Bordini
Italy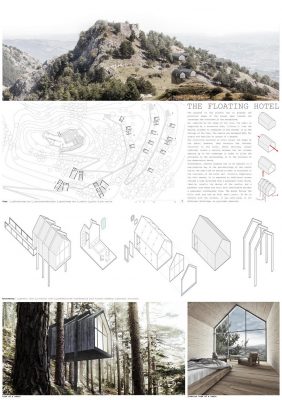 SECOND PRIZE
– RGB
Monica Bramanti, Stefano Gatti, Anna Rossi
Italy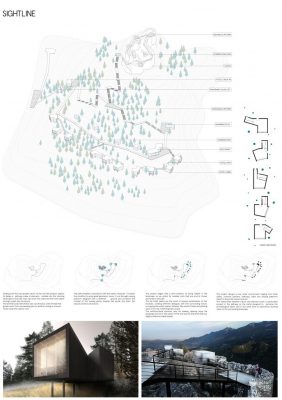 THIRD PRIZE
– VITIA
Marco Testi, Sergio Vedovelli
Italy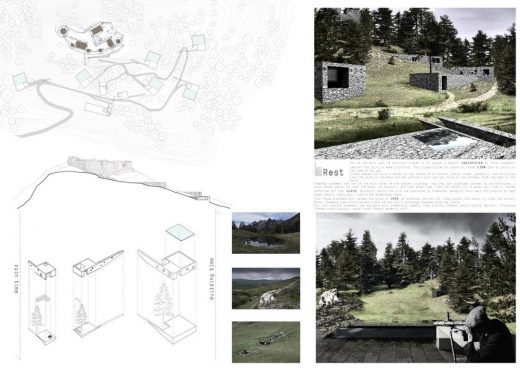 "GOLD" HONORABLE MENTIONS
– AIDA
Thibaut Etcheverry, Romain Gaillard
France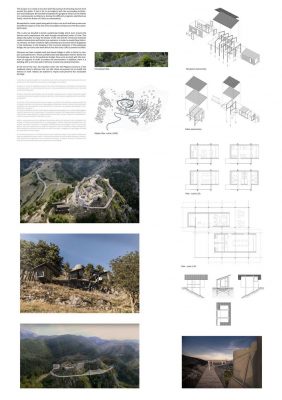 – EFESTO
Gaia Cella, Gaspar Canepa, Juan Octavio Ferreyra, Aleksandra Lukianova
Mexico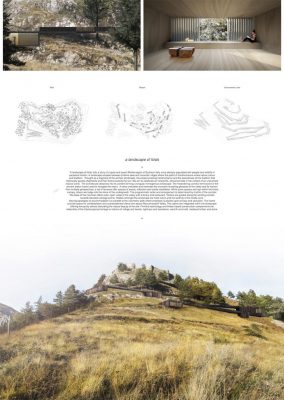 – Alessandro De Nigris, Marco Ansalone
Italy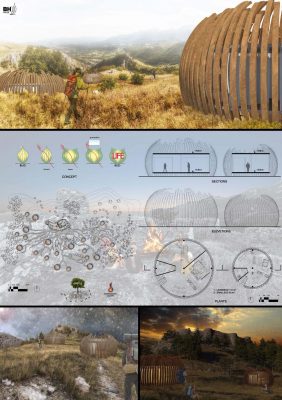 – Gregory De Giacomi
Italy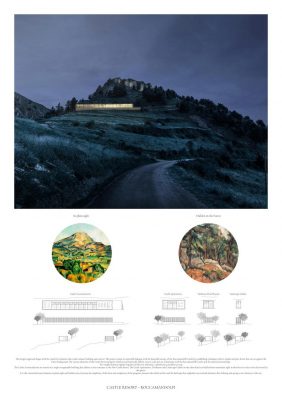 HONORABLE MENTIONS
– STAGE architects
Bogdan Rusu, Anamaria Pircu, Jozsef Balint
United Kingdom
– Know-mad
Anna Puig Puig, Mireia Pla Escarrà, Carlos Gonzalvo Salas
Spain
– Antoine Pruvost
Charles Cossement, Gil Cardoso, Antoine Pruvost
France
– 2SN
Nicholas Canargiu, Sara Montis, Nicola Melis, Simone Langiu
Italy
– MUREJIA
Stefano Passamonti, Giacomo Panico, Marco Diana, Leonardo Chironi, Giorgia Colombo
Italy
– whyassociati
Stefano Lanotte, Laura Mantegazza, Matteo Frangi, Emanuele Narducci, Camilla De Camilli
Italy
– GB2
Benjamin Nicaud, Nicolas Pabion, Axel Burkhard
France
– Lapo Ruffi, Vanessa Giandonati
Nicholas Diddi, Emir Sehic, Nico Fedi
Italy
– orma
Massimiliano Alberto Ravidà, Silvia Morucci
Italy
– DOM architects
Daniele Martini, Daniele Oliva
France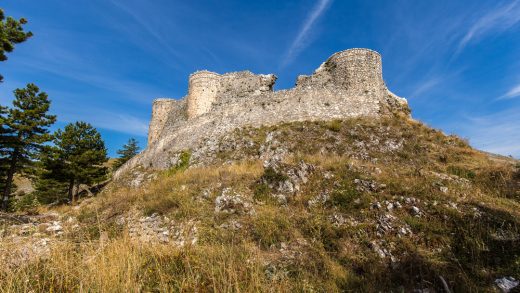 FINALISTS
Atelier AR
Adrien Mans
Gaspin-Emmons
PU3
Lightbulb
MICA
mimi
BC ESTUDIO ARCHITECTS
BN613
abcp
Ombra
Lpoez gonelazz
jules&jo
MATE
Qiu + Riffo
NIV
LPL
ëtréma
G+M
Architects for Urban Regeneration
Patrizia Bazzarelli
2A1
TJ Studio
Feng Xue, Kim Diep, Leonardo Lamanuzzi
Basire Design Group
Atelier Panthéon
Adina Tudor
TONI39
boq architekti
Ulysse PANEL
R J A
Mango
Castle Resort official video:

YAC Castle Resort Competition Jury
Judging Panel
> Eduardo Souto de Moura
> Todd Saunders, Saunders Architecture
> Alain Laurens, La Cabane Perchée
> Giorgio Palmucci, Associazione Italiana Confindustria Alberghi
> Lamberto Mancini, Touring Club
> Edoardo Maggini, Agenzia Del Demanio
> Giacomo Lombardi, Comune Di Roccamandolfi
> Angelo Luigi Marchetti, Marlegno s.r.l.
> Elena Mucelli, Unibo
> Remo Capitanio, Capitanio Architetti
22 Nov 2016
YAC Castle Resort Competition News
Organiser: Young Architects Competitions (YAC)
Location: Castle of Roccamandolfi, Province Isernia, Molise, Italy
YAC Castle Resort Competition – 2017
Young Architects Competitions invites architects and designers to provide ideas for transforming the ruins of a medieval castle in Italy into a holiday destination.
Deadline 3rd March 2017
CASH PRIZE 20.000 €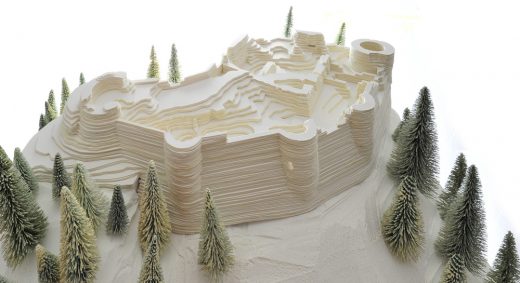 The Castle Resort contest is organised by Young Architects Competitions (YAC) in collaboration with Marlegno – a company that develops sustainable housing – and the Italian Government Agency for State Property.
There are places which belong to the inner being. There are destinations first engraved into the unreal…then on a map. Architectures of the soul, capable of helping us escape from our everyday life and freeing us from space and time. Castles are among the architectures that can, in a more pronounced way, whisper to the heart of human beings. They often are located in marvelous spaces, sheltered in inaccessible and isolated places. These are oftentimes magical places, full of plots and heroism, uncontrolled passions and unspeakable secrets.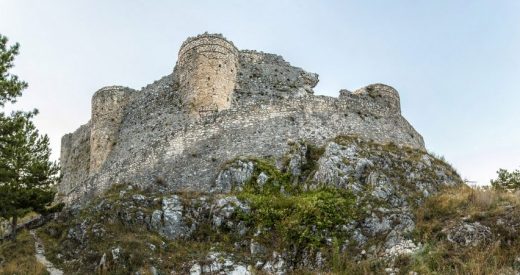 Located in a fairy‐tale landscape, the Castle of Roccamandolfi seems to come out from the ancient legends of chivalry. A medieval fragment which encompasses the ancient times and can still fascinate with its long‐standing charm. The castle stands above a steep hill, towering over a cliff, forests and sunsets. Sketching out over an enchanting landscape, in need of new forms and ideas to allow its protection and the ongoing promotion of such a priceless heritage.
"Valore Paese", the Italian State Property Agency's project for the reprocessing of the national architectural heritage, moves into this direction. Aimed at enhancing the historic and landscape value, it builds dream tourist facilities which take advantage of their own natural background to involve visitors in this unique and unforgettable holiday experience.
How does one convert a medieval fortress into an exclusive tourist facility? How do you combine architecture and nature and aspire to become a worldwide destination?
Using these intriguing questions as inspiration, Marlegno, in partnership with the Italian State Property Agency, wants to promote Castle Resort and invites designers to let themselves get swept away by the charm of this abandoned fortress. To conceive a fabulous accommodation facility, plunged into a majestic nature and set among the traces of an impressive castle. A dream place, capable of inspiring the imagination of every tourist who visits and offering a timeless holiday. All wrapped up by the comfort of modern life mixed in with ancient remains.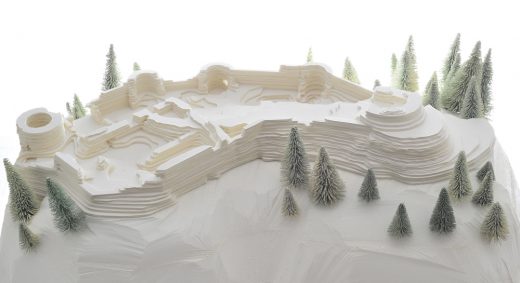 YAC Castle Resort Competition Winners
YAC Castle Resort Competition Prizes
– 1° PRIZE
10.000 €
All the awarded proposals will be transmitted to architectural magazines and websites + international exhibitions
– 2° PRIZE
4.000 €
publication as per 1st prize
– 3° PRIZE
2.000 €
publication as per 2nd prize
– 30 FINALIST MENTIONS
publication as per other prizes
– n. 4 GOLD MENTION
1.000 €
– 10 HONORABLE MENTIONS
publication online as per other prizes
YAC Castle Resort Competition Calendar
21 November – 28 December 2016 : early registrations
29 December 2016 – 31 January 2017 : standard registration
1 – 28 February 2017 : late registration
3 March 2017 : material submission deadline
10 April 2017 : results announcement
For further information: YAC Castle Resort Competition
YAC Castle Resort Competition information / images received from YAC
Location: Roccamandolfi, Isernia, Molise, Italy
Architecture Competitions
International design competition "Castelo de Abrantes", Portugal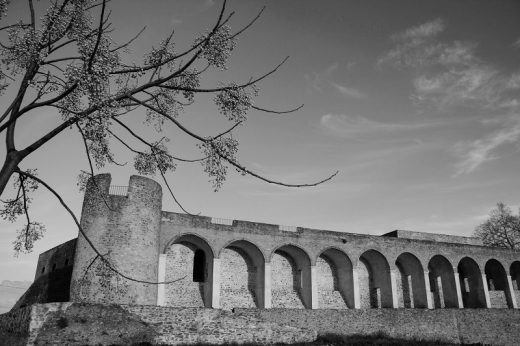 photo from architecture competition organisers
Portuguese Castle Architecture Competition
YAC Italian Wine Centre Contest
Organiser: Young Architects Competitions (YAC)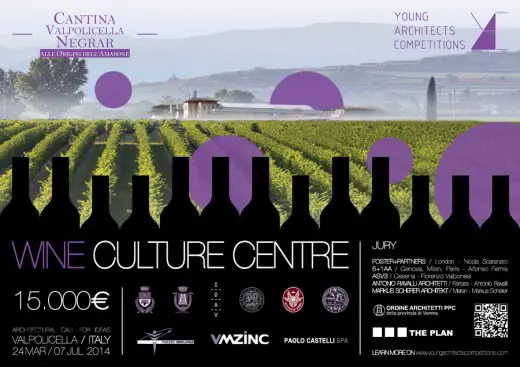 picture from design competition organisers
YAC Wine Culture Centre Competition
Render Battle Architecture Competition
Render Battle Architecture Competition
Micro Nation Challenge 3 Inhabit Competition
Micro Nation Challenge 3 Inhabit Competition
Comments / photos for the YAC Castle Resort Competition page welcome
Website: Castle of Roccamandolfi