International Space Design Award—Idea-Tops 2017, Architecture Contest China, Building Prize News
International Space Design Award—Idea-Tops
Chinse Architecture Contest in 2017: Prize Details, A963 Design Portal News
12 Jan 2018
International Space Design Award—Idea-Tops News
25 Apr 2017
Idea-Tops & e-architect Media Partnership
International Space Design Award—Idea-Tops and e-architect beome Media Partners
Idea-Tops are one of the oldest design websites in China and they have accumulated more than 210,000 registered designer members.
The also share a close relationship with government, universities and media.
News about this cooperation has so far appeared in numerous magazines and websites, including the best 18 real estate websites in China:
Idea Tops's annual International Design Forum involves Professors from major Schools of Architecture such as Harvard, Oxford, Cambridge, Princeton, MIT, Rome, Paris-Val-de-Seine. For example Aaron Betsky, current dean of the Frank Lloyd Wright School of Architecture and former director of the Cincinnati Art Museum and the 11th Venice International Biennale of Architecture, spoke at Idea-Tops International Design Forum 2015.
Idea-Tops are promoting e-architect's extensive Architecture Walking Tours network which now covers 80 cities globally with over 140 guides, since starting back in 2000.
e-architect have writers in Europe and the USA, and have recently expanded to the Middle East. The media partnership with China's most established architectural network will assist e-architect's connection to Asia.
e-architect are headquartered in the UK and this week have hired a new web editor. The limited company is run by architects for architects!
e-architect stats on alexa.com
Selection of coverage of the Media Partnership news:
Haiwainet: http://chanjing.haiwainet.cn/n/2017/0420/c3542714-30872455.html,
NetEase: http://3g.163.com/ntes/17/0420/15/CIFODBGK04258RUE_2.html,
Creri: http://www.juzhu.org/upfiles/4525.html?qqdrsign=01303,
Sina: http://news.dichan.sina.com.cn/2017/04/20/1229867.html,
21CN: http://life.21cn.com/zaojiao/shopping/a/2017/0420/15/32187636.shtml,
QQ.com: http://www.jia360.com/2017/0420/1492675664290.html,
Sohu.com: http://home.focus.cn/article/70ff78dc54b764afe2269736b90ca659.html,
FC-news: http://www.fc-news.cn/fcnzx/2017-4-20/4968.html,
Letfind.com: (link no longer active),
Fang.com: http://home.fang.com/news/2017-04-20/25007979.htm,
House.hc360.com: http://info.house.hc360.com/2017/04/20160871622.shtml,
Cn03.com: http://www.cn03.cn/news/show-2472.html,
Enorth.com.cn: http://house.enorth.com.cn/system/2017/04/20/031743620.shtml,
CCD.com.cn: http://news.ccd.com.cn/Htmls/2017/4/20/201742015390185629-1.html,
PCHouse: http://news.pchouse.com.cn/186/1868237.html,
Jiajunews: http://www.jiajunews.cn/newsjj/2017/2016163504.html,
Jiatx.com: http://www.jiatx.com/news/2017-04-20/25008172.htm,
Ifeng.com: http://house.ifeng.com/detail/2017_04_21/51064720_0.shtml.
e-architect will attend and report from INDEX in Dubai, UAE, this May.
5 Mar 2017
International Space Design Award—Idea-Tops 2017
International Space Design Award—Idea-Tops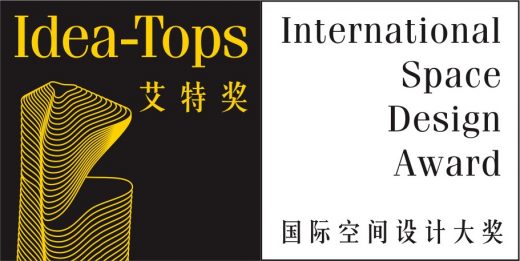 International Space Design Award—Idea-Tops, supported by related government departments, is "the most internationalized and influential design award in China".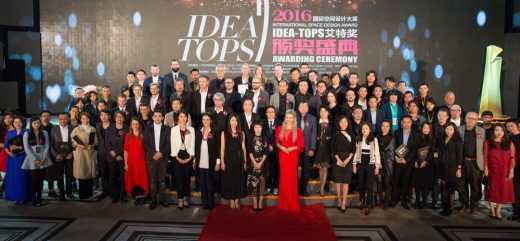 It aims to create the most thoughtful and influential space design award, discover and praise the best designers and design works around the world.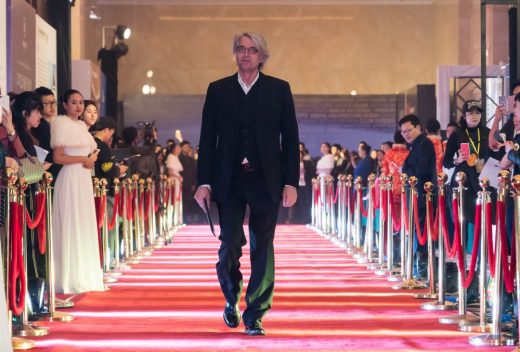 It attracts designers and architects from 35 countries or regions, such as USA, UK, France, Italy, Germany, etc. In 2016, we had 6020 entries, including 14 works from the Venice Architecture Biennale; and in 2015, we had 5682 entries, including 11 national pavilions from the Milan Expo 2015.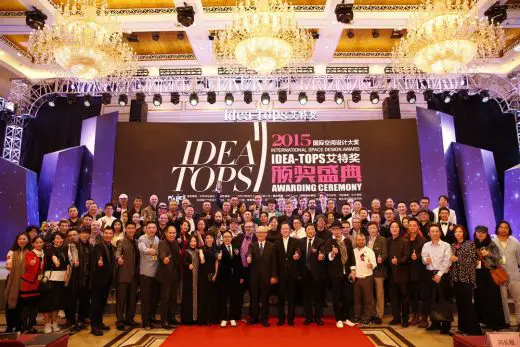 Each year we hold different events which gather masters in the design circle, well-known professors or academic leaders from top universities, such as Harvard, Cambridge, Yale, MIT, etc.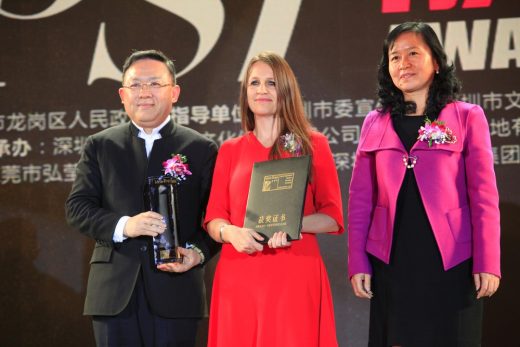 After 7 years development, Idea-Tops has already become a bridge for the world to know the development of Chinese design and for China to understand the design trend in the world.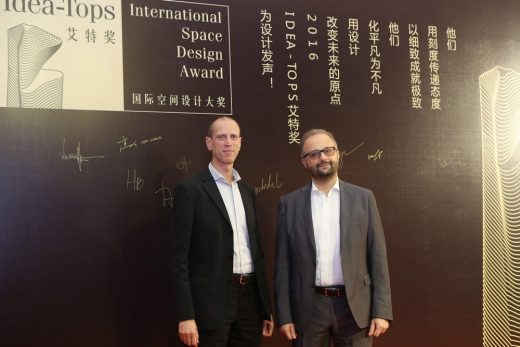 Idea-Tops' Chinese media platform—A963 Design Portal (www.a963.com) is China's leading portal in the architecture and interior design field, it has over 70,000 registered design companies, 210,000 registered designers, more than 1 million project photos.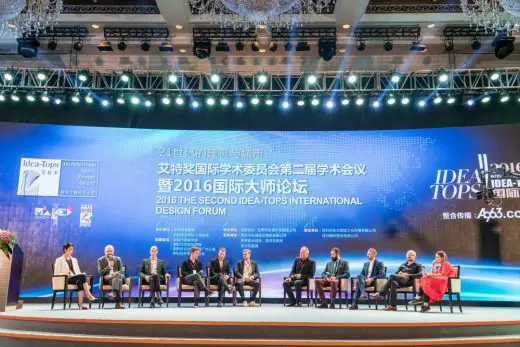 And its daily IP is up to 200,000. It's a very good platform for designers, architects and materials manufacturers to show their works and get media exposure. Please visit www.idea-tops.com.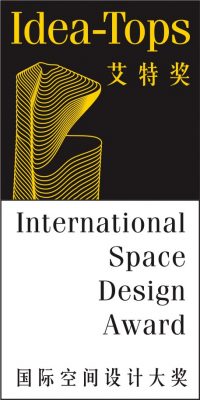 Idea-Tops has more than 30 partners in major cities of China. They are actively searching for international partners to improve its international influence, and promote the exchange and development of the world's architectural and interior design industry.
International Space Design Award—Idea-Tops 2017
Location: China
New Buildings in China
Chinese Architectural Developments
Chinese Architecture Developments
Architecture Competitions
Architecture Competitions : links
YAC Castle Resort Competition, Italy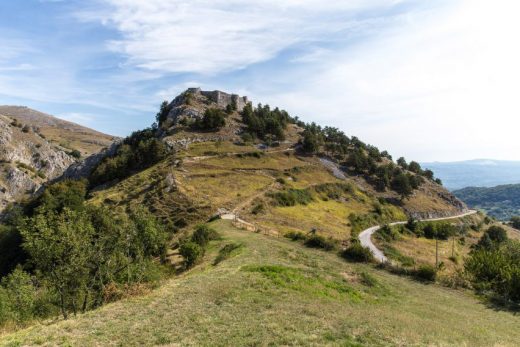 Castle Resort Architecture Competition
10th Theatre Architecture Competition, Hsinchu City, Taiwan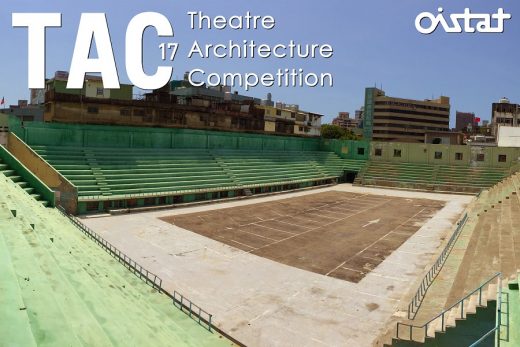 Theatre Architecture Competition
Radical Innovation Design Competition
Radical Innovation Award 2016 Competition
Architecture Prizes
World Architecture Festival Awards
NYC Aquarium Architecture Competition
Central Park Summer Pavilion Architectural Competition
2016 SEGD Global Design Awards
airBaltic New Terminal Design Competition
Royal London Children's Hospital : RIBA Competition
Los Angeles Cleantech Corridor and Green District Competition
Building Competitions : Archive
Comments / photos for the International Space Design Award—Idea-Tops page welcome
International Space Design Award—Idea-Tops