Phnom Tamao Wildlife Rescue Centre, Asian Kiosk Building, News, Cambodian Architecture
Bear Rescue Centre in Cambodia
Bear Rescue Centre in Phnom Penh, Cambodia, Southeast Asia – design by Atelier COLE
27 May 2014
Sustainable Earth + Bamboo Kiosk for Bear Rescue Centre, Cambodia
Cambodian Sustainable Design + Build Workshop
Kiosk designed by Atelier COLE, constructed by Building Trust international
International Design + Build workshop creates sustainable natural building for conservation group in Cambodia
A hands-on participatory workshop organised by Building Trust International educates both Cambodians, local NGO workers and international volunteers on sustainable building techniques, working with natural materials and promoting the importance of quality in good design.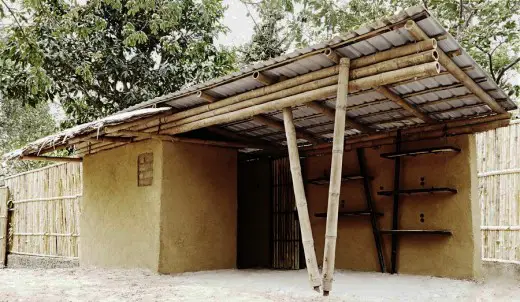 Following the construction of several built projects in Cambodia using natural materials and seeing the growing interest and response in sustainable design, Building Trust organised a Design + Build workshop to be held at Phnom Tamao Wildlife Rescue Centre on the outskirts of Phnom Penh with Free the Bears. Working alongside Atelier COLE, a new kiosk design was created which would educate both workshop participants and the 250,000+ Khmer visitors to the park on natural building materials and construction techniques.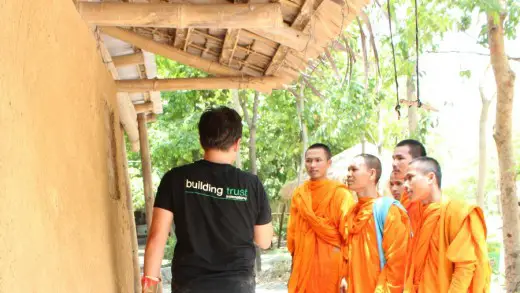 Free the Bears work tirelessly to combat the illegal trade in live bears and provide a safe sanctuary for any rescued bears at Phnom Tamao. They also aim to educate Khmer visitors on the benefits of renewable energy strategies such as solar power, harvesting rainwater and bio-gas as alternatives to mainstream energy sources. It was important to construct an on site 'show' kiosk which not only educates visitors on why conservation is so important but also on how to build with natural materials. Promoting both new and traditional construction techniques to locals with the aim of them using the skills on their own home design in the future. In order to build the kiosk a group of 10 international participants took part in a 2 week long workshop learning about sustainable design, alongside members of the local community and NGO workers.
The design makes use of natural materials such as bamboo for the roof construction and adobe bricks to create the walls. The kiosk quite literally came from the ground it now sits upon, locally sourced bamboo, clay, sand and scrap metal were collected from the site and repurposed into the new building.
Matt Hunt, FTB Chief Executive,"Phnom Tamao retains a vast untapped potential to serve as the premier environmental education centre for the nation. Small projects such as this serve as fantastic examples of realistic ways in which Cambodian people can work with sustainably-sourced materials in order to develop their country"
David Cole, Atelier COLE, Partner, "We wanted to create a design which could be built for a fraction of the cost of typical brick/concrete buildings.
Using natural building techniques, taught to locals and international volunteers throughout the process, we created a building which acts as a pebble in a pond encouraging more thought about building materials and creating low cost, less damaging alternatives. The rescue centre plan to build more of the kiosks and this project is part of a larger masterplan that we are working on for Building Trust International".
Nev Broadis, FTB, Regional Director,"At Free the Bears, we understand that sustainability and conservation are intrinsically linked. By teaming up with BTi for this project we created a functioning building that doesn't cost the earth."
Building Trust have developed a set of sustainable toolkits which will be free to download from their website. These toolkits are an educational resource to be referred to when developing natural buildings. Ranging from how to build with adobe, to construction with bamboo, it is hoped that these easy to understand toolkits with photos documenting the process will enable anyone to copy the results. Building Trust are working alongside conservation groups in Southeast Asia, Africa and South America to not only deliver alternative/ more sustainable buildings but also to use the building process as a tool to introduce new techniques and revitalise traditional skills.
About Building Trust International
Building Trust International is a non-profit organisation offering design assistance to communities and individuals in need. Building Trust International assesses areas in need, finds sustainable, economical aid solutions and ultimately provides buildings and infrastructure. These core actions have blossomed into advocating and educating on the principles of socially aware design, providing an accessible resource on humanitarian design projects and providing a structure for the crossover of information between design professionals. Building Trust International is a charity registered in England and Wales (1142338).
www.buildingtrustinternational.org
About Atelier COLE
Atelier COLE is an architecture and design practice. Established in 2010 their work includes low cost residential, public art, public projects and masterplanning. They are led by the idea that sustainable design is about doing more with less and that designers should be catalysts, working alongside clients for better solutions rather than solely providers of design solutions. This ultimately creates more holistic results that have the opportunity to go beyond the conventional boundaries of a building or single project.
www.ateliercole.com
About Free the Bears
Free the Bears has been working in Cambodia since 1997, collaborating with the Forestry Administration to combat the illegal trade in live bears and providing a safe sanctuary for any rescued bears at the Phnom Tamao Zoological Gardens and Wildlife Rescue Centre in Takeo province. As the only official, government-owned wildlife rescue facility in Cambodia, Phnom Tamao provides a safe sanctuary for more than 1,000 animals of 80+ species including the world's largest group of rescued Sun bears.
www.freethebears.org
Issued by Building Trust International, 27th May 2014
Photos: © Building Trust international and © LWatson Studio
Bear Rescue Centre in Phnom Penh, Cambodia images / information from Building Trust International
Building Trust International : Architecture competitions + workshops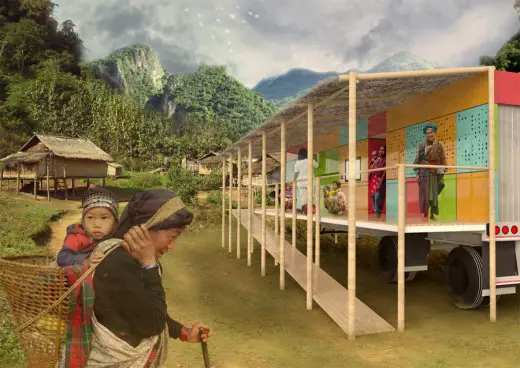 image from organisers
Location:hnom Penh, Cambodia
Safe Haven Buildings, Ban Tha Song Yang
Rintala Eggertsson Architects



photo : Pasi Aalto / Tyin Tegnestue
Safe Haven Orphanage
Cambodia Buildings



photo © Tom Ravenscroft
Architecture Competitions
airBaltic New Terminal Design Competition
Royal London Children's Hospital : RIBA Competition
Haiti Housing Design Competition
Los Angeles Cleantech Corridor and Green District Competition
Building Competitions : Archive
Comments / photos for the Bear Rescue Centre in Phnom Penh, Cambodia page welcome
Bear Rescue Centre in Cambodia