Georgia Senate January 5th election will affect architects, US President Biden Building News
Architects: Keep Georgia on your mind
Historic US Election Review of Architectural Aspects: Architectural Column by Joel Solkoff, PA, USA
Dec 29, 2020
Architecture under President Biden Part IV
Joel Solkoff's Column Vol. VI, Number 7
Architects: Keep Georgia on your mind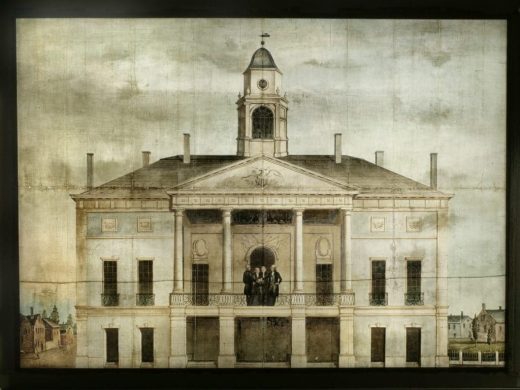 In 1789, the first President of the United States George Washington took the oath of office in New York City. President Washington swore to "preserve, protect and defend the Constitution of the United States and defend it against all enemies foreign and domestic" on Wall Street. New York was our first Capitol under the Constitution. The following year, Amos Doolittle drew this engraving of the event at Federal Hall now an historical landmark. The engraving shows the Greek Revival style building designed by architects Town and Davis. Federal Hall is a short subway ride from the room where I am writing this column.
"You never change things by fighting the existing reality. To change something, build a new model that makes the existing model obsolete."
R. Buckminster Fuller, Architect
#### DATELINE – Monday , December 28, 2020. Memorial Sloan Kettering Cancer Center, New York, New York. I regard myself as a refugee from rural Lycoming County, Pennsylvania, currently the 19th fastest growing hot spot in the U.S. According to the World Health Organization, the global death toll, as of two days ago, is 1,739.000. President Trump withdrew the US from the WHO; President Elect Biden will return the US to the WHO when at long last he takes the oath of office on January 20th.
According to the US Centers for Disease Control based in Atlanta, Georgia, the US death toll as of yesterday was/is 338,263. According to reliable sources, the Trump Administration attempted to shed doubt upon the reliability of CDC data by requiring that the CDC submit its data through the US Department of Health and Human Services headed by Alex Azar former drug company executive.
At his first inauguration, President Washington said, "In these honorable qualifications, I behold the surest pledges, that as on one side, no local prejudices, or attachments; no separate views, nor party animosities, will misdirect the comprehensive and equal eye which ought to watch over this great assemblage of communities and interests: so, on another, that the foundations of our National policy will be laid in the pure and immutable principles of private morality; and the pre-eminence of a free Government, be exemplified by all the attributes which can win the affections of its Citizens, and command the respect of the world."
No contrast can be greater than the bizarre behavior of outgoing President Trump toward his successful opponent President Elect Biden .Trump currently has launched a spectatatiraly divisive campaign in Georgia where two of his most vocal senate supporters are fighting to keep their jobs. In the previous column, I focused on the campaign of Senator David Perdue vying aganst his Democratic opponent David Ossoff, an investigative reporter. (Guess whom I am rooting for).
Today you will meet Senato Kelly Lynn Loeffler runnng against Democrat The Rev.Mr. Raphael Warnock.
On January fifth, Georgia voters will decide whether the power of the Senate will shift so that Democrats will take control. Doing so will result in a shift away from cutbacks and toward major expenditures for public housing at a time when private architectural commissions are drying up.
President Biden owes his electoral victory to the African-American community
Two black Southern leaders with considerable influence among voters in Northern urban areas are responsible for Biden's win.Without the endorsement and vigilant follow up in South Carolina of Representative Jim Clyburn of South Carolina, Biden ( who came in fifth at the Iowa caucuses and fourth in the New Hampshire primary) would not have received the Democratic nomination.
The second powerful leader is Stacey Abrams of Georgia whose ability to deliver the black vote (most espcially the female black vote) caused Biden to win Georgia's electoral votes (previously regarded as an improbable) as well as many African Anerican votes in critical Northern cities, like Detroit, Michgan. Especially impresssive is Stacey Abrams's political machine ( put together with vigor) which is likely to turn the Senate Democratic on January 5th.
Rep. Clyburn is a powerful Democratic leader in the US House of Representatives whom Speaker of the House Nancy Pelosi relies upon for advice and direction. With the sad death this year of Representative John Lewis, Jim Clubirn retook Lewis's place as THE representative of the loving yet militant Civil Rights Movement of which I was a card carrying member.
Wikipedia: Jim Clyburn
"James Enos Clyburn (born July 21, 1940) is an American politician and a Democratic member of the U.S. House of Representatives from South Carolina. He has served as House Majority Whip since 2019. He is a two-time Majority Whip, having previously served in the post from 2007 to 2011, and served as House Assistant Minority Leader from 2011 to 2019.
"Currently in his 14th term as a congressman, Clyburn has served as U.S. Representative for South Carolina's 6th congressional district since 1993. His congressional district includes most of the majority-black precincts in and around Columbia and Charleston, as well as nearly all of a mostly rural region within South Carolina. Clyburn is the current dean of the South Carolina congressional delegation.
"Clyburn has been the third-ranking Democrat in the House behind Nancy Pelosi and Steny Hoyer since 2007, serving as Majority Whip behind House Speaker Pelosi and Majority Leader Hoyer during periods of Democratic House control, and as Assistant Minority Leader behind Minority Leader Pelosi and Minority Whip Hoyer during periods of Republican House control. After the Democrats took control of the House following the 2018 midterm elections, Clyburn was re-elected Majority Whip in January 2019 on the opening of the 116th Congress, alongside the re-elected Speaker Pelosi and Majority Leader Hoyer, marking the second time the trio has served in these roles together."
Noteworthy, while looking at Rep. Clyburn's homepage just now, this two-year old posting on public housing appeared in a prominent spot.
"In my last newsletter I laid out the devastating impact the new Republican tax law would have on middle-income Americans, and I offered some proposals for a better deal. I've heard from a large number of you expressing grave concerns that the new tax law would make the affordable housing crisis worse. Unfortunately, it will. According to Novogradac & Company, because of the Republican tax law's adverse impact on low-income housing tax credits, 235,000 fewer affordable housing units—nearly twenty percent—will be built over the next ten years.
"Meanwhile, according to the Post & Courier, in South Carolina, the cost of rent rose at twice the rate of income over the last few years, which has undoubtedly contributed to North Charleston and Columbia being ranked the #1 and #8 cities for eviction by the Princeton-backed, EvictonLab.org. South Carolina evicts families from their homes at a rate four times higher than the national average. In this newsletter, I propose a better deal on affordable housing. Home ownership and safe and secure housing are central to stabilizing communities and building family wealth. Martin Luther King, Jr. often spoke of the beloved community, and in the title of his last book, he asked a poignant question, 'Where Do We Go From Here: Chaos or Community?'
"Today, fifty years after King's death, that question still looms large. The results of recent studies are ominous. Skyrocketing evictions, steady foreclosures, fewer affordable housing units and increased rent to live in public housing at a time when wages have not kept pace are raw deals that could create the 'perfect storm' of chaos. America's and South Carolina's families deserve a better deal."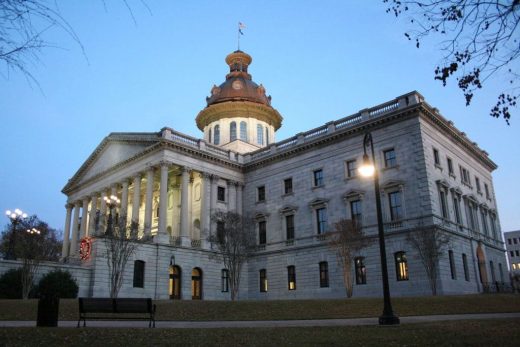 This capitol of the State of South Carolina, is replete with histrical and political drama. On the grounds is a monument to the South Carolina slave trade. The pre-Civil War structure was originally designed by a an arvchitect who was fired for fraud and dereliction of duty. In 1865, Union Troops under the command of General William Tecumseh ("war is hell") Sherman burned the structure to the ground. This building was completed in its orignal form by archtect Frank McHenry Nemsee in 1877. Several early 20th century Confederate monuments were erected and the focus of significant controversy. Photo courtesy of Wikimedia Commons.
Georgia on our minds
Under state law, a candidate for a US Senate seat in Georgia must receive at least 50 percent of the vote. Neither of the two pair of candidates was able to do so on November third. Therefore, this consequential race— which has already cost, according to a Newsweek report, over $400 .million— is a run off. As you know, a senate term is six years. Political junkies like me observe the first two years one can be a statesman. The second two: half statesman half politician. The last two: all politician and as is the case with Senator David Perdue running like hell for re-election.
Republican Senator Kelly Loeffler was not elected to the job. She was appointed by the governor to fill the vacancy created when Republican Senator Johnny Isakson resigned because of health problems. The governor who appointed Loeffler is Republican Brian Kemp a very strong Trump supporter.. Two years previous, Kemp, who had been Georgia Secregtary of State, narrowly won election against Stacey Abrams.
Remember, Stacey Abrams is one the two black leaders from the South who made it possibe for Joe Biden to be elected President. Now would be a good time to read the following selection of Stacey Abrams's Wikipedia biography. Abrams emerges from the 2020 Presidential election as a kingmaker. Stacey Abrams, DC political insiders like me speculate, could have had her pick of Biden's domestic cabinet positions–Abrams would, for example, have made an excellent choice as Secretary of Housing and Urban Development if she did not have her heart set on defeating current Governor Kemp when up for re-election in two years.
Wikipedia: Stacey Abrams
"Stacey Yvonne Abrams ( born December 9, 1973) is an American politician, lawyer, voting rights activist, and author who served in the Georgia House of Representatives from 2007 to 2017, serving as minority leader from 2011 to 2017 member of the Democratic Party. Abrams founded Fair Fight Action, an organization to address voter suppression, in 2018.
"Abrams was the Democratic party's nominee in the 2018 Georgia gubernatorial election, becoming the first African-American female major-party gubernatorial nominee in the United States. She lost to Brian Kemp in an election marked by accusations that Kemp engaged in voter suppression. In February 2019, Abrams became the first African-American woman to deliver a response to the State of the Union address. She was one of 16 electors selected to cast Georgia's votes in the Electoral College for Joe Biden following the 2020 presidential election."
It has been 28 years since Georgia voted Democratic for President. Without question, Biden's win of Georgia's 16 elector voters (reminder: the oft mentioned Pennsylvania contest secured 20 votes ) was the narrowest of Biden's wins and was recounted more than once. Abram's organization is likely to determine senate control for the Democrats on Janaury fifth.
The upshot of the Presidential November 3rd election also resulted in a new senate that until now is an even split of 48 senators. If Perdue's opponent Ossoff wins and if Loeffler's opponient Warnock wins then the even 50-50 split will make the Senate Democratic. because Vice President Kamala Harris will also serve in her only Constitutional mandated capacity as President of the Senatre breaking the tie. Got it? Before the complicated multi-character situation becomes even more complicated, let us take a deep breath while watching the classic comedic sketch this situation comes to mind;namely, Who's on first?
Because Trump insists the Presidential contest is not over…
The final election vote count in Georgia was certified by Georgia's Secretary of State Brad Raffensperger who was appointed by Governor Kemp who previously had been Secretary of State before being elected Governor. After President Trump lost lawsuits alleging fraud and election theft, Trump followed up by attacking Governor Kemp who has been one of the President's strongest election supporters.
Indeed, Governor Kemp filed a personal lawsuit against the mayor of Atlanta. The governor opposed compulsory mask wearing orders by mayors in the state. Atlanta Mayor Lance Bottoms had reproved President Trump for arriving in her city without wearing a mask.
Even so, Trump has been trying to convince the state legislature to reberse Kemp and his secretary of state certification and overturn the official result. This puts Senator Loeffler in the uncomfortable position of agreeing with her President's attack–without Trump support she cannot win–on the governor who appointed her to the senate.
Wikipedia: Kelly Loeffler
"Kelly Lynn Loeffler (born November 27, 1970) is an American businesswoman and politician serving as the junior United States Senator from Georgia since 2020. A Republican, Loeffler was previously chief executive officer (CEO) of Bakkt, a subsidiary of commodity and financial service provider Intercontinental Exchange owned by her husband, Jeffrey Sprecher. She co-owns the Atlanta Dream of the Women's National Basketball Association (WNBA).
"Brian Kemp, the Republican Governor of Georgia, appointed Loeffler to the Senate in December 2019 after Republican Senator Johnny Isakson resigned for health reasons. Loeffler is running in the 2020 Georgia U.S. Senate special election, the winner of which will hold the Senate seat until January 3, 2023. She finished second in the November 3 election, advancing to a runoff with Democrat Raphael Warnock scheduled for January 5, 2021
"Loeffler has strongly aligned herself to President Donald Trump and touted her "100 percent Trump voting record" during the campaign.[4] She was investigated in connection with the 2020 Congressional insider trading scandal after selling stock in companies vulnerable to the COVID-19 pandemic valued at several million dollars the same day she attended a private briefing of the Committee on Health, Education, Labor & Pensions on the disease, before the public had been alerted to its severity. Both the Department of Justice the Senate Ethics Committee eventually dropped their probes of Loeffler, with the Senate Ethics Committee not finding any evidence of her violating federal law, Senate rules or standards of conduct."
Wikipedia: Raphael Warnock
"Raphael Gamaliel Warnock (born July 23, 1969) is an American pastor and politician. He has been the senior pastor of Ebenezer Baptist Church in Atlanta since 2005. Warnock came to prominence in Georgia politics as a leader in the campaign to expand Medicaid under the Affordable Care Act. A member of the Democratic Party, he is running in the 2020 U.S. Senate special election in Georgia for the seat now held by Kelly Loeffler.
"Warnock supports expanding the Affordable Care Act and has called for the passage of the John Lewis Voting Rights Act. He also supports increasing Covid relief funding. A proponent of abortion rights and gay marriage, he has been endorsed by Planned Parenthood. He opposes the concealed carry of firearms, saying that religious leaders do not want guns in places of worship.Warnock has long opposed the death penalty, having advocated for death row inmate Troy Davis, who was executed in 2011 for killing a police officer despite evidence that supported his innocence."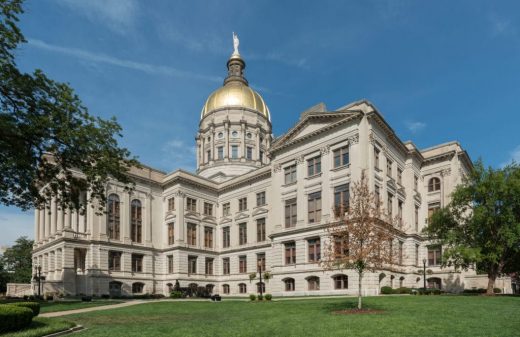 Capitol of the State of Georgia, Atlanta. Wikipedia: ".Like many U.S. state capitols, the Georgia State Capitol is designed to resemble the Neoclassical architectural style of the United States Capitol, in Washington, D.C. Former Confederate general Philip Cook. was a member of the commission that oversaw planning and construction of the building. The commission engaged architects Willoughby J. Edbrooke and Franklin Pierce Burnham, of Chicago to design the building and Miles and Horne of Toledo, Ohio for construction. Work completed in March 1889. Sculptor George Crouch executed all the ornamental work on the building." Published in accordance with Wikimedia Commons licensing.
Note: Wikipdia needs all our help. Please: Make your donation now – Wikimedia Foundation
My editors beckon: "All right, stop writing, Joel."
Isabelle Lomholt and Adrian Welch, Editors at e-architect:

Joel Solkhoff, Upper East Side, Manhattan, New York, NY, USA: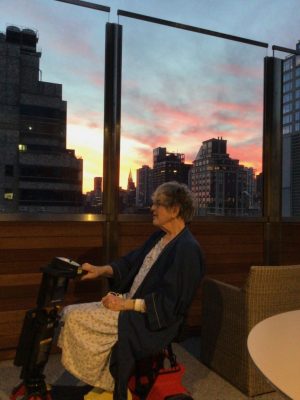 Photo by AB; published with permission
Joel Solkhoff, PA, USA: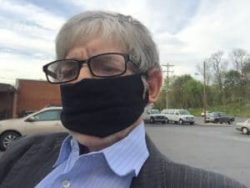 Selfie, Lycoming County, Pennsylvania, USA
Please feel free to phone me at US 570-772-4909 or send an e-mail [email protected]
Copyright © 2020 by Joel Solkoff. All rights reserved.
The firm produced BBC investigations about ISIS war crimes and death squads in East Africa. Ossoff was also involved in producing a documentary about the staging of a play in Sierra Leone.
Joel's recent articles
Jan 8, 2021
Renzo Piano, architectural criticism and the pandemic
Dec 24, 2020
All Architects Must Be Covid-19 Architects
Nov 12, 2020
Architecture under the Biden Presidency
Sen. Kelly Loeffler And Raphael Warnock Face Off In Georgia Senate Runoff Debate – NBC News NOW – YouTube
The election is on January 5, 2020.
Architecture Columns
Architecture Columns – chronological list
Special Wooden Floors for Renzo Piano's Whitney in New York
New York City Mayor Bill de Blasio, Queens Library
Renzo Piano's Whitney Neighborhood
Disability-Access Architecture
US Architecture
Joel Solkoff's Column Vol. IV, Number 2
Joel Solkoff's Column Vol. IV, Number 1
Special Wooden Floors for the Whitney
Belt and Suspenders Routine – Joel Solkoff's Column
Joel Solkoff's Column Volume II No. 6
Joel Solkoff's Column, Vol.II, Number 7
Comments / photos for the Architecture under President Biden – page welcome