Detroit Urban Planning, Michigan Architecture, New US Communities, American City Design
Is Detroit Dying? Michigan Planning
Architectural Column Vol. II, Number 8 by Joel Solkoff, PA, USA
6 Oct 2014
Joel's Column Vol. II, Number 8
'New York City celebrating the surrender of Japan. They threw anything and kissed anybody in Times Square'.
"This is a work of a sailor or employee of the U.S. Navy, taken or made as part of that person's official duties. As a work of the U.S. federal government, the image is in the public domain."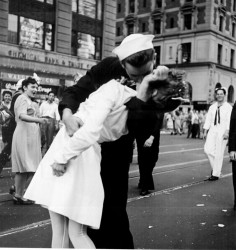 photograph by Lt. Victor Jorgensen, 14 August 1945, courtesy of Wikipedia
Is Detroit Dying? A special report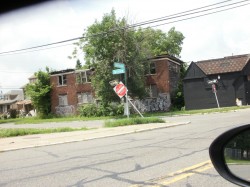 photo courtesy of David F. Phillips, Esq.Copyright 2014, http://www.radbash.com
"Emergency manager Kevin Orr testified in bankruptcy court Wednesday that when he took over Detroit's finances, he found a city with poor services for residents, next to no cash flow and significant neighborhood blight….Orr… was hired by the state in March 2013 to fix Detroit's finances and…took the city into the largest municipal bankruptcy in US history….Orr's debt restructuring plan, in which deals have already been reached with most creditors, sets aside $1.7bn for improving city services. A centerpiece is an agreement where businesses, foundations and the state will donate more than $800m to soften cuts to retiree pensions. The so-called 'Grand Bargain' also would keep city-owned art from being sold to satisfy some debt." –The Guardian, October 1, 2014
Last autumn, a group of Chinese real estate developers arrived in downtown Detroit for a city tour. As they walked through its small central cluster of high-rises – some in use, many long-ago abandoned – they were impressed by what they saw….In September, the Shanghai-based developer Dongdu International (DDI) made its first move[snapping] up three iconic downtown properties, all built during the city's early 20th-century heyday as an industrial powerhouse.
"DDI spent $16.4m (£9.6m) on the properties… The company plans to transform the buildings into vibrant offices and upscale apartments…'Once we've shown to the locals in Detroit that we're deadly serious, then other things will happen," (company spokesman) Wood says, sitting in his corner office on the 10th floor of a Shanghai skyscraper…. 'Detroit is planning for this area to come back. It's all about rejuvenation.'" –The Guardian, July 22, 2014
Alarm bell sounds: Dying Detroit
My first alert that Detroit would be the most important city in the U.S. for architects to focus their attention came from my friend David Phillips. Details specific to architects must await the next Joel Column on Detroit, a problem requiring ongoing discussion. Today's column begins the process of obtaining an overview of the situation.
While David was writing his Letter from Michigan, he sent me early photographs, reproduced here: http://www.radbash.com/pdfs/travelogues/22._Michigan_letter_2014.pdf.
David's letter concluded, "I have seen plenty of blight in small towns for decades now but nothing on a scale like this."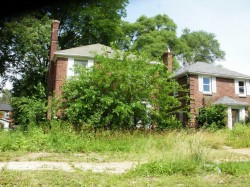 Photo courtesy of David F. Phillips, Esq.Copyright 2014, http://www.radbash.com
David observed, "Some years ago Rebecca Solnit [a San Francisco author Utne Reader magazine called one of the '25 Visionaries Who Are Changing Your World'], wrote:
"'This continent has not seen a transformation like Detroit's since the last days of the Maya.'"
"Devastation was not hard to find in Detroit. The population has fallen by about 2/3 since its peak in 1960, leaving thousands of homes empty and decaying. That much abandoned housing causes blight that infects the houses that are not abandoned, as value floods out of property in whole neighborhoods. Businesses atrophy. Services diminish.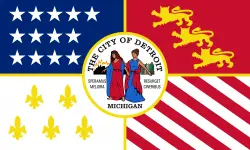 Photo Wikipedia. David Phillips, notes the seal on this flag of Detroit, was "adopted in principle (although not in exactly this style) in 1835. "The motto resurget cineribus means it will rise from the ashes (referring originally to a fire in 1805); speramus meliora means we hope for better things.
"Maybe Detroit will rise from the ashes; we can hope for better things without having much confidence that they will appear. But then who knows? No one expected Hiroshima to rise from the ashes either, but now it has more than eight times the population it had at the end of the War."
The decline of Detroit begins as a consequence of this kiss
The Washington Post reported, "Ms. Edith Shain was working at Doctor's Hospital in New York on Aug, 14, 1945, the day the war ended with the surrender of Japanese troops. She and thousands of other jubilant New Yorkers flooded Times Square, where a young man in Navy blues was smooching women as he made his way through the crowd. Someone grabbed me and kissed me, and I let him because he fought for his country,' Ms. Shain said. 'I closed my eyes when I kissed him. I never saw him again.'"
This kiss is very relevant to Detroit's future–a photograph iconic to the period when the troops had just come home. "As everyone returned home from the war, the housing situation was not merely tight, it was a crisis," writes Pulitzer Prize winner David Halberstam in his landmark book The Fifties.
"Some 50,000 people were reportedly living in Army Quonset huts. In Chicago it was so bad that 250 used trolley cars were sold as homes. Estimates placed the number of new houses that would be needed immediately at over 5 million. A federal housing bill was rushed through….The stored up energy of two decades was unleased. In 1944 there had been only 114,000 new singles houses started, by 1946 that figure had had jumped to 937,000; to 1,118,000 in 1948, and 1.7 million in 1950."
The shift from the population from cities suburbs created a great need for automobiles because living in the suburbs required such transportation. Detroit's auto industry flourished. When the kiss took place, the price of a gallon of gas was 21 cents. In 1972, I paid 25 cents a gallon for gas. According to the U.S. Energy Information Administration, "The projection for the average retail price in 2015 is $3.38 per gallon."
How Detroit vastly diminished its status with General Motors being the symbol of U.S. prosperity to near bankruptcy will a subject for future consideration. Today economist Phillip Moery says the future of Detroit no longer is identical with the future of the U.S. automobile industry.
World War II was over
World War II was over. First Nazi Germany had surrendered. Now Japan.
Then, this electrifying wanton, kiss; two total strangers overcome with joy pass each other on the street; they do not say a word to each other; they just kiss. And what a kiss! They disappear from each other's lives forever, the nurse dying at age 91, adulated from her role as the model for instant gratification regardless of its consequences. "Statue of famous WWII kiss unveiled in Times Square to celebrate 65th anniversary of VJ-Day." http://www.dailymail.co.uk/news/article-1302831/Statue-Alfred-Eisenstaedts-WWII-kiss-unveiled-Times-Square-mark-VJ-Day.html#ixzz3Edk61bbH
Unlike this kiss, other kisses at the time quickly became the Baby Boom.
Baby Boomers
About the generation these returning soldiers fathered, fellow Baby Boomer P. J. O'Rourke writes:
"There are some things the Baby Boom has done that we're not proud of. We used up all the weird. It has always been the special prerogative of youth to look and act strange, to alarm and surprise their elders with peculiar dress and manners. Cicero mentioned it. 'O tempora! O mores!' So did my mom, although in English. But the Baby Boom exhausted the available supply of peculiar. Weird clothes, we wore them. Weird beards, we grew them.
Weird words and phrases, we said them. Weird attitudes, we had them. Thus when it came time for the next generation to alarm and surprise us with their peculiarities they were compelled to pierce their extremities and permanently ink their exposed flesh. That must have hurt. We apologize."–The Baby Boom: How It Got That Way (And It Wasn't My Fault) by P. J. O'Rourke
The overwhelming sense of satisfaction was frequently expressed, "We won the war." Bonnie Blumenthal Finkelstein, PhD., a fellow Baby Boomer, told me a story of how impatient her about-to-be father and his fellow G.I.s were to get home. Finkelstein, Professor of English at Montgomery County College in suburban Philadelphia, said, "My father told me when he and his mates were about to go home, we advised each other ["ribaldry"], 'Remember, the second thing you take off is your backpack.'"
Alert: Dying Detroit: Population
Population increased as the veterans returned home.
• In 1940 the U.S. population was 132,697, 569.
• In 1950: 150,697,361.
• By 1960 the population increased 18.5 percent to 151,327, 798; Detroit remained the fifth largest city in the U.S.
• Today Detroit is the 18th largest U.S. city; 688,701 people.
The once mighty Detroit has fallen on hard times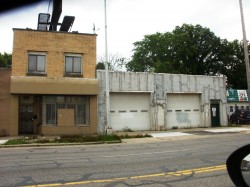 Photo courtesy of David F. Phillips, Esq.Copyright 2014, http://www.radbash.com
David Phillips writes: "No one will buy in neighborhoods where every third house is boarded up, so those who remain find their mortgages under water; they too leave, or at least stop paying, and their homes are foreclosed. Then it is two houses out of three, as the remaining houses rot and crumble, or are demolished, leaving vacant lots.
No one goes to the empty business streets, so the remaining businesses also fold; empty apartment houses are burnt out, stripped of their copper wiring, and left as ruined graffiti-covered hulks…The city would like to demolish at least 40,000 buildings (some plans go as high as 85,000), but at an average cost of $10,000 each that would take money the city (now bankrupt and its government under a state-appointed 'emergency manager') doesn't have.
"As we drove through the affected parts of Detroit we saw almost no one on the streets. Very occasionally a bereft figure – always black – could be seen ambling slowly, as if sleepwalking, through knee-high weeds, making his way (why?) from one empty block to another. We saw one determined, defiant resident mowing the lawn in front of a house surrounded by overgrown vacant lots. In many blocks the forest was returning, with now quite substantial trees growing in front of abandoned front doors.
Whole long boulevards once lined with businesses are now completely dead. Talk of returning the land to grazing and pasture, or even agriculture, fails to consider the asphalt of the streets and the concrete slabs below the ruined houses, and the toxicity that must remain in the earth beneath them even if it could be reached. One enterprising pioneer has brought a flock of sheep down to the city to graze – would you eat a lamb chop from one of them?"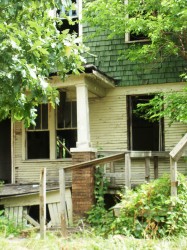 Photo courtesy of David F. Phillips, Esq. Copyright 2014, http://www.radbash.com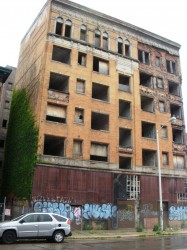 Photo courtesy of David F. Phillips, Esq. Copyright 2014, http://www.radbash.com
There is good news from Detroit
Rome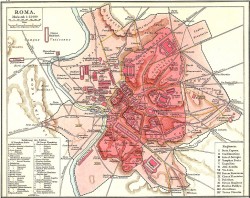 Old map of Rome courtesy Wikipedia.
The nature of cities
There is an observation regarding the nature of cities that makes it easier to provide focus on the issue. Is Detroit dying?
My advisor on architectural issues Kathy Forer observed when old cities die new ones take their place. A good example is Rome destroyed, rebuilt, destroyed, rebuilt and so on.
"Why move Rome when there's gold in them thar hills?" she asked.
Wikipedia: Rome
"Rome's history spans more than two and a half thousand years, since its legendary founding in 753 BC.
"Rome is one of the oldest continuously occupied cities in Europe…. referred to as 'The Eternal City,' a central notion in ancient Roman culture. In the ancient world Rome was successively the capital city of the Roman Kingdom, the Roman Republic and the Roman Empire, and is regarded as one of the birthplaces of Western civilization.
"Since the First century AD, Rome has been considered the seat of the Papacy and in the Eight century it became the capital of the Papal States, which lasted until 1870. In 1871 Rome became the capital of the Kingdom of Italy, and in 1946 that of the Italian Republic….Rome has the status of a global city. In 2011, Rome was the 18th-most-visited city in the world, 3rd most visited in the European Union, and the most popular tourist attraction in Italy".
The more I look at Detroit, the more favorable the view becomes.
One answer to the question: Is there the moral equivalent of gold in Detroit?
Detroit's favorable location.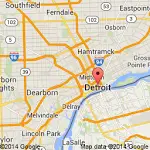 This Google map shows Detroit's within the Great Lakes area.
Poised on Lake Erie, Detroit serves as a route to the Atlantic Ocean. This access to shipping is why Henry Ford decided to build the great plant at The Rouge.
Albert Kahn, frequently called "the architect of Detroit," designed the Rouse in 1917, the massive half-mile-long Ford River Rouge Complex in Dearborn, Michigan. The Rouge grew into the largest manufacturing complex in the U.S., with a force that peaked at 120,000 workers.

This photo of the American Beauty Iron Building on Cass, Detroit by architect Albert Kahn, 1919, published courtesy of Wikimedia with the attribution: Andrew Jameson at en.wikipedia.
Plus Detroit has a major airport
Detroit Metro Airport, is a major international airport and one of the largest air transportation hubs in the country.
How architects will benefit from Detroit's woes Architects will benefit greatly from the current infusion of investment as financial institutions have been investing in Detroit.
Coming to Joel's column for e-architect:
• French architecture firm Nadau Lavergne Architectures wins the Detroit Reanimate the Ruins completion http://parallelprojections.com/rtr-results/
• Profile of Dan Gilbert Founder of Quicken Loans who moved his headquarters from the Michigan suburbs to the Compuware Building in the heart of Detroit's business district in August 2010 bringing 1,700 employees to the Detroit's business district.
• Portrait of Kenzo Tange, recipient of the 1987 Pritzker Award for Architecture, who rebuilt Hiroshima and created the new city of Abuja, Nigeria
• Flight insurance problems for Wyoming architects.
Good night and good luck,
Joel
This column copyright © 2014 by Joel Solkoff. All rights reserved.
Location: Detroit, USA
Architecture in Detroit
Contemporary Architecture in Detroit
Hudson's Site Downtown Detroit
Museum of Contemporary Art Detroit
Architecture in USA
Contemporary Architecture in USA
Comments / photos for the Detroit Architecture Development – Michigan Building News page welcome