Detroit will be a Trendy City, Michigan Urban Vision, Future US City Planning Design
Detroit will be a Trendy City
Architectural Column Vol. III, Number 2 by Joel Solkoff, PA, USA
Apr 13, 2015
Detroit will be a Trendy City Article
Joel's Column Vol. III, Number 2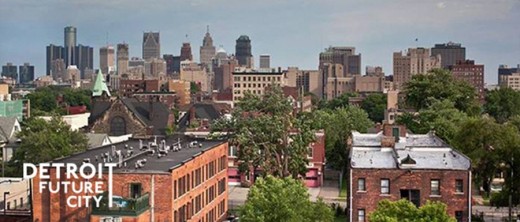 Corporate Detroit as seen from the city's midtown district. Photograph courtesy Detroit Future City
In 10 years Detroit will be the trendy city compared to San Francisco and Warsaw
A 350 page master plan is guiding the new Detroit. The shape? Unclear but promising
Today's Detroit column begins in New York City with Detroit on my mind—always on my mind. I have a friend who had the opportunity to purchase a house in the Meatpacking District of New York City.
The Meatpacking District, despite the off-putting sound of the now-anachronistic name, is the hottest neighborhood in Manhattan. This is the view of Brian Regan, Deputy Director of the Morgan Museum and Library, who was instrumental in obtaining the services of Renzo Piano to design the new Morgan. Regan believes Piano's new Whitney may become the most popular museum in New York with more visitors than the Metropolitan Museum of Art.
Because of fate (ill health), I will be covering the May first opening of the Whitney for e-architect. I will also be attending the August 23rd press preview. As I write, the Whitney media page is giving me a countdown. "The New Whitney, Opens May 1, 2015, 19 days, 0 hours, 23 minutes, 15 seconds."
My plan is to make the Morgan my headquarters, for reporting on Renzo Piano's most recent New York City project. Also, I am hoping Regan will be available for commentary as I report from 34th Street and Madison Avenue on the new Whitney as West as you can reasonably get in Manhattan and considerably south. Simultaneously, I will be on the Detroit beat, comparing Detroit to New York.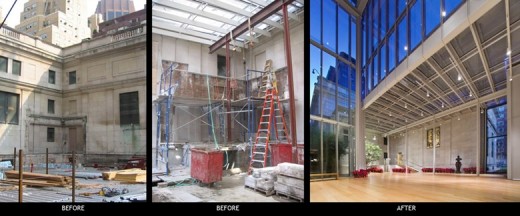 Photograph before and after courtesy of the much-accoladed: Frank Prial, Jr; Beyer Blinder Belle, the New York-based Executive Architects for the Renzo Piano Morgan Library and Museum.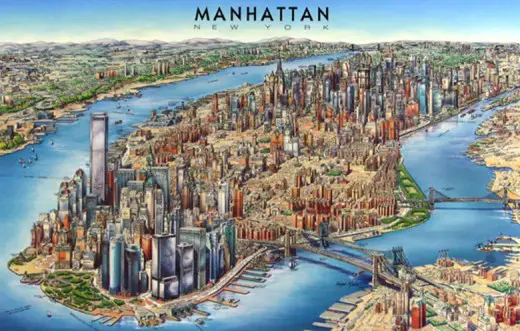 Dated three-D map of Manhattan courtesy http://www.vidiani.com. The Piano Whitney is to the left along the Hudson River slightly north of the former Twin Towers. The Brooklyn Bridge to the immediate right crossing the East River currently painted: "Move to Detroit." If you can find Grand Central Station, up north where the buildings cluster, the Morgan is close by at 225 Madison Ave (36 Street). North of the Morgan, in the fashionable Upper East Side, former home of the Whitney, formerly@ 945 Madison Avenue (75th Street).
The administrators of the Whitney would have preferred to stay at the Upper East Side but costs were too high.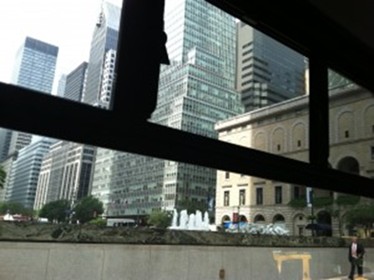 Photograph by Joel Solkoff. This is the Upper East Side where the Whitney Museum of American Art could not afford to expand. Instead, Baby Boomer patients like me have created a hugely expensive medical center at Memorial Sloan Kettering Cancer Center where skyscrapers filled with experts with expert equipment pursue the process of surviving cancer including sexual counselling and pain reduction advances that are state-of-the-art. This photograph was taken after I was released from the hospital where I had kidney surgery traveling past Sloan's huge expanse driving back to the American Cancer Society's Hope Lodge where I hope to stay on this upcoming visit.
++++
Wikipedia notes: "Memorial Sloan Kettering Cancer Center (MSK or MSKCC) is a cancer treatment and research institution located at 1275 York Avenue, between 67th and 68th Streets, in Manhattan New York City. U.S. News & World Report ranks MSK as the number one cancer hospital in the country…..It was the first to develop services specifically dedicated to the relief of cancer pain."
It is to relieve serious pain that I will be coming to New York rather than Detroit where I long to be. On August 24th, the day after I attend the Whitney press preview, I have an appointment with Dr. Paul Russo, the surgeon who saved my life and right kidney in August 2013 after my visiting the Piano Morgan and soothing my soul.
Dr. Paul Russo describes his work beneath this photograph published by permission MSKKC. "I am a urologic oncological surgeon known for my academic work in kidney tumor surgery. My expertise includes partial nephrectomy, removing only the tumor using small "miniflank" incisions while preserving maximal kidney function, and cytoreductive radical nephrectomy for patients with advanced kidney cancers."
My hope is to have inserts surgically implanted that will sooth my spinal nerves with radio waves (preferably playing Mozart) rather than rely on high dosages of Oxycodone, a drug I would prefer to stop using. Combining a week of cancer experts and possible hospitalization, I will be reporting on Renzo Piano's Whitney within the context of community building.
One remote but not outlandish treatment hope is that at Sloan Kettering, I can have inserted a Bioness Corporation device which beams shock waves to patients like me who have foot drop. Some patients walk again. Thus, twice implanted, I may be able to leave New York City walking for the first time in 25 years and pain free.
++++
All is contingent on securing funds. Forbes Magazine recommended a crowdfunding service that could be valuable to architects starting small projects. The service is called: Indiegogo. Architects might want to subscribe for free to the newsletter at [email protected] Here is a recent newsletter for one of many businesses requesting venture capital and using Indiegogo to get it.
View more perks from this campaign →
My campaign entitled "Help restore my productivity from cancer and pain" uses a venture capital approach equivalent to investing in me. See if you think it works: http://www.indiegogo.com/projects/help-restore-my-productivity-from-cancer-and-pain
++++
I will be comparing New York to Detroit pointing out the advantages of moving to Detroit. I also will be investigating Newark, New Jersey, a subway [PATH ride] away. Newark has the advantages of being cheap, close to an International airport with wide-bodied planes to accommodate my medical equipment and close to family, friends, and the Morgan in NYC.
++++
The Morgan was Renzo Piano's first New York City commission. Today, at age 77 [ten years my senior], Renzo Piano's buildings dominate The City of New York. Consider
1. The New York Times building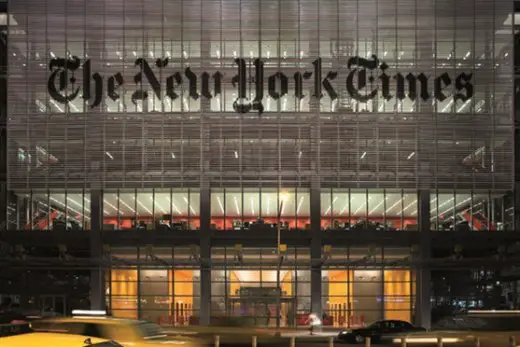 Photograph courtesy Renzo Piano Building Workshop, Paris
2. Columbia University Manhattanville Extension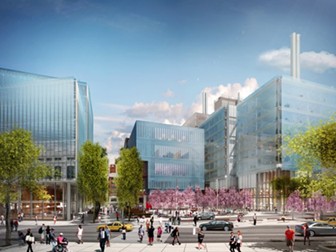 Photograph of Renzo Piano's design plans for the Columbia University Manhattanville extension courtesy Columbia University.
3. The May first opening of Renzo Piano's Whitney Museum of Art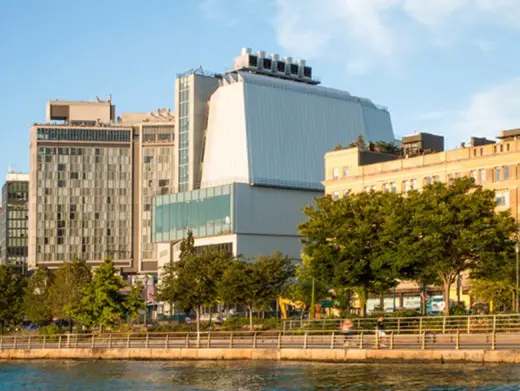 On May first, Renzo Piano's Whitney Museum of American Art in the Meatpacking District of New York City opens with e-architect coverage. This photograph courtesy of the Whitney faces East showing the Hudson River, Highline Park, and construction equipment which will be gone by then. A major design feature is the absence of columns within the museum making it possible to see all art in the room without one's view being blocked.
++++
When the Whitney looked for a new place to expand, its upper echelon administration did a superb job of picking a new site: 99 Gansevoort at Washington Street in the West Village/Meatpacking District neighborhoods of lower Manhattan. Thereafter, you can imagine my friend's sense of regret at not purchasing a home walking distance to the Whitney 15 years ago. The unbought-house is a quick elevator ride to the Highline, the astonishingly beautiful new park with a dramatic view of the Hudson River. I love the Hudson River.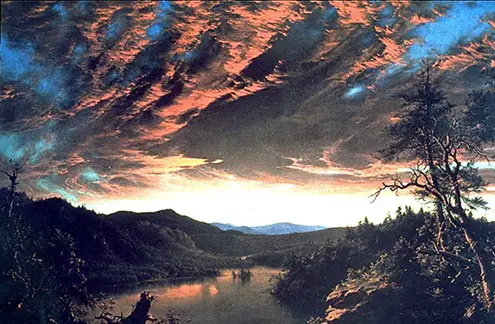 Frederick Edwin Church, "Twilight in the Wilderness" (1860), photograph courtesy of http://www.history.vt.edu/Barrow/Hist3144/readings/hudsonriver/. This website is devoted to the course The Hudson River School: Nationalism, Romanticism, and the Celebration of the American Landscape. Church was a member of the Hudson River School.
++++
Geographically, my friend would be housed in between Renzo Piano's Whitney Museum of Art to the south and to the north Zaha Hadid's new Chelsey West condominiums selling in the millions. Paying multiple millions of dollars for a condominium reminds me of the story of the man who went shopping for a yacht. "How much is it?" he asked. "If you have to ask, you can't afford it," the salesman answered."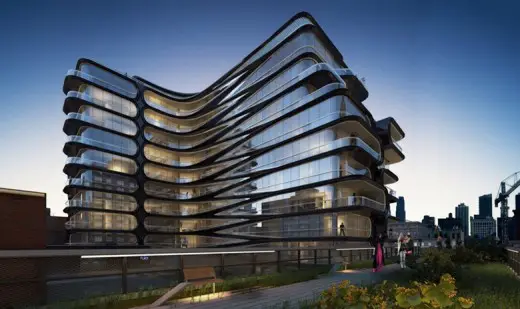 Photograph of Zaha Hadid's high rise condominiums at 52 0 West 58th Street courtesy Roger Howie, Zaha Hadid Associates, London. Screen shot below of the Zaha Hadid entry on this high rise by Joel Solkoff.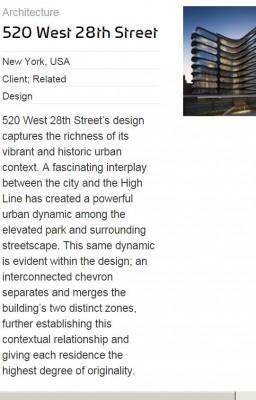 ++++
I have not forgotten the importance getting to Detroit subject of today's column.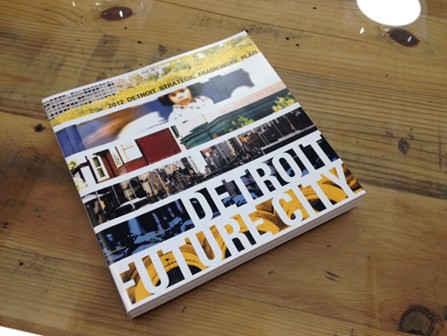 Photograph courtesy Dan Kinkead, Detroit Future City
Quickly below is a link to WRCJ-FM Detroit. I would like to believe Dan Kinkead who wrote the 350-page report Detroit Future City and the staff of Detroit Future City implementing Detroit's Future are listening to Mozart as they work.

Listen live: http://www.wrcjfm.org/listen-live/
1. At the site, click on Listen Live
2. When given a choice, choose Media Player.
3. Media Player then asks whether you trust the source. Click O.K.
In a few weeks, Detroit's classical music station is launching a new transmitter reaching larger numbers of listeners in the Detroit area. I am currently listening to Mozart K. 427. [Hallelujah.]
Dave Devereaux, Station Manager, WRCJ 90.9 FM, sent the following email: "To Joel, E-Architect has permission to link to WRCJ-FM's 'listen live' page. Dave, WRCJ 90.9 FM, 1 Clover Ct. Wixom, MI 48393 248.305.3780 (office)."
Devereaux, requests Joel's Column listeners let him know how far his station reaches. I am especially interested in listeners in Mumbai, India. Write: [email protected]
++++
Life is full of regret. My friend's regret is the regret of those who had an opportunity and missed it. After months of reporting about Detroit, I am convinced now is the time to invest in Detroit. If you invest in Detroit, now you will have no cause for regret. However, moving to Detroit is not for everyone.
++++
I was last in the Meatpacking District of New York City in August of 2013. The prestigious Gagosian Gallery had a Renzo Piano exhibit. Graciously, the Gagosian kept the concluded exhibition in place so I could see it.
The following day I was admitted to Memorial Sloan Kettering Cancer Center for extremely successful kidney surgery
++++
Baby Boom rationale for Joel's column: The Baby Boom generation, the largest generation in U.S. history, is retiring at the rate of 10,000 a day. This generation, my generation, will be determining a significantly high percentage of the important building contracts for the next ten years. As a generation, we have more money and power than any other generation. We have not flexed our muscles yet. But we will soon.
The column's focus on a significant segment of the Baby Boom Generation, those of us who did not inherit wealth or earn it. My segment is referred to as the Sandwiched Baby Boomers.
We earned well but supported both our elderly parents and our children leaving no money for retirement savings. My income from social security after deducting for Medicare is less than $1800 a month. My rent is $900 a month. If I earn the $5,000 required to fix my teeth, doing so will nullify my lease because my landlord receives a tax break for providing "low income" housing. The rules are strict. If I earn a significant sum, I am automatically evicted in a community where two bedroom apartments like mine are renting for $5,500 a month. Since I have to move, where?
If I move to Pontevedra, Spain, where my younger daughter Amelia Altalena lives, a beautiful wheel-chair accessible two bedroom apartment runs for $200 a month. Plus it is in a dramatically beautiful location.
If I move to Detroit, I suspect, the rental will be significantly lower than where I live, plus Detroit has an international airport. Given my medical equipment, I require an airport with wide planes.
++++
In evaluating the efficacy of a neighborhood for retiring Baby Boomers, I am evaluating the efficacy of the neighborhood to meet my very special requirements. I regard myself as the moral equivalent of a tape measure, using my own perspective to determine whether the resources here are better than the resources there. In doing so, I am requiring the following for me; namely:
1. I not be required to live in an apartment building which houses the elderly and disabled exclusively. The best living arrangement is one that includes all generations, especially children.
2. I have the ability to earn income rather than be dependent on assistance.
3. Society at large understands that just because I have severe health problems does not mean I cannot be productive.
++++
What is the good news from corporate Detroit?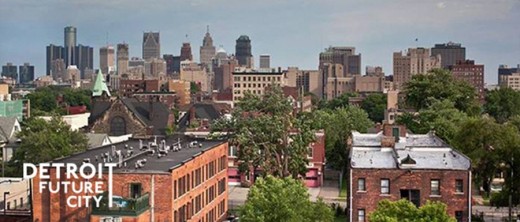 This column [finally, I have arrived at the starting gate] is about the impressive activities taking place in corporate Detroit, hence the cover photograph courtesy of Detroit Future City.
There are a number of civic organizations working diligently to save Detroit. Detroit Future City is taking care of implementing a 350 page plan for restoring the economy of Detroit. The report notes:
"Unlike many of the country's struggling cities, Detroit is challenged not with the creation of a new set of economic assets but with a geographic and strategic alignment of existing assets. While it is true that the city's original land patterns cannot efficiently serve its current residents. This real challenge is this: Detroit is not too big; the economy is too small."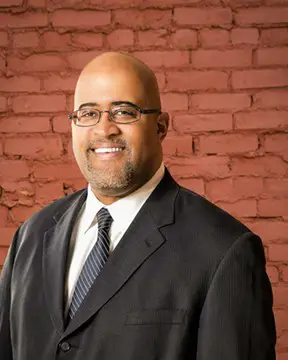 Photograph Executive Director Detroit Future City (DFC) Kenneth V. Cockrel courtesy of DFC.
Detroit Future City has as its executive director Kenneth V. Cockrel, Jr. Cockrel is a respected former mayor in a city that has little respect for its mayors past and present. Cockrel is charged with coordinating better communications among industry, government, and citizens in general. Cockrel is guided in his efforts following a strategic plan that took years to put together. The author is a distinguished architect Dan Kinkead, Director of Projects.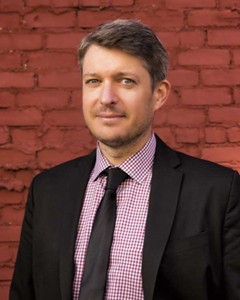 Dan Kinkead, photograph courtesy Detroit Future City, where Dan is Director of Projects
"Dan, the DFC site notes, "has worked with the DFC Implementation Office since its inception, wherein he led the initial process to build the implementation team, secure operational funding, develop the organization's steering committee and spearhead its first set of projects and initiatives.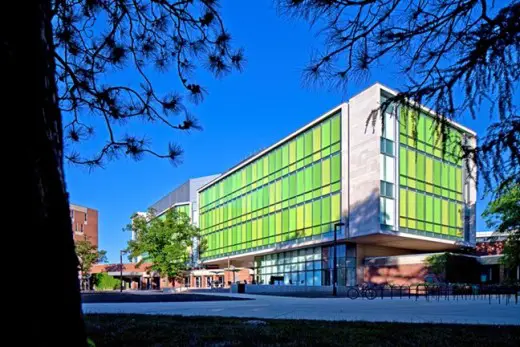 Language Arts Building for Michigan State University, a project Dan Kinkead designed at Hamilton Anderson Associates (HAA). Photograph courtesy HAA.
Before joining the DFC Implementation Office, Dan, a graduate of Harvard University with a masters of architecture in urban design, was a design principal with Hamilton Anderson Associates (HAA), where he led the design studio for architecture and urban design, and lead the team that assembled the 350-page DFC Strategic Framework report that serves as the platform for transformation in Detroit.
Before HAA, Dan worked in New York as an urban designer with Skidmore Owings & Merrill (SOM), in New York, where he was project interface between SOM and Renzo Piano Building Workshop on Piano's Columbia University Expansion.
++++
I am tired of looking at photographs of burned out Detroit—a city of ruins. I will make sure future photographs in this series show you, instead, photographs of a happy Detroit, an economically growing Detroit.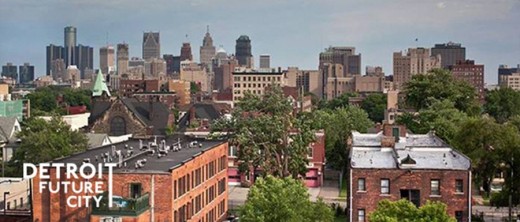 The Detroit Future City (DFC) photograph (courtesy of DFC) shows the view to the Renaissance Center (visible on your left)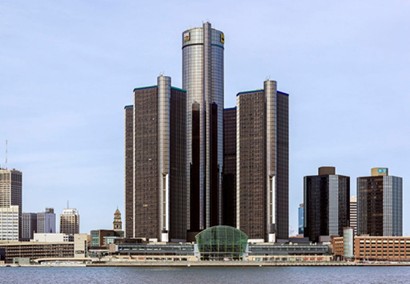 Photograph courtesy Wikipedia which notes: "The Renaissance Center's modernist architecture balances the city's panoramic waterfront skyline, a frequent feature in photography taken from the Canadian city of Windsor, Ontario. From the top of the Renaissance Center's Coach Insignia restaurant, patrons peer down upon the neogothic spires of One Detroit Center and city's Financial District skyscrapers and stadiums.
The Renaissance Center, originally designed by noted hotel architect John Portman, has become a city within a city and worthy of discussion in a future Detroit-series column.
For now, the column ends with a Detroit asset worthy of comment. Detroit has plenty of fresh water. At a time when California is limiting water use, businesses requiring water for their operations will find Detroit comforting. Finally, in a long telephone call, Dan Kinkead expanded on the value of this resource discussed in his Plan. Detroit has 20 percent of the world's fresh water supply. Brought in from the Detroit River into the city, the water is potable and is as free from pollutants as most any U.S. city. Below is a map showing Detroit within the Great Lakes Region of the U.S. surrounded by an abundance of water.
++++
Good night and good luck.
–Joel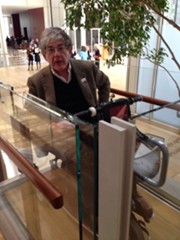 Here I am at the Morgan riding the disability friendly elevator to the Library. Photo published by permission of Kathy Forer.
This column copyright © 2015 by Joel Solkoff. All rights reserved.
Location: Detroit, Michigan, USA
Detroit Architecture
Hudson's Site Downtown Detroit
Museum of Contemporary Art Detroit
US Architecture
Comments / photos for the Detroit will be a Trendy City – Michigan City Planning page welcome
Website: Detroit