Renzo Piano's Whitney Neighborhood, New York City Building News, Architecture, Architect
Piano's Whitney Neighborhood
Contemporary Architecture in Manhattan, NYC, USA – article: Joel Solkoff, PA, USA
Nov 22, 2015
Piano's Whitney Neighborhood in New York
Article by Joel Solkoff, PA, USA
Joel's Column Vol. III, Number 5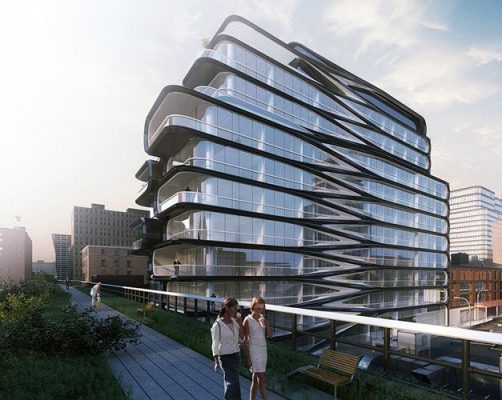 This is a photograph showing the power of Zaha Hadid's state-of-the art imagery. Hadid won the competition from Related Companies to build a multi-story luxury building at the north end of the Meatpacking District—520 West 28 Street. 520 West 28 Street is currently under construction. This is Hadid's first New York City commission. Photograph published by permission Roger Howie, Zaha Hadid Architects, London. "Prices for the 39 apartments—or residences, in broker parlance—start at $4.95 million for a two-bedroom, two-and-a-half bathroom and top out at $50 million for the 6,391-square-foot triplex penthouse," writes Zoe Rosenberg in "Curbed".
Piano's Whitney Neighborhood: Handing the Torch from Renzo Piano to Zaha Hadid—Part III of a IV Part Series
"Let the word go forth from this time and place, to friend and foe alike, that the torch has been passed to a new generation…."—John F. Kennedy
"If, in all the different action movies, there was an architect superhero – first of all, he would do the things that Renzo Piano does. Second of all, his name would inevitably be Renzo Piano."—Bill de Blasio, Mayor of New York City, remarks at the opening of the Whitney Museum of American Art.
"Hadid has participated in several of the city's major contests, including and following the World Trade Center competition brouhaha.….All of which makes the architect's latest project at 520 28th Street—just a stone's throw away from the High Line—that much more vindicating. Speaking with 'New York Magazine,' Hadid expressed her delight: "'I am absolutely thrilled to finally mark the city with my signature.'"—Sammy Medina writing for FAST COMPANY online
Today I write with a considerably personal perspective about Renzo Piano's Whitney Museum of American Art in New York City.  My central focus is the Whitney neighborhood. Zaha Hadid is new to the neighborhood. I now have so much Zaha Hadid to tell you about that I am likely to miss my ride to New York City on Sunday morning. Today is Friday.
I have been hospitalized six times since the July 9, 2015 publication of the second of this four-part series on Piano's Whitney. In October, I spent three weeks in four hospitals. Each day, I wanted to pick up the phone, call an architect, and redesign my hospital room.
Here is a video I am making available to e-architect readers. I am doing so because a large percentage of new building construction in the U.S. consists of health facilities: hospitals, health clinics, assisted living residences and independent living centers where the majority of residents receive home nursing. Every aspiring architect should know the first rule of hospital design: THE PATIENT IS YOUR PRIMARY CLIENT.

_____________________________________
Video published here exclusively for e-architect readers by permission of Joel Solkoff.
MY PERSPECTIVE AS A PARAPLEGIC
A patient on a wheel chair who has transferred from one's bed eager to reach the bathroom should not have to go out into the hallway and then back. The design of the doors should not be an impediment. Many experienced-based issues are of direct important to architects who aspire to excellence.
++++
NYC ART SHOW OPENING OF INTEREST TO ARCHITECTS
Before a suitably apt photograph of Piano's landmark art museum in the U.S., note: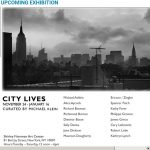 Screenshot by Joel Solkoff
Wikipedia: "As an independent curator Michael Klein has organized museum and gallery exhibitions specializing in contemporary and 20th-century art topics in the areas of painting, sculpture and photography for Independent Curators International; Contemporary Arts Center, Cincinnati; Contemporary Arts Museum, USF, Tampa; Arthur Roger Gallery, New Orleans; and Meadows Museum, Shreveport, LA."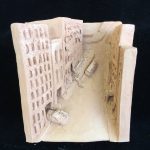 Kathy Forer, whose photographs and video has been published here at e-architect is, a "City Life" exhibitor. Photo published by permission of the sculptor. Forer, who studied architecture at Cornell, has produced a clay model series of urban landscapes. Opening night for City Life is Tuesday, November 24th from 6 to 9 PM. Openings have a special quality hard to describe and well worth experiencing. I will be there with my guest Helene Bergman who teaches at Advark Educational Technologies. Any architectural criticism of Renzo Piano's Whitney and especially Zaha Hadid's $5 million plus for each of 39 condominiums must recognize a coming rise in real estate prices to the point that art galleries in the area will no longer be in business. Michael's show in Manhattan indicates how highly his vision is appreciated. It is not unlikely that first an exhibit then the Whitney brings Michael Klein's talent into the Whitney. This requirement to Renzo Piano in designing the Whitney is to encourage talent such as Michael Klein demonstrates.
++++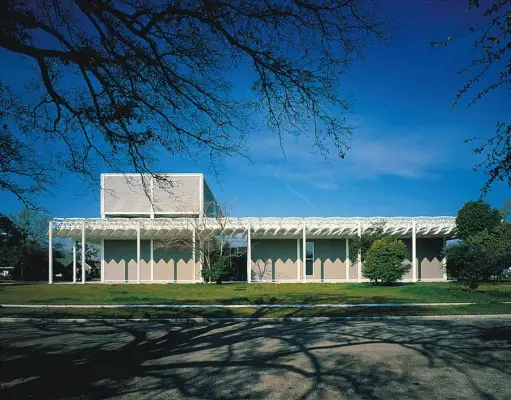 photograph 1982-1986 The Menil Collection, Houston, U.S.A – photo Paul Hester Photography ; published by permission Renzo Piano Building Workshop: so much Texas oil money went to endow the Menil that entry to the superb collection is free. http://www.rpbw.com/project/25/the-menil-collection/
The following is from the Pritzker Jury award citation: "Piano persevered with unrelenting experimentation that resulted in subsequent works that included the Houston Menil Museum along with its exquisite CY Twombly addition…."
This is Renzo Piano's iconic Houston TEXAS Menil Collection
The following is a portion of the Pritzker Jury Citation recognizing the importance of Piano's work "Always restless and inventive, Piano has, over three decades of his career, relentlessly searched for new dimensions in his structures, both literally and figuratively. His early Pompidou Centre in Paris, which brought the first international recognition of his talent and promise, could have been a stylistic end in itself.
"Instead Piano persevered with unrelenting experimentation that resulted in subsequent works that included the Houston Menil Museum along with its exquisite Cy Twombly addition, and the more recent Beyeler Museum in Switzerland. These three museums show his unerring sensitivity for site, context and a remarkable mastery of form, shape and space."
++++
Today's column is about the neighborhood which Renzo Piano and Zaha Hadid are changing for the good and the celebration I feel as a consequence. This is certainly A Major Celebration for the City of New York. I approach my architectural criticism of New York City as one who was born there. From 1965 to 1969, I was educated of Columbia College of Columbia University where Renzo Piano is currently making miracles. During my first marriage, I worked on Madison Avenue. I was a "creative writer" for educational publications. Since I was the only creative writer, much of my creativity evolved sneaking out of the office and hiding at J.P. Morgan's Library. This McKim Mead and White's 1906 masterpiece: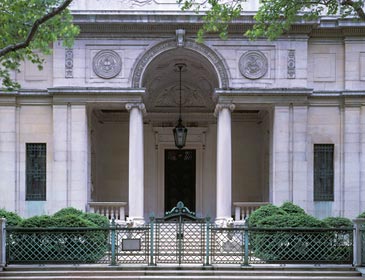 Photograph courtesy of Morgan Library & Museum
The New York Times describes NYC in 1975. At the time New York City came perilously close to defaulting on its debt "when several big banks threatened to close off credit unless Mayor Beame took draconian steps to cut the budget. The mayor soon called for eliminating 38,000 city jobs and denying municipal workers a planned 6 percent raise. And nearly 10,000 sanitation workers walked off the job. Highway workers blocked traffic on the Henry Hudson Parkway. Five hundred police officers blocked the Brooklyn Bridge, letting air out of the tires of some of the trapped cars."
++++
____________

__________________
Published by permission Joel Solkoff. Caption: "Occupational Therapist Megan Brown proposes a solution for how to access the toilet efficiently. In Part III, Megan suggests that washing my hands and otherwise using the sink involves exiting the bathroom and immediately backing in."
My personal series of paraplegic-related problems traveling and a series of health problems requiring lengthy hospitalization contribute significantly to my appreciation of the lessons I learned from Renzo Piano. While not directly related, I want architects to consider designing hospitals regarding the patient as the primary client.
PIANO AND THE "What Hath God Wrought?" QUESTION
When I consider the implications of Renzo Piano's instinct for design that extends beyond his immediate commission—the transformation of New York City's now trendy Meatpacking District–Samuel Morse's May 24, 1844 enthusiastic Biblical quotation comes to mind. The website for history.com provides initial context.
"In a demonstration witnessed by members of Congress, American inventor Samuel F.B. Morse dispatches a telegraph message from the U.S. Capitol to Alfred Vail at a railroad station in Baltimore, Maryland. The message–'What Hath God Wrought?'–was telegraphed back to the Capitol a moment later by Vail."
My comparison of Renzo Piano to God (more precisely, a divine agent) is not an overstatement given my personal theology. It is commonplace for a columnist to disclose one's biases. My bias, which reflects everything I write about architecture, comes from the firm belief (not conviction; rather an easy leap of faith) that Renzo Piano has forever changed my life for the good.
Writing previously columns for e-architect, I have detailed the personal impact of Piano's first New York City commission. In 2006 Piano completed the renovation and extension of J.P. Morgan's Library and Museum, a museum I visited regularly from age 16. Last month I celebrated my 68th birthday.
++++
To return:
I have been a patient in six hospitals since July 9, 2015 publication of the second of this four-part series on Piano's Whitney in the Meatpacking District. e-architect art critic Sarah Schmerler was quoted in that column: "When you are an art critic, and have grown up seeing reproductions of a museum's permanent collection since you were a kid, visiting those paintings over the years in person makes you feel like a supplicant on a kind of pilgrimage. I felt that way about the Whitney. "
Unlike Schmerler, I feel about the Renzo Piano renovation and extension of the J.P. Morgan Library and Museum the same way she feels about the Whitney. My initial plans for today's column was a discussion of the building boom in U.S. museums that has caused global architects late hours submitting to competitions and will continue to do so for the foreseeable future. The clear lesson of all Piano's museums is a firmly-rooted passion for the collection.
++++
DIGRESSION TO PIANO'S 15TH CENTURY IDOL
When Renzo Piano was awarded the Pritzker Prize, the jurors noted: "[H] his 15th century idol [was] Brunelleschi…." Wikipedia: "Filippo di ser Brunellesco (1377 –1446) was an Italian designer and a key figure in architecture, recognized to be the first modern engineer, planner and sole construction supervisor. He was the oldest amongst the founding fathers of the Renaissance. He is generally well known for developing a technique for linear perspective in art and for building the dome of the Florence Cathedral."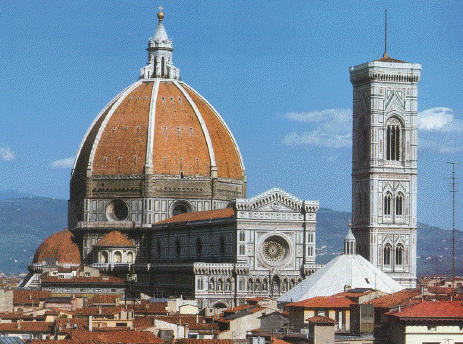 "The Santa Maria del Fiore cathedral in Florence possesses the largest brick dome in the world, and is considered a masterpiece of European architecture."—Wikipedia. N.B.: This photograph is in the public domain.
++++
On going: How the architectural establishment anointed Zaha Hadid
Theme
I am fascinated by the process of identifying and fostering talent. Consider this observation from Sheena McKenzie at CNN, "[T]here's no denying Hadid's phenomenal success, the first woman to win the Pritzker Prize in 2004 — regarded as architecture's Nobel — and in the last decade going from the architect who never built anything to the architect who built everything."
The phrase "going from the architect who never built anything" is especially intriguing. How did the architect who never built anything obtain a commission to build something? The answer is Frank Gehry. Details after taking the bus for four hours to New York City. The Big Apple
++++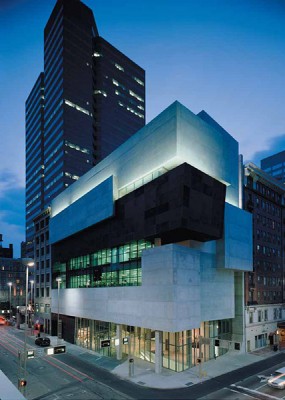 Zaha Hadid's Cincinnati Contemporary Arts Center. Photograph published by permission Zaha Hadid Architects, London
Zaha Hadid is moving into Piano's new neighborhood with luxury prices also a consequence of the proximity to the beautiful Highline, NYC's relatively new park with a fantastic view of the Hudson River. Beautiful River, beautiful park.
++++
Today's column ends with Margery, whom I took to lunch at Renzo Piano's Morgan Library & Museum. Margery, an Edith Wharton-style New Yorker, is a retired entrepreneur. At 93 years old, Margery visits her City's museums on a regular basis. Margery requires a wheel chair for mobility and health care assistants to provide that mobility. Shortly after I took this photograph, the Morgan's Deputy Director Brian Regan visited the dining and said hello to Margery, her health care workers, and me. Margery was thrilled to see an original Guggenheim Bible. I was thrilled that Brian came by. He is my mentor.
"The architect proceeded," writes Brian Regan, "in politic phrases, to suggest that the Morgan consider dropping the competitive process altogether. I suggest that you go to see buildings and make a decision on an architect that way. The risk of our choice is lowered by going to visit the actual buildings of possible architects. In fact, if you can, arrange both to see their buildings and visit architects in their offices. Also, he advised 'pay attention to chemistry, how do things work between architect and client?' Finally, he said, 'My advice is that it would be better for you to go out and identify and seek out an architect. Also, in being selected in this way, the architect feels very honored.'" Eventually, Brian Regan and his boss did just what Piano recommended. They flew to Italy, waited around for him to return from traveling beyond communications on his yacht, and begged Piano to take the commission.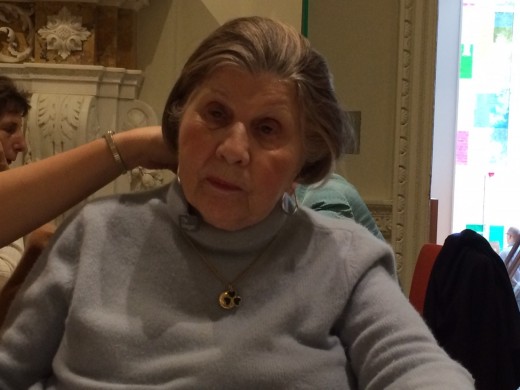 ++++
Good night and good luck.
–Joel
This column copyright © 2015 by Joel Solkoff. All rights reserved.
Piano's Whitney Neighborhood in New York information / images from Joel Solkoff, PA, USA
Previously: Special Wooden Floors for the Whitney in New York
Address: Whitney Museum of American Art, 99 Gansevoort St, New York, NY 10014, United States
Location: 99 Gansevoort St, New York, NY 10014, United States
Architecture in NYC
New York Architecture Walking Tours
Whitney Museum, 945 Madison Avenue, Upper East Side
Date: 1966
Architect: Marcel Breuer
Whitney Museum Building New York
Whitney Downtown Museum Design
Architectural Provocateurs Axis Mundi Imagine a Different Whitney Downtown
Design: Axis Mundi, architects
Axis Mundi NYC
Whitney Museum Architect – Marcel Breuer
New York City Architecture News
Farnsworth House: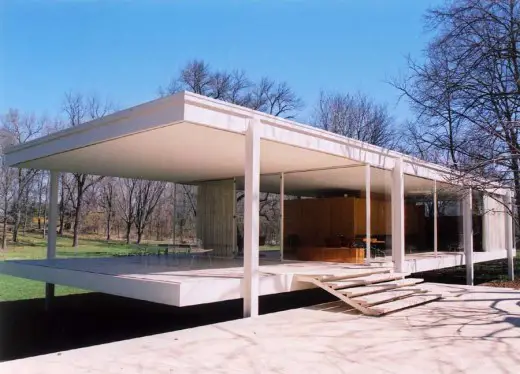 photograph published courtesy e-architect.com, strictly copyrighted to Alan Dunlop architect, formerly of gm+ad architects
New York State Architecture Designs
New York Architecture
Guggenheim Museum Building, East Harlem
Design: Frank Lloyd Wright Architects
Guggenheim Museum New York
56 Leonard Street
Design: Herzog & de Meuron, architects
56 Leonard Street
Rockefeller Center
Design: Raymond Hood, Architect
Rockefeller Center New York
Comments / photos for the Renzo Piano Whitney in New York Architecture page welcome
Renzo Piano Whitney Neighborhood in New York City : NYC Architecture page
Whitney Museum – Website: www.whitney.org