Arthur C. Nash Georgian Revival Carolina Inn, Chapel Hill Architecture, Crossroads Bar
Carolina Inn, Chapel Hill, North Carolina
NC Building by Arthur Cleveland Nash: Architectural Column Vol. IV, Number 2 by Joel Solkoff, PA, USA
Aug 10 2016
Arthur C. Nash's 1924 Georgian Revival Carolina Inn
Joel's Column Vol. IV, Number 2
Architectural Column Vol. IV, Number 2 by Joel Solkoff, PA, (temporarily at the Carolina Inn, Chapel Hill, North Carolina,) USA
Writing on architects plus their role in the imminent/now-already-here global Baby Boom housing crisis
______________________________________________________________________
Joel's Column Vol. IV, Number 2, August 10th, 2016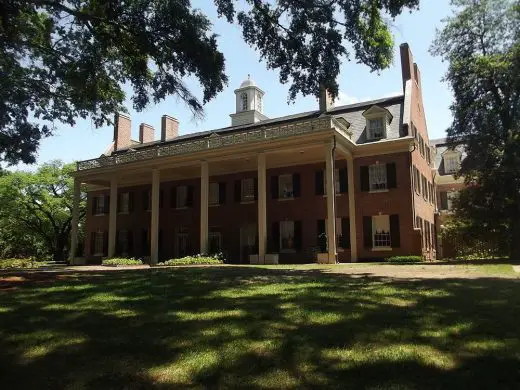 photo courtesy wikimedia commons ; Author PerryPlanet
My daughter Amelia Altalena was married on Saturday at one of the most architecturally distinguished buildings in the United States
How a 1924 Arthur Cleveland Nash Architectural Masterpiece Transmogrifies into an e-architect exclusive — photo by Joel Solkoff as he writes this column: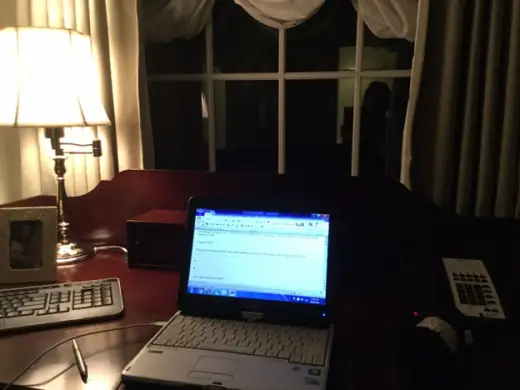 photo : Joel Solkoff
"In 1922 [Nash's] work began for North Carolina. He later told the story that one day when he was walking down Fifth Avenue he encountered William M. Kendall, a principal of the New York firm of McKim, Mead and White, which had recently taken a large commission to expand the University of North Carolina in Chapel Hill. Kendall said that the firm needed to send an architect to serve on site and asked Nash if he was interested. Nash promptly accepted. He and his family moved to Chapel Hill, where he spent the rest of the decade as building architect for the university in association with engineer Atwood, with Kendall representing the consulting firm of McKim, Mead and White and visiting the campus at intervals."
— Martha B. Caldwell, Librarian University of North Carolina [Caldwell works at the Wilson Library, which Nash helped design
"Hello Joel – Congratulations for your daughter's wedding. Setting looks beautiful. I checked it out online and truly a special piece of architecture. Makes me miss the Carolinas (I grew up in SC)." –Christopher Lepine, Zaha Hadid Associates (London), Architect in charge of 1000 Museum, Miami, USA – see Joel Solkoff's Column Vol. II, Number 2
"The Roaring Twenties is a term for society and culture in the 1920s in the Western world. It was a period of sustained economic prosperity with a distinctive cultural edge in the United States…in France and Quebec, it was known as the 'années folles' (Crazy Years), emphasizing the era's social, artistic and cultural dynamism. Normalcy returned to politics in the wake of hyper-emotional patriotism after World War I,jazz music blossomed, the flapper redefined modern womanhood and Art Deco peaked."–Wikipedia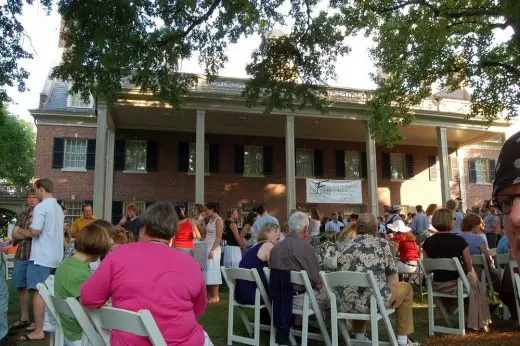 photo courtesy wikimedia commons ; Author d&e
This story begins (as many of my best stories do) with a photograph in a book. In this book: "TheUniversity's Living Room" by Kenneth Joel Zogry. Zogry, a doctoral student at the University of North Carolina at Chapel Hill, formerly curator Bennington Museum, Bennington, Vermont. Michael Sachtleben, the Hotel's concierge, gave a copy to e-architect's art critic Sarah Schmerler and me. The front piece contained the 1924 floor plan for the hotel we just had entered.
Carolina Inn, Chapel Hill, drawing by architect Arthur Cleveland Nash: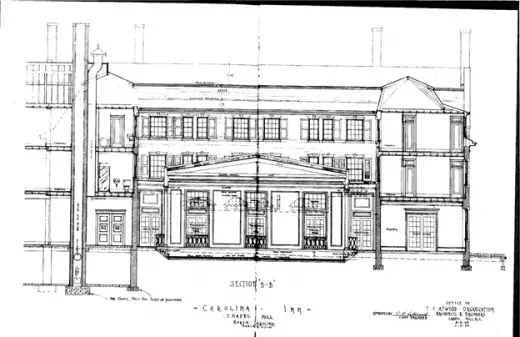 photograph of Arthur C. Nash's 1924 elevation, with appreciation to Michael Sachtleben for taking the trouble to scan.
Meanwhile, I sat at The Crossroads bar and awaited the arrival of my sister and nephew Asher who had attended a Durham Bulls game the night before. Having lived south Durham for ten years, my allegiances were to the University of North Carolina in Chapel Hill (UNC) as opposed to Duke (a symbol in my family's mind of wealth pretentiously exhibited; hence, I remain [as do my daughters fiercely pro-UNC in a nasty ongoing rivalry that would cause my Buddhist minister no end of grief.] That said, here where basketball rules all, the majesty of baseball's magic still prevails. Naturally, before my daughter Amelia Altalena would marry in Chapel Hill's architectural splendor, she (and virtually the entire wedding party) must first ritualistically watch the Durham Bulls play.
Bull Durham Trailer
courtesy of YouTube in accordance with the standard YouTube license
I sat at the bar while Schmerler made a video of Nash's design.
Photograph of bartender Whitney Harris: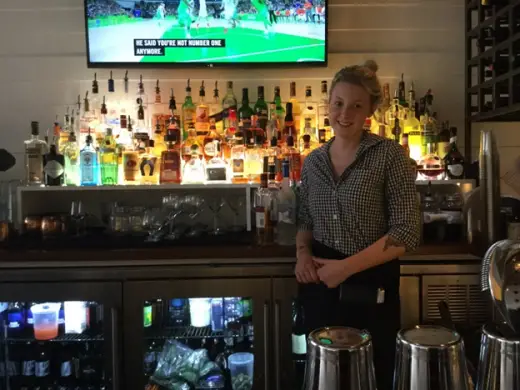 photo : Joel Solkoff
As it turns out, the bar is emblematic of the vitality of Nash's 1924 design which allows for modification as generations have followed. Originally, Nash's design was for a private hotel. There I imagine (in a period noted for excess) privacy meant the ability to defy federal and local law prohibiting consumption of alcohol. Indeed, as recently as the 1970s, alcohol could not be consumed here in orange county. Nash's private hotel had a dining area quite different from its current open quality—a difference which has caused complaints from hotel regulars bothered by change. Now called The Crossroads the hotel restaurant originally was closed off and the bar hidden from public view (which allows me an excuse for showing off my granddaughter).
Joanna Solkoff, Juliet Mae Phillips, and me: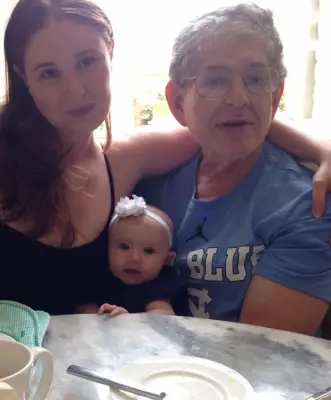 photograph for e-architect by Jade K. Phillips
The Crossroads Restaurant is to the left of the bar and directly off the main lobby area creating a feeling of spaciousness well conveyed in this Sarah Schmerler video for e-architect.
The University of North Carolina owns The Carolina Inn and from the 1920's through the 1950's, Nash remained not simply the designer of a hotel, but of the University and its charming Chapel Hill Community. Today, Colorado-based Destination Hotels does a masterful job of running the facility and employing and training its employees. Bartender Harris has only been with Destination Hotels a few months, yet with all the hotel's employees, she exhibits a sense not only of courtesy and competence, but an appreciation of Nash's design that extends beyond her job description. The renovation of the bar has been a problem Destination Hotels has approached with careful deliberation. Another example of incorporating change has been the establishment of efficient yet surprisingly elegant computer business centers throughout the hotel.
In two days I will be flying home to my beloved Borough of State College, PA eager to incorporate the lessons I have learned here in Chapel Hill. As with other college towns in the United States such as Iowa City and Austin, these communities offer the elderly and disabled such advantages as being able to live in walking (in my case scooting) to nearly everything. As I keyboard in this column here in Room 223, I am of mixed emotion.
While I await the photograph of my daughter Amelia Altalena with her new husband Javier Blanco displaying the hotel's architectural elegance, this photograph made available to e-architect will suffice at a placeholder: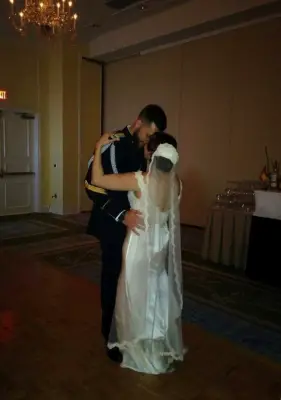 photograph of Carolina Inn wedding couple
Were I to remarry, I can imagine no better place to so. My joy at scooting Amelia down the aisle cannot be expressed. Come October, I will be celebrating my 69th birthday. As is the case in one my age, many friends and love ones have died. Patric Mullen comes immediately to mind. Patric (insistent on the eccentric spelling of his first name) was responsible for Amelia, Joanna, Diana, and me relocating to Durham, North Carolina. A lobbyist, Patric would never have allowed HIS state legislature to have passed legislation (influenced by a fundamentalist interpretation of Leviticus) to have passed a law requiring people to go to a bathroom based their gender at birth. The legislation has made North Carolina a laughing stock. A powerful economic boycott threatens the economy, including the film industry. Patric taught me many lessons about the relationship between politics and reality. When I return to State College, I will continue writing about the relationship between politics and architectural contracts. Global architects may find it useful in your plans.
++++
Coming next to Joel's Column
* Why Zaha Hadid's death is a tragic loss for global architecture.
*Why Patrik Schumacher, Zaha's close friend and technologically adept collaborator, is especially equipped to carry on her legacy and perhaps create one of her own.
Appreciation to Roger Howie, Zaha Hadid Associates (London) for permission to embed this video.
Roger Howie:



photograph courtesy Zaha Hadid Associates (London)
++++
My editors beckon: "All right, stop writing, Joel."
Isabelle Lomholt and Adrian Welch, Editors at e-architect
"Good night and good luck," as Greensboro, North Carolina born Edward R. Morrow, my hero, used to say.
–Joel
Please write: [email protected]
Copyright © 2016 by Joel Solkoff. All rights reserved.
Address: Carolina Inn, 211 Pittsboro St, Chapel Hill, NC 27516, United States
Phone: +1 919-933-2001
Website: The Carolina Inn – Chapel Hill Hotel
Location: Carolina Inn, Chapel Hill, North Carolina, USA
Architecture Columns
Architecture Columns – chronological list
Renzo Piano's Whitney Neighborhood
Joel Solkoff's Column Vol. V, Number 1
Disability-Access Architecture
Chicago Architecture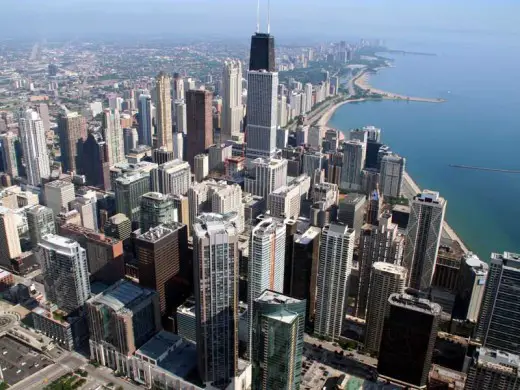 photograph courtesy of Jan Klerks
Chicago Aerial Cable Car
Design: Marks Barfield Architects and Davis Brody Bond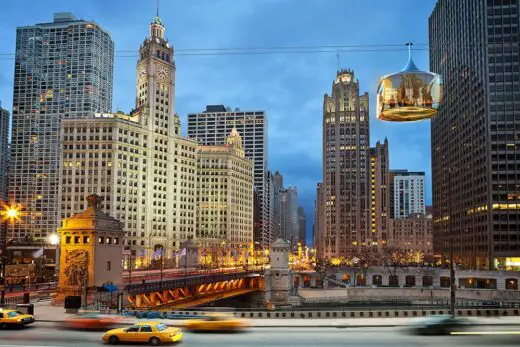 image from architect
New Chicago Aerial Cable Car Design
US Architecture
Museum of Contemporary Art Detroit
Comments / photos for the Carolina Inn, Chapel Hill, North Carolina – page welcome