How the Georgia Senate January 5th election will affect global architects, US President Biden Building News
All Architects Today Must Be Covid-19 Architects
Historic US Election Review of Architectural Aspects: Architectural Column by Joel Solkoff, PA, USA
translation into Mandarin – Jan 24, 2021:
今日所有的建筑 师都必须是 Covid-19 建筑 师
Architects Must Be Covid-19 Architects
Dec 21, 2020
Architecture under President Biden Part III
Joel Solkoff's Column Vol. VI, Number 6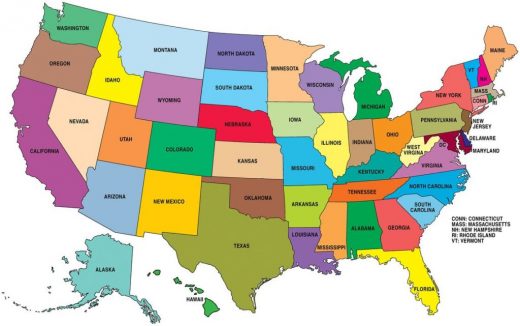 Reproduced by permission toybox tech; available as a poster – https://www.etsy.com/listing/770609521/united-states-map
"You can fool some of the people all of the time and all of the people some of the time, but you can't fool all of the people all of the time."
— Abraham Lincoln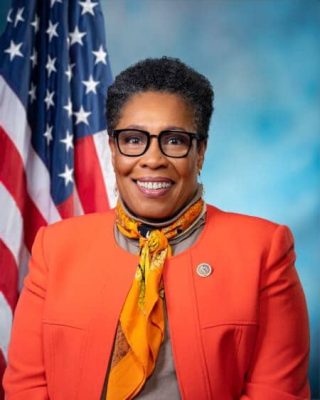 Representative Marcia Fudge, Democrat, Eighth Congressional District of Ohio. Photo in the public domain
No New Housing: Impact of the Trump 2020 HUD Budget
On March 11, 2019, the Trump Administration released its Fiscal Year 2020 Budget Summary. The White House is proposing more than $9 billion in cuts to critical housing programs. The House of Representatives FY 2020 Spending Bill would increase the funding levels of those programs by more than $3 Billion.
| Selected Programs | FY19 Final | FY20 Trump ($/% Change) | House FY20 ($/% Change) |
| --- | --- | --- | --- |
| Community Development Block Grant (CDBG) | $3.365 B | $-3.365 B / -100% | $0.235 B / 6.98% |
| Public Housing Capital Fund | $2.775 B | $-2.775 B / -100% | $0.08 B / 2.88% |
| Public Housing Operating Fund | $4.653 B | $-1.79 B / -38.47% | $0.1 B / 2.15% |
| HOME Investment Partnerships Program | $1.25 B | $-1.25 B / -100% | $0.5 B / 40% |
| Housing Choice Voucher Renewals | $20.313 B | $-0.197 B / -0.97% | $1.087 B / 5.35% |
| Section 202 Housing for the Elderly | $0.678 B | $-0.034 B / -5.01% | $0.125 B / 18.44% |
| Section 811 Housing For Persons with Disabilities | $0.184 B | $-0.027 B / -14.67% | $0.075 B / 40.76% |
| Project-Based Rental Assistance | $11.747 B | $0.274 B / 2.33% | $0.843 B / 7.18% |
| Total For Select Programs | $44.965 B | $-9.164 B / -20.38% | $3.045 B / 6.77% |
Thank you www.affordable housing.com
DATELINE – Saturday December 19, 2020. Memorial Sloan Kettering Cancer Center, New York, New York.
I have moved to New York City, where I was born, to escape the inpending death toll rural Lycoming County will experience within the next few weeks. After the virus is controlled, I will return to beautiful Williamsport Pennsylvania and its architectural treasures on February 14th. Today I am currently in the hospital to take care of a series of too long neglected health problems anticipating that I will receive the coronavirus vaccine shortly.
Trump's International luxury hotel and apartment condominium complex at Columbus Circle, New York City: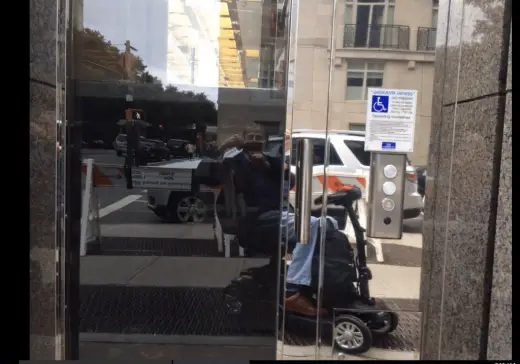 photo courtesy of Joel Solkoff
I took this self portrait in June 2015 of the less than friendly disability entrance to Trump's International luxury hotel and apartment condominium complex at Columbus Circle. Following the principles of unversal design would have been preferable if Trump's de facto instructions were not based on stairs and hoopla. I waited an unnecesryily long time for the elevator and became soaked as a consequenc. Hell of a way to treat a cancer patient returning to my friend's place after therapy.
This is how The New York Times described the building in April, 1996: "Fancier than Trump Tower. Glitzier than the Trump Taj Mahal. Pricier than Trump Palace or Trump Parc. Its glossy brochure trumpets Trump International as 'the most important new address in the world.'
How the outcome of two senate races in Georgia will affect global architecture commissions
Let us start the analysis of the Georgia January 5th election with the big picture.
The big picture: As of yesrerday, 313,797 children, women and men have died from the crnavirus according to the Centers for Disease Control base in Atlanta.
On the glass is half filled for architects, take joy from President elect Joe Biden's selection of Rep. Marcia Fudge to run the Department of Housing and Urban Development. Here is Rep. Fudge from her official website:
"Congresswoman Marcia L. Fudgeis a committed public servant who brings a hard-working, problem-solving spirit to Congress and to the task of creating jobs, protecting safety net programs, and improving access to quality public education, health care and healthy foods. First elected in 2008, she represents the people of the 11th Congressional District of Ohio.
Congresswoman Fudge serves on the Committee on House Administration, House Committee on Agriculture and House Committee on Education and Labor. She is the Chair of the Committee on House Administration Subcommittee on Elections and Chair of the Committee on Agriculture Subcommittee on Nutrition, Oversight and Department Operations. She serves on the Subcommittees on Conservation and Forestry (Agriculture), Civil Rights and Human Services (Education & Labor) and Health, Employment, Labor and Pensions (Education & Labor).
In the 115th Congress, the Congresswoman served on the House Committee on Education and the Workforce Subcommittees on Early Childhood, Elementary and Secondary Education and on Health, Employment, Labor and Pensions. She also served as Ranking Member on the House Committee on Agriculture Subcommittee on Conservation and Forestry and a member on the Subcommittee on Nutrition. She is a member of several Congressional Caucuses and past Chair of the Congressional Black Caucus.
++++
++++
Congresswoman Fudge consistently fights for voter protection, equitable access to a quality education from preschool through post-secondary programs, child nutrition, food stamp (Supplemental Nutrition Assistance Program) recipients, access to locally grown, healthy foods, fair labor practices, and civil and human rights, among other issues. Additionally, she remains a steadfast advocate to strengthen and preserve Social Security, Medicare and Medicaid.
Congresswoman Fudge has served the people of Ohio for more than three decades, beginning with the Cuyahoga County Prosecutor's Office. She was later elected as the first African American and first female mayor of Warrensville Heights, Ohio, where she led the city in shoring up a sagging retail base and providing new residential construction.
Congresswoman Fudge earned her bachelor's degree in business from The Ohio State University and law degree from the Cleveland State University Cleveland-Marshall School of Law. She is a Past National President of Delta Sigma Theta Sorority, Inc., and a member of its Greater Cleveland Alumnae Chapter.
Congresswoman Fudge's work ethic, problem-solving approach, and ability to build collaborative relationships have earned her a reputation among her colleagues in Washington and at home as an insightful leader and knowledgeable legislator. As a dedicated public servant, she begins each morning with a firm promise "to do the people's work." It is this simple philosophy that defines Congresswoman Fudge as a Member of substance and character who always keeps her promise."
####
Our Delusional President Trump flew to Georgia this week to campaign for Senators David Perdue and Kelly Loeffler
====
Senator David Perdue, Incumbent Republican
Wikipedia – David Alfred Perdue Jr. (/pərˈduː/; born December 10, 1949) is an American businessman and politician. A member of the Republican Party, he has served as the senior United States Senator for Georgiasince 2015.
After 12 years as a management consultant, Perdue became the senior vice president for Reebok. He later joined PillowTex, a North Carolina textile company.[2][3]He subsequently served as CEO of Dollar General.
Perdue ran for U.S. Senate in2014, defeating DemocraticnomineeMichelle Nunn. He is running for reelection in 2020against Democratic candidateJon Ossoff. As neither candidate received more than 50% of the vote in the November 3 election, they face each other in a January 2021 runoff election. After the November election, Perdue called for the resignation of Georgia's top elections official and claimed without evidence that there were unspecified "failures" in the election. He later supported a lawsuit by Trump allies seeking to overturn the election results.[5]
Perdue was linked to the2020 Congressional insider trading scandal for allegations ofSTOCK Act violations. The allegations arose after he sold stocks beforethe 2020 stock market crash using knowledge speculated to be from a closed Senate meeting. After reviews by the Senate Ethics Committee and the U.S. Department of Justice, Perdue was not charged with any crimes. The Justice Department closed its inquiry in mid-2020.
Democratic challenger Jon Ossoff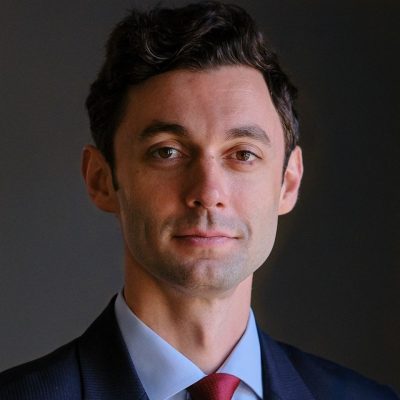 photo in the public domain
N.B. Two years ago I donated $18 to Jon Ossoff's campaign for the House of Representatives from Georogia. The election was to fill a vacant seat that happened when Re. Azar left thye House to become a an awful Secretary of Health and Humman Services for President Trump.
The number 18 has spiritual signifcance because the Herew alphabet applies numbers to letters. The Hebrew word for life [chai] is 18. In synagogues, i ndoners add 18 to their conytibutons to their synagogue. Also works for causes. In 1952 and 1956 my mother donated $18 to the Presidential campaigns of Adkai Stervenson.
Wikipedia: Jon Ossoff: "Thomas Jonathan Ossoff (/ˈɒsɒf/; born February 16, 1987) is an American politician and investigative journalist. He is the Democratic Party nominee for the 2020 U.S. Senate election in Georgia, running against Republican incumbent Senator David Perdue. Neither candidate reached the 50% threshold on the November 3 general election, triggering a runoff election on January 5, 2021.
Ossoff was the Democratic nominee in the historically expensive 2017 special election for Georgia's 6th congressional district, which had long been considered a Republican stronghold. After finishing first, but without a majority in the all-party primary election, he lost the runoff with 48.2% of the vote to Republican Karen Handel's 51.8%.
Since 2013, Ossoff has been managing director and chief executive officer of Insight TWI, a London-based investigative television production company that works with reporters to create documentaries about corruption in foreign countries.
####
Embedded in keeping with YouTube licensing.
e-architect's Architects for Change Webinar Sereis resumes Valentine's Day February 14 2021
Stay tuned to our calendar for details
Coming soon to Joel's problem, further analysis of the Georgia senate race and the impact of its outcome on the country at large.
My editors beckon: "All right, stop writing, Joel."
Isabelle Lomholt and Adrian Welch, Editors at e-architect
Joel Solkhoff, PA, USA: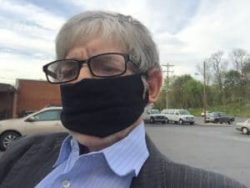 Selfie, Lycoming County, Pennsylvania, USA
Please feel free to phone me at US 570-772-4909 or send an e-mail [email protected]
Copyright © 2020 by Joel Solkoff. All rights reserved.
The firm producedBBCinvestigations aboutISISwar crimesanddeath squadsinEast Africa. Ossoff was also involved in producing a documentary about the staging of a play inSierra Leone.
'Joel's previous article
Nov 12, 2020
Architecture under the Biden Presidency
Sen. Kelly Loeffler And Raphael Warnock Face Off In Georgia Senate Runoff Debate – NBC News NOW – YouTube
The election is on January 5, 2020.
Architecture Columns
Architecture Columns – chronological list
Special Wooden Floors for Renzo Piano's Whitney in New York
New York City Mayor Bill de Blasio, Queens Library
Renzo Piano's Whitney Neighborhood
Disability-Access Architecture
US Architecture
Joel Solkoff's Column Vol. IV, Number 2
Joel Solkoff's Column Vol. IV, Number 1
Special Wooden Floors for the Whitney
Belt and Suspenders Routine – Joel Solkoff's Column
Joel Solkoff's Column Volume II No. 6
Joel Solkoff's Column, Vol.II, Number 7
Comments / photos for the Architecture under President Biden – page welcome