Detroit Planning, Michigan Architecture, American Travelling, US Airport Design
Belt and Suspenders Routine
Architectural Column Vol. III, Number 1 by Joel Solkoff, PA, USA
Feb 19, 2015
Detroit Architecture
Joel's Column Vol. III, Number 1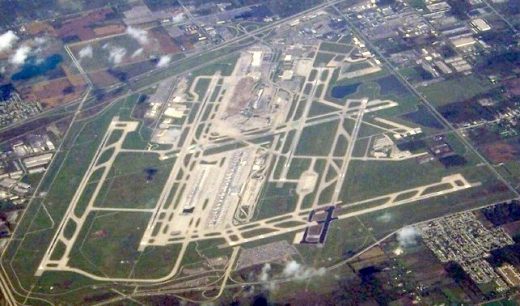 Wayne County International Airport, Detroit. Photograph courtesy of the airport authority. See Website: Metro Airport
Ongoing Special Report on the benefits Detroit may offer Baby Boomers
Detroit will survive because it is next door to an airport flying more passengers non-stop between the U.S. and Asia than any other airport.
I love Detroit.
After months of research (my friends refer to Detroit as "Joel's obsession"), I am seriously considering moving to Detroit. It would be easy to persuade me. This upbeat perspective may come as a surprise to readers of my first primarily gloomy column "Is Detroit Dying? Detroit Dying Special Report". Detroit will survive in large part because it is next door to one of the most important airports in the United States and indeed the world.
I live in State College, Pennsylvania 245 miles from Detroit. Given the nature of airline infrastructure, my Detroit relationship is direct. The hub system dominates the world's airline network. "Airline hubs," Wikipedia notes "are airports an airline uses as a transfer point to get passengers to their intended destination. It is part of a hub and spoke model, where travelers moving between airports not served by direct flights change planes en route to their destinations."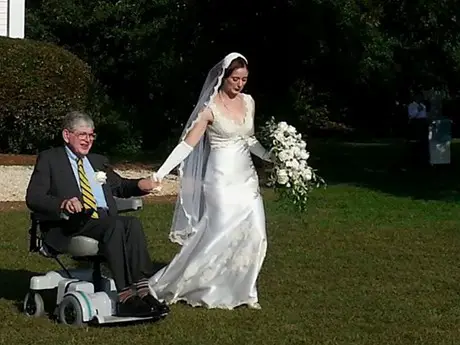 Driving Joanna, my elder daughter, down the grass aisle to her wedding vows. Photograph courtesy Jade Phillips.
Delta Airlines provides service to the State College Airport (SCE). A year and a half ago, I "gave away" my elder daughter Joanna to Jade Phillips at a ceremony on the outskirts of Raleigh, North Carolina. From State College, I flew to the hub at Detroit's Wayne County International Airport. Detroit's airport is north and west– the wrong direction for my destination. From Detroit, I changed planes finally flying south and east to North Carolina.
Delta, the largest airline in the world, has a hub at Detroit's Wayne County International Airport (DTW). DTW is one of Delta's 10 U.S. hubs. More passengers fly non-stop to and from Detroit to Shanghai, Beijing; Tokyo and other Asian destinations than from Delta's hub at JFK Airport in New York City.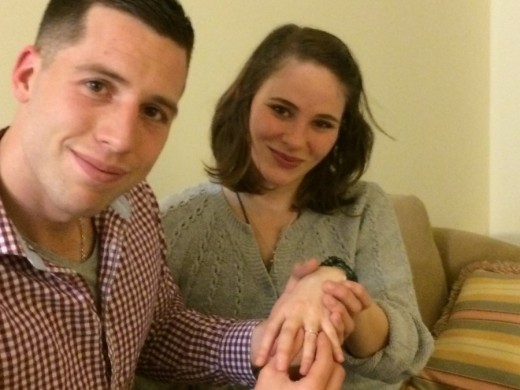 Javier Blanco and Amelia Solkoff display her engagement ring. Photo by Joel Solkoff
From Detroit, I can fly non-stop to Europe to give away my younger daughter Amelia Altalena when she marries Javier Blanco in Spain. Amelia, who has been teaching English in Spain for three years, fluently translated Javier 30-minute request for Amelia's hand in marriage at my State College apartment on New Year's Day. The wedding will take place in the summer of 2016 after Javier graduates from officer training school.
The difficulties involved with attending my daughter Amelia's wedding. It may be impossible to attend the wedding unless State College can effectively change the way it treats disabled, elderly, and low-income residents. Several federal, state, county, and Borough regulations must be rewritten.
The Baby Boomer vote over the next 10 years will substantially change the regulation regarding how the elderly and disabled are treated through the U.S. The power of our vote will not arrive in time to affect whether I must first move to Detroit or another community so I can be close to a wheel-chair accessible airport and simultaneously avoid prohibitions on my obtaining work so I can purchase a ticket.
++++
The U.S. infrastructure is in a critical state. Our highways, bridges, and roads are in disrepair. Passenger railroad service is non-existent at State College and elsewhere. Where railroad service does exist, it generally lacks funds to provide adequate and reliable service. It is a significant asset for a city to be next to a major airport. In 2013, the American Society of Civil Engineers issued a report card giving the U.S. infrastructure a D+ grade citing the need for investment of $3.6 trillion by 2020 to improve the grade to a B.
++++
Last year, Chinese architect Ming Zhao and her 11 year-old daughter Kelly flew non-stop from Shanghai to Detroit. They flew on a wide-bodied Delta Airlines jet. The aircraft holds 376 passengers and offers such amenities as flatbed seats.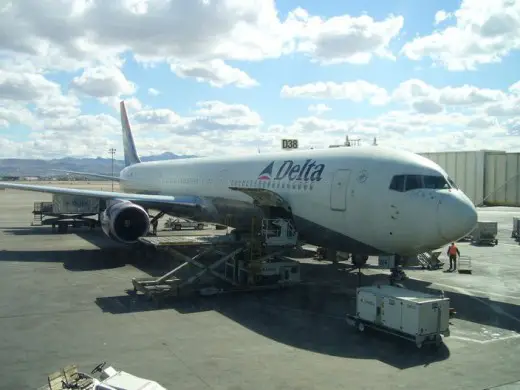 Ming Zhao and her daughter flew a Boeing 747-400 from Shanghai to Detroit. Photograph courtesy Delta Airlines.
From Detroit to State College, they flew 1 hour, 25 minutes on Delta's 50-seat Canadair (Bombardier) Regional Jet, the same jet I used to fly from State College to Joanna's wedding.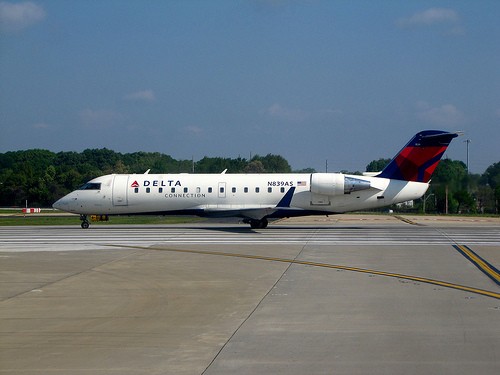 Canadair (Bombardier) Regional Jet. Photograph courtesy Wikipedia. Delta notes "Limited recline."
Ming Zhao came to State College for advanced study in sustainability at Penn State's Department of Architectural Engineering where I work as an Adjunct Research Assistant.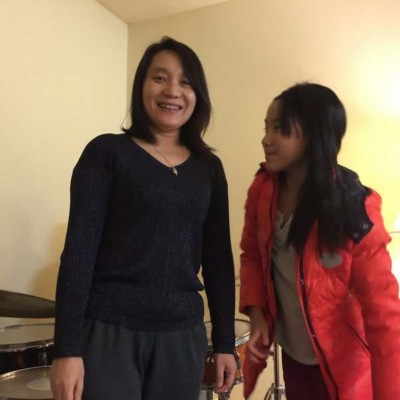 Chinese architect Ming Zhao with her daughter Kelly. Photograph courtesy Kathy Forer.
Ming Zhao's home is in Wenzhou which has a population of over 9 million. Located along the East China Sea, Wenzhou is 226 miles (364 kilometers) south of Shanghai. The following photograph shows Ming Zhao's work for Wenzhou's College of Fine Arts and Design. Her theme: "Enjoy the tranquility and elegance that is like walking into Mondrian's paintings."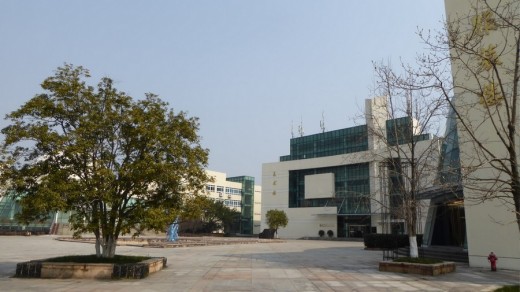 Ming Zhao designed the College of Fine Arts and Design, Wenzhou City, Zhejiang Province, China in 2002. Photograph published with her permission.
Wenzhou is noted for its long, hot, and humid summers. Humidity is what brought Ming Zhao to Penn State to study with James D. Freihaut, Assistant Professor of Architectural Engineering and Director of the Indoor Environment Center. Ming Zhao is studying with Dr. Freihaut on how to use building materials to passively reduce humidity.
++++
Today's column, part of a series retitled: Ongoing Special Report on the benefits Detroit may offer Baby Boomers, will provide global architects with background helpful in obtaining U.S. commissions. Given the gloomy photographs in the first Detroit column, you may be surprised by my assertion: I love Detroit.
Detroit has had a strong impact on my life from birth (two years after World War II) until I was nearly 30. My generation, the Baby Boomers, have strong emotional ties to the city that go beyond the reality of present day Detroit. From the 1950s to the 1970s, Detroit was a symbol of the prosperity and might of my parent's generation and the seemingly endless resources available to United States to solve the country's present and future problems.
Pulitzer Prize winning author David Halberstam published three books defining the Baby Boomer experience: "The Fifties," "The Reckoning" (detailing the demise of Detroit's automobile industry), and "The Best and the Brightest" (how the "best" minds in America lost the War in Vietnam, squandering resources we no longer have, tarnishing the belief federal action can effectively solve major problems. A good example of this loss of faith is The War on Poverty launched in the aftermath of the 1967 Detroit riots and lost because….
Detroit will never again be what it was—best represented by comparing two works by Beaux Arts architect Paul Philippe Cret. The first is Cret's 1927 majestic Detroit Institute of Art (DIA), a great art museum (saved through the energetic efforts of concerned citizens in December 2014 from liquidation of its treasures in Detroit's $11.7 billion bankruptcy proceedings).


Detroit Institute of Art, 1927, Architect Paul Philippe Cret, Photograph courtesy Wikipedia.
The second is Cret's Washington, D.C. headquarters for the Federal Reserve which controls the U.S. money supply. Wikipedia describes the building as art deco.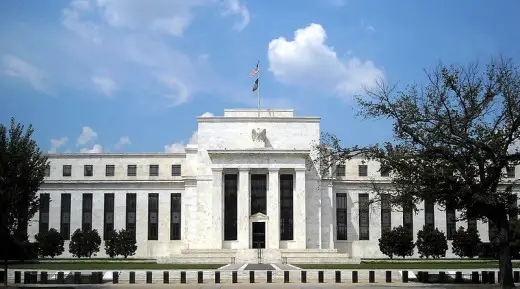 The Marriner S. Eccles Federal Reserve Board Building, 1935, Washington, D.C. Architect Paul Philippe Cret, Photograph courtesy Wikipedia.
There may be prosperity in Detroit's future, but not grandeur. One is struck by the similarity between Detroit's art museum and the Federal Reserve headquarters in Washington, D.C. The Federal Reserve controls the country's money supply. Indeed, Detroit's astonishing automobile profits contributed significantly to the country's money supply. From 1961 to 1963, President John Kennedy regularly checked Detroit's finances to gauge the health of the U.S. economy.
++++
I recommend architects watch the 1983 movie "The Big Chill" to obtain an understanding of the clients who will be dominating U.S. architectural commissions for decades to come. Future columns will provide comprehensive details on why my Baby Boom generation, the largest generation in U.S. history, is so significant. One of the "The Big Chill" characters (played by Glenn Close) comments on the Rolling Stones song "You Can't Always Get What You Want." She tells her friends you cannot get what you want, "But if you try sometimes you find / You get what you need."
Halberstam observed the American experience has changed in his lifetime (and mine). Our parents believed their children's economic lives would be better than theirs. Today's parents no longer believe our children will have a better future. Watch the interview: "David Halberstam on the Economic Fears of Americans"
.
Permission to embed courtesyMedia Burn Archive
The impressive effort emanating from Detroit indicates recognition that the grandeur cannot be regained. The city will obtain the recovery it needs to survive. I cannot help feeling affection for a Detroit which has gone from up to down and is likely to arrive at an acceptable plateau. To substantiate my optimism, this series will detail Detroit's resources.
++++
Why a disability-accessible jet is critical to the future of Detroit and State College
The 50-seat Canadair is the standard jet carriers serving SCE airport use. I flew the Canadair first in 2002 to Joanna and Jade's engagement party and second to their 2003 wedding—both times arriving at the Raleigh Airport. As copyright holder of the following five photographs, I want e-architect to publish the story: A paraplegic flies from State College.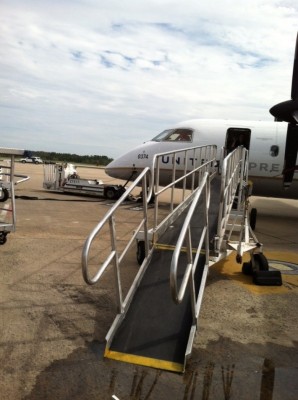 1. The ground crew finds a ramp without stairs.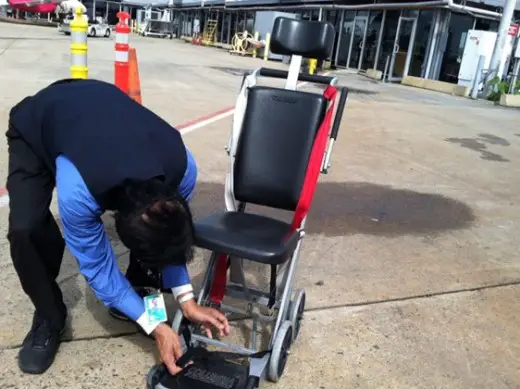 2. Narrow seat to haul me up the narrow ramp; down the narrow aisle. Yes I can stand and transfer to the aircraft seat.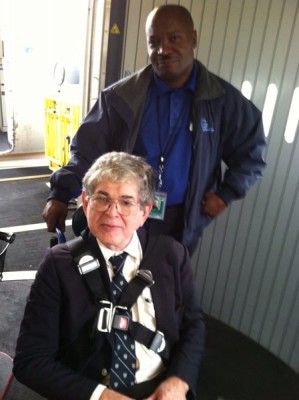 3. A crew member belted me into the narrow metal seat collapsing the seat into a horizontal position.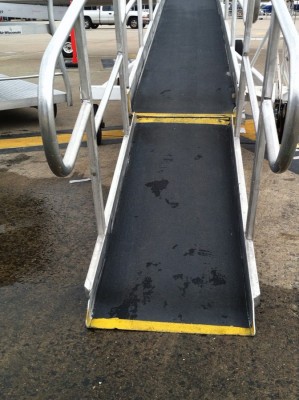 4. Lying flat, the crew member pulled me backward up the ramp.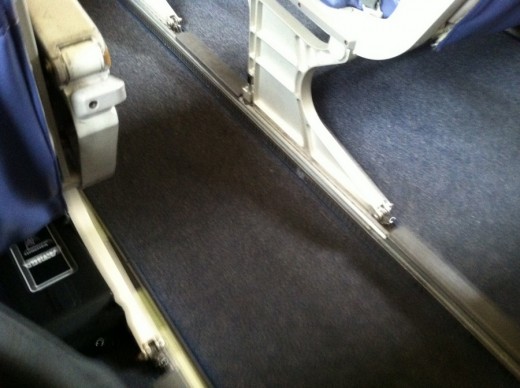 5. The crew member lifted the rolling metal seat so I was upright. I pull up, shift over, and plop down. I cannot safely leave until the plane lands.
Embarrassing note: A Texas catheter that makes it possible to urinate without leaving my seat. I remember when the device (not fitted properly) broke. See Website: External Urine Collection Device
Today's column requires a conclusion.
1. The next ten years are critical to prevent economic catastrophe as society faces the cost of caring for an aging and disabled population.
2. Policy makers do not understand that rather than a drain on the economy, the talent of the elderly and disabled presents potential for economic growth.
3. Academic journals have formulated the concept of "experienced-based design" for effectively designing housing for the elderly and disabled.
4. The profession is moving away from the model where architects assume the role of geniuses imposing their vision on clients they regard as incapable of recognizing their own requirements.
5. The success of "experienced-based design" is most visible in the building industry's concern for reducing construction and maintenance costs for new health care facilities.
6. Coupled with advances in 3-D modeling, architects are basing their designs on detailed requirements clients who use and work in health care facilities provide.
7. Experience-based design is being incorporated into community planning.
8. Nonetheless, the low income elderly and disabled who have skills are warehoused into subsidized housing where they are forbidden to use their skills or lose their subsidies.
9. In my case, as long as I am willing to get by on my monthly Social Security check, I can remain in my apartment. If I work and earn $5,000 for dentistry to save the remaining teeth in my mouth, to pay $2,500 to pay to attend my daughter Amelia's wedding in Spain, to purchase a hand-controlled disability van to generate employment, I will be evicted from my apartment under the U.S. Internal Revenue Service's Section 42 tax credit provisions.
10. If I work and am evicted, where will I go? My current rent is $900 a month. My net monthly income from Social Security is less than $1,700. If I earn too much, my landlord (who receives the federal tax benefit as long as all 100 building residents agree to remain poor), I will be forced out of my apartment.
11. The U.S has a shortage of wheel chair accessible housing. State College's private rental market is expensive. Moving to Detroit now seems attractive. Rents are cheap. I could hire an architect to make my apartment.
12. Vincent Lavergne, the 28 year-old architect whose Paris-based firm Nadau Laverne won the prestigious "Detroit Reanimate the Ruins" competition, has been sending me intriguing plans to remedy my situation. I will increasingly focus on young talented architects, such as Laverne, who are designing, as Laverne wrote in an email, "beyond the building."
13. Perhaps, the Borough of State College and Penn State University will recognize the problems I present are worthy of their attention. State College's economic future depends on encouraging a growing number of wealthy retirees who live in the area to help save Downtown State College from extinction. Downtown no longer has a supermarket nor a first-run movie theater.
14. Throughout the U.S. retirees are spending $250,000 and more to purchase apartments and small homes in self-contained developments that include a five star nursing home. These residents are at increased risk of developing physical disabilities SCE and other local airports are unable to accommodate. Unless regional airports become accessible, their investment will decline in value at the same time the residents conclude they must move elsewhere.
15. Airport design and remodeling will be a source of future commissions. Architects take out your sketch books; open your software drawing programs.
16. Foxdale is the most prominent of State College's long-term-care communities.
Website: Disability-Access Architecture Foxdale's residents have a reputation for forward thinking and social activism. As they become increasingly concerned that inaccessible SCE jet service threatens their ability to see their children, Foxdale has the will and the political and economic power to create significant change. The big question: Will the change required come in time?
17. Penn State University's future depends upon attracting foreign-born graduate and post-graduate students and faculty with education required to perform research that result in economic productivity—evidenced by startup companies that have sprung up in this area and hold the promise of Silicon Valley and Boston's high tech corridor.
18. The dismal quality of the U.S. public school system has made research institutions fiercely competitive for foreign talent. Penn State's ongoing recruitment in Asia and elsewhere is being matched by other major universities.
19. The University of Michigan's Ann Arbor campus, one of the leading research institutions in the world, offers talented people in China, India, Japan, and elsewhere wheel chair accessible access to and from Detroit's airport. Consequently, Penn State will be losing out in the competition for research talent when researchers chose Ann Arbor, only 40 miles away from Detroit's airport.
20. It is only natural for a father to attend his daughter's wedding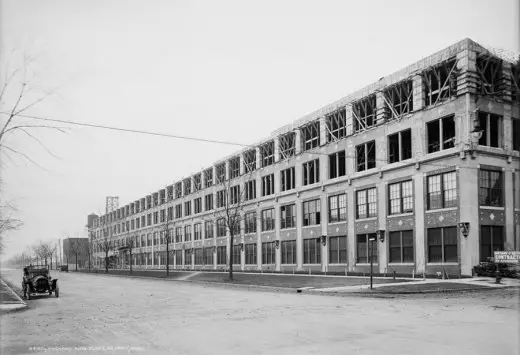 The Detroit Institute of Arts (DIA) celebrates Albert Kahn, Detroit's master architect, "Hitherto architects had considered factory design beneath them." Kahn's massive nine-building 120 acre complex provided the Packard Company's facilities for manufacturing luxury automobiles. Photograph courtesy Wikipedia.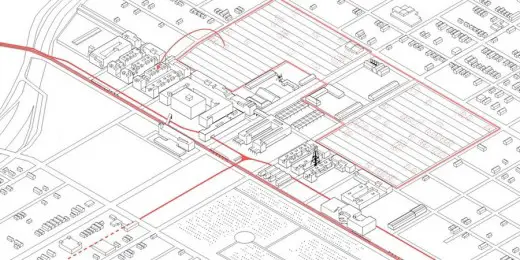 Paris-based Nadau Lavergne Associates won the prestigious "Detroit Packard Reanimate the Ruins" contest which attracted 40 global submissions. The plans include a nursing home and large-scale urban farming. Image courtesy Nadau Lavergne Associates.
Good night and good luck.
This column copyright © 2015 by Joel Solkoff. All rights reserved.
Location: Wayne County International Airport, Detroit, Michigan, USA
Detroit Architecture Buildings
Hudson's Site Downtown Detroit
Museum of Contemporary Art Detroit
US Architecture
Comments / photos for the Belt and Suspenders Routine – page welcome
Website: Detroit