Disability Access Design, Long Term Care Communities, USA Mobility, American Healthcare Architects
Disability Access Design : Architecture
Continuing Care Communities – article by Joel Solkoff, 18 Mar 2013
18 Mar 2013
Disability Access
Trickle-down architecture
March 17, 2013, State College, PA, USA
The rich are benefitting from a relatively new phenomenon that makes growing old a pleasure (or at least not a curse) and dying with dignity a reality. Continuing- or long-term-care communities combine residences for living independently with nursing homes next door (or right down the hallway) on large tracts land that do not require a moat to indicate a castle-like atmosphere.
Everything one can desire is right there—restaurants, art studios, libraries, college lectures, hospitals capable of taking care of problems that might otherwise require going outside—or can be imported effortlessly.
The Lancaster, PA firm of Reese Lower Patric and Scott has made a specialty out of designing these communities with about 500 people each, at The Kendal at Granville, OH; Brandmill Woods at Midlothian, VA; Penick Village, Southern Pines, NC; and Foxdale Village, State College, PA.

photo from Joel Solkoff
The entry fee for a one-bedroom apartment (rather than a "cottage" equivalent to a house) is $100,000. Rent is $2,500 a month. There is a hefty monthly insurance premium so when moving to the nursing section, insurance pays living costs. Also, there is the cost of food or eating in the restaurant facilities. I am 65 and living in a place like Foxdale would provide comfort and peace of mind (for me and my children) and the joy of living in an aesthetically pleasing environment.
++++
Even if I could afford Foxdale, I am a city boy. My preference is to stay where I am in intergenerational Downtown where I am two blocks away from a pre-school where I read stories to four year old children. I am across the street from Webster's Bookstore and Café, which attracts a crowd of all ages, including neo-hippies in their 20s. Four blocks downhill is Penn State's Department of Architectural Engineering, where I am working on a book on retrofitting existing housing for individuals with disabilities.
++++
Long-term care communities provide a test bed for a wide range of research not currently performed by government or philanthropies. One example of the decline in research is the National Science Foundation which received continued (but reduced) funding last year only as a consequence of a brilliant parliamentary tactic by Senate Majority Leader Harry Reid.
Two years ago, Bob Imrie and Emma Street published Architectural Design and Regulation, and observed, "The practices of architecture are influenced and shaped by building regulations, codes, and rules that are devised to guide and influence all aspects of architectural production, from conceptual design to urban form."
So pervasive is the regulatory environment the authors–on the faculty of the Department of Geography at King's College, London–question whether architects are necessary at all. Steven A. Moore, Professor of Architecture and Planning at The University of Texas at Austin, comments that because Imrie and Street are "outsiders" their perspective provides architects with "a gift" by making the profession understand that the future of architecture requires an inter-disciplinary approach toward design.
My reading of Imrie and Street causes me to suggest that the work of Reese Lower et al. represents an opportunity to advance larger goals than simply providing an aesthetically pleasing environment.Foxdale and other long-term care facilities are developing experience with elderly and disabled residents that has been slow in its formulation.
How, for example, do we use technology to help the elderly as they develop mobility, auditory, and visual disabilities? The challenge is recognizing that when people become disabled they can still lead productive lives. The Foxdales of this world are training a work force to use assistive technology on a larger scale than has never used before.
It is commonplace to regard housing for individuals who retire or are disabled simply as safe shelter. Now that the Baby Boom generation is aging, too many cannot afford to stop working; most would not want to. This is the best educated (if you consider money spent on education) in the history of the world. Our education has resulted in the development of skills that could benefit society if effectively used. Brain research indicates we can be creative and productive in our 60s, 70s, and beyond. The data generated at Foxdale could be used to formulate scenarios (incorporating activities of daily living) to help in eliminating barriers and help make talent productive.
Thus far, discussion of the budgetary requirements of the elderly has focused on cost, as this section from a newsletter from Zack's Investment Management indicates: "Budget Cuts Do Not Tackle the Big Issues. The biggest problem with sequestration is that it does not address entitlement programs. Medicare and Social Security are not being touched. Politically, both sides of the aisle do not want to touch entitlement programs that support the elderly because of the historic consequences on national elections."
Sadly, the knee jerk response to entitlement programs has been despair. Instead, the individuals benefitting from entitlement programs may be the key to solving what appears to be a bleak financial future. I believe the talent of members of my generation could help solve the pervasive problems of our economy. It could do so if developed effectively with the help of architects whose gift for design includes an understanding of how to use a multidisciplinary approach.
++++
My primary focus is on creating low-income factory-built housing for the elderly and disabled using off the shelf technology. This includes sensors in the walls and motion detectors which detect if I have fallen in the shower and send a signal automatically calling for help. The data from Foxdale could provide information for creating even more sophisticated models to serve as a pattern for housing on a large scale. My mentor is 28 year old Sonali Kumar, who has a doctorate from Penn State's Architectural Engineering Department. I am the model for Sonali's avatar. She apologized, "I am sorry, Joel, for putting so much gray in your hair, but there is a lot of gray in your hair.


photo from Joel Solkoff
–Joel Solkoff
Joel Solkoff – regular guest editor at e-architect
Disability Access Design – article by Joel Solkoff
American Architectural Designs
America Architecture News – latest building updates
20 Times Square Skyscraper Building, Manhattan, NYC
Design: PBDW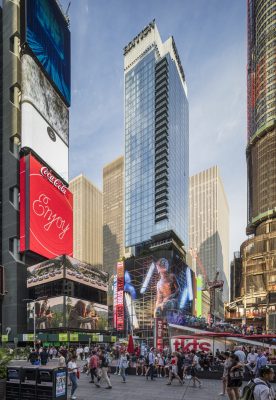 image courtesy of architects office
20 Times Square Skyscraper Building
American Building Developments
Property Articles
New House : Properties grouped by country
New Home : Properties grouped by city
Comments / photos for the Disability Access Design – Long Term Care Communities Article page welcome