St Caterina Market Barcelona, Enric Miralles Architect, City Building Photos, Spain
Santa Caterina Market Building Barcelona
Mercat de Santa Caterina, Catalonia, Spain design by EMBT, Architects
post updated 19 July 2021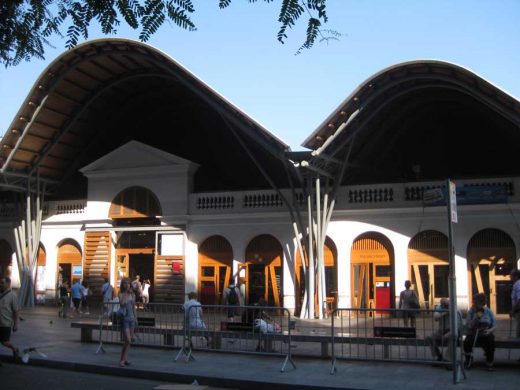 Redevelopment / Reforma Mercat de Santa Caterina
Location: Barri Gotic, Ciutat Vella, Barcelona
Date built: 1997-2004
Design: Enric Miralles / Benedetta Tagliabue EMBT
Santa Caterina Market
Photos of this intriguing building from Summer 2011: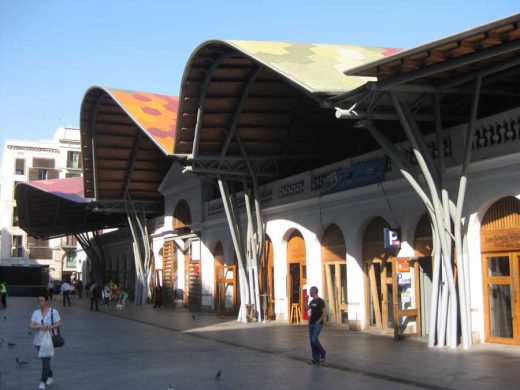 Mercat de Santa Caterina Barcelona design by EMBT
Location: just east of cathedral, city centre
Address: Carrer d'En Giralt El Pellisser, 2 08003 Barcelona, Spain
Photographer: Alex Gaultier
REHABILITATION OF SANTA CATERINA MARKET
Barcelona, 1997-2005
National Award of Generalitat de Catalunya 2001
Spanish Ceramic Awards ASCER 2005 – Architectural Prize
Architects: Enric Miralles Benedetta Tagliabue
Miralles Tagliabue – EMBT
Client: Foment de Ciutat Vella S.A.
Building Description by e-architect Editor Adrian Welch
Most photos of this building are taken looking down on its colourful roof, made up of tessellations with the colours of the fruit sold within the St Caterina Market. Seen from the street the dominant forms are the rippling vaults of the roof edges.
The vaults vary in section along their length just as Enric Miralles designed at the Scottish Parliament. However, rather than heavy concrete, here EMBT's touch is light and energetic, a brilliant icon for selling the colourful life of Barcelona.
Santa Caterina Market redevelopment is, like many Barcelona buildings featured, an organic piece of architecture. The interior is functional and not trying to be cool, allowing the market traders to sell their wares in time-honoured tradition. Seen from street level the Santa Caterina facades are moderately playful with changing rhythms, but overshadowed by the roof in more ways than one. The vaults are quite fluid compared to those in Enric Miralles' Scottish Parliament building.
But the real drama of the building is its fruitbowl roof, fantastically colourful and playful: more buildings like this in the world and architects' work may start to gain respect lost with the sombre Modern movement.
Definitive Project 1999-2005
Project Director:
Igor Peraza
Collaborators:
Hirotaka Koizumi, Josep Miàs, Marta Cases, Constanza Chara, Fabián Asunción, Eugenio Cirulli, Santiago Crespi, Gianfranco Grondona, Lluis Corbella, Massimo Chizzola, Makoto Fukuda, Joan Poca, Alejandra Vazquez, Marco Dario Chirdel, Josep Belles. Alicia Bramon, Laura Valentini, Adelaide Passetti, Jorge Carvajal, Andrea Landell de Moura, Torsten Skoetz, Karl Unglaub, Adrien Verschuere, Loïc Gestin, Annie Marcela Henao Ezequiel Cattaneo, Leonardo Giovannozzi, Annette Hoëller, Sabine Bauchmann, Silke Techen,. Barbara Oel Brandt, Mette Olsen, Florencia Vetcher, Nils Becker, Raphael de Montard, Montse Galindo, Barbara Appolloni, Jean François Vaudeville, Peter Sándor Nagy, Ignacio Quintana, Christian Molina, Stefan Geenen, Maarten Vermeiren, Torsten Schmid, Tobias Gottschalk, Stefan Eckert, Ute Grolz, Thomas Wuttke, Luca Tonella, Stephanie Le Draoullec, Monica Carrera, Mirko Sivestri.
Special collaboration: Ricardo Flores, Eva Prats.



Enric Miralles – Santa Caterina, Barcelona: photo from EMBT
Basic Project 1998
Collaborators:
Joan Callis, Makoto Fukuda, Hirotaka Kuizumi, Fabián Asunción, Ane Ebbeskov Olsen, Dani Rosselló, Francesco Mozzati, Francesco Jacques-Dias, Fernanda Hannah.
Competition 18 April 1997
Collaborators:
Elena Rocchi, Makoto Fukuda, Ricardo Flores, Fabian Asunción, German Zambrana, Lluis Cantallops, Anna Maria Tosi, Marc Forteza Parera, Anna Galmer, Liliana Bonforte, Tobias Gottschalk, Stefan Eckert , Ute Grölz, Thomas Wuttke, Luca Tonella, Stéphanie Le Draoullec, Monica Carrera.
Engineer Structure (General): Robert Brufau
Engineer (Roof): Jose Maria Velasco
Engineer (Housing): Miquel Llorens.
Installations: PGI
Ceramic manufacturer: Toni Cumella
Location: Carrer d'En Giralt El Pellisser, 2, 08003 Barcelona, Spain, southwest Europe
Barcelona Architectural Designs
Contemporary Architecture in Barcelona – architectural selection below:
Barcelona Architecture Walking Tours
Building close to Mercat de Santa Caterina
Barcelona Cathedral


photo © Adrian Welch
Another Barcelona Project by Enric Miralles Benedetta Tagliabue Architects
Park at Diagonal Mar, Diagonal Mar – Barcelona Forum
Design: Enric Miralles / Benedetta Tagliabue EMBT Architects



photo © AJW
Park at Diagonal Mar
Key Barcelona Buildings
Enric Miralles Architecture Books : key publications by this late celebrated Catalan architect
Photographs: Alex Gaultier, Nou 25, Sant Antoni de Vilamajor 08459 Tel +34 93 845 1582
Comments / photos for the Santa Caterina Market – Mercat de Santa Caterina esign by EMBT Architects page welcome