Getty Foundation Keeping it Modern 2017 Grants, Post-war Buildings, Modernist Architecture Photos, Design, Images
Getty Foundation Keeping it Modern Grants
Modernist Architecture – 20th Century Built Environment + The International Style
Oct 13, 2018
Getty Foundation Keeping it Modern Grants for 2018
Eleven new grants include first projects in Cuba and Lebanon, as well as the famous Gateway Arch in St. Louis, Missouri:
Getty Foundation 2018 Keeping it Modern Grants
1 Aug + 31 Jul 2017
Getty Foundation Keeping it Modern Grants for 2017
Bauhaus Building One of Twelve Recipients of Getty Foundation's Keeping It Modern Grants
THE BAUHAUS BUILDING IS ONE OF TWELVE RECIPIENTS OF GETTY FOUNDATION'S 2017 KEEPING IT MODERN GRANTS
Quintessential modernist site among new grants that expand the architectural conservation program's reach to Japan, Morocco, Russia, and Turkey
July 31, 2017, LOS ANGELES – The Getty Foundation today announced $1.66 million in architectural conservation grants dedicated to twelve significant 20th century buildings as part of its Keeping It Modern initiative.
Among this year's most recognizable projects is Germany's Bauhaus Building, the revered Dessau structure designed by architect Walter Gropius, who incorporated design features that would ultimately become synonymous with modern architecture around the world. Since its inception in 2014, Keeping It Modern has supported 45 international conservation projects that collectively point to the importance of research and planning for the preservation of modern architectural heritage.
Bauhaus Dessau building, Germany: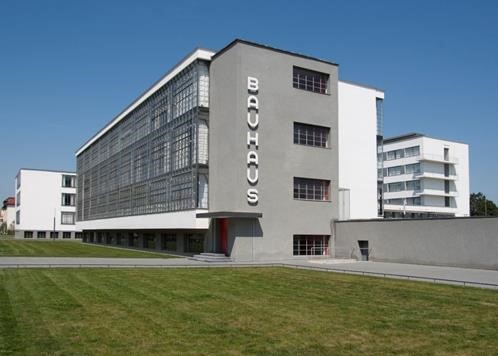 photo © Bauhaus Dessau Foundation, photo © Yvonne Tenschert
The twelve projects selected to receive funding this year represent the work of innovative architects who pushed the boundaries of design and construction materials, including the
Coventry Cathedral, Coventry, England (architect: Sir Basil Spence);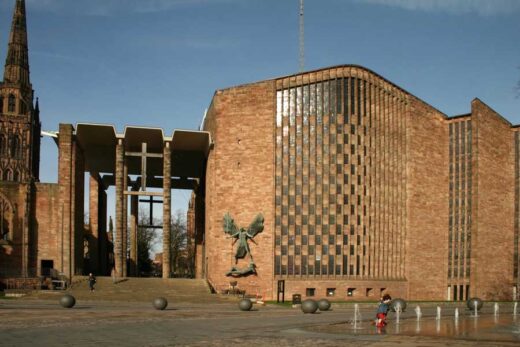 photo © David Jamieson
Coventry Cathedral Building
Boston City Hall, Boston, Massachusetts (architects: Kallmann, McKinnell, & Knowles);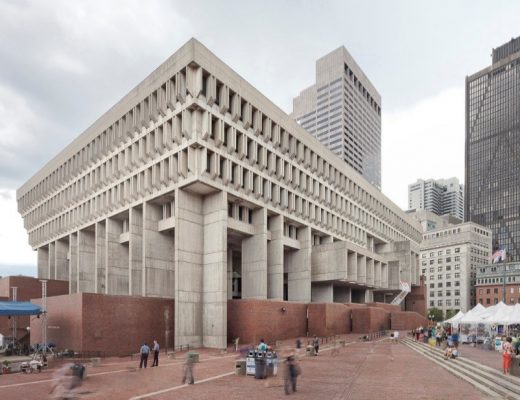 photo © Naquib Hossain/Dotproduct Photography
Boston City Hall Building
Sidi Harazem Thermal Bath Complex, Sidi Harazem, Morocco (architect: Jean-François Zevaco);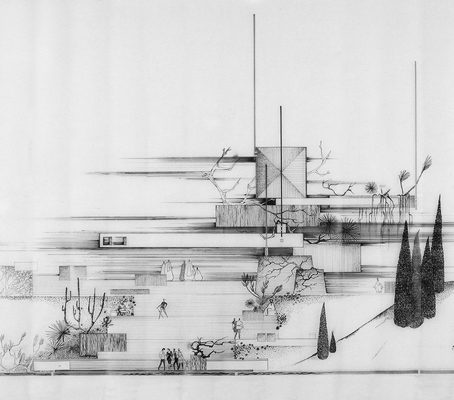 Image © Frac Centre-Val de Loire Collection.
Sidi Harazem Thermal Bath Complex Building
Yoyogi National Gymnasium, Tokyo, Japan (architect: Kenzo Tange);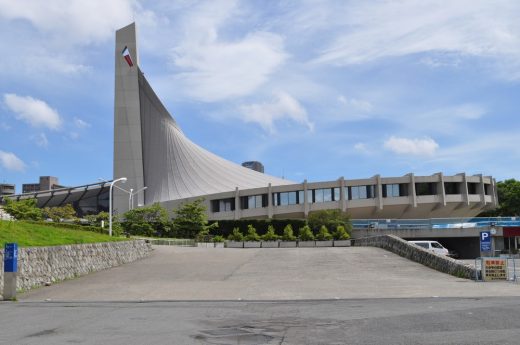 Photo courtesy Japan Sport Council
Yoyogi National Gymnasium Building
Faculty of Architecture Building, Middle East Technical University, Ankara, Turkey (architects: Altuğ and Behruz Çinici);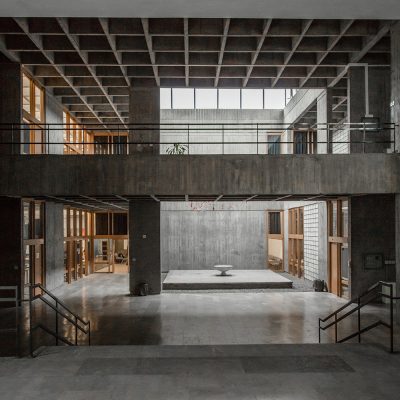 photo © D. Tuntas
Middle East Technical University Faculty of Architecture Building
Museu de Arte de São Paulo Assis Chateaubriand (MASP), São Paulo, Brazil (architect: Lina Bo Bardi);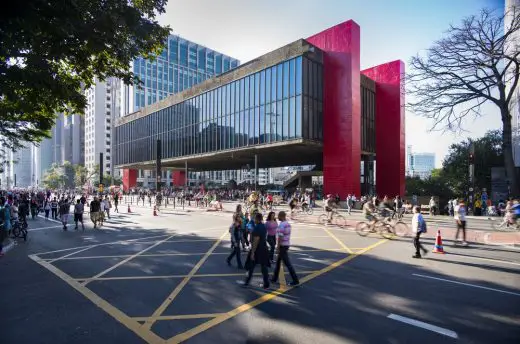 photo © Eduardo Ortega
Museu de Arte de São Paulo Assis Chateaubriand
St Peter's Seminary, Glasgow, Scotland (architects: Andy MacMillan and Isi Metzstein of Gillespie, Kidd & Coia architectural practice);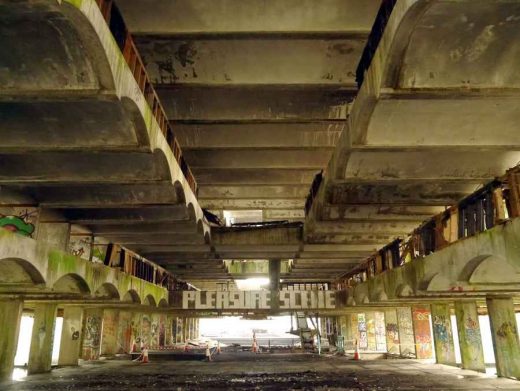 photo © Niels Lomholt
St Peter's Seminary
Government Museum and Art Gallery, Chandigarh, India (architect: Le Corbusier);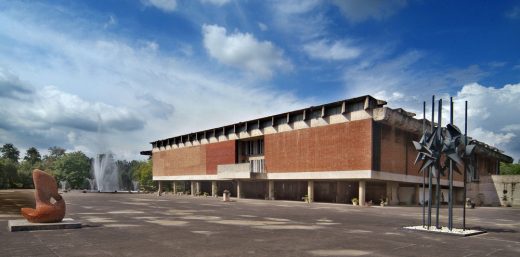 photo © SM Dhami
Government Museum and Art Gallery in Chandigarh
Price Tower, Bartlesville, Oklahoma (architect: Frank Lloyd Wright);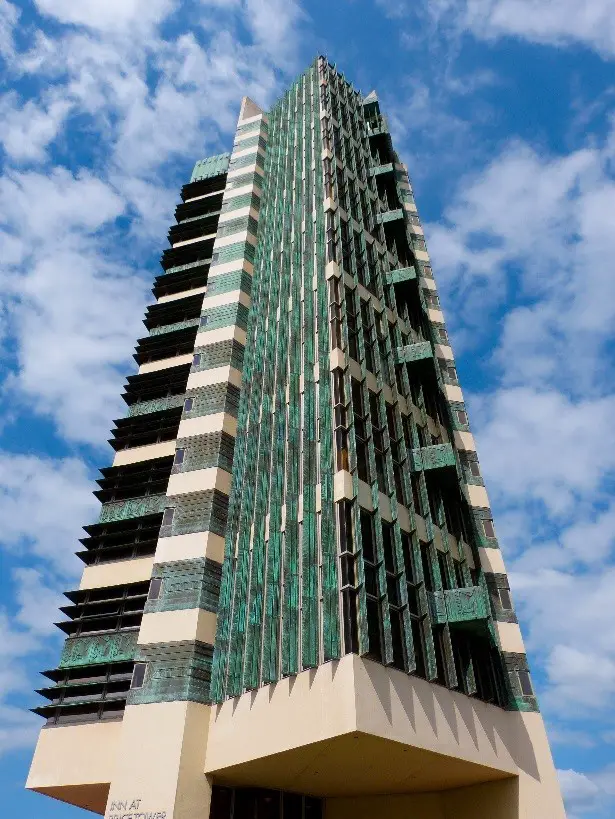 photo © Jessica Lamirand, CC BY-NC-SA 2.0
Price Tower, Oklahoma
Melnikov House, Moscow, Russia (architect: Konstantin Melinkov);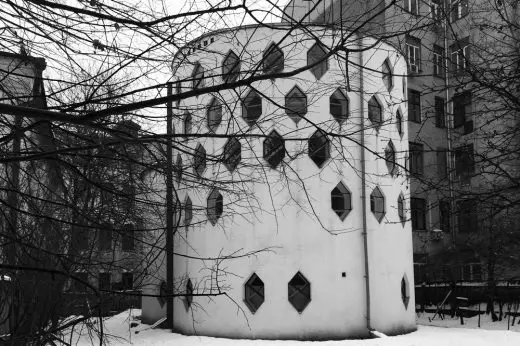 photo © Pavel Kuznetsov
Melnikov House
Bauhaus Building in Dessau, Germany (architect: Walter Gropius);
Bauhaus Building
Stadio Flaminio, Rome, Italy (architect: Pier Luigi Nervi).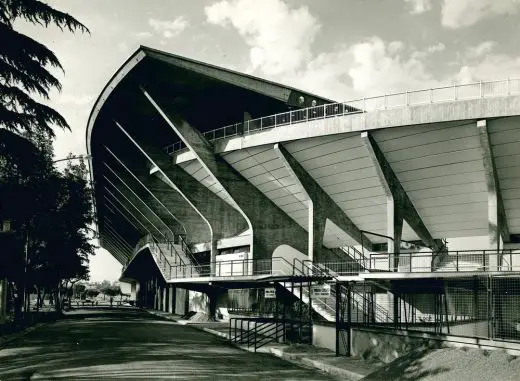 photo © Oscar Savio. Courtesy Pier Luigi Nervi Project Association, Brussels
Stadio Flaminio, Rome
"Over the past three years, we have given 45 Keeping It Modern grants in 22 countries, and we bring together experts working on the conservation projects each summer to share their findings. Together our colleagues are building a critical body of knowledge for the stewardship of modern buildings," says Deborah Marrow, director of the Getty Foundation. "This year's 12 new projects, along with prior grants for landmarks all over the world, will provide models for the protection of modern architecture for future generations."
The Bauhaus Building is a sleek steel, concrete, and glass structure that was made to house the most progressive school of art and architecture of the early 20th century. This UNESCO World Heritage Site is both a clear statement of Walter Gropius's visionary aesthetic and a monument to some of the 20th century's most influential artists, architects, and designers. As part of the Keeping It Modern grant, experts will conduct new research on the building's signature features, such as its glass curtain walls and original paint colors, and then combine their findings with the site's extensive historical and technical records to create a systematic conservation management plan.
A new theme evident in many of the 2017 grants is the pressing need to update 20th century buildings to meet 21st century demands. In the case of Yoyogi National Gymnasium in Tokyo, this site of Asia's first Olympic Games in 1964 designed by Pritzker-Prize winning architect Kenzo Tange will once again be put to use for indoor sports competitions during the Tokyo Olympic and Paralympic Games in 2020. In order to ensure that any interventions on the site meet heritage as well as safety standards, the Japan Sport Council plans to work with a project team that includes distinguished architects, scholars, engineers, and advisors, including Fumihiko Maki, Kenzo Tange's student and a 1993 Pritzker Prize winner.
Additionally, Boston City Hall, with its Brutalist municipal architecture, faces a challenge to protect the building's original design amidst necessary interventions, including honoring the idea of openness and accessibility in today's security-conscious world. In Morocco, the Sidi Harazem thermal baths represent an opportunity to convert an ancient spring and its surrounding complex into a thriving oasis for Moroccan citizens and international tourists.
This year's grants also include the first project in Russia, a country that contributed greatly to the international development of modern architecture. Moscow's Melnikov House is an excellent example of Soviet avant-garde architecture and is notable for its structural ingenuity. Built as two intersecting cylinders that are free of interior walls, the house's unconventional style reflects the boundary-pushing vision of architect Konstantin Melnikov, who designed the house as his studio and family residence. The Getty grant comes at a time of renewed national interest in conservation planning as the building's stewards prepare to increase visitorship to the home, and the resulting conservation plan can serve as a model for the preservation of other avant-garde monuments from the 1920s-1930s in the country.
All of the new grants will support conservation planning and research, as successful interventions require the thorough assessment of current building conditions. The results will provide guidance for other projects in the future.
"Now that Keeping It Modern is in its fourth year, with earlier projects already completed, we are starting to see a positive response from the field," says Antoine Wilmering, senior program officer at the Getty Foundation. "There is a domino effect of research findings and planning methodologies developed for one context being applied to other sites, which is a valuable outcome."
Deadlines and criteria for the next round of Keeping It Modern applications will soon be announced on the Getty Foundation website. The Foundation developed Keeping It Modern to complement the Getty Conservation Institute's Conserving Modern Architecture Initiative (CMAI).
###
Full project summaries available: Getty Foundation Keeping it Modern Grants for 2017
The J. Paul Getty Trust is an international cultural and philanthropic institution devoted to the visual arts that includes the J. Paul Getty Museum, the Getty Research Institute, the Getty Conservation Institute, and the Getty Foundation. The J. Paul Getty Trust and Getty programs serve a varied audience from two locations: the Getty Center in Los Angeles and the Getty Villa in Malibu.
The Getty Foundation fulfills the philanthropic mission of the Getty Trust by supporting individuals and institutions committed to advancing the greater understanding and preservation of the visual arts in Los Angeles and throughout the world.
Through strategic grant initiatives, the Foundation strengthens art history as a global discipline, promotes the interdisciplinary practice of conservation, increases access to museum and archival collections, and develops current and future leaders in the visual arts. It carries out its work in collaboration with the other Getty Programs to ensure that they individually and collectively achieve maximum effect. Additional information is available at www.getty.edu/foundation.
#GettyInspired
2020 Keeping it Modern Grants: Getty Foundation
Jul 29, 2016
Getty Foundation Keeping it Modern
Getty Foundation Keeping it Modern
GETTY FOUNDATION ANNOUNCES 2016 KEEPING IT MODERN GRANTS THAT SPAN THE GLOBE
The nine grantees this year include the initiative's first projects by female architects, the first project in Africa, and Soviet Modernist buildings
Getty Foundation Keeping it Modern 2017 Grants
Excerpts below:
Association de Gestion du Site Cap Moderne, Villa E-1027: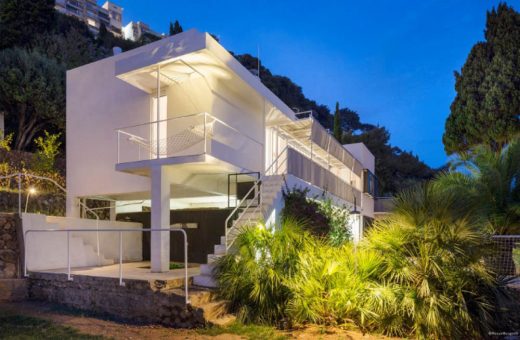 Villa E-1027, Cap Moderne, photograph Manuel Bougot www.manuelbougot.com. 2016
Like the previous grantees, the projects selected to receive funding this year are of the highest architectural significance:
Lina Bo Bardi's Casa de Vidro (Brazil), Eileen Gray's Villa E-1027 (France), Nickson and Borys's Children's Library (Ghana), Wallace Harrison's First Presbyterian Church (Connecticut, United States), Eladio Dieste's Cristo Obrero Church (Uruguay), Gevorg Kochar and Mikael Mazmanyan's Sevan Writers' Resort (Armenia), Sir Frederick Gibberd's Liverpool Metropolitan Cathedral (United Kingdom), Gautam Sarabhai's workshop building (India), and Andrija Mutnjakovic's National Library of Kosovo (Kosovo).
Instituto Lina Bo e P.M. Bardi, Casa de Vidro: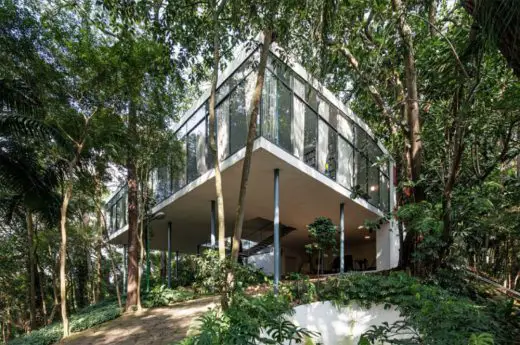 Casa de Vidro © Leonardo Finotti
Comisión del Patrimonio Cultural de la Nación, Cristo Obrero Church:
Recommended amount: $150,000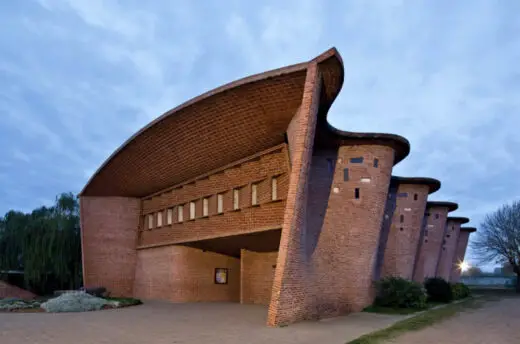 Cristo Obrero Church. © Leonardo Finotti
Highland Green Foundation Inc., First Presbyterian Church: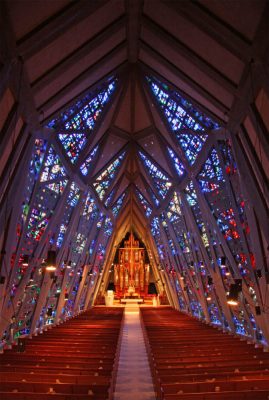 First Presbyterian Church, interior of Sanctuary. Photo by Robert Gregsoni
ArchiAfrika Accra, Children's Library: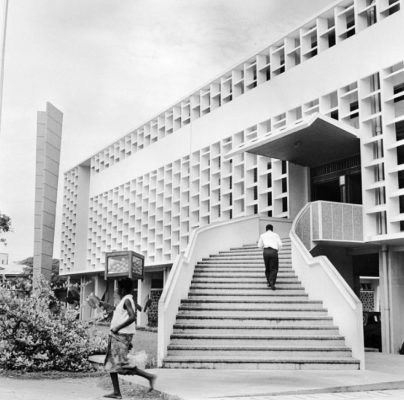 Facade of the Children's Library in Accra. Photo by Evans/Three Lions/Getty Images
The Writers' Union of Armenia, Sevan Writers' Resort: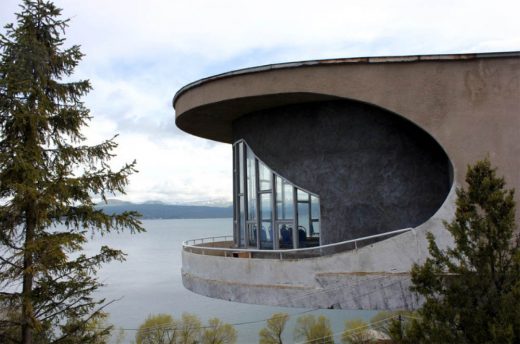 Sevan Writers' Resort. Photo by Jens Mallings; Courtesy of Jens Malling archive
Liverpool Roman Catholic Archdiocesan Trust, Liverpool Metropolitan Cathedral: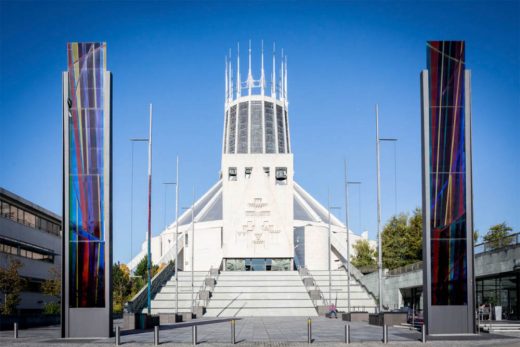 Liverpool Metropolitan Cathedral, exterior. © Purcell Architects
Nirmala Bakubhai Foundation, Gautam Sarabhai Workshop Building: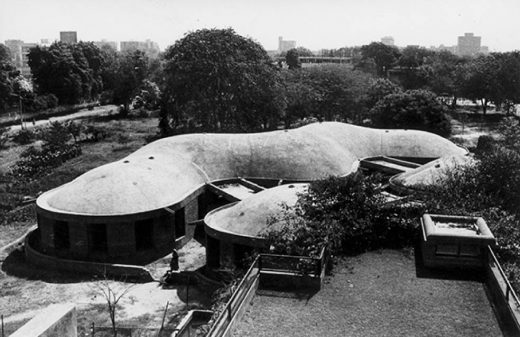 Roofscape / Archival image. Photograph (c) Sarabhai Foundation
Kosovo's Architecture Foundation, National Library of Kosovo: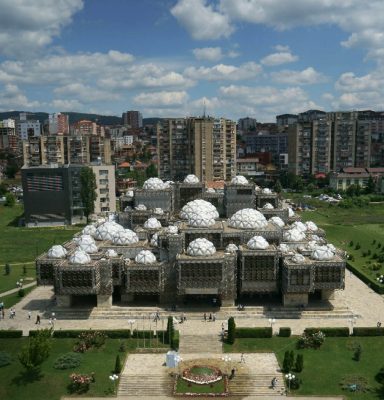 National Library of Kosovo, view from west. Emanuel Gjokaj/Kosovo Architecture Foundation
Full details on each of the nine buildings here:
Modern Architecture Conservation Grants 2016 – Keeping It Modern by the Getty Foundation – 29 Jul 2016
The Getty Foundation
1200 Getty Center Drive, Suite 800
Los Angeles, California 90049-1685
U.S.A.
Berlin/Los Angeles: Space for Music, Getty Center
Location: 1200 Getty Center Drive, Los Angeles, California 90049-1685, USA
Modern Architecture – Major Modernist Buildings
Post-war Architecture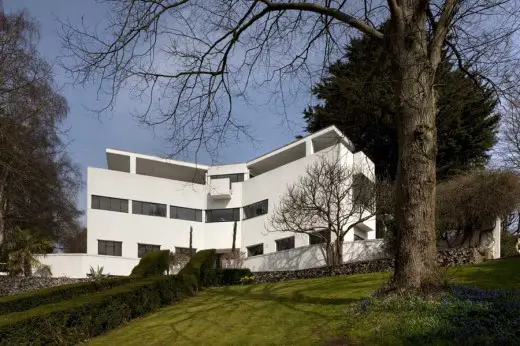 photo : Morley von Sternberg
Post-war Architecture
Most of these Modern buildings exude purity – simple forms, floating planes / cantilevers, white facades, strip windows – typical of Modernist Architecture.
These Modern buildings feature in standard Histories of Architecture Books, alphabetical:
Barcelona Pavilion, Spain
Design: Mies van der Rohe Architect



photograph © Adrian Welch
Barcelona Pavilion – probably the most famous Modern building in the world
Farnsworth House, Illinois, USA
Design: Mies van der Rohe Architect



photo © gm+ad architects
Farnsworth House
Florida Southern Colleges – Child of the Sun, Florida, USA
Design: Frank Lloyd Wright



photograph © Robin Hill
Child of the Sun Buildings
High & Over, Amersham, England
Design: Connell and Thomson / Architect: Amyas Connell



photo : Morley von Sternberg
Modern English house – one of the first Modern houses in England
Highpoint I, Highgate, London, UK
Design: Berthold Lubetkin Architect



photograph © Adrian Welch
Modernist Housing : Highpoint Buildings
Hilversum Town Hall, The Netherlands
Design: Willem Marinus Dudok



photo © Adrian Welch
Hilversum Town Hall Building
860-880 Lake Shore Drive, Chicago, USA
Design: Mies van der Rohe Architect



photo : William Zbaren
Lake Shore Drive Towers
Lawn Road Flats, London, UK
Design: Wells Coates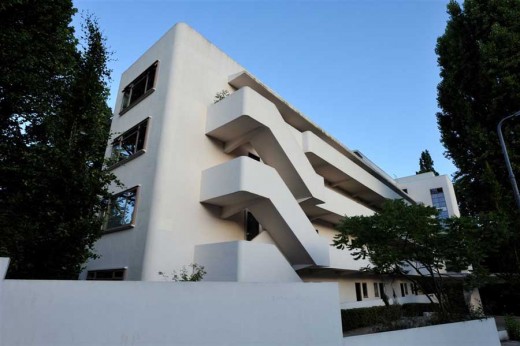 photo © Adrian Welch
Isokon : Modern British building – classic white Modernist purity
Martin House Complex, Buffalo, USA
Design: Frank Lloyd Wright Architect



photograph : Biff Henrich / courtesy MHRC
Modern Building in Buffalo
Miller House, Indiana, USA
Design: Eero Saarinen architect



photograph Courtesy of the Indianapolis Museum of Art
Miller House
Sanatorium Zonnestraal, Hilversum, The Netherlands
Design: Jan Duiker with Bernard Bijvoet and Jan Gerko Wiebenga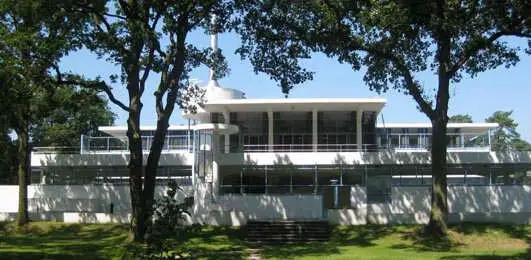 photo © Adrian Welch
Sanatorium Zonnestraal
Tugendhat Villa, Brno, Czech Republic
Design: Mies van der Rohe Architect



photo © AW
Modern Architecture : Tugendhat Villa Brno
American Le Corbusier building: UN Building New York
Modern Architecture House : Frank Lloyd Wright house



photograph © Adrian Welch
Comments / photos for the Getty Foundation Keeping it Modern page welcome