Bauhaus School Building Germany, 20C design architect, Modern architectural photos, Grant news
Bauhaus Building, Dessau : 20th Century German Architecture
German Modern Architecture Renewal Funding : Bauhaus building designed by architect Walter Gropius.
31 Jul 2017
Bauhaus Building One of Twelve Recipients of Getty Foundation's Keeping It Modern Grants
The Getty Foundation announced $1.66 million in architectural conservation grants dedicated to twelve significant 20th century buildings as part of its Keeping It Modern initiative.
Bauhaus Dessau building, Germany: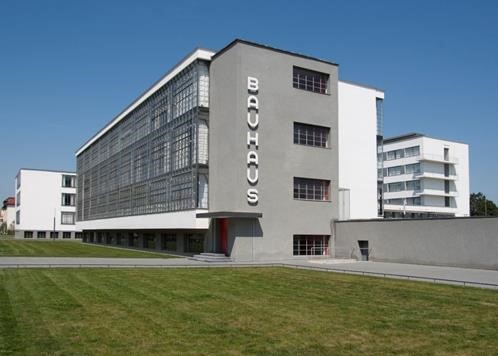 photo © Bauhaus Dessau Foundation, photo © Yvonne Tenschert
Grant for Bauhaus Building, Dessau
Among this year's most recognizable projects is Germany's Bauhaus Building, the revered Dessau structure designed by architect Walter Gropius, who incorporated design features that would ultimately become synonymous with modern architecture around the world.
Walter Gropius's 1925 Dessau Bauhaus building is an icon of the modern movement: a sleek steel, concrete, and glass structure designed to house the most progressive school of art and architecture of the time.
The building is both a clear statement of Gropius's visionary aesthetic and a monument to some of the 20th century's most influential artists, architects, and designers who served as Bauhaus faculty. The central Bauhaus building is a striking ensemble of three wings with two connecting bridges, varying in height and placed at 90 degree angles.
Bauhaus Building, Walter Gropius, 1925-26, Dessau, Germany: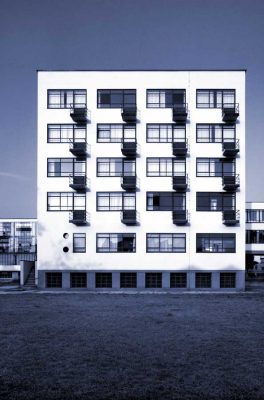 picture © Gordon Watkinson
Gropius relied on innovative engineering technologies to create a large skeleton of steel and reinforced concrete, brickwork, and mullioned steel windows. He achieved variation in the façades through restrained color difference between walls and the bold use of steel-framed glass to form curtain walls, one of the earliest examples of this characteristic feature of modernist architecture.
UNESCO named the campus a World Heritage Site in 1996, and today it is open to the public as a museum and research center owned and managed by the Stiftung Bauhaus Dessau. An exemplary steward of the site, Stiftung Bauhaus Dessau recognizes that the longterm care of the building requires the development of a conservation management plan.
Bauhaus Building, Walter Gropius, 1925-26, Dessau, Germany: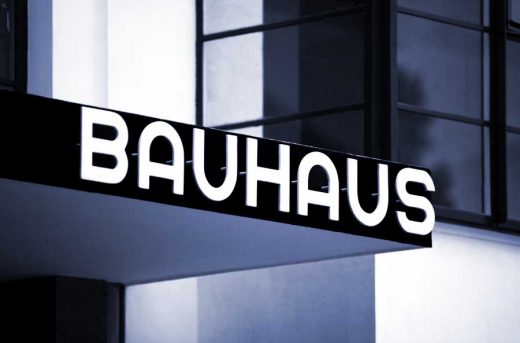 picture © Gordon Watkinson
To create the plan, experts will research and then consolidate the site's extensive historical and technical records into a comprehensive database to guide and prioritize future interventions. Research will include new technical studies of original paint colors, analyses of character-defining features such as steel-glass window constructions and nickel plated fixtures, and explorations into the use of experimental materials that are no longer produced today.
Grant support: €135,000
Getty Foundation Keeping it Modern 2017 Grants
5 + 2 Apr 2012
Bauhaus Building Dessau
Location of building: south east Germany
Anniversary of the Bauhaus on Sunday, April 1st / Exhibition 'Bauhaus twenty-21: An Ongoing Legacy' on tour
Exhibition by Gordon Watkinson 'Bauhaus twenty-21: An Ongoing Legacy', a critical and visual exploration of the Bauhaus heritage in the context of contemporary living, architecture and design.
The exhibition has been traveling throughout Europe since its opening at the German Architecture Museum in Frankfurt in 2009, commemorating the 90th anniversary of the founding of the Bauhaus School. It was shown in 8 venues and there are 3 more to come, finishing up the European tour in 2013/2014.
Early next year the exhibition will go on tour in the US: Auburn/AL, Little Rock/AR, Memphis/TN, Bartlesville/OK (in Frank Lloyd Wright's Price Tower!), Moscow/ID, Palm Springs/CA (as part of Modernism Week).
Apartment House Weissenhof Estate, Ludwig Mies van der Rohe, 1927, Stuttgart, Germany: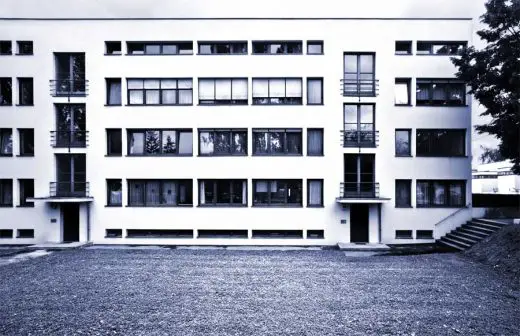 image © Gordon Watkinson
With the exhibition 'Bauhaus twenty-21: An Ongoing Legacy' I wanted to initiate a dialogue between the timeless modernism of Bauhaus architecture and the visions of contemporary practitioners, as well as offer a different perspective on Bauhaus design philosophy as it relates to architecture and its relevance in today's society – from the use of prefabricated housing techniques to create affordable housing, to early ideas in what is today sustainable and green architecture.
Skywood House, Graham Phillips, 2000, Denham, South Bucks, Buckinghamshire, England, UK: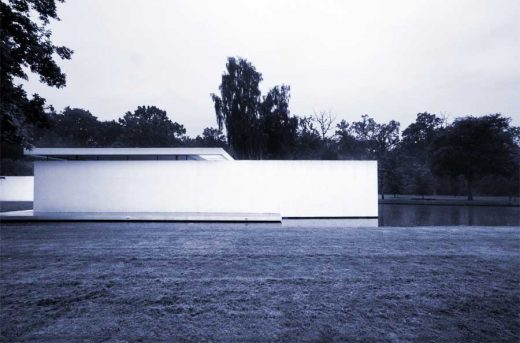 image © Gordon Watkinson
The contributors to the project are Michael Siebenbrodt, director of the Bauhaus Museum in Weimar, Falk Jaeger, a noted architecture historian and critic from Berlin, Peter Cachola Schmal, director of the German Architecture Museum in Frankfurt, as well as Allmann Sattler Wappner Architects, Rolf Disch, Fink+Jocher, Galli & Rudolf Architects, Ingvartsen Architects, Petzinka Pink Architects, Graham Phillips, RCR Architects, Sauerbruch Hutton, Werner Sobek and Hanno Vogl-Fernheim.
Sunday, April 1st marked the 93rd anniversary of the founding of the Bauhaus School in Weimar.
'Bauhaus twenty-21: An Ongoing Legacy'
The upcoming dates are the following:
Jun 8 – Sep 2, 2012 Yksi Expo, Eindhoven / Holland
And in the US starting in January 2013:
Jan 24 – May 5, 2013 Jule Collins Museum of Fine Arts, Auburn University / Auburn – Land of the Rural Studio!
May 23 – Sep 1, 2013 Arkansas Arts Center / Little Rock, AR
Sep 19, 2013 – Jan 5, 2014 Art Museum of the University of Memphis / Memphis, TN – Signature Event for the 60th Anniversary of AIA Memphis and 10th Anniversary of AIA Memphis 'Architecture Month' in September
Jan 23 – May 4, 2014 Price Tower Arts Center / Bartlesville, OK – In Frank Lloyd Wright's Price Tower!
Sep 18, 2014 – Jan 4, 2015 Prichard Art Gallery, University of Idaho / Moscow, ID
Jan 22 – May 3, 2015 Palm Springs Art Museum / Palm Springs, CA – As part of Palm Springs Modernism Week Program
Kickstarter campaign – launched to support the exhibition and the production of a duplicate set for the US tour: Bauhaus Building Exhibiiton – external link
The catalogue is published by Birkhäuser Verlag, Basel.


image from Bauhaus Building Competition organisers
The Bauhaus Building and the Masters' Houses in Dessau, by architect Walter Gropius, have been listed as UNESCO World Heritage since 1996. The Renovation of the Bauhaus Building and the Masters' Houses in line with monument conservation practice underpins this status.
Bauhaus Building architect : Walter Gropius
Location: Bauhaus, Dessau, Germany
Architecture in Germany
German Architecture
German Architecture Designs – chronological list
Bauhaus Architecture in Celle, Lower Saxony, Southeast Germany
Bauhaus Architecture in Celle, Lower Saxony
Haus am Horn, Weimar – World's First Bauhaus Building
bauhouse 24H Competition, Dessau, Germany
1st prize: Sonya Falkovskaia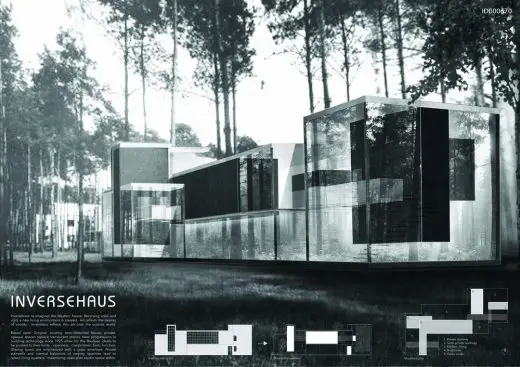 image courtesy of designer / 24h
bauhouse Competition – 28 Jun 2017
Sparkasse Bremen headquarters, Bremen, northern Germany
Design: Delugan Meissl Associated Architects (DMAA)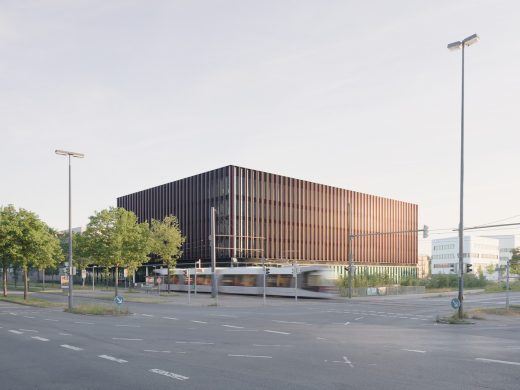 photo : Piet Niemann, Hamburg
Sparkasse Bremen headquarters building
BrainFactory Bochum, Bochum, North Rhine-Westphalia, western Germany
Design: HWKN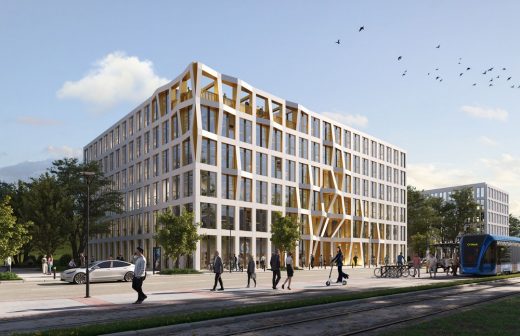 image courtesy of architects
BrainFactory Bochum
Comments / photos for the Bauhaus School Dessau Building, Germany design by architect Walter Gropius page welcome.
Website: Bauhaus Dessau