Getty Foundation Keeping it Modern, Post-war Buildings, Modernist Architecture Photos, Design, Images
Getty Foundation Keeping it Modern
Modernist Architecture – 20th Century Built Environment + The International Style
Oct 13, 2018
Getty Foundation Keeping it Modern Grants for 2018
Eleven new grants include first projects in Cuba and Lebanon, as well as the famous Gateway Arch in St. Louis, Missouri:
Getty Foundation Keeping it Modern 2018 Grants
2017 News:
Getty Foundation Keeping it Modern 2017 Grants
Jul 29, 2016
Getty Foundation Keeping it Modern News
Getty Foundation Keeping it Modern – Post-war Buildings
GETTY FOUNDATION ANNOUNCES 2016 KEEPING IT MODERN GRANTS THAT SPAN THE GLOBE
The nine grantees this year include the initiative's first projects by female architects, the first project in Africa, and Soviet Modernist buildings
LOS ANGELES 28th of July 2016 – The Getty Foundation today announced $1.3 million in architectural conservation grants for exemplary 20th century buildings as part of its Keeping It Modern initiative. The latest grants for nine projects in nine countries extend the program's reach to Africa, and include the first two buildings selected for support that were designed by women. Since its inception in 2014, the initiative has to date supported 33 projects that serve as models for the conservation of modern architecture around the world.
Association de Gestion du Site Cap Moderne, Villa E-1027: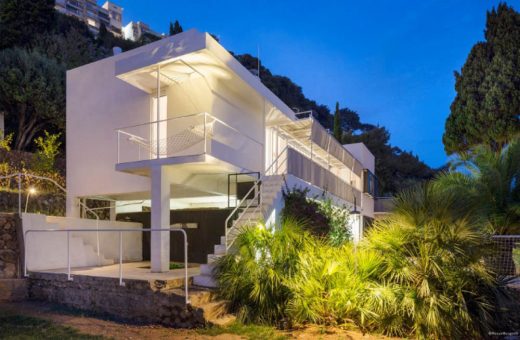 Villa E-1027, Cap Moderne, photograph Manuel Bougot www.manuelbougot.com. 2016
Like the previous grantees, the projects selected to receive funding this year are of the highest architectural significance: Lina Bo Bardi's Casa de Vidro (Brazil), Eileen Gray's Villa E-1027 (France), Nickson and Borys's Children's Library (Ghana), Wallace Harrison's First Presbyterian Church (Connecticut, United States), Eladio Dieste's Cristo Obrero Church (Uruguay), Gevorg Kochar and Mikael Mazmanyan's Sevan Writers' Resort (Armenia), Sir Frederick Gibberd's Liverpool Metropolitan Cathedral (United Kingdom), Gautam Sarabhai's workshop building (India), and Andrija Mutnjakovic's National Library of Kosovo (Kosovo).
Instituto Lina Bo e P.M. Bardi, Casa de Vidro: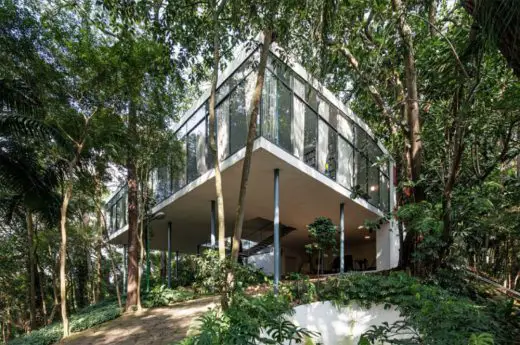 Casa de Vidro © Leonardo Finotti
"Each year, we extend the global reach of Keeping It Modern, making clear that there is modern architecture far and wide that is deserving of conservation and protection," says Deborah Marrow, director of the Getty Foundation. "We are pleased this year to support the initiative's first project in Africa, and to recognize the accomplishments of two outstanding women who pushed the possibilities of modern architecture forward."
Comisión del Patrimonio Cultural de la Nación, Cristo Obrero Church:
Recommended amount: $150,000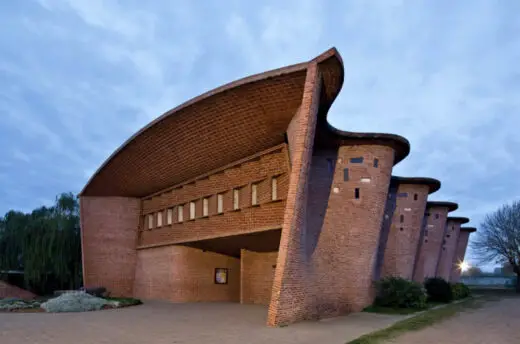 Cristo Obrero Church. © Leonardo Finotti
The new projects share several ongoing challenges facing 20th century architecture. This includes the need to better understand aging architectural concrete, one of the most widely used materials in modern architecture, and its proper treatment. Another issue is the use of clear and colored glass, including large colored panes (dalle de verre), which were often set directly into concrete. Research in these areas through the Getty grants will continue to generate models for the conservation field.
Highland Green Foundation Inc., First Presbyterian Church: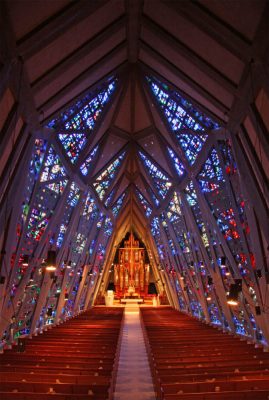 First Presbyterian Church, interior of Sanctuary. Photo by Robert Gregsoni
Several previous grant recipients are close to completing or have completed rigorous analysis of the construction materials and design of their buildings, and they have developed conservation strategies that address key problems. These projects include Sydney Opera House, the Max Liebling complex in Israel, Het Schip in The Netherlands, Centennial Hall in Poland, and Paimio Sanatorium in Finland. Also emerging from this work is an understanding of the benefits of a conservation management plan (CMP), a relatively new development for twentieth-century architecture which helps stewards of modern buildings plan for long-term maintenance and preservation.
ArchiAfrika Accra, Children's Library: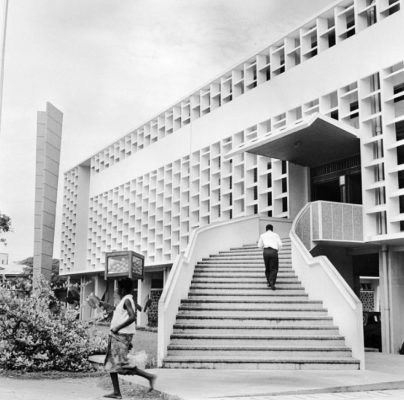 Facade of the Children's Library in Accra. Photo by Evans/Three Lions/Getty Images
"The projects supported by Keeping It Modern were selected not only for their architectural significance, but because of their potential to serve as models and to move toward new solutions and standards in the field as a whole," says Antoine Wilmering, senior program officer at the Getty Foundation. "These latest grants underscore that purpose – for example, Eladio Dieste's Cristo Obrero Church in Atlantida, Uruguay makes use of reinforced brick, creating delicately shaped undulating forms with a technique of which we have little knowledge in terms of conservation practice. This building's conservation management plan has the potential to inform the future preservation of hundreds of other buildings that use similar construction materials and techniques."
The Writers' Union of Armenia, Sevan Writers' Resort: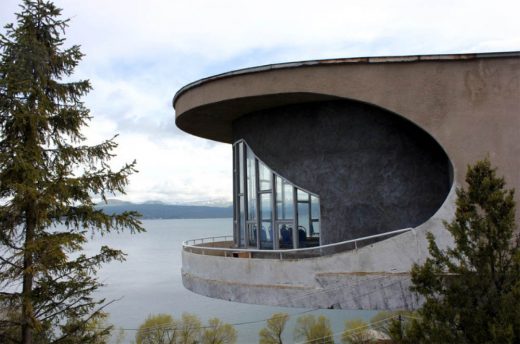 Sevan Writers' Resort. Photo by Jens Mallings; Courtesy of Jens Malling archive
Keeping It Modern is part of the Getty's strong overall commitment to modern architecture, as demonstrated by the Getty Conservation Institute's Conserving Modern Architecture Initiative (CMAI), the extensive and growing architectural collections of the Getty Research Institute, and the 2013 Pacific Standard Time Presents: Modern Architecture initiative which focused on Los Angeles' modern heritage. With these combined efforts, the Getty continues to advance the understanding and preservation of 20th century modern architecture.
Liverpool Roman Catholic Archdiocesan Trust, Liverpool Metropolitan Cathedral: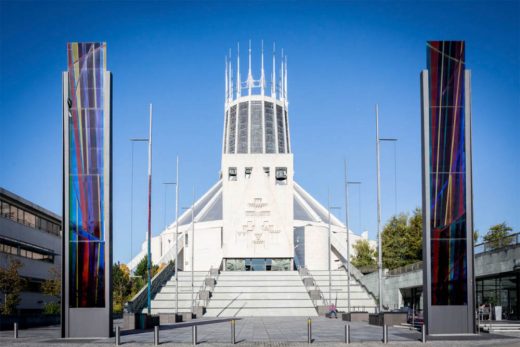 Liverpool Metropolitan Cathedral, exterior. © Purcell Architects
Deadlines and criteria for the next round of Keeping It Modern applications will soon be announced on the Getty Foundation website at www.getty.edu/foundation.
Nirmala Bakubhai Foundation, Gautam Sarabhai Workshop Building: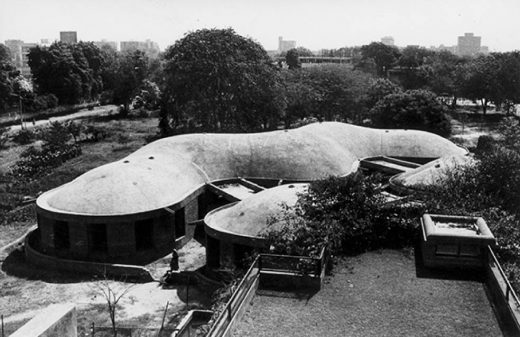 Roofscape / Archival image. Photograph (c) Sarabhai Foundation
Kosovo's Architecture Foundation, National Library of Kosovo: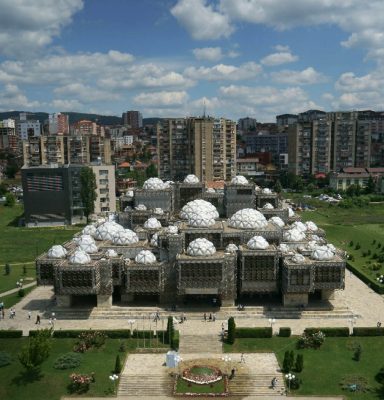 National Library of Kosovo, view from west. Emanuel Gjokaj/Kosovo Architecture Foundation
Full details on each of the nine buildings here:
Modern Architecture Conservation Grants 2016 – Keeping It Modern by the Getty Foundation – 29 Jul 2016
###
The J. Paul Getty Trust is an international cultural and philanthropic institution devoted to the visual arts that includes the J. Paul Getty Museum, the Getty Research Institute, the Getty Conservation Institute, and the Getty Foundation. The J. Paul Getty Trust and Getty programs serve a varied audience from two locations: the Getty Center in Los Angeles and the Getty Villa in Pacific Palisades.
The Getty Foundation fulfills the philanthropic mission of the Getty Trust by supporting individuals and institutions committed to advancing the greater understanding and preservation of the visual arts in Los Angeles and throughout the world. Through strategic grant initiatives, the Foundation strengthens art history as a global discipline, promotes the interdisciplinary practice of conservation, increases access to museum and archival collections, and develops current and future leaders in the visual arts. It carries out its work in collaboration with the other Getty Programs to ensure that they individually and collectively achieve maximum effect. Additional information is available at www.getty.edu/foundation.
#GettyInspired
A world of inspiration. Created by you.
getty.edu/inspired
The Getty Foundation
1200 Getty Center Drive, Suite 800
Los Angeles, California 90049-1685
U.S.A.
Berlin/Los Angeles: Space for Music, Getty Center
Location: 1200 Getty Center Drive, Los Angeles, California 90049-1685, USA
Modern Architecture – Major Modernist Buildings
Post-war Architecture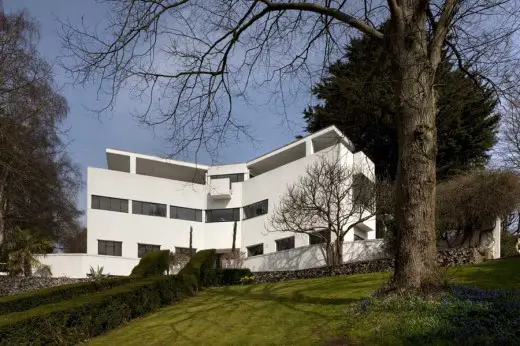 photo : Morley von Sternberg
Post-war Architecture
Most of these Modern buildings exude purity – simple forms, floating planes / cantilevers, white facades, strip windows – typical of Modernist Architecture.
These Modern buildings feature in standard Histories of Architecture Books, alphabetical:
Barcelona Pavilion, Spain
Design: Mies van der Rohe Architect



photograph © Adrian Welch
Barcelona Pavilion – probably the most famous Modern building in the world
Farnsworth House, Illinois, USA
Design: Mies van der Rohe Architect



photo © gm+ad architects
Farnsworth House
Florida Southern Colleges – Child of the Sun, Florida, USA
Design: Frank Lloyd Wright



photograph © Robin Hill
Child of the Sun Buildings
High & Over, Amersham, England
Design: Connell and Thomson / Architect: Amyas Connell



photo : Morley von Sternberg
Modern English house – one of the first Modern houses in England
Highpoint I, Highgate, London, UK
Design: Berthold Lubetkin Architect



photograph © Adrian Welch
Modernist Housing : Highpoint Buildings
Hilversum Town Hall, The Netherlands
Design: Willem Marinus Dudok



photo © Adrian Welch
Hilversum Town Hall Building
860-880 Lake Shore Drive, Chicago, USA
Design: Mies van der Rohe Architect



photo : William Zbaren
Lake Shore Drive Towers
Lawn Road Flats, London, UK
Design: Wells Coates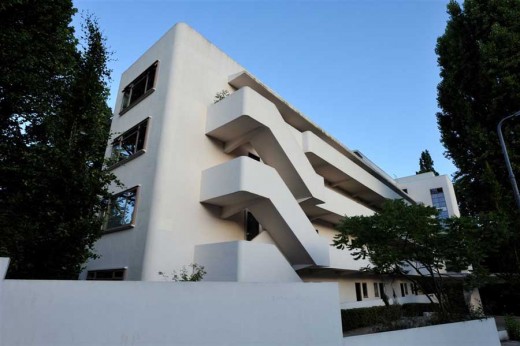 photograph © Adrian Welch
Isokon : Modern British building – classic white Modernist purity
Martin House Complex, Buffalo, USA
Design: Frank Lloyd Wright Architect



photograph : Biff Henrich / courtesy MHRC
Modern Building in Buffalo
Miller House, Indiana, USA
Design: Eero Saarinen architect



photograph Courtesy of the Indianapolis Museum of Art
Miller House
Sanatorium Zonnestraal, Hilversum, The Netherlands
Design: Jan Duiker with Bernard Bijvoet and Jan Gerko Wiebenga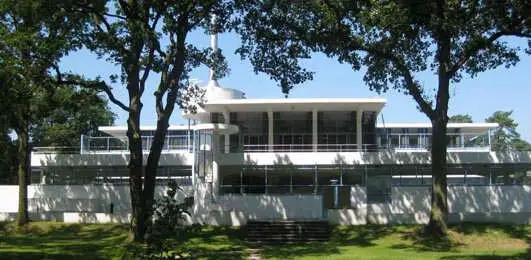 photo © Adrian Welch
Sanatorium Zonnestraal
Tugendhat Villa, Brno, Czech Republic
Design: Mies van der Rohe Architect



picture © AW
Modern Architecture : Tugendhat Villa Brno
American Le Corbusier building: UN Building New York
Modern Architecture House : Frank Lloyd Wright house



photograph © Adrian Welch
Comments / photos for the Getty Foundation Keeping it Modern 2016 page welcome