Cardross Seminary Photos, Scottish Modern Building Development, Architect News, Scotland
St Peter's Seminary Cardross
Images of Cardross Seminary Building design by Gillespie Kidd & Coia Architects, Glasgow
4 Sep + 27 Aug 2020
Hill House 'Box' architects join bid to restore St Peter's Seminary
The architects behind the £3.2 million 'Box' at the Hill House in Helensburgh have been brought in to work on the latest attempt to revive the former St Peter's Seminary in Cardross.
Award-winning London architects Carmody Groarke has been appointed to work with the Kilmahew Education Trust and landscape architect Dan Pearson Studio on its plan to breathe new life into the derelict building in Cardross, according to The Architects' Journal.
View looking south from north end of the building: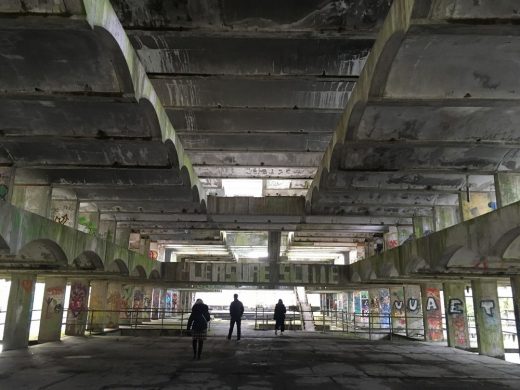 photo © Daniel Lomholt-Welch, 2019
Kilmahew Education Trust took on the property, which is one of the best examples of 'Brutalist' design in Britain, from the Roman Catholic Archdiocese of Glasgow in July.
Arts charity NVA decided in 2017 not to proceed with its plans for the building.
East facade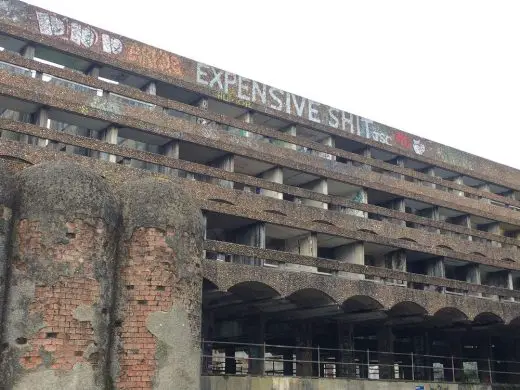 photo © Isabelle Lomholt
The Scottish Government declined a request from the Archdiocese in 2019 to take the site into the care of the state, leaving 'curated decay' as the only likely option – until the Trust came forward.
Carmody Groarke was responsible for the design of the 'Box' around Charles Rennie Mackintosh's Hill House, which opened in June 2019.
CGI of the 'Box' at the Hill House: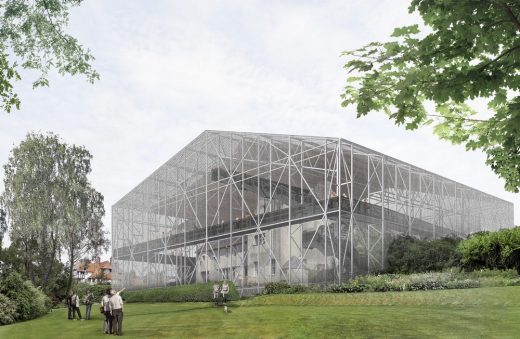 The structure, consisting of an aluminium frame and roof with a chain-mail mesh around the sides, is aimed at protecting the building from the rain and salty seaside air which have eaten away at the Hill House's exterior walls for virtually the whole of its life, while the property's owners, the National Trust for Scotland, work on a solution to keep the building wind- and water-tight in the long-term.
26 July 2020
Modernist ruin given away by Catholic church
The BBC run an article on the ownership of this derelict Brutalist building:
Catholic church give away St Peter's seminary Cardross
The ownership of an A-listed modernist building which the Catholic Church has been trying to get rid of for years has been transferred to a charitable trust.
Last year, the church described St Peter's Seminary in Cardross, near Helensburgh, as an "albatross around our neck" which it could not give away.
The Archdiocese of Glasgow (a diocese of the Roman Catholic Church in Scotland) said the Kilmahew Education Trust would be the new legal owners.
The Archdiocese said they bequeathed the estate and buildings free of charge to the trust.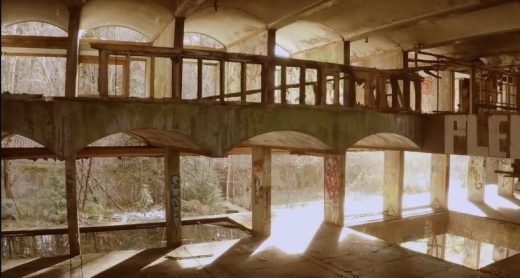 Stuart Cotton of the Kilmahew Education Trust said he was delighted to be the new custodian of "this outstanding and unique heritage asset".
"We simply need to develop a viable vision, with education at its core, and execute the plans that develop from that to the best of our abilities," he said.
"We look forward to sharing our initial masterplan in due course and welcoming the public to share our experiences along the way."
Building photo, 2 Jan 2019, by architecture student Daniel Lomholt-Welch:
lateral view looking west trhough the narrow arched cells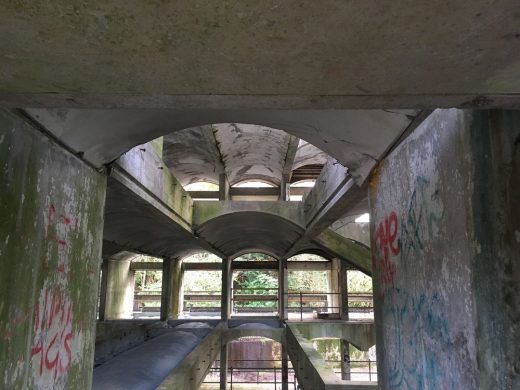 The seminary was deconsecrated in 1980.
In 1992 the seminary was Category A listed by Historic Scotland.
We have five pages online with around 9000 words, forming a useful resource to the architectural community, including around a hundred original photos of the building.
16 Feb 2019
Scottish modernist ruin awaits a saviour – a photo essay
The Guardian run an article on this Scottish Brutalist building:
A-listed St Peter's seminary in Cardross
14 Jan 2019
St Peters Seminary BBC: "Albatross"
Professor Alan Dunlop did a piece on the future for St Peters for the BBC Friday, filming on site.
There is a web piece published:
https://www.bbc.co.uk/news/uk-scotland-46822229
and also a radio news feature (link now non-functioning, thanks BBC)
The radio feature starts at 1:16:36 last around six minutes.
We hope this attracts some debate and response:
"This building is as important as the Glasgow School of Art" says Professor Alan Dunlop
www.alandunloparchitects.com
3 Jan 2019
St Peter's Seminary Cardross Photos
St Peter's Seminary Photos: GK&C Building
Building photos, 2 Jan 2019, by Daniel Lomholt-Welch:
elegant architectural promenade around the altar hugging the southern facade internally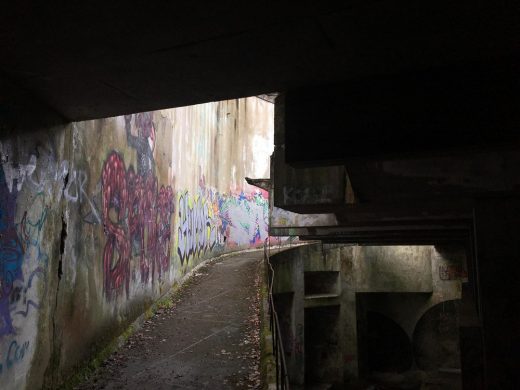 A low-down view looking south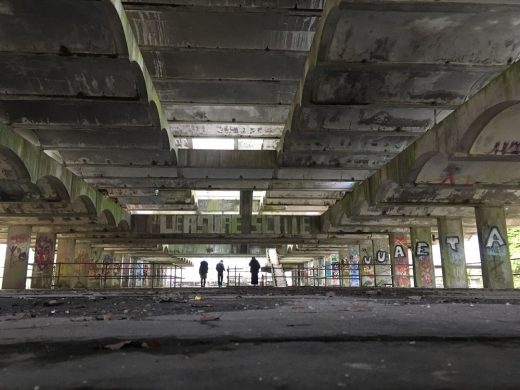 Concrete stair spines, bereft of former steps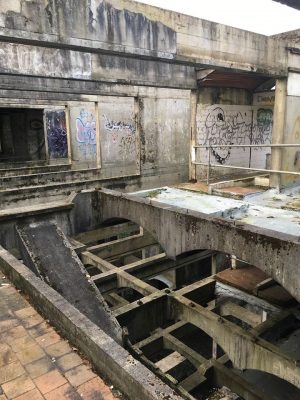 View looking south from first floor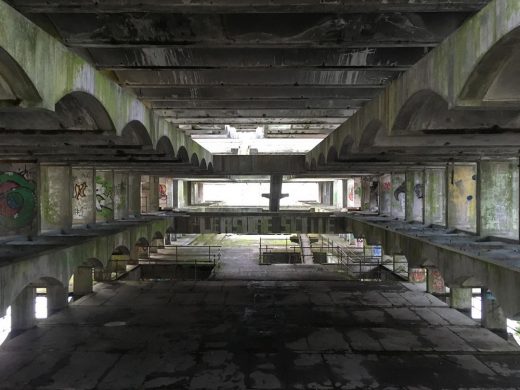 Final view lookinng south, two figures at altar for scale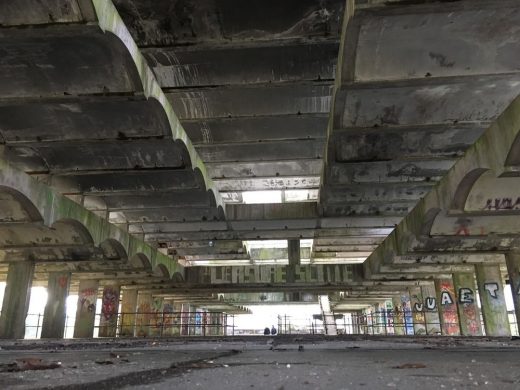 View looking south east towards altar from middle of western flank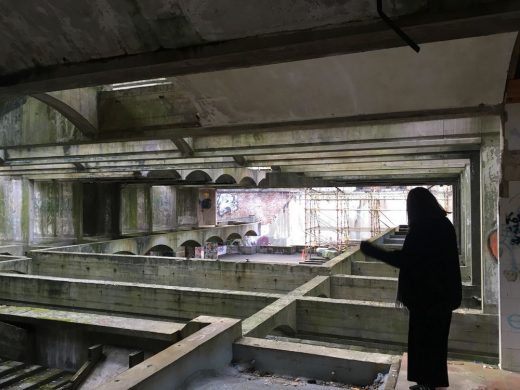 Building photos, 2 Jan 2019, by Isabelle Lomholt:
Entry from south east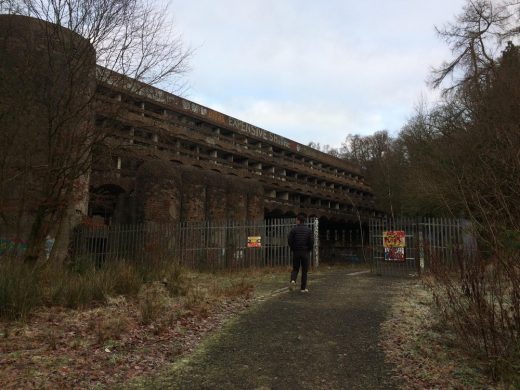 Building photos, 2 Jan 2019, by Adrian Welch:
ancillary Corbusian building to north west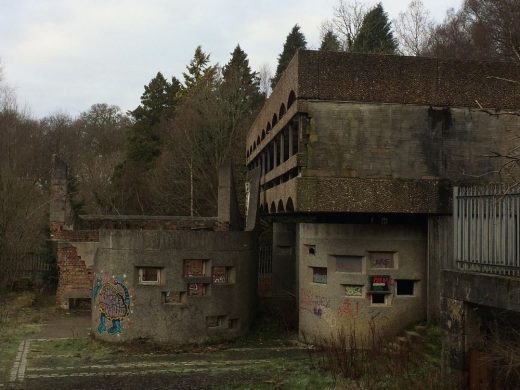 View looking south from first floor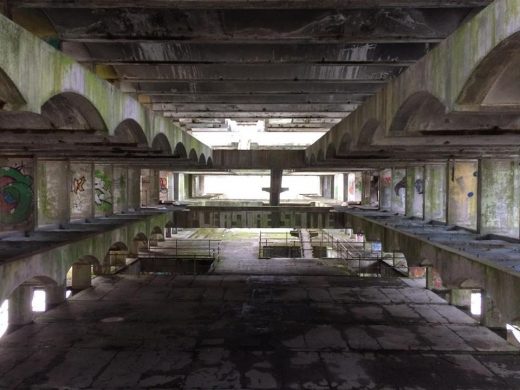 29 Aug 2017
Doors Open Day at St Peter's Seminary
Tickets for Doors Open Day at St Peter's will be released today at 10.30am, 29 Aug 2017.
Walked tours of the building will take place on 23 + 24 Sep. This is a good opportunity to visit Scotland's most iconic modernist building in its raw and ruined state.
About to be reclaimed by NVA as an arts venue and visitor attraction, this is your chance to visit St Peter's before construction begins.
Places are limited, advance booking essential – see our Glasgow Architecture events page for more details:
Website: St Peter's Seminary Doors Open Day
1 Aug + 31 Jul 2017
Grant for St Peter's Seminary Cardross Building
St Peter's Seminary Cardross One of Twelve Recipients of Getty Foundation's Keeping It Modern Grants
Grant for: NVA (Europe) Limited
The Getty Foundation announced $1.66 million in architectural conservation grants dedicated to twelve significant 20th century buildings as part of its Keeping It Modern initiative.
Designed for the Catholic Archdiocese of Glasgow, St Peter's Seminary was instantly recognized for its unabashedly brutalist use of in-situ and precast panel concrete, which formed a modern homage to traditional religious forms— cloister, chapel, refectory, and cells.
Hinterland Kilmahew/St Peter's: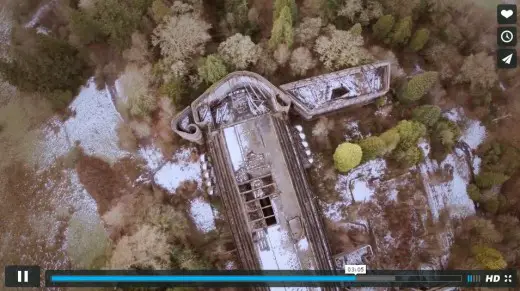 Architects Andy MacMillan and Isi Metzstein won the Royal Institute of British Architects' Royal Gold Medal for Architecture and earned the highest ranking of significance in Scotland for a design that artfully rearranged traditional religious spaces in unexpected ways. Yet after only 14 years of use this training college for priests was shuttered, and deteriorating conditions landed the site on the World Monuments Fund's most endangered cultural landmarks list in 2008.
After 30 years of dormancy, many despaired that the complex was beyond repair and could not be salvaged. Now, after thoughtful research and a feasibility study, stewards are seeking a new life for the site as a performance space, cultural venue, and exhibition center. This creative adaptive reuse cannot happen, however, until the remaining structure is stabilized and conserved.
Practitioners will conduct a comprehensive diagnostic analysis and log every individual element of the structure's frame and pre-cast paneling, ascertaining the varying deterioration states of concrete throughout the complex. Work will also include test repairs and mock-ups, as well as cleaning trials, which will guide future conservation protocols.
Grant support: £112,000
Getty Foundation Keeping it Modern 2017 Grants
10 Dec 2016
St Peter's Seminary Book
New Book about Cardross Seminary
St Peter's, Cardross
Birth, Death and Renewal
Diane M Watters, with photo essay by Angus Farquhar
RRP £30
The ruin of St Peter's College has sat on a hilltop above the village of Cardross for more than three decades. Over that time, with altars crumbling, graffiti snaking across its walls and nature reclaiming its concrete, it has gained a mythical, cult-like status among architects, preservationists and artists.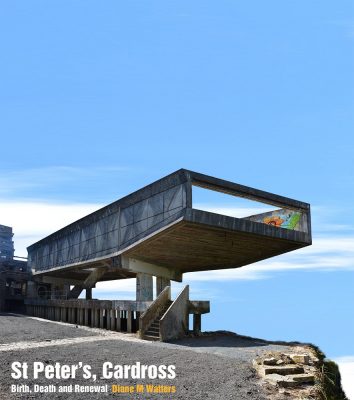 St Peter's only fulfilled its original role as a seminary for fourteen years, from 1966 to 1979. As its uncompromising design gave way to prolonged construction and problematic upkeep, the Catholic Church reassessed the role of seminaries, resolving to embed trainee priests not in seclusion, but in communities. Although briefly repurposed as a drug rehabilitation centre, the building was soon abandoned to decay and vandalism.
Ever since, people have argued and puzzled over the future and importance of St Peter's. It has been called both Scotland's best and worst twentieth century building, and was category A listed in 1992. One of its architects suggested the idea of 'everything being stripped away except the concrete itself – a purely romantic conception of the building as a beautiful ruin'. And now in 2016, St Peter's is renewed as a cultural space through the work of the arts organisation NVA.
In this landmark book, Diane Watters looks at the history of a structure that emerged out of an innovative phase of postwar Catholic church building. She traces the story of an architectural failure which morphed into a tragic modernist myth. This is a historian's account of the real story of St Peter's College: an exploration of how one of Scotland's most singular buildings became one its most troubled – and most celebrated.
Image Essay by Angus Farquhar
Across 54 pages of imagery of St Peter's and the globally publicised Hinterland event, Angus Farquhar recounts how his independent arts organisation came to play the key role in the renewal of St Peter's.
Author
Diane M Watters is an architectural historian at Historic Environment Scotland and teaches at the University of Edinburgh. A specialist in nineteenth and twentieth century architecture and conservation in Scotland, she has undertaken a succession of research based publications and is currently researching the history of Edinburgh's school architecture.
Contributor
Angus Farquhar has been Creative Director of Glasgow based NVA – one of the UK's most noted independent public arts organisations – since its inception in 1992. Previously he spent ten years performing as a founding member of the radical industrial music group Test Dept.
source: http://shop.scran.ac.uk/prod/books/st-peter's,-cardross/121
ISBN 9781849172233
Publication: 30 November 2016
Hardback
290 x 256 mm
Published by: Historic Environment Scotland
Price: £30.00
New Book about Cardross Seminary
Previous book by the same author on the same subject:
'Cardross Seminary: Gillespie, Kidd & Coia and the Architecture of Postwar Catholicism'
Author: Diane M. Watters
Contributor: Royal Commission on the Ancient and Historical Monuments of Scotland
Edition: illustrated
Publisher: Royal Commission on the Ancient and Historical Monuments of Scotland, 1997
ISBN: 074805829X, 9780748058297
Length: 96 pages
Cardross Seminary Book by Diane M. Watters
23 Mar 2016
St Peter's Seminary Building Renewal Funding
Award by Heritage Lottery Fund and Creative Scotland
A plan to transform the derelict St Peter's Seminary in Cardross into a unique arts venue and heritage destination has today been awarded £4.2 million of funding from the Heritage Lottery Fund (HLF) and Creative Scotland.
The HLF awarded funding of £3,806,000 to arts organisation NVA to carry out the revamp while Creative Scotland confirmed a National Lottery funding award of £400,000 towards the project.
The Seminary near Helensburgh is currently the centrepiece of a sell-out public art event called Hinterland, marking the launch of the Festival of Architecture and is a key highlight of the Year of Innovation, Architecture & Design.
Regarded as one of Europe's greatest Modernist buildings, St Peter's opened as a training centre for young priests in 1966 – its ground-breaking design by Isi Metzstein and Andy McMillan of Gillespie, Kidd and Coia. It closed its doors in 1980 and has lay abandoned since with the effects of the elements and vandalism contributing to its now ruinous state.
This major investment will see key elements of the building restored whilst others will be consolidated to allow the public safe access to large scale events and performance as well as to smaller community activities. The triple-height chapel will be partially restored and converted into a 600-capacity venue while the former sacristy and crypt will be a focal point for exhibitions.
St Peter's Seminary Renewal Funding
Cardross Seminary Photos
Location: just north of Cardross, nr Helensburgh
Date built: 1958-66/8; closed 1980
Architects: Gillespie Kidd & Coia
Hinterland
5 Dec 2015 – Hinterland video by NVA:

Hinterland from NVA on Vimeo.
Event dates: 18 – 27 March 2016
In March 2016, Kilmahew / St Peter's will officially launch the Festival of Architecture 2016 with Hinterland near Helensburgh, Argyll and Bute.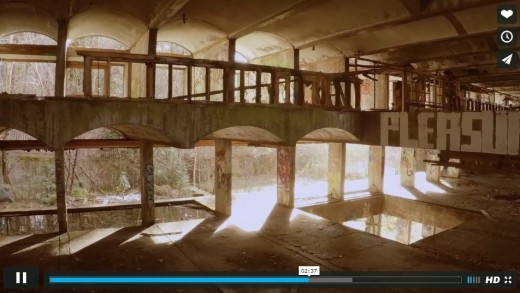 "As dusk falls to darkness, a walked route will weave through atmospheric woodland towards the abandoned building complex. Hinterland will reveal the full glory of the towering concrete ruin, combining moving light installations and projection with a haunting choral soundscape by composer Rory Boyle, recorded by the St Salvator's Chapel Choir of the University of St Andrews."
This should prove to be an interesting project, to take place in March 2016, combining art, music and of course, architecture!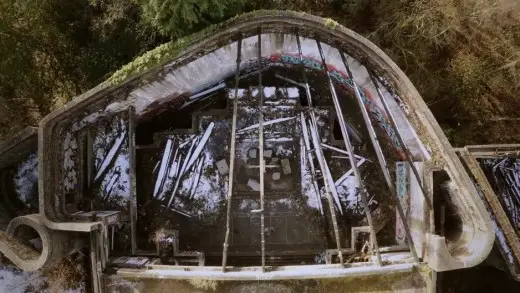 "Discover Scotland's greatest modernist ruin, St Peter's Seminary, transformed by light and sound at the official launch event of Scotland's Festival of Architecture 2016. Fifty years on since the building opened, you can explore this architectural masterpiece re-animated at night for the first time.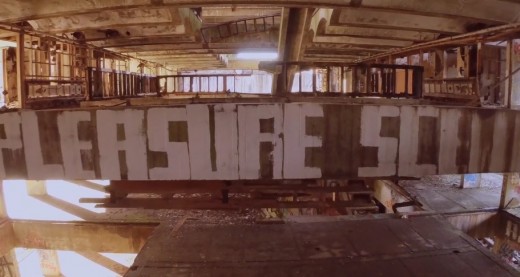 Hinterland is an open manifesto for the ground-breaking creative work that will be programmed at St Peter's Seminary from 2018 onwards. The long-term plans will rescue, restore and reclaim this outstanding example of 20th century architecture and bring it back into productive use as a national platform for public art and world-class heritage destination."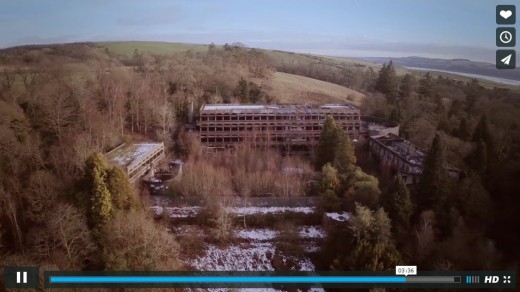 Website: Hinterland at Kilmahew / St Peter's
New photos, by Niels Lomholt, 3 Apr 2012: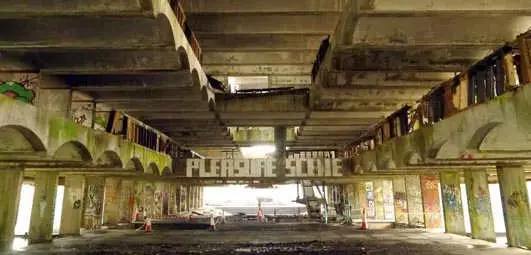 photo © Niels Lomholt
Article by e-architect Editor, Adrian Welch, architect
Shock Horror
These are the emotions that engulfed me as I burrowed into this building.
St Peter's Seminary is a post-war Modernist masterpiece designed by former Scottish architects practice Gillespie, Kidd and Coia. It is located near Cardross, close to Glasgow in western Scotland. It dates from 1966. It closed in 1980.
Since I first visited this building about a decade ago I've been part of many discussions about it, and read numerous articles arguing whether to retain and or not, and if so, how?
These finely tuned architectural discussions about retention fade into the background as you encounter this beast in the flesh. It is monumental, but half destroyed. It is inspirational but at the same time forbidding and horrific.
The author – e-architect editor Adrian Welch – contemplating the destruction:



photo © Niels Lomholt
The ruin towers out of a wooded gorge – the sheer confidence of the architects to persuade a Client to build this building at this spot is for me the core of the project. Yes the Corbusian vaults dancing through the seminary are powerful, and the top-lit altar space is moving, but it is the audacity to build such a fine, monolithic structure on these wooded slopes that is truly captivating.
Here destruction, graffiti and general mess bring other powerful emotions. So there are conflicting feelings as you crinkle your way over the broken glass – awe and despair.
Cardross Seminary is widely held to be Scotland's best building of the 20th century, indeed I can't see a challenger to that claim, so it is sad to witness its demise.
There is hope of course, but it is taking time, naturally, and meanwhile the building's slide into disrepair goes on.
Arts charity NVA purchased St Peter's Seminary at Cardross as part of £10 million plans for its redevelopment.
NVA acquired the building from site owner the Roman Catholic Archdiocese of Glasgow under 'conditional missives' and hopes to raise £10 million for its redevelopment over the next two years. They plan to convert the Cardross Seminary building into an 'intentional Modernist ruin'.
The 'incremental' introduction of artists and artworks to the site would create an 'intellectual context' for the 'partial' restoration, according to NVA.
Last March UK developer Urban Splash abandoned high-profile plans to transform the Cardross Seminary building into a mixed-use housing and leisure redevelopment. The project was designed by Glasgow-based Gareth Hoskins Architects.
Angus Farquhar, the creative director of NVA, has been inspired by restoration projects such as the Duisburg-Nord Landscape Park in Germany, where a former industrial wasteland has been transformed over more than 10 years into parkland. Angus Farquhar has also been influenced by the El Matadero in Madrid, a former slaughterhouse that is now a cultural centre. NVA is currently developing the master-plan for the estate with the support of a £100,000 grant from Creative Scotland's National Lottery Fund.
Film-maker Murray Grigor (who made a film about the seminary, 'Space and Light' shot in 1972 and reshot in 2009 as Space and Light Revisited) told me today:
"Although plans are still in flux my hopes are high that at least the roof structure above the altar can be reinstated and the chapel area consolidated through the intercession of a concerned donor.
The remaining ruins of the seminary could then be left as a lamentation to our troubled times."
I also spoke with Gareth Hoskins (director of Gareth Hoksins Architects, who had worked with Urban Splash on the previous proposals for St Peter's Seminary Cardross, what he thought of the current proposals.
He said,
"We had an extremely interesting scheme we had developed with Urban Splash with support from Historic Scotland that looked both at a comprehensive reuse of the seminary buildings, insertion of new build elements and the reinvention of the wider Kilmahew Estate setting.
These proposals were reviewed and endorsed by Andy and Isi and the Diocese. We had also involved NVA in the dialogue as we felt they could bring a good, complimentary role in terms of developing the landscape strategy for the wider site. Because of the economic downturn Splash weren't in a position to take the scheme forward at present. Rather than hold on, the Diocese have I understand sold the buildings to NVA on the basis of a different strategy they have developed which retains the buildings as 'stabilised ruins'.
Whilst this idea of a 'modern day ruin' is one means of interpreting and responding to the building, which is verging on the reverential towards, I personally feel a bold reuse of the buildings would be more appropriate and was certainly the new life the original architects were hoping for…"
A also wanted to get the view of Penny Lewis on the current proposals. We'd had many frank discussions about the building's future when I was on the board of Prospect magazine and she was editor. Penny helped form the St. Peter's Building Preservation Trust back in 2006 that campaigned for action.
Penny Lewis said,
"At a basic level- to me – although the landscape is quite interesting and well used by locals there is little point in investing a great deal in it except as a mechanism to aid the reuse of all or part of the building. This is one of Scotland's few grade 1 listed modern buildings – to treat it as an accessory to a landscape scheme seems inappropriate. I support the current project as a means to an end – not an end in itself."
What is clear to me is that there need to be people on the site, and soon. I'm not clear as to what "the 'incremental' introduction of artists and artworks to the site" by NVA would entail. I asked NVA for comment – at this point in time they were unavailable.
A 'stabilised ruin' is impossible here, however high the security fence it won't stop ongoing destruction, that is for sure. But the idea of an 'Arts Project' on the site sounds workable, people who might be in tune and draw inspiration from the building and the site, people who can help protect it better than any security guards.
It made me think about Haystack Mountain School of Crafts. It is an international, non-profit, studio program in the arts offering workshops to craftmakers and visual artists of all skill levels led by prominent faculty artists. The school is located in on Deer Isle in Maine, USA:


photo from Haystack Mountain School of Crafts Maine
Of course there are key differences, but the idea of arts and crafts lovers pottering away in distinctive architecture within a wooded environment create a resonance for me, and maybe one that NVA could pick up on: these quiet woods above Cardross are a long way from the populous Rurhgebeit (Duisburg-Nord Landscape Park) or Madrid (El Matadero) examples mentioned above.
St Peter's Seminary & How not to Protect Key Buildings
The building is listed Grade A and has been included World Monument Fund list of the 100 most endangered sites (in 2008). What is the point of protective legislation if it isn't adhered to? This stunning Modernist building should have been saved years ago, time is running out.
I wrote back in 2006,
"My view is simply that the 'big deal' has already occurred ie Cardross is so ruined, of such a specific type and style, and in what could be called a peripheral location, that the time for really saving it is well past.
The key issues for me are the 'building's path to ruination' and 'how to enshrine into law a formula that forces owners to try to work with parties that may take on a property', ie to oblige an offer to the market when an owner finds their building no longer affordable / fit for purpose / of use. That way no-one has an excuse and groups can work to raise money when sentiment is strong enough, as it is in this case."
My viewpoint hasn't really changed. There are two problems – the building and the system. Both need fixing. The 'building' has great attributes, saving it would have benefits to our society. Meanwhile the 'system' that allowed not only the decay and stifling of opportunities at Cardross but thwarts many positive architectural agendas across the land remains. Again, fixing this negative system would benefit architecture and wider society.
We all know that system breaches that go unchallenged encourage system breakdown. Likewise this disrespect of the listing system – which aims to conserve what experts believe are the most important buildings in our culture – encourages others to think they can do the same. Buildings which mysteriously burn or fall over in the dead of night. So the building authorities and regulators should do their bit and ensure their protection system is properly policed.
I wish NVA and Creative Scotland well with their proposals.
e-architect Editor, Adrian Welch, architect
Cardross Seminary photographs by Niels Lomholt – external link
Comment from Anthony Sully, received 4 Apr:
"This worthy building has been neglected which is a crime. The sources of those who let this happen should pay for its restoration, not the taxpayer. But my guess is that it is not worth restoring on grounds of cost, so it should be demolished. The recent vandalised use of the building is a sad reflection of a non-caring society."
Anthony Sully DesRCA FCSD FRSA FHEA IIDA
Comment from Alan Dunlop, received 4 Apr:
The proposals by NVA and erz are evidence of a committed client working with a talented group of young designers and their work brings some fresh thinking to an old problem. As such their ideas should be supported, absolutely. As Penny Lewis says though, it's important that the work is considered as a means to an end, not the end.
The continuing decay of the seminary is a scandal but one that is in danger of being sidetracked by a seemingly new age of Philistinism, brought on by the global recession and the consequent scant regard for good design and architecture. However, all the more reason why we should focus not on demolition but on its rehabilitation. It should remind all architects of a quite recent time when architecture in Scotland was truly great and could be again.
Comments re proposals for St Peter's Seminary Cardross welcome
Cardross Seminary
St Peter's College, Cardross – news items and discussions through the years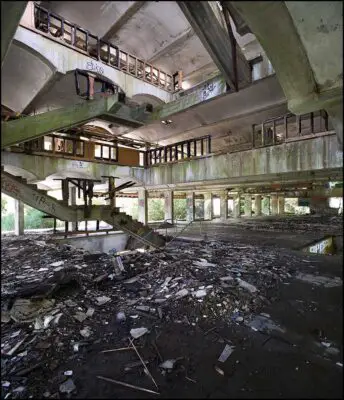 photo © Neale Smith
St Peter's Seminary Cardross building
St Peter's College, Cardross – letters re what to do with the building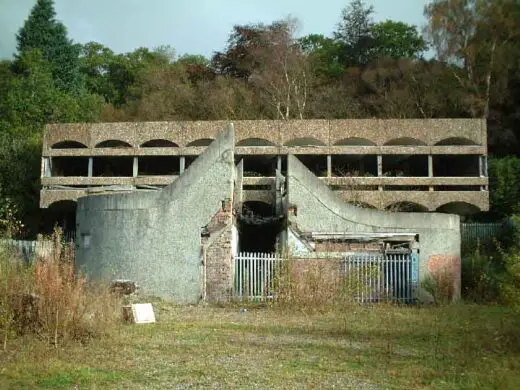 image from St. Peter's Building Preservation Trust
St Peter's Seminary Cardross building
Gillespie Kidd & Coia – St Benedict's Church, Easterhouse, Glasgow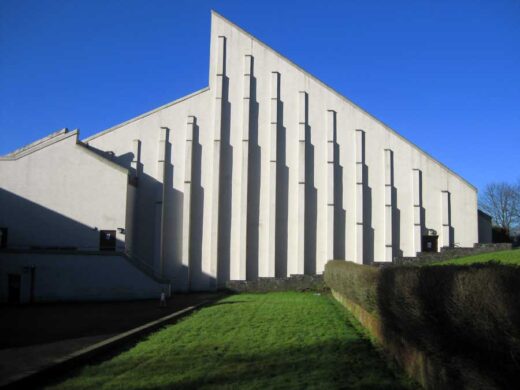 photograph © Adrian Welch
Isi Metzstein, Glasgow, Scotland
1928-2012



photo from RIAS
Location: Cardross, western Scotland
Architecture in Scotland
Celebrated building close by: Hill House
Scottish Architecture Designs – chronological list
Scottish Architecture
Robert Burns Museum
Robert Burns Birthplace Museum : Simpson & Brown Architects
Film re the Cardross Arts Project (login required sadly) – http://helensburgh.tv/stories/311-cardross-seminary
Comments / photos for the St Peter's Seminary Cardross page welcome