Kindergarten Neufeld an der Leitha Austria, Burgenland Architecture, Nursery Design
Kindergarten Neufeld an der Leitha : Burgenland Building
Nursery School Building Austria design by SOLID architecture
31 Aug 2011
Date built: 2011
Location: Burgenland, east of Graz, southeast Austria
Design: SOLID architecture ZT GmbH
Nursery School Building in Burgenland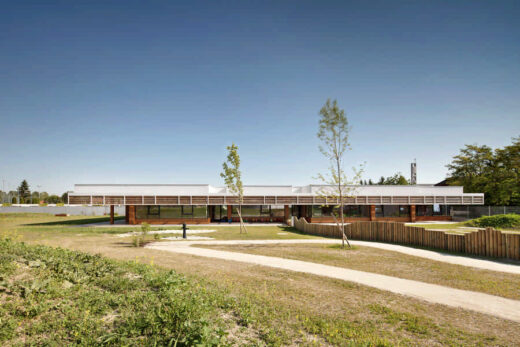 Photos by Kurt Kuball
Kindergarten Neufeld an der Leitha
The design by SOLID architecture for the new kindergarten in Neufeld an der Leitha emerged as the winning project in an invited competition that sought designs for a new building to house a four-group kindergarten. One requirement of the competition was that it should be possible to add a further two groups without disrupting day-to-day activities at the kindergarten.
Placing the building volume in an east-west direction created clearly defined outdoor areas. Towards the north the building remains closed. The vehicular approach, the car-parking area and the entrance are on this side. As a result the outdoor spaces in the south and west, which are reserved exclusively for the children, are largely undisturbed by traffic.
The interplay of daylight and architecture is an essential element of the design. In the interior the service zones and ancillary rooms face north. An open communicative central area flows through the entire building. Towards the south the groups rooms detach themselves from the building with large areas of glazing that allow the best possible use of daylight.
Incisions made in the roof together with the outdoor areas allotted to the groups form new spaces between inside and outside. Staggering the units in a north-south direction establishes visual connections between the group rooms. The open spaces ascribed to the groups can be integrated in educational activities. They are a manageable size and break down the boundaries between inside and the constantly changing outdoor area.
Together with its sanitary facilities and storage space each of the group rooms forms an independent unit. Glass walls, roof lights and the way the garden interlocks with the kindergarten create spaces flooded with daylight, lively lighting conditions and different moods of colour.
The group rooms are open in design. Clearly defined play areas, such as a building corner or dolls corner, were deliberately left out so as to allow the free combination of different play and work areas. Encounters in and withdrawal from the group are both possible. All areas are also accessible to children with physical disabilities. The dining room is positioned near the entrance and can also be used as a "parents' café".
Roof lights in the large roof extending over the entire building provide light for the central zone and the sanitary facilities. In the south the roof extends into a pergola with wooden slats. This helps protect the south-facing group rooms against overheating. Together with the wooden deck below it the pergola defines a sheltered transitional zone to the garden.
The building services concept focuses on an economic use of resources and protection of the environment. The entire building has a controlled ventilation system. The fresh air introduced via a subterranean tunnel is pre-warmed in winter and cooled in summer. Hot water is produced by means of a water-water heat pump. Rainwater seeps off into cisterns in the school grounds. .
Kindergarten Neufeld an der Leitha Burgenland – Building Information
Project name: Kindergarten Neufeld an der Leitha Site
Name: Kindergarten Neufeld an der Leitha
Street: Dr. Ludwig Leser Straße
Postal Code: 2491
City: Neufeld an der Leitha
District: Eisenstadt Umgebung
Region: Burgenland
Purpose: kindergarten and nursery
Planning Data
Direct Commission: no, 1stprize in invited competition
Project Status: project completed
Competition: Jun / Aug 2009
Other Participants
Dipl. Ing. Peter Marosevic Ziviltechniker GmbH
Pichler & Traupmann Architekten ZT GmbH
Rudischer & Panzenböck, gewerbliche Architekten GmbH
Architekten DI Taschner – Kinger ZT GmbH
Klaus-Jürgen Bauer, Architekten
Arch. Mag. Johann Schandl ZT-GesmbH
Dates
Start of Planning: Sep 2009
Start of Construction: Mar 2010
Completion: Sep 2010
Project Data
Site area: 4.680 m²
Gross Area: 950 m²
Built up Area: 1.240 m²
Useable Surface: 830 m²
Building Volume: 4.300 m²
Construction Costs: 1,5 Mio €
Construction
baseplate: ferroconcrete
walls: ferroconcrete, brick and timber structure
roof: timber structure
Spatial Program four-group kindergarten, two of these groupes used as a nursery
Architecture: SOLID architecture ZT Gmbh, Wien
Project Management: Arch. DI Christine Horner
Collaborators: Arch. DI Christoph Hinterreitner, Arch. DI Tibor Tarcsay DI Kristina Zaunschirm
Client: Stadtgemeinde Neufeld an der Leitha Hauptstraße 55 2491 Neufeld an der Leitha
Consultants
Structural Engineering: RWT PLUS ZT GmbH
Building Physics: RWT PLUS ZT GmbH
Construction Supervision: BMG
Heat / Ventilation Engineering: HTB-PLAN Haustechnik Planungs GmbH
Electrical Engineering: HTB-PLAN Haustechnik Planungs GmbH
Contractors
Builder: Dipl.Ing.A.KIENZL Bauges.m.b.H. & Co.KG
Timber Structures: REUMANN – Zimmerei • Säge- & Hobelwerk
Plumber: Schmiedl Dach GmbH
Facade: Schmiedl Dach GmbH
Dry Walling: Lieb Bau Weiz GmbH
Floorer: Bodenverlegung Sabine Prelovsky
Paintwork: Malermeister Ochs
Steel Structures: Ing. Zeiler Metallbau GesmbH & Co KG
Windows: ING A. SAURITSCHNIG Alu-Stahl-Glas GmbH
Carpenter: Tischlerei Parsch
Electrician: Firma Elektro Kager GesmbH
Heat / Ventilation: Prerostin GmbH
Photographer of the Project:
Kurt Kuball
Stumpergasse 52/10 1060 Wien +43/676/75 639 75 [email protected] www.kurtkuball.com
Holder of the Copyright: SOLID architecture ZT GmbH
Kindergarten Neufeld an der Leitha images / information from SOLID architecture
Location: Hauptstraße 55, 2491 Neufeld an der Leitha, Austria, central Europe
Austrian Building Designs
Austrian Architecture Designs – architectural selection below:
Austrian Architecture Design – chronological list
Vienna Architecture Walking Tours by e-architect
Austria Architect : Studio Listings
A recent Austrian Kindergarten building on e-architect:
Kindergarten Guntramsdorf
Design: g.o.y.a – group of young architects
Kindergarten Guntramsdorf
Another Austrian Kindergarten building:
Kindergarten Valdaora di Sotto, South Tyol
Design: feld72, architects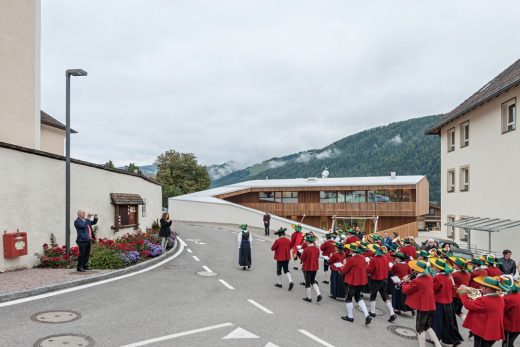 photograph : Hertha Hurnaus
Valdaora di Sotto Kindergarten Building
Kindergarten Sighartstein, Land Salzburg
Design: kadawittfeldarchitektur
Kindergarten Sighartstein
Kindergarten Buildings
Kindergarten Mavrica, Brežice, Slovenia
Design: Bizjak, Dragišić, Florjanc, Jelkić, Saje
Kindergarten Mavrica Brežice
Four-Leaf Clover Kindergarten, Slovenia
Design: Ofis Arhitekti
Four-Leaf Clover Kindergarten
Another Austrian design by SOLID architecture:
Skywalk Rennweg, Vienna
Austrian Bridge
SOLID architecture designed a bridge to connect two buildings in Vienna.
Nursery School Buildings : Designs
Comments / photos for this Kindergarten Neufeld an der Leitha design by SOLID architecture page welcome