Kindergarten Buildings, Interiors, School Design, Architect, Photo, News, Images, Developments
Kindergarten Buildings : Nursery Architecture
Key Educational Architecture Developments – Nursery Building Design
post updated 24 Apr 2020
Kindergarten Architecture – Latest Designs
Nursery Architecture – latest additions to this page, arranged chronologically:
9 Oct 2013
Kindergarten in Bijelo Polje, Montenegro, southeast Europe
Design: Rifat Alihodzic, arhing_ar



photo : Luka Bošković
Kindergarten in Bijelo Polje
A diagonal brace, domineering two sides of the cube, was made for a reason and so it became a dominating element of a building structure. It is because the kindergarten, consisting of basement+ground floor+one floor, should be located near the existing building, consisting of more floors (ground floor+4 floors).
3 Sep 2013
Consell Kindergarten, Mallorca, Balearic Islands, Spain
Architect: RipollTizon Estudio de arquitectura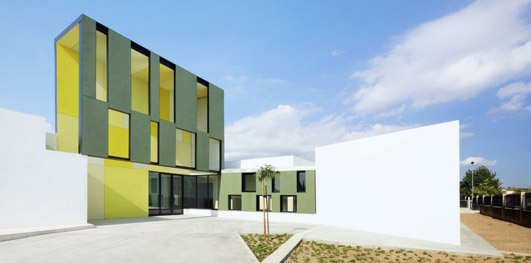 photo : José Hevia
Consell Kindergarten
This nursery is the extension of the School Complex "Bartomeu Ordines" in Consell, Mallorca. The new building is composed of six classrooms (for children between 3 and 5 years old), one psychomotor classroom and a dining area including kitchen.
24 Jul 2013
Kindergarten in Münster, north Germany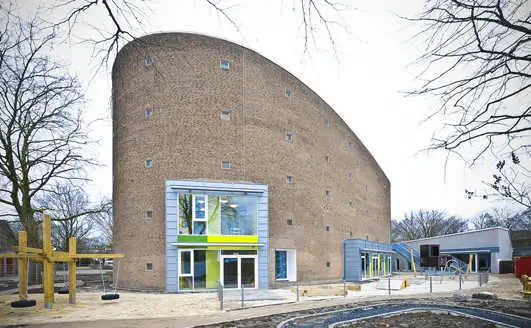 photo Markus Hauschild © BOLLES+WILSON
Kindergarten in Münster
The elegant form of the elliptical nave physically anchors its surrounding neighbourhood. Now deconsecrated the logical investment driven choice would have been for St. Sebastian to disappear. Bravely the 2009 competition jury awarded the first prize to the BOLLES+WILSON scheme which envisaged the characteristic form given a new life and function – a kindergarten framed and shielded by site perimeter housing (2nd construction phase).
1 May 2013
Drulingen Family Crèche, near Strasbourg, eastern France
Design: Fluor Architecture



image from architect
Drulingen Family Crèche
The family crèche is both a living space where the children thrive and a workplace for the staff. The building is the set for this environment in every aspects and needs but also in its poetical dimension.
14 Jan 2013
Giraffe Childcare Center, Paris, France
Hondelatte Laporte Architectes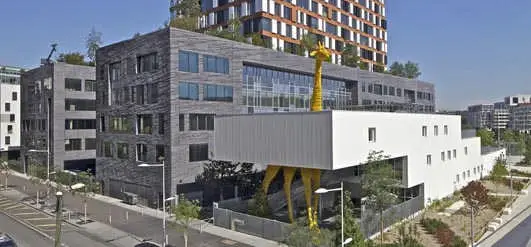 photo : Philippe Ruault
Giraffe Childcare Center
The Giraffe childcare center is located in the C1 block of the Seguin Rives de Seine district in Boulogne-Billancourt, a suburban area of Paris. The program houses a 60 bed childcare center and 20 bed day nursery. The building has been awarded the green "zéro Energie Effinergie" label.
added 3 Jul 2012
Fagerborg Kindergarten, Oslo, Norway
Design: Reiulf Ramstad Architects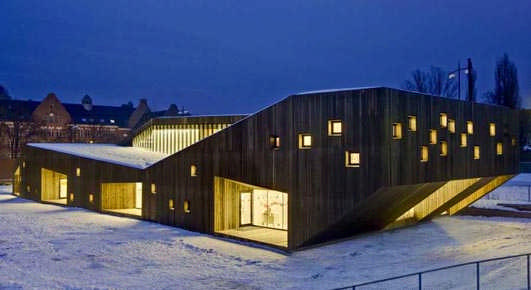 photo © Thomas Bjørnflaten
Fagerborg Kindergarten
The architects have created a design for a new kindergarten building in central Oslo that offers 2 units for children between 1-3 years old and 2 units for children between 3-6 years old. There are many cultural heritage guidelines to be considered in the project site. The area is characterised by residential buildings from 1900-50.
Ecole Maternelle, Paris, France
Eva Samuel architecte urbaniste et associés



image © Gaston Bergeret
Paris Kindergarten – 30 May 2012
In the Olympiades quarter, the reconstructed kindergarten building stands out like a gleaming toy amidst the neighbouring towers and blocks. It is part of the re-evaluation of a dense, functional and mixed urban planning project built in the 1960s and 70s. In this very lively district, the City of Paris is implementing a project involving property consolidations and redescriptions of exterior spaces
Kindergarten Maria Enzersdorf, Vienna, Austria
Arge MAGK illiz



photograph : Hertha Hurnaus
Kindergarten Maria Enzersdorf – 27 Feb 2012
Care facility building with primary school, crèche and kindergarten, canteen and multi-purpose hall plus various open spaces.
Kindergarten Buildings – Recent Designs
Kindergarten Guntramsdorf, Austria
g.o.y.a – group of young architects



photograph : Kurt Hörbst
Kindergarten Guntramsdorf
This kindergarten building is located in a grove of striking chestnut trees. Its rustic design celebrates a sense of open space and connection with its lovely environment. To meet the various needs of the children, the building is organised as a series of structures, each connected visually with the trees. Classrooms are organised around a hallway which gives onto a foyer.
Kindergarten Neufeld an der Leitha, Austria
SOLID architecture



photograph : Kurt Kuball
Kindergarten Neufeld an der Leitha
The design by SOLID architecture for the new kindergarten in Neufeld an der Leitha emerged as the winning project in an invited architecture competition that sought designs for a new building to house a four-group kindergarten. One requirement of the design competition was that it should be possible to add a further two groups without disrupting activities at the building.
Kindergarten Mavrica, Brežice, Slovenia
Bizjak, Dragišić, Florjanc, Jelkić, Saje



image from architect firm
Kindergarten Mavrica Brežice
The new kindergarten building is subordinated to the green exterior space and skillfully designed in a form of a continuous spatial loop which surrounds the entire playground. Uniform concept of the playground that starts with an extensive central atrium on the south of the plot and continues under the tract on the 1st floor to the north part of the building site, assures the feeling of safety and connectivity of the kindergarten's departments.
Kindergarten Buildings
We've selected what we feel are the key examples of Kindergarten Architecture. We aim to include buildings that are either of good quality or interesting. We cover completed Kindergarten buildings and architecture competitions across the world. The focus is on contemporary nursery buildings. We have 2 pages of Kindergarten Architecture selections with links to many individual project pages.
Kindergarten Buildings : news + key projects (this page)
Kindergarten Architecture : A-Z
Kindergarten Building Designs
Four-Leaf Clover Kindergarten, Slovenia
Ofis Arhitekti



image from architect
Four-Leaf Clover Kindergarten
The plot of the building is a four-leaf clover from which each leaf represents one department with associated facilities. Entrance leads to the central part with the common areas, which are positioned and distributed in three floors: ground floor with the main entrance and outdoor central common play area/playgrounds for additional activities, first floor with administration/offices and underground level with kitchen, services and technical areas.
Fuji Kindergarten, Japan
Tezuka Architects



building photograph : Katsuhisa Kida
Fuji Kindergarten
The brief for the building was extremely simple in content: "we want you to make a Roof House for five hundred kindergarten pupils." In this design, there are no distinctions between the pupils or colleagues. Rooms at the ends of a building unavoidably tend to be segregated from the others, but in this kindergarten building there are no hidden places.
Kindergarten Sighartstein, Land Salzburg, Austria
Design: kadawittfeldarchitektur



photograph : Angelo Kaunat, Salzburg
Kindergarten Sighartstein
The elevated and abstractly stylized "grass" facade of the cubic building brings a certain harmony to the volume as well as an identity and orientation for the kindergarten building. The inner organization follows the logic of use: kindergarten groups have open access to the gardens while the crèche groups are kept safe in the floor above.
Facility for Sensory-impaired children
Hazelwood School, Glasgow, Scotland
Design: gm+ad architects



photo : Andrew Lee
Hazelwood School
More Kindergarten Buildings + Nurseries online soon
School Buildings : A-L
School Building Designs : M-Z
Nursery School Buildings : Designs
Education Architecture – no images
Buildings / photos for the Contemporary Kindergarten Architecture – Nursery Designs page welcome