Nursery School Buildings, Interiors, Nurseries Design, Architect, News, Education Building
Nursery School Architecture : Buildings
Major Educational Projects from around the World – New kindergarten Architecture
post updated 15 October 2021
Nursery School Buildings
We've selected what we feel are the key examples of Nursery Schools. We aim to include Nurseries / Kindergarten projects that are of good quality.
We cover completed Kindergartens, new building designs and architecture competitions across the world. The focus is on contemporary Nursery buildings but information on traditional Kindergarten buildings is also welcome.
Nursery School Building – Latest Designs
Architecture News – latest additions to this page:
Miniapolis Day Care Centre, Essen, north west Germany
Design: JSWD Architekten



photo : Thomas Lewandowski
Day Care Centre Essen – 2 May 2013
The Miniapolis day care centre at the ThyssenKrupp Quarter has capacity for approx. 100 children in mixed age groups. The technical appeal of the building follows the requirements of education-focused "Reggio Pedagogy".
Tourrette Levens Childcare Center, France
Design: Heams & Michel Architectes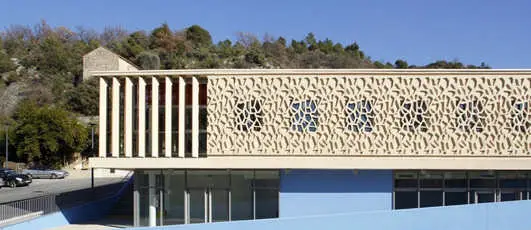 photo : Serge Demailly
Tourrette Levens Childcare Center – 30 Apr 2013
The new building includes a family day care of three units with a kitchen and communal facilities. The areas of the nursery will be managed by the SIVOM Val de Banquière and the communal premises by the municipality. The access to each part of the program must be distinct. The dye is cast, it is a mix of program and management in a single project.
Benetton Nursery, Treviso, Italy
Design: Alberto Campo Baeza Architect



photo : Marco Zanta
Benetton Nursery – added 19 Nov 2012
This square structure is inscribed within a larger, circular enclosure made up of double circular walls. Open to the sky, four courtyards are created that suggest the four elements: air, earth, fire and water.
Escola Bressol Jardins Malaga – Barcelona Nursery Building, Catalonia, Spain
Design: Batlle i Roig, arquitectes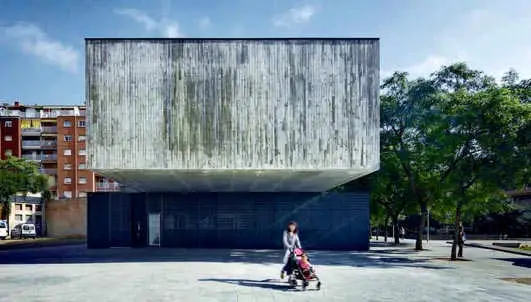 photo from architects
Escola Bressol Jardins Malaga – added 4 Oct 2012
The redesign of the Malaga gardens, located in the block interior bounded by Nicaragua, Berlin, Numancia and Avenida Josep Tarradelas streets, in Barcelona, promoted the allocation of a small site for the construction of an education facility: a nursery. The rectangular shaped site is attached to a dividing wall one of its long sides closing the block interior, and faces the gardens on the other.
Ecole Maternelle, Nimes, southern France
Design: Tectoniques



image © Jerome Ricolleau
Ecole Maternelle Nimes – 20 Sep 2012
A large part of the programme is placed on the first upper floor to comply with flood protection requirements for the area. As a result, the architecture is unique among the design schemes produced by the firm. The building seems to float a few metres above the ground, like a vessel hovering at the height of the roofs of the surrounding houses.
Crèche rue Pierre Budin, Paris, France
Design: ecdm



picture : Benoit Fougeirol
Crèche rue Pierre Budin Paris – 6 Jul 2012
The project takes place into a heterogeneous district made of buildings of any sizes, of any styles, any periods. It's an environment slightly old-fashioned, hybrid and disintegrated, typical of the heterogeneous architecture which characterizes the Parisian peri-urban zones. Modernity came to complete this disorder : Adjacent to the site, an out of size construction, built in derogation of the property limits (adding a supplementary urban intention parameter), forbids any common denominator, any possibility of creating a homogeneous composition.
Regione Lazio Headquarters Nursery School, Rome, Italy
Design: studioUAP



image from studioUAP
Nursery School Rome – 4 Jul 2011 : Regione Lazio Headquarters
The winning project's aim of studioUAP is to welcome children in a peaceful place able to stimulate curiosity like in a garden. Once you step inside, a magic dimension arises from the unconventional entrance hall: trees scattered everywhere mark all the children's areas. The entrance hall has a symbolic spacial value as a transition from the family life to the educational community where children and educators interact.
Tellus Nursery School, Stockholm, Sweden
Design: Tham & Videgård Arkitekter



photo : Åke E:son Lindman
Tellus Nursery School – 30 Jun 2011
On the border between a former urban/industrial development and a small forest where new housing is being developed, this nursery school mediates between different contexts and scales.
Nursery Education Buildings
Key Educational Architecture Developments, alphabetical:
Anansi Playground Building, Holland
Design: Mulders vandenBerk Architecten



photo : Roel Backaert
Anansi Playground Building, Utrecht
Mulders vandenBerk Architecten of Amsterdam have completed a playground building in a park in Utrecht, the Netherlands, with a Corian façade engraved with images of fairytales from around the world. The idea of the building is to excite and stimulate curiosity and creativity of the children.
Four-Leaf Clover Kindergarten, Slovenia
Design: Ofis Arhitekti



image from architect firm
Four-Leaf Clover Kindergarten
The appearance of a kindergarten through its shape creates distinguishing yet integrated landmark in the middle of a meadow. Each leaf creates its own green bay which functions as intimate atrium for each children department.
Fuji Kindergarten, Japan
Design: Tezuka Architects



building photograph : Katsuhisa Kida
Fuji Kindergarten Building
In this kindergarten, there are no distinctions between the colleagues. For better or worse, rooms at the ends of a building unavoidably tend to be segregated from the others, but in this kindergarten building there are no hidden places.
Nursery School, Treviso, Italy
Design: c+s associati



image from architect studio
Nursery School Treviso
Immersed amongst the vineyards and wheat fields, their rows tracing the memories of ancient crops, where space is marked rhythmically by the stakes supporting vine shoots and loses its colourful third dimension at the moment of ploughing time, is the small plot that hosts the nursery school in Covolo.
Primetime Nursery School, Brazil
Design: Marcio Kogan



building photo : Nelson Kon
Brazilian nursery school, São Paulo
More Nursery School Buildings online soon
Kindergarten Buildings



image from architect
Education Architectural Designs
Flora Stevenson Nursery, Edinburgh
Better School Design – Monthly Article for e-architect



photo : Article 25
Buildings / photos for the Nursery School Architecture page welcome