Bergisel Ski Jump, Zaha Hadid Building Austria, Alpine Mountain Design Images
Bergisel Ski Jump
Innsbruck Building: Alps Mountain Architecture, incl cafe & viewing terrace – design by Zaha Hadid Architects (ZHA)
24 Jan 2014
Bergisel Skijump in Austria
Design: Zaha Hadid Architects
Bergisel Ski Jump by Zaha Hadid
Audacious design by this world-famous Iraqi architect. Since this ski jump design was completed a number of other major architects have designed spectacular ski jumps – such as Holmenkollen Ski Jump in Oslo by JDS – but this was the first one. It was was ZHA's first project in Austria, later her Nordpark Railway Stations in Innsbruck (2007) were shortlisted for the Stirling Prize.
New photo, added 5 Feb 2014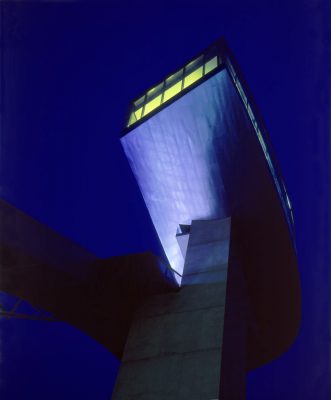 photo : Hélène Binet
It was in December 1999 that Zaha Hadid Architects won the international architecture competition for a new ski jump on the Bergisel Mountain in Innsbruck. The new structure opened in 2002. Situated on the Bergisel Mountain overlooking downtown Innsbruck, the ski jump is a major landmark.
It is part of a larger refurbishment project for the Olympic Arena and replaces the old ski jump, which no longer met with international standards. The building is a hybrid of highly specialized sports facilities and public spaces, including a café and a viewing terrace. These different programs are combined into a single new shape, which extends the topography of the slope into the sky.
At a length of about 90m and a height of almost 50m the building is a combination of a tower and a bridge. Structurally it is divided into the vertical concrete tower and a spatial steel structure, which integrates the ramp and the café. Two elevators bring visitors to the café, 40 m over the peak of the Bergisel Mountain. From here they can enjoy the surrounding alpine landscape as well as watch the athletes below fly above the Innsbruck skyline.
Bergisel Ski Jump Innsbruck – Building Information
DATES: 1999-2002
PROGRAM: Skijump, cafe & viewing terrace
CLIENT: Austrian Ski Federation, Olympiastrasse 10, A-6010 Innsbruck, Austria
ARCHITECT: Zaha Hadid Architects
Design: Zaha Hadid Architects [London, UK]
Local Firm: Baumeister Ing. Georg Malojer [Innsbruck, Austria]
Project Architect [Zaha Hadid]: Jan Huebener
Project Manager: Markus Dochantschi
Design Team: Matthias Frei, Cedric Libert, Sylvia Forlati, Jim Heverin, Garin
O'Aivazian, Sara Noel, Costa de Araujo
Competition: Team Ed Gaskin, Eddie Can, Yoash Oster, Stanley Lau,
Janne Westermann
STRUCTURE: Structure Jane Wernick [London, UK]
Christian Aste [Innsbruck, Austria]
Services Technishes: Buro Ing. Heinz Purcher [Schlaming, Austria]
Technishes: Buro Matthias Schrempf [Schlaming, Austria]
Peter Fiby [Innsbruck, Austria]
Lighting: Office for Visual Interaction [New York, USA]
Ski Jump Technology: Bauplanungsburo franz Fuschlslueger [Trofaiach, Austria]
DIMENSION: Length 90m
Bergisel Ski Jump images / information Zaha Hadid Architects
Zaha Hadid Architects, London, UK
Location: Innsbruck, Austria
Holmenkollen Ski Jump Oslo, Norway
Key Recent Project by Zaha Hadid Architects
MAXXI : National Contemporary Arts Centre, Rome, Italy



photo : Roland Halbe
MAXXI Rome
Website: Bergisel Ski Jump Innsbruck
Austrian Architecture
Cloudtower – Open-air pavilion Grafenegg, Krems-Land, Lower Austria
the next ENTERprise
Grafenegg Pavilion
Town Town Office Tower, Vienna
COOP HIMMELB(L)AU
Town Town Tower
DC Towers, Vienna
Dominique Perrault ; Hoffmann and Janz
Austrian Towers
Comments / photos for the Bergisel Ski Jump – Austrian Mountain Sports Architecture page welcome
Website: Architecture