Architectural Porosity, Architecture Comment, Buildings, Architects, Images, News
Urban Porosities: Architectural Space
Urban Design + Space – article for e-architect by Joyce Hwang, Buffalo SUNY, NY, USA
26 Jul 2011
Urban Design + Space
By Joyce Hwang, The State University of New York at Buffalo, New York, USA
Joyce Hwang, Assistant Professor in the Department of Architecture at University at Buffalo SUNY and Founder of Ants of the Prairie.


image of Joyce Hwang
Urban Porosities
How do we design urban spaces that actively address relationships between public and private spheres? How are boundaries and territories delineated or blurred? Unquestionably, the task of producing public-private interfaces is a key issue in the work of architects, planners, and developers, one that relies on crafting levels of urban porosity – that is, degrees of separation and continuity – between distinct social realms.
In many cities, urban porosities are often scripted by deploying tried-and-true 'best practices.' Signs of 'good' commercial development might typically include open, transparent boundaries between public and private programs. Actively-occupied glass storefronts, for example, stand as readily-accepted indicators of a neighborhood's positive economic status. On the other hand, 'desirable' residential developments in dense city centers rely on carefully controlled systems of impermeability.
Real estate values tend to increase in tandem with the number of constructed barriers between public and private domains; the doorman, entry vestibule, lobby, and one's distance away from the ground all contribute to increasing a property's perceived worth. The ultimate piece of real estate is typically assumed to be the coolly-detached penthouse on any luxury condo's uppermost floor.
Metal Shutter Houses, New York, NY, USA
Shigeru Ban Architects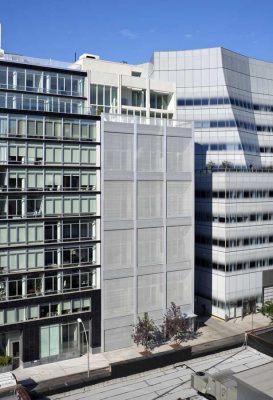 photograph : Michael Moran
Several recent projects in major cities have started to challenge these assumptions. In New York City, the Metal Shutter Houses, a new condominium building by Shigeru Ban and Dean Maltz, encourages its residents to open up their private living spaces completely to the exterior world by deploying double-story height, motorized perforated metal shutters and floor-to-ceiling bi-fold glass windows, simple mechanisms that are typically found in commercial or industrial settings such as aircraft hangars or garages.
This tactic is surprising not only because it challenges what are traditionally understood to be appropriate doors and windows for luxury living, but also that it introduces a sense of vulnerability within one's private domain (imagine 20 foot-high garage doors opening up your living room to New York City). Here, the experiential effect of the building's boundaries differs greatly from the kinds of balconies and windows one typically sees in luxury condos. Rather than providing a safe space to step outside (balcony) or a detachedly framed view of the skyline (window), these residences instead aggressively invite the outdoors in, thereby producing a heightened sense of spatial continuity.
It is at this moment where the project resonates with Shigeru Ban's belief, that "… there is something inevitably compelling about the area between inside and outside…the interstitial moment between breathing in the world and maintaining a feeling of 'shelter' is understood by all."
Even further intensifying its proximity to public space, the building is situated adjacent to the High Line Park, the now well-known elevated rail tracks repurposed by Field Operations with Diller, Scofidio + Renfro and planting designer Piet Oudolf. Even though the condos themselves are elevated above street level, so too is its neighboring strip of public ground.
The Metal Shutter Houses' sense of extreme openness is just as easily reversed; upon retracting the industrially-scaled window and shutter system, the building takes on the stoic presence of a uniformly veiled cube. This, in a way, also defies popularly accepted real estate wisdom. The building does not attempt to stand out and compete for visual attention with its flashy neighbors (the IAC Headquarters by Frank Gehry and the 100 11th condo building by Jean Nouvel, as well as other buildings along "starchitect row"). Instead, it subtly blends into the background of New York's Chelsea neighborhood. And compared with the enthusiastically-discussed voyeurism propelled by the nearby Standard Hotel, the Metal Shutter Houses building stands as a textbook example of urban modesty.
M.N.ROY Club, Mexico City
Chic By Accident



photograph : Ramiro Chaves
Another recently completed project which defies popular urban planning wisdom is the M.N. Roy Club, designed by Emmanuel Picault and Ludwig Godefroy of Chic by Accident. Located in the trendy Roma neighborhood of Mexico City, the nightclub's interior is a series of exquisitely decorated spaces, richly textured with staggered timber blocks, copper tiles, and black basalt tiles. The double-height, pyramidal dance hall and DJ space evokes the soaring sensation that one might feel upon entering spiritual structures such as the Kresge Chapel by Eero Saarinen at MIT.
In contrast, the club's exterior does not give a sense of its painstakingly crafted interior. Nor does it advertise its presence as successful entertainment venues often do. Instead, the building's somewhat dilapidated existing shell was left completely unaltered, as a "testimony" to its past life as the house of M.N. Roy, the founder of Mexico and India's Communist Parties. By leaving the existing façade untouched, the designers in effect rendered the building "paradoxically appealing" from the outside, "stimulating the curiosity of the people passing by and seeing a large queue trying to enter an almost ruin[ed] house." The discontinuity between inside and outside, in this case, is deliberately extreme, exposing a "schizophrenic" difference between Mexico City's public and private worlds.
It could be argued that recent mantras of 'mixed-use' urbanism have ushered in societal tendencies toward developing 'friendly' buildings that encourage a choreographed mingling between private and public realms. Yet, we find engaging projects such as these, which do not completely buy into architecturally-friendly design philosophies. Instead, they construct urban porosities in more extreme terms, perhaps more closely aligned with those of institutional or even industrial models. Both the Metal Shutter Houses and the M.N. Roy Club, as built structures, have the potential of neutrally fading into the background, much in the manner of buildings in an industrial landscape.
Their intended effect of appearing urbanistically opaque and unadorned reminds us of modern and contemporary museum-type buildings, for example the Whitney Museum of American Art by Marcel Breuer, the New Museum of Contemporary Art in New York by SANAA, and most recently the Stedelikjk Museum in Amsterdam by Benthem Crouwel Architects, a project whose exterior skin is constructed of a series of composite panels that have been engineered to eliminate the need for seams, effectively allowing for an enormous continuous opaque façade, aptly nicknamed "the bathtub."
Stedelijk Museum, Amsterdam, Netherlands
BenthemCrouwel Architects



photo from architects
Only in the infancy of their lives as architectural constructions, these projects have already started to challenge our sensibilities toward urban porosity and impermeability. Their brave realizations add to the continuing lineage of built environments that give us the impetus to reconsider comfortable notions of private-public interface. And in doing so, they exemplify the types of material and spatial experimentation that are vital to maintaining architecture's relevance as a socio-cultural practice.
Comments on this Urban Porosities – Architectural Spatial Design article are welcome.
Architecture
Contemporary Architecture
Articles for e-architect by Joyce Hwang
Some thoughts on the 2010 Stirling Prize Shortlist
Public Space – Apr 2011
Resisting Boredom – Jan 2011
Property Articles
Other Designs shown this week on e-architect:
500 sqm House, Vienna, Austria
caramel architekten



photo from architects
La Ville Intelligente, Paris, France
Jakob+MacFarlane



© Jakob+MacFarlane – Nicolas Borel photographer
Dundee Council Offices, Scotland
Reiach and Hall Architects



image © Dave Morris
Pritzker Prize architects – Architect Winners
Comments re Urban Porosity Article welcome