Trendy living room design ideas, guide, Home furniture, Property interior design tips, House style
5 Trendy Living Room Design Ideas
26 July 2022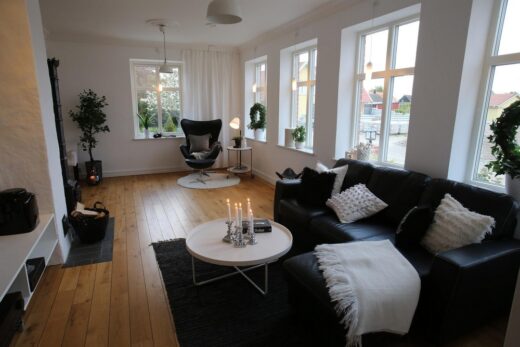 As a homeowner, you may get a kick out of giving your home a touch-up. The living room is one of the most used areas in any home, and how you style it can make or break the space. After all, it is where most of the entertainment happens and where you spend a lot of time. To enjoy the area more, you need to spruce it up.
If you are contemplating giving your living room a trendy interior design look, these styling tips will help you create an inviting space.
Create a Biophilic Design
A biophilic living room design aims to bring the outdoors into the space and create a visual connection with nature. Some elements to incorporate here include natural materials, colors, and plants.
Greenery will never fail in a living room; here, you can choose to use similar or varied forms to create lively and fresh energy. You also should consider putting more emphasis on natural lighting for a calming environment.
Use a Smart TV
Long gone are the days of sitting around a fireplace when you had guests visiting. Nowadays, people love spending their time watching TV shows and movies when they get together. However, this is not a bad thing by any means. In fact, you can use a smart TV and ditch the ugly cables. Cord cutting is easy and by choosing to stream content instead, you will be able to watch any show you want, whenever you want.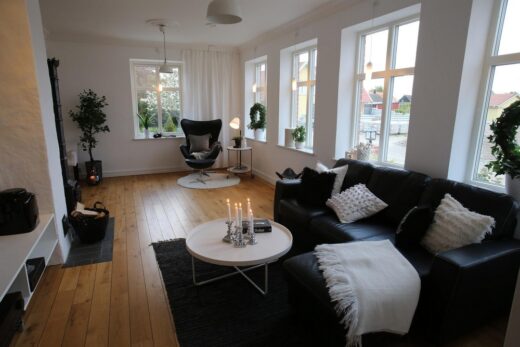 Layering
Layering has been a significant trend in interior design, and if it is well executed, it adds a different dimension to a living room.
Layered textures create a relaxing effect, making anyone in your living room feel welcome. It works excellent on furniture and accessories. For instance, you can opt for highly textured fabrics. You can also treat your living room walls with textural treatments with paint products that appear like plaster finishes or by lime-washing.
Another way to achieve a layered look is to have fun with layered living room lighting. The more the layers, the more the variance and the better the mood created. Have varied lighting heights with wall, overhead, and floor lamps.
Color Blocking or Color Drenching
By color blocking, you pair two or more bold colors together, while color drenching means selecting a single color and its various shades and using or painting them on different spaces/surfaces in your living room. Click here to read more about combining colors for interior design.
These bold moves will help create an interesting appeal and a changing dynamic. You can choose to be subtle about any of the two strategies or heavily embrace them for a more dramatic effect but, most importantly, tie everything together.
Using Warmer Neutral Colors
For a long time, there has been a continuous use of cool neutrals, crisp whites, and steely grays to achieve a contemporary and clean look. But one of the trendy ideas you can incorporate into your living room is to navigate toward a warmer direction.
Neutrals are classic but opt for warmer neutrals like beiges, creams, and nudes. They are more comforting. You can also go for other earthier and richer shades like camel and taupe for a more inviting and cozier atmosphere. To warm up your living room more and create a happier vibe, colors like taupe and tan are excellent, especially when paired with soft pink undertones.
Final Thoughts
The living room is an essential component of every home, and that is why it is crucial to work to improve its look and feel. Styling your living room should be about the atmosphere you want to create, your taste, and your connotation. However, if you want to make yours have a trendy touch, you will not go wrong with the ideas above.
Comments for this guide to 5 Trendy Living Room Design Ideas article welcome
Home Improvement
Living Room Posts
Easy contemporary living room decor enhancement ideas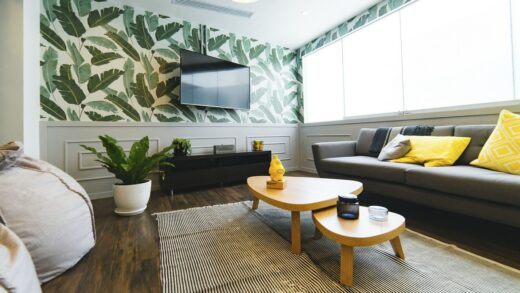 Ideas for arranging a living room with corner sofas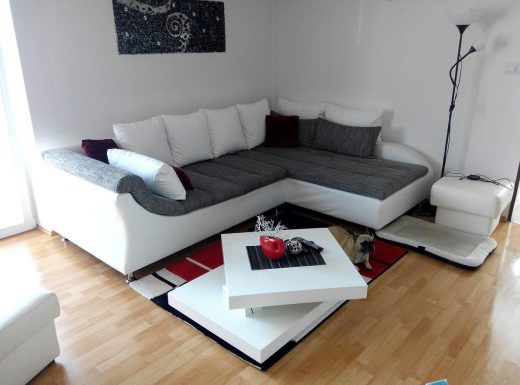 How To Create The Ideal Living Room Space
A Cozy Atmosphere in your Living Room
How to combine colors for interior design
Building Articles
Residential Property
Comments / photos for the Trendy Living Room Design Ideas page welcome