22 best bean bag fillers of 2022 guide, Online comfortable furniture advice, Home relaxation tips
22 Best Bean Bag Fillers Of 2022
5 May 2022
There is no doubt that bean bags are among the most comfortable pieces of furniture you can get. Available in various sizes, these chairs can also be moved around easily. Plus, you do not need to put in a lot of effort or time to clean them up. The only thing to keep in mind is that bean bag chairs will require frequent refilling overtime to maintain proper comfort levels.
And selecting the filling material will not only ensure that your top bean bag remains comfortable, but also ensure that it lasts longer. Finding the best bean bag fillers, however, can be quite challenging, especially with so many options to choose from.
That's why we decided to list the 22 best bean bag fillers you can buy right now, let's get started!
Top Bean Bag Fillers Reviewed
[toc]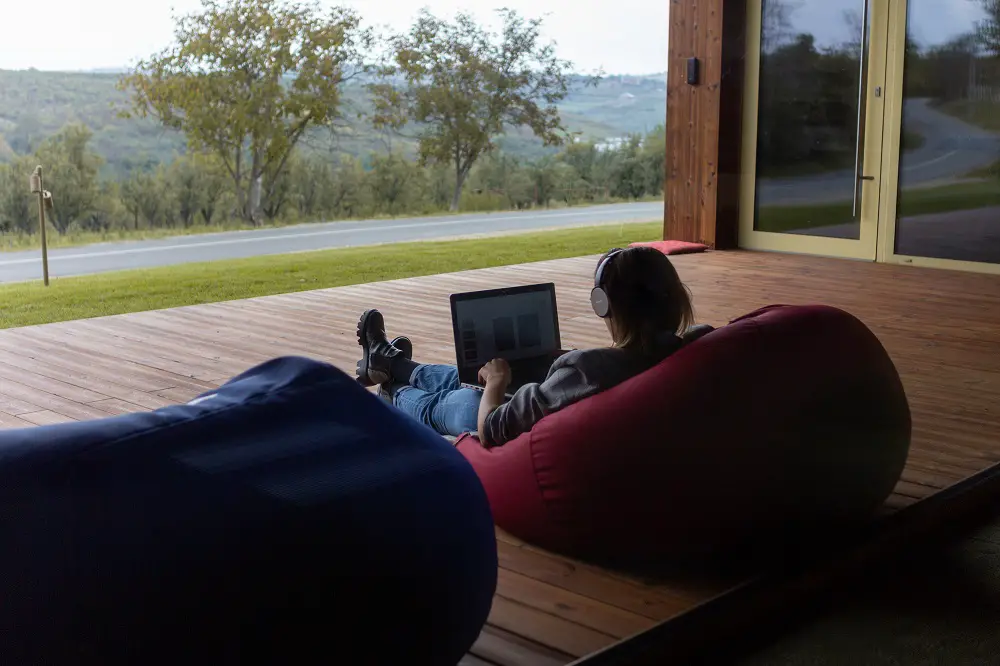 Photo by Flipsnack
When it comes to bean bag chairs, Posh Creations is one of the best brands you can go with. It excels in manufacturing premium quality stuffed furniture and toys while also supplying filler material for your bean bag.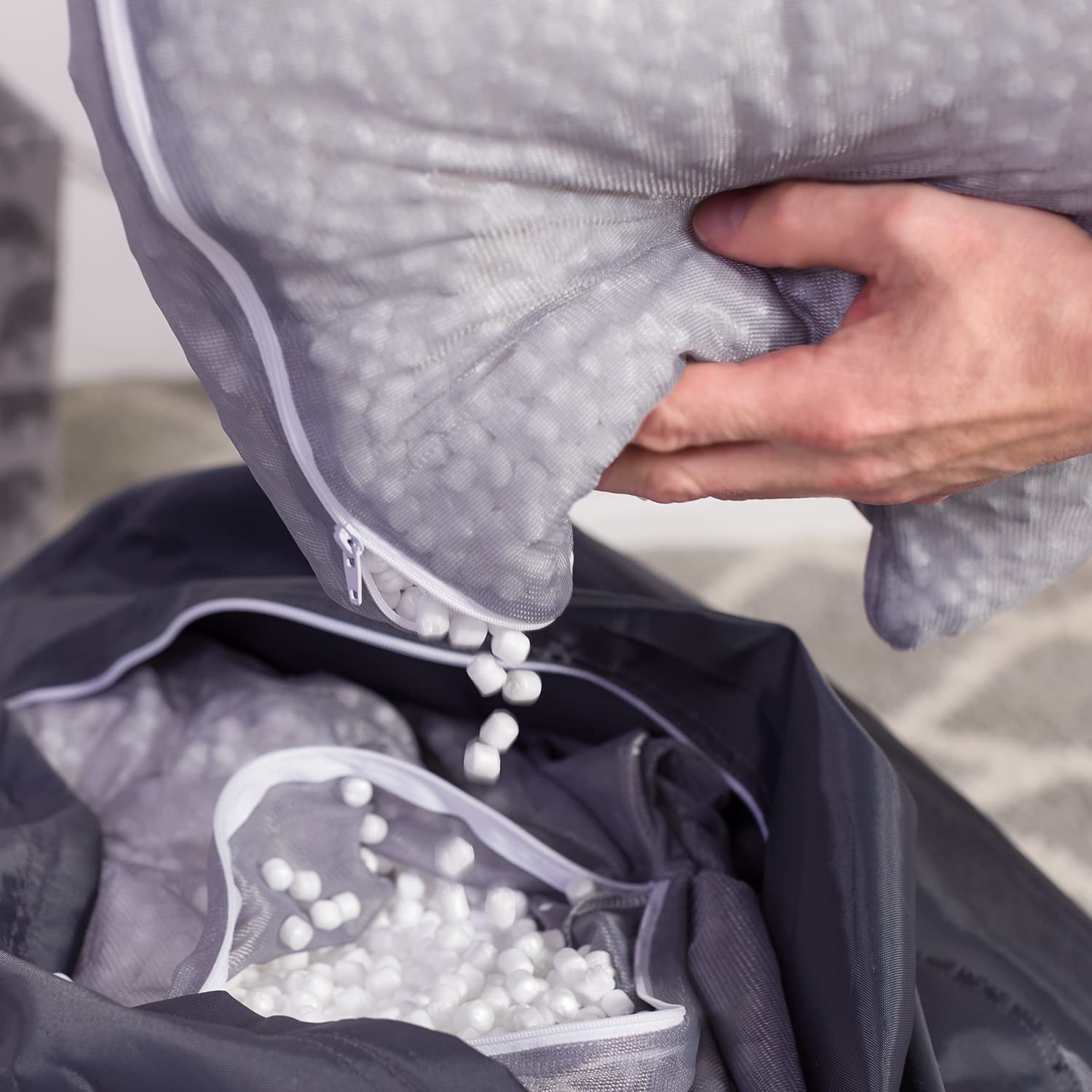 This material is manufactured in the USA to ensure the highest quality standards and meets all Cal 117 fire code laws to guarantee user safety. Additionally, the filling comes with the proprietary bean expansion process of the brand, allowing it to last longer than the competition.
You may also love the fact that this premium expanded polystyrene (EPS) Bean bag refill is 100% recyclable, making it a sustainable option.
Big Joe is another reputable brand known for its bean bags, pool floats, and outdoor furniture. This high-quality bean bag filling material justifies the popularity of the brand. It is made from completely recyclable virgin polystyrene beans that offer maximum comfort.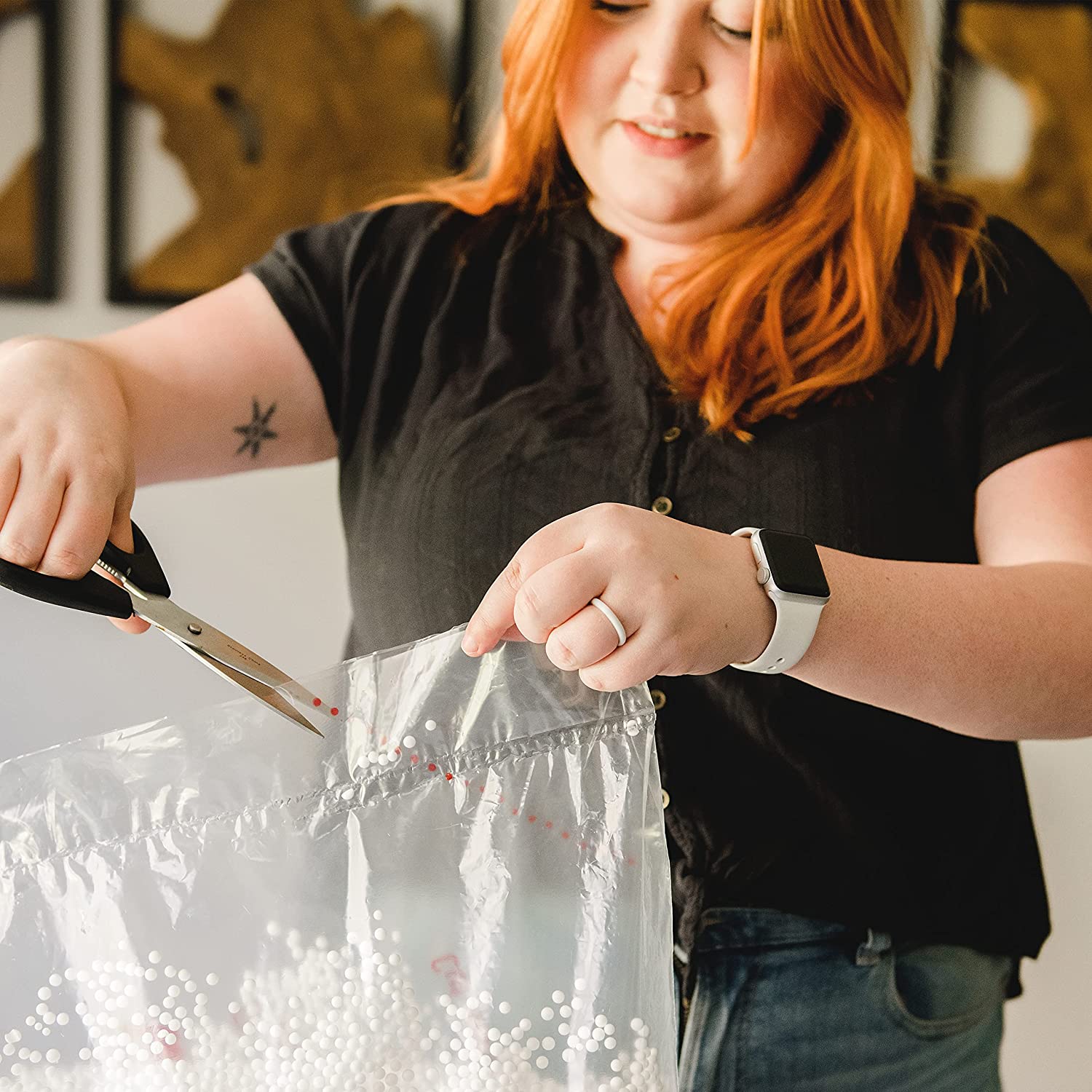 Plus, these beans are extremely small and lightweight, making them quite comfortable when filled into a bean bag chair. They are highly versatile as well, and can be used for other purposes, such as arts and crafts projects or as packing material.
However, the biggest thing that sets this product apart from the competition is that these polystyrene beads are extremely easy to use without creating a mess. You can use them to refill all sizes of bean bag chairs without worrying about the cleanup process..
Memory foam offers several benefits, such as superior motion absorption, pressure relief, and more. That's why Xtreme Comforts have selected this material for developing its bean bag fillers. Further, this material meets CertiPUR-US standards that ensure safety and durability. Once filled into a bean bag chair, it expands to provide comfort to the user and retains its shape for an extensive period.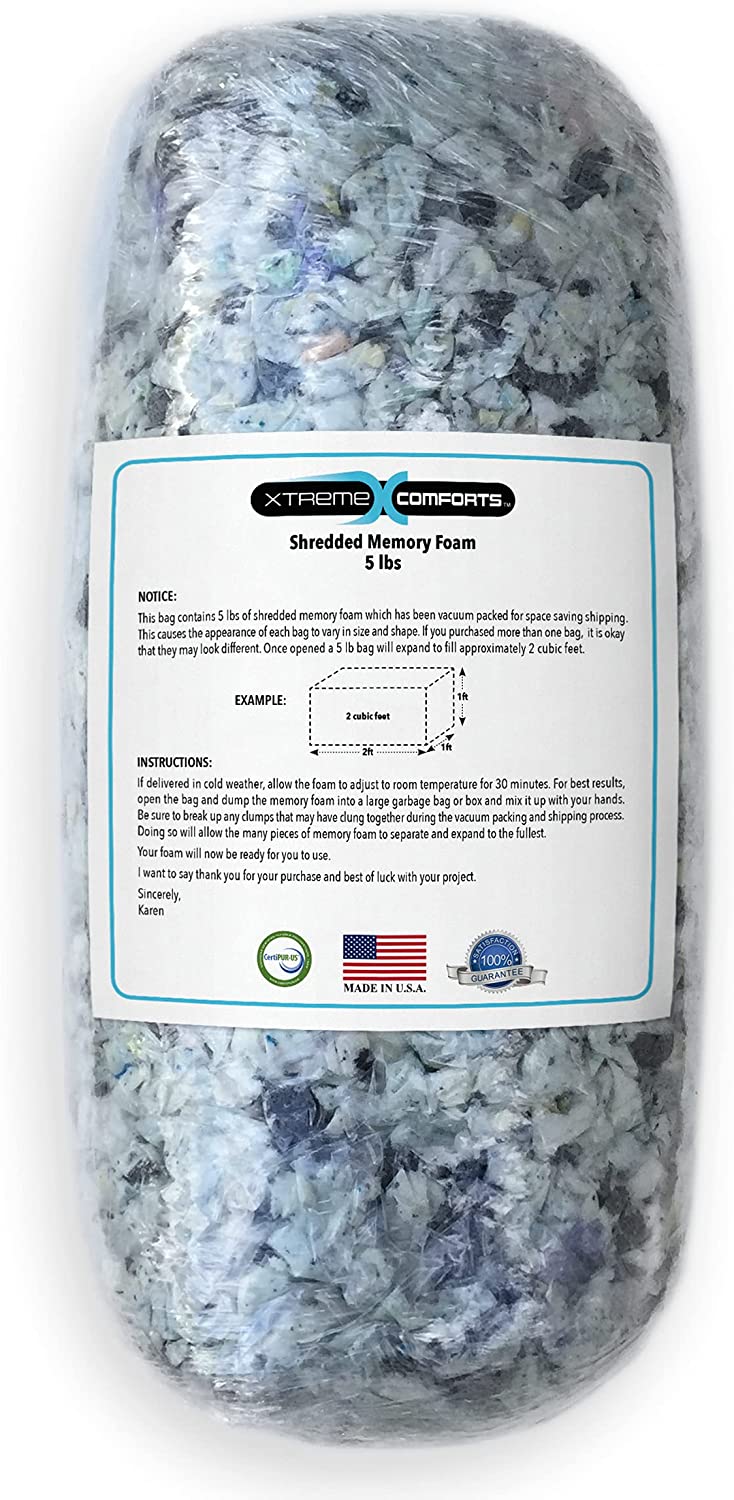 Besides that, the Xtreme Comforts bean bag filling is machine washable and dryer safe, making cleaning it an effortless process. This is also assisted by the fact that these fillings are family-friendly and do not accumulate dust and dirt like many other products.
The Extreme Comforts Bean Bag Filler is available in four packaging sizes, including 2.5 pounds, 5 pounds, 10 pounds, and 20 pounds. This makes it highly convenient to store the shredded material until it is required.
If you have a heavy-duty bean bag chair, then this mattress-grade memory foam from Coymos might be the perfect option for you. Besides being suitable for bean bag chairs, this foam can be used to fill pet beds, plush toys, pillows, and more. We especially appreciated that the manufacturer had not used any plant dyes or volatile substances that can cause discomfort.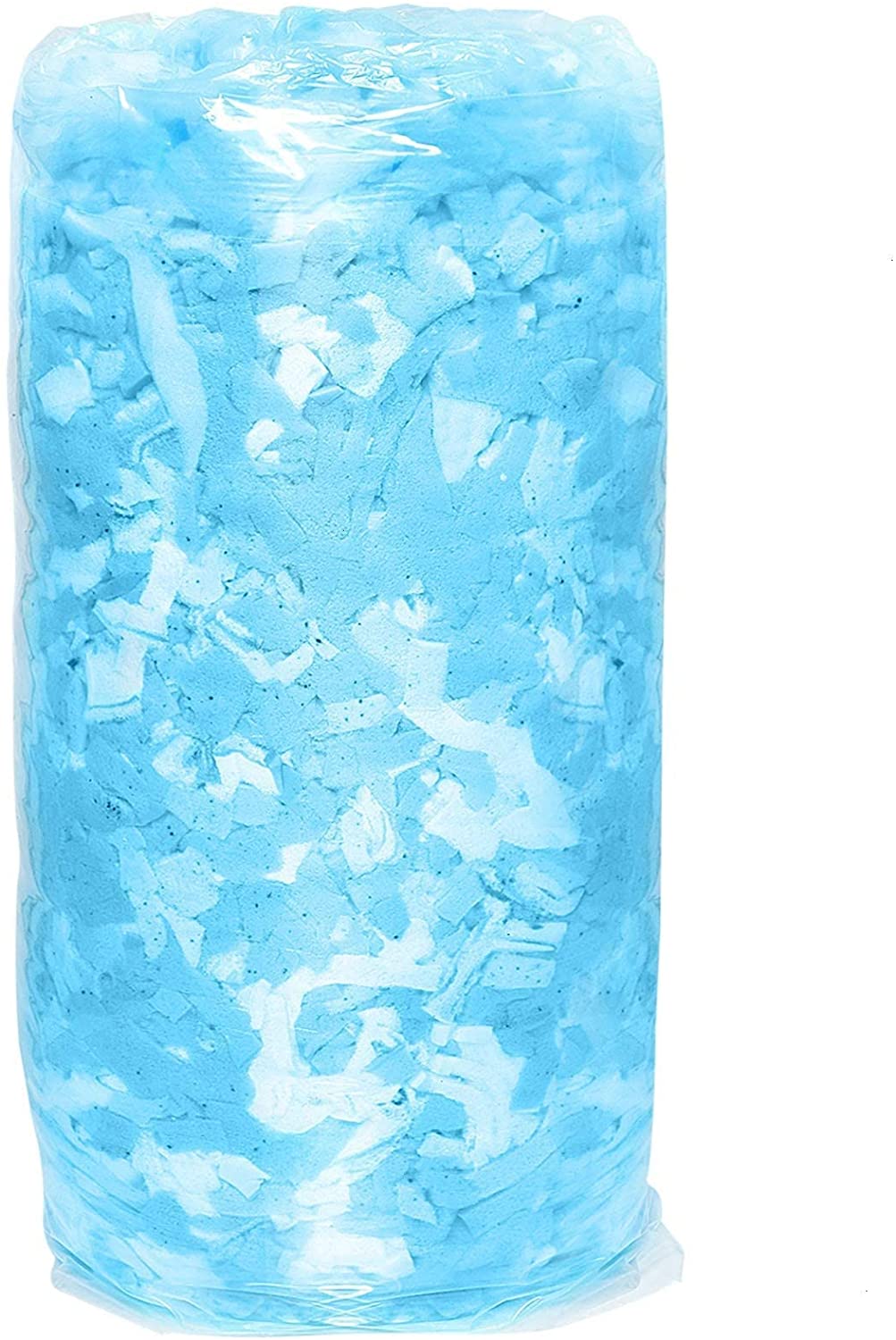 Apart from that, the foam cells ensure proper breathability and water retention that promotes greater comfort while you use the chair. High-quality gel particles are also present in the foam, which prevents it from heating, a feature that can be indispensable for people who sweat a lot.
The Coymos shredded memory foam bean bag refill is also highly durable and can maintain its shape even in rough usage. So, no need to worry about it getting damaged easily.
The Bubblefast bean bag filler is a unique item on our list since it has several properties that make it different from competing products. Firstly, instead of regular beans, this material is in the form of interlocking S-shaped peanuts, providing high compressive strength for better bracing and support.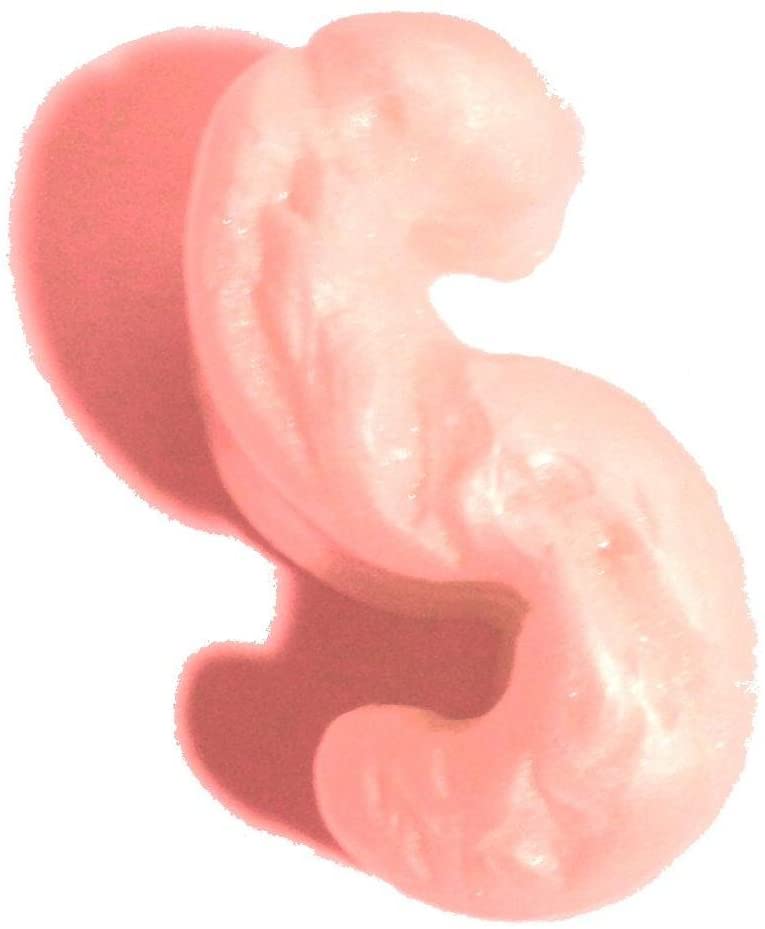 This ensures better cushioning and reliable protection when you use it for your bean bag or pillow. What's more, this material is manufactured in the USA, so you can rest assured about the quality. These peanuts are also completely anti-static, they do not cling to things, making the filling and cleaning processes easy.
The ACEssentials Bean Bag Replacement Pellets are ideal for filling all bean bag chairs, ottomans, loungers, and more. This US-based manufacturer offers a 1.27 pound bag of polystyrene beads that are incredibly versatile and long-lasting. What makes this such a great option is the high-quality Grade A poly material that allows the beans to retain their shape.
You can use these to refill bean bag chairs from any brand, and the material will provide better durability and comfort. This is possible due to the high-quality and incredibly strong polystyrene beads that do not flatten quickly. So, it will be quite some time before you need to refill your bean bag again.
Additionally, the size of the bag is good enough and provides plenty of material to fit most bean bags at a very reasonable price.
Many people are unaware that Linenspa, the leading manufacturer of bedding and mattresses, also provides materials for refilling bean bags. And like other products from the brand, this one delivers an amazing user experience. Made up of shredded memory foam, it can be molded easily and used in pillows, bean bags, pet beds, etc.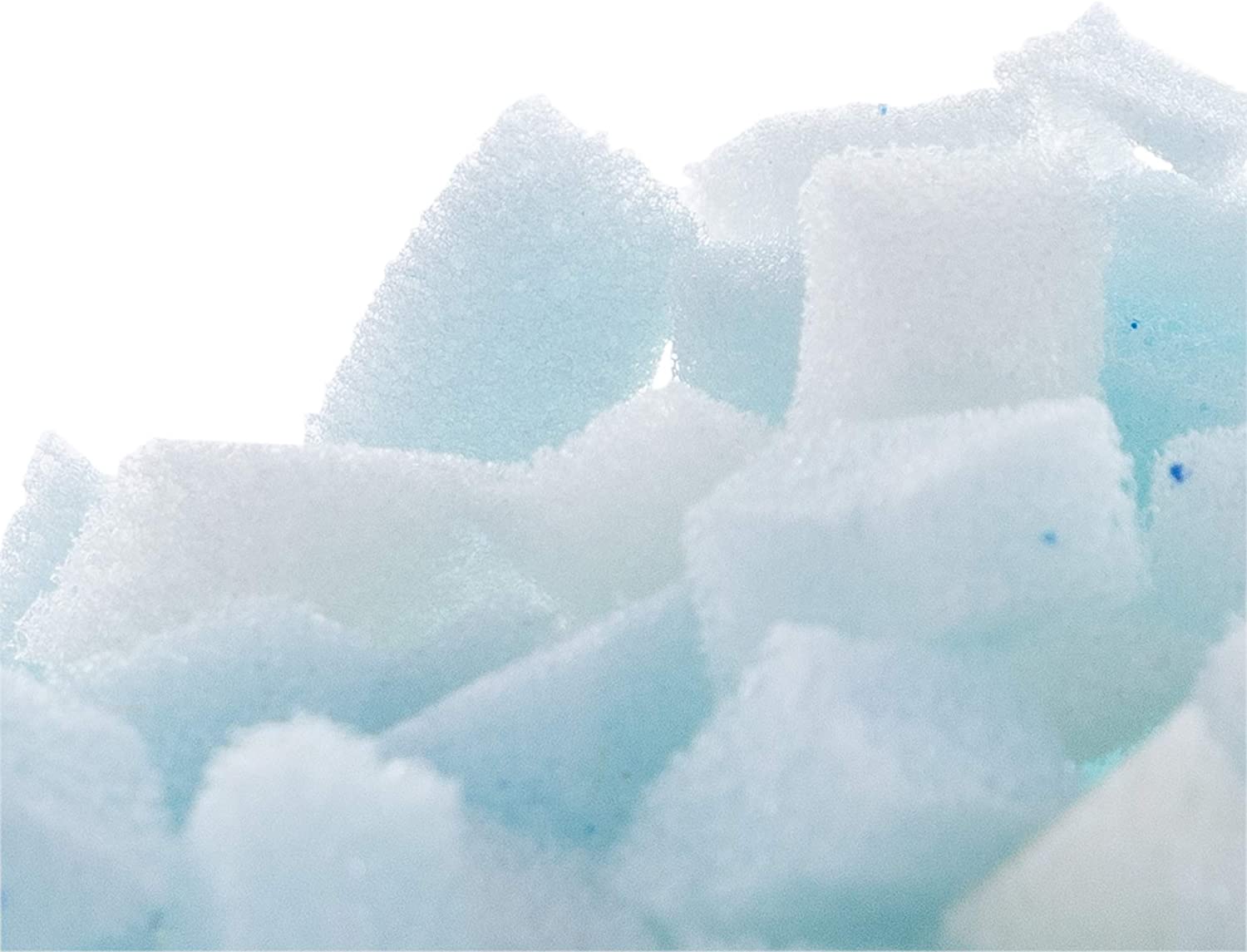 This material is also CertiPUR-US certified, ensuring the highest quality and safety. Plus, it contains a mix of shredded memory foam, which provides longer-lasting comfort and unmatched durability.
You can fill this material into your bean bag quite easily by following the manufacturer's instructions.
The next item is the Jade Active bean bag filler foam, a versatile material suitable for filling items, such as bean bags, cushions, throw pillows, and more. This is another product that contains premium quality memory foam for greater comfort and better support.
This material is very soft to touch but has ample firmness, making it perfect for your bean bag chair. And it does not integrate quickly like styrofoam, so it can last longer than regular beads or styrofoam filling.
These impressive features apart, we really liked how easy it was to clean this material as it is completely machine washable. It is easier to handle than most others since there is minimal static, so you can fill your bean bag without dealing with a lot of mess.
Offering superior comfort and support, this bean bag filler is another great choice worth considering. Having been designed exclusively with Disney, it is completely childproof and ensures the highest safety standards. This makes it a compelling option for kids' bean bags and stuffed toys.
Besides safety, the filler is very comfortable and fluffy since it is so soft. It can also be easily used to renew any old bean bag chair. This is because these virgin beads do not create such a mess as styrofoam does and provide better support for your back. Further, complete instructions on filling your bean bag are provided online.
Being available at an affordable rate is another advantage of this filling material.
A brand that has built up its reputation by offering the best in class furniture specially designed for comfort, Sofa Sack also offers refill material for such furniture. And this premium quality shredded memory foam is the best offering from the brand. It is completely manufactured in the USA and meets CertiPUR-US standards for safety and quality.
The foam contains a blend of several foam densities that provide it with exceptional durability, so it can last for a considerable period. And it comes with complete instructions on opening and handling it while filling a bean bag chair, simplifying the entire process.
Furthermore, the memory foam bean bag filler has considerable density, so it will keep your bean bag in good shape and provide it with adequate stability.
If memory foam is not your cup of tea, then this 100% polystyrene bean bag from Gold Medal might be more to your liking. These pellets undergo an anti-static treatment that prevents the beans from sticking to various surfaces, making the refill process very easy and convenient.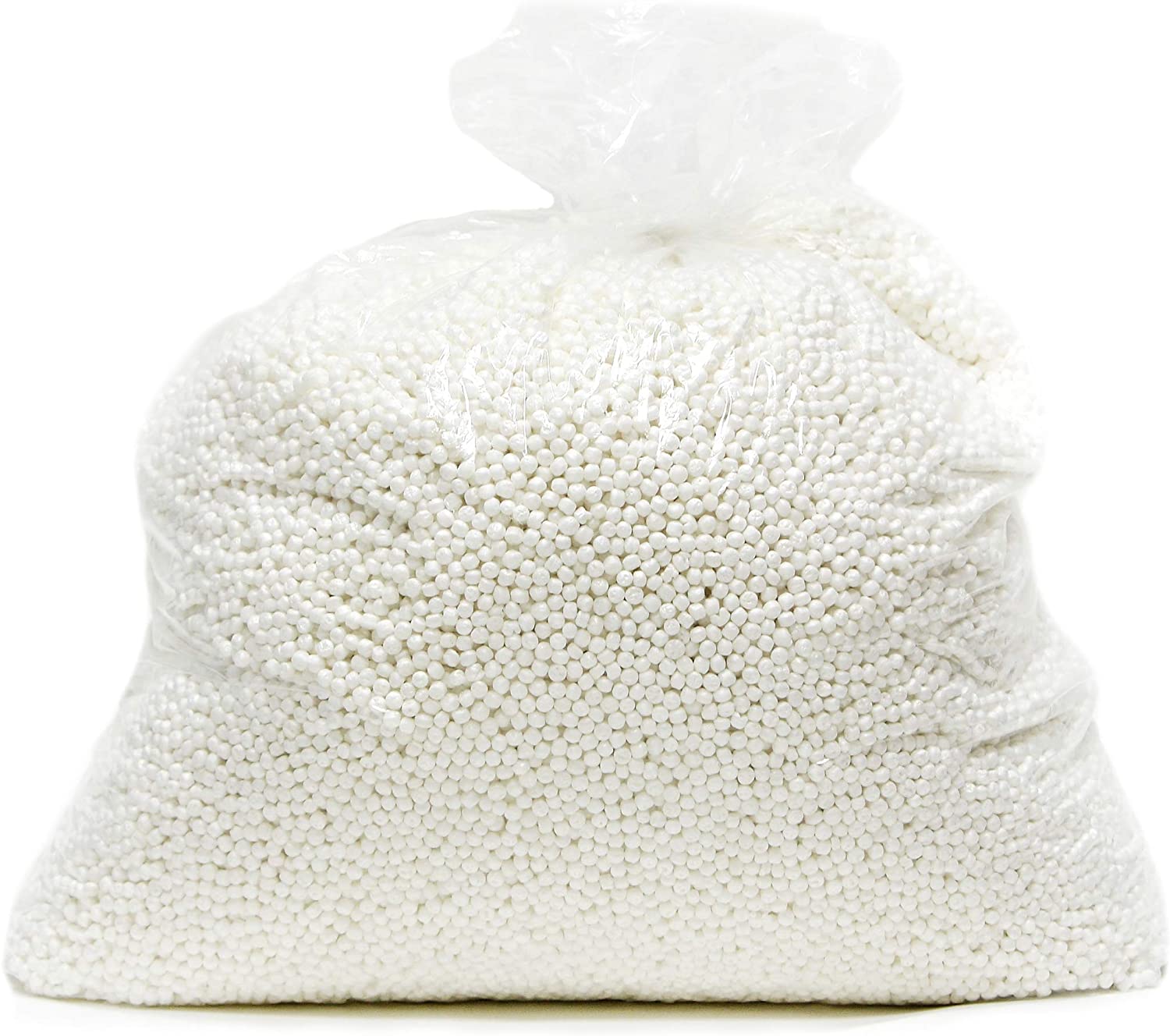 As for the quality, the filling material is manufactured in the USA, so you can rest assured that the quality is unbeatable. The manufacturer also makes available refills in different sizes to meet various purposes, such as filling bean bags, ottomans, pillows, and others.
Also, the Gold Medal bean bag filler is also great for comfort, as the beans are soft and cushiony and provide good support for the body. They are quite durable as well and do not flatten easily, which means your bean bag chair can easily last for several years before needing to be refilled.
Coming with a soft design that offers the perfect combination of comfort and support, the MorTime bean bag refill is another exciting option. It is made up of shredded memory foam that you can easily customize as per your requirements, making it ideal for all types of bean bags.
This material is also very versatile and can be used to fill bean bags and sofas, pillows, and pet beds. One reason for this is that this material is cooler and more breathable than traditional beads, which adds to the comfort.
Other than that, the shredded memory foam fill contains premium quality plant dyes that are odorless and harmless. The manufacturer also does not include any impurities such as bad sponge blocks in the material. Due to this, this product is also a safe choice for your kids' bean bag chairs.
Dr. Dudu is a brand generally known for its range of childcare and maternity products. However, it offers some good home products, such as this shredded foam filler for bean bags. This filler can help you bring your bean bag chair back to life and improve its softness and, thereby, comfort levels.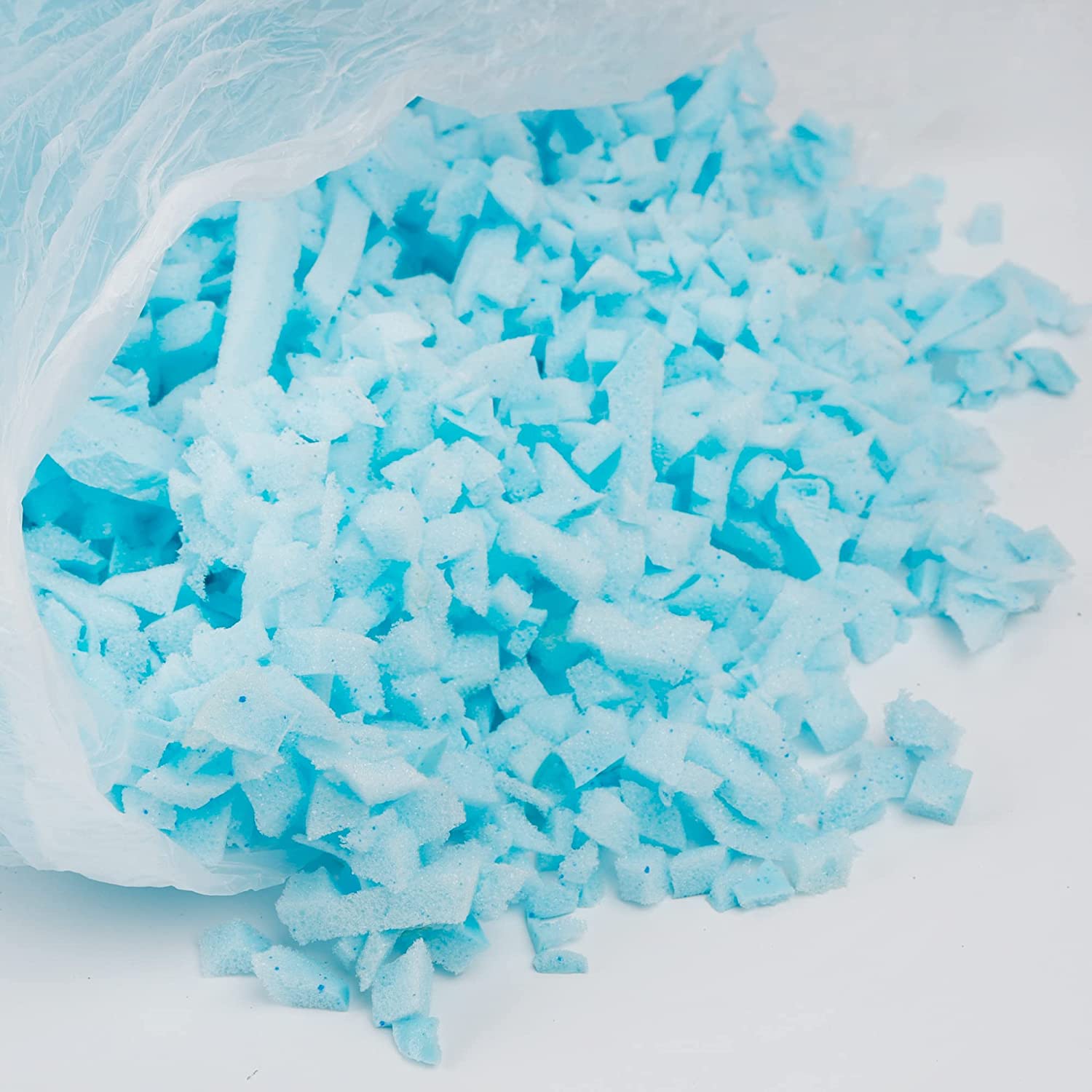 Among its impressive features, the first is that this shredded foam does not contain any volatile substances that might irritate your skin. Instead, it contains gel particles that allow faster cooling and makes your bean bag much more comfortable, especially in summers.
Similarly, it is considerably softer than Styrofoam filling pellets, enhancing comfort while providing better support. The material is also versatile and can be used to fill dog beds, pillows, cushions, and bean bags.
You may have heard of the Lounj brand, a US-based manufacturer of memory foam that offers bedding products, including mattresses, toppers, and pillows. This product from the brand is a gel memory foam that can be the perfect substitute for styrofoam filling pellets and traditional polystyrene beads.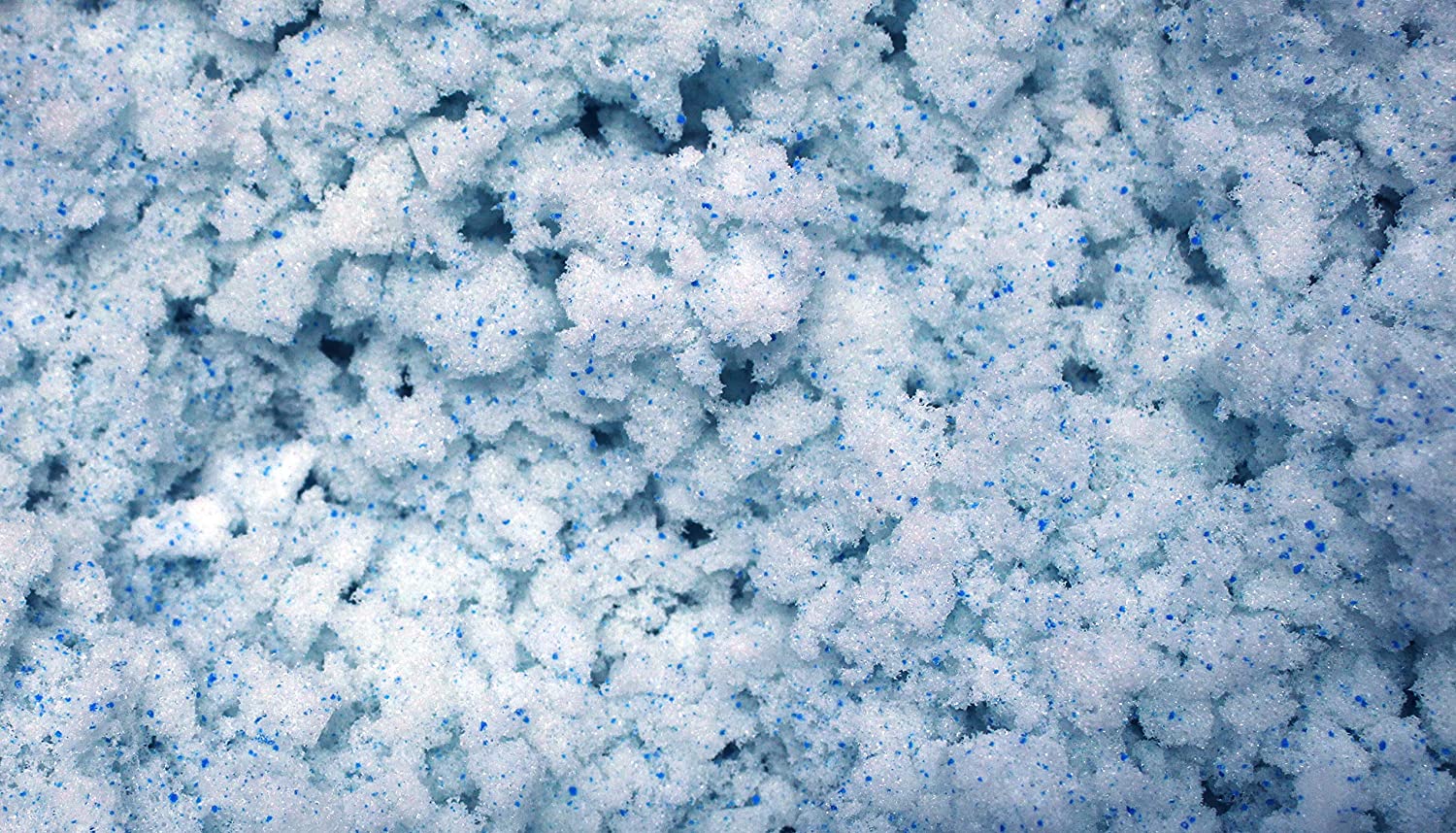 Being highly durable, this filler can effectively increase the life of your bean bag chair. It also does not break down easily, like similar materials from other manufacturers, thereby providing better support. And, since it is manufactured in the USA, you can count on the quality and reliability of the material.
The memory foam is also very soft to touch while being reasonably stiff at the same time, helping ensure maximum comfort when you use the bean bag. Plus, it is manufactured in accordance with the highest environmental safety standards, making it a safe option.
CHECK LATEST PRICE
15. Bean Products Polystyrene Bean Bag Filler
Bean Products is a brand that takes a different approach when it comes to filling material. This brand makes sustainability a priority and uses recycled materials for manufacturing its range of products, such as this bean bag filler.
The beads are made in the USA and are very durable, so your bean bag can remain in good shape for a long time. They are also soft, ensuring comfort, but are rigid enough to support your body easily.
Additionally, this polystyrene EPS bean bag refill is a highly versatile option made from virgin beads. Suitable for multiple purposes, such as arts and crafts projects or pet beds, you can also use this eco-friendly foam for your bean bags, neck pillows, and more.
And despite these useful features, this filling material from Bean Products is a highly affordable option.
CHECK LATEST PRICE
16. Sofa Sack Foam Filling Bean Bag Refill
We've already mentioned one option from Sofa Sack, and here's another that works just as well. This polystyrene bean bag fill is made of recycled plastic, making it easy to fill bean bags. It comes with an EZ-Pour Zipper Spout Packaging, so you can simply pour it into the bean bag without making a mess.
The brand also uses its proprietary bean expansion technology for this product, ensuring that the material lasts longer than competing products. That means your bean bags will last longer and require refilling less frequently. They are also very comfortable to sit in, as the material cradles and supports the body, adjusting to it automatically.
To ensure quality and safety, the Sofa Sack bean bag fill is manufactured in the US and meets all Cal 117 fire code laws. So, you can even use this to fill your kids' bean bags without worrying about safety.
CHECK LATEST PRICE
17. Supa Modern Shredded Memory Foam Bean Bag Filler
Brands like Supa Modern specialize in developing high-quality products that make everyday life easier and more enjoyable. And this versatile memory foam filling manages to accomplish that perfectly. It is made from high-quality slow rebound memory foam, soft and odorless, offering greater comfort and better relaxation.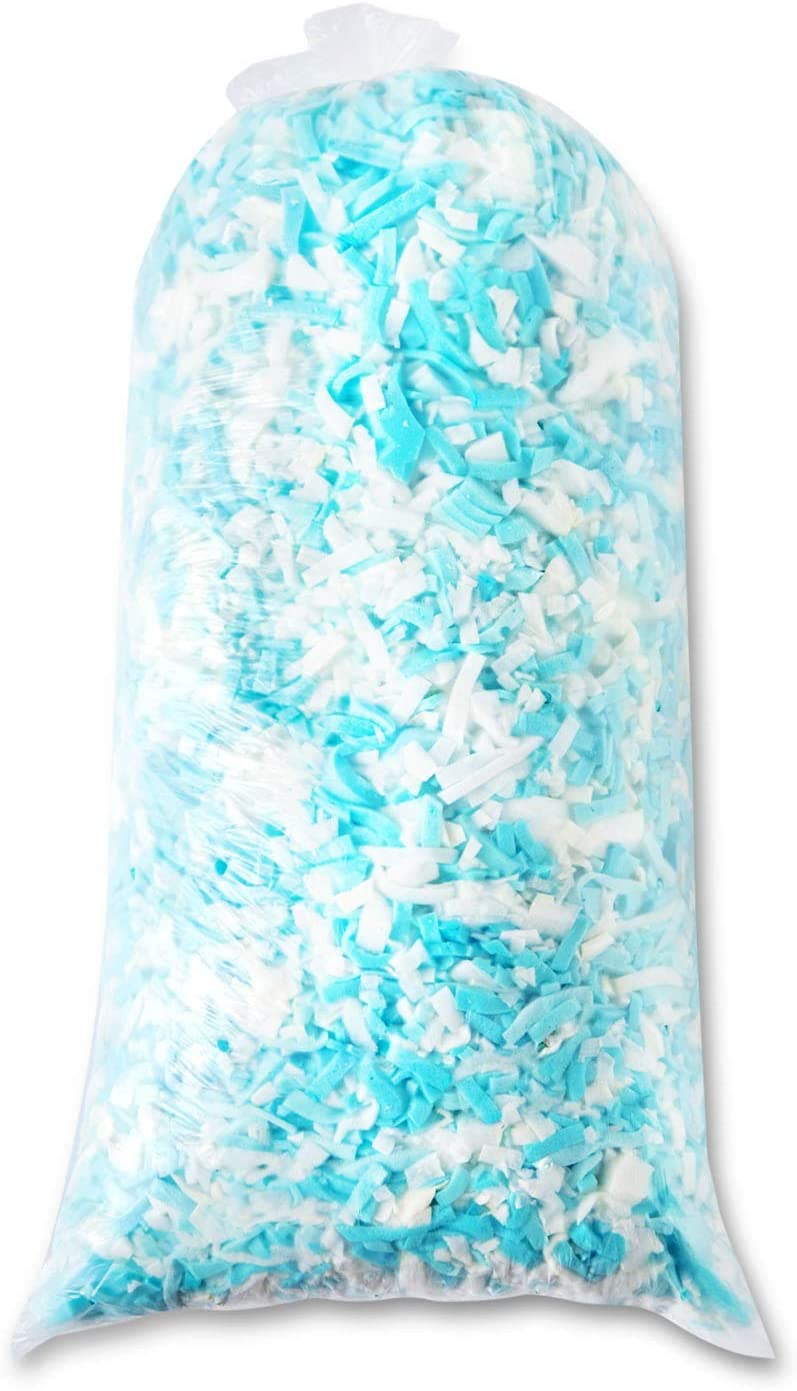 Additionally, it comes infused with a cooling gel that helps improve the breathability of the material and keeps the temperature down. It even comes with CertiPUR-US certification that ensures that this material is durable and completely safe.
Using the material to get your bean bags filled is also easy, as the material is broken down into small pieces. Plus, Supa Modern bean bag fill is very soft, so your bean bag can provide better cushioning while still providing adequate support.
You can even use this foam to fill plush toys, couches, pet beds, and other such household items.
CHECK LATEST PRICE
18. Molblly Bean Bag Filler Foam
Like other products from Molblly, a leading manufacturer of bedding products, this bean bag filler is among the finest options available on the market. It is a mattress-grade memory foam that offers several uses, most commonly as bean bag chair refills but also as pet beds and cushion fillers.
This foam filler has been manufactured according to CertiPUR-US standards, so you can enjoy long-lasting durability and maximum safety. Also, this foam contains added gel particles that prevent the foam from heating up, adding to the comfort levels.
This also makes this foam a better option than regular polystyrene beads. You can select from different size options, ranging from 2.5 lbs to 10 lbs, and the filler can expand up to four times its size, making it ideal even for large bean bags.
What's more, the foam material is easy to handle, eliminating any mess.
CHECK LATEST PRICE
19. Five Diamond Collection Shredded Memory Foam Fill
Memory foam bean bags that contain more than a single type of foam tend to last longer, which is why this product from Five Diamond Collection is a popular choice. Containing a mixture of six different types of memory foam, it is ideal for large as well as small bean bags and offers greater comfort.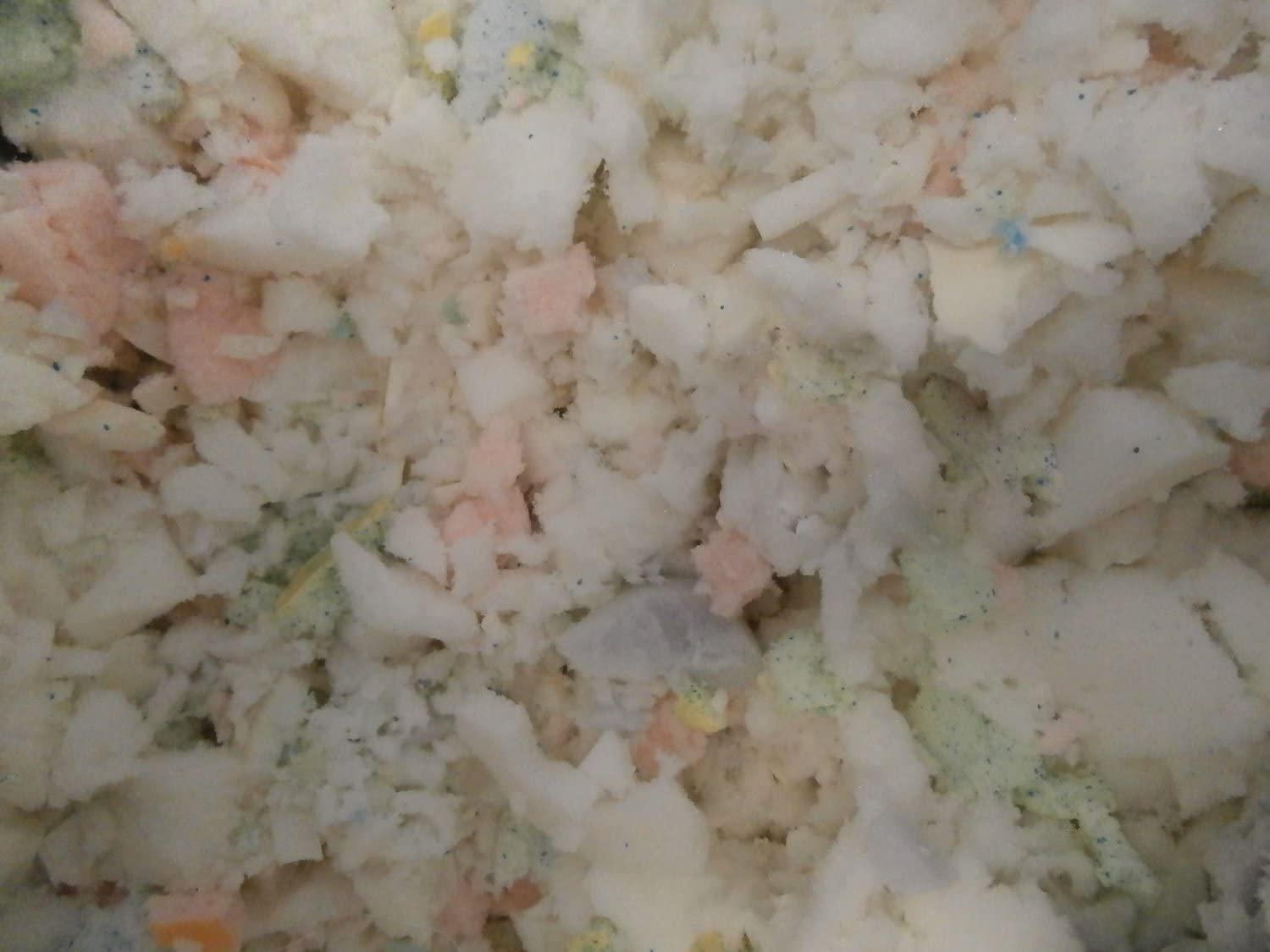 The new shredded foam is also easier to handle than regular foam, making the process of filling your bean bag more efficient. However, what we liked most about this material is that it is completely washable, making maintenance a simple process. Fillers from even the best brands often lack this feature.
The foam filling is designed to be very soft to ensure maximum comfort, making it a better choice than traditional bean bag pellets. And as with several other filling products, this one can be used for other purposes as well, such as for filling cushions and pet beds.
CHECK LATEST PRICE
20. Yogibo Bean Bag Refill Beads
Specializing in the manufacture of high-quality bean chairs and furniture, Yogibo brings you this outstanding refill material for all bean bags. This material contains special closed-cell, lightweight beads that can provide better support while your bean bag chair is in use, despite being very soft.
The Yogibo bean bag refill is another washable option, and you can find the detailed washing instructions from the manufacturer online easily. That means taking care of this material does not involve a lot of effort, and proper maintenance will also help increase its life.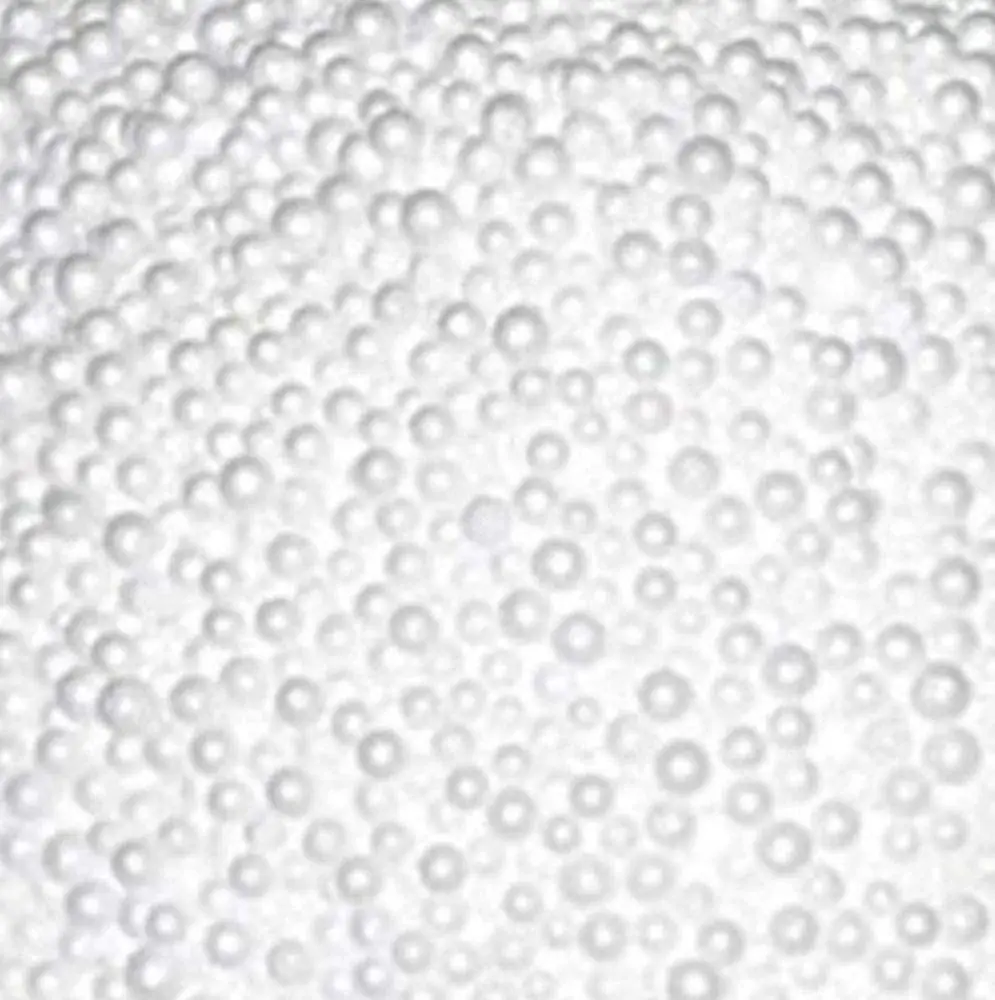 Another unique feature of these beads is that they can easily be shaped by applying adequate pressure and will retain their shape. Due to this property, bean bags filled with these beads will easily conform to your body's shape, providing better cushioning for greater comfort. The material even comes with an easy refill cone for refilling your bean bag.
CHECK LATEST PRICE
21. Mr. Sandman Bean Bag Filler
Among the various multipurpose bean bag filling products, this one from Mr. Sandman stands out due to its host of innovative features and impressive performance. It is a CertiPUR-US certified mattress-level memory foam that meets the highest standards of safety and comfort, thanks to independent lab testing for volatile irritants.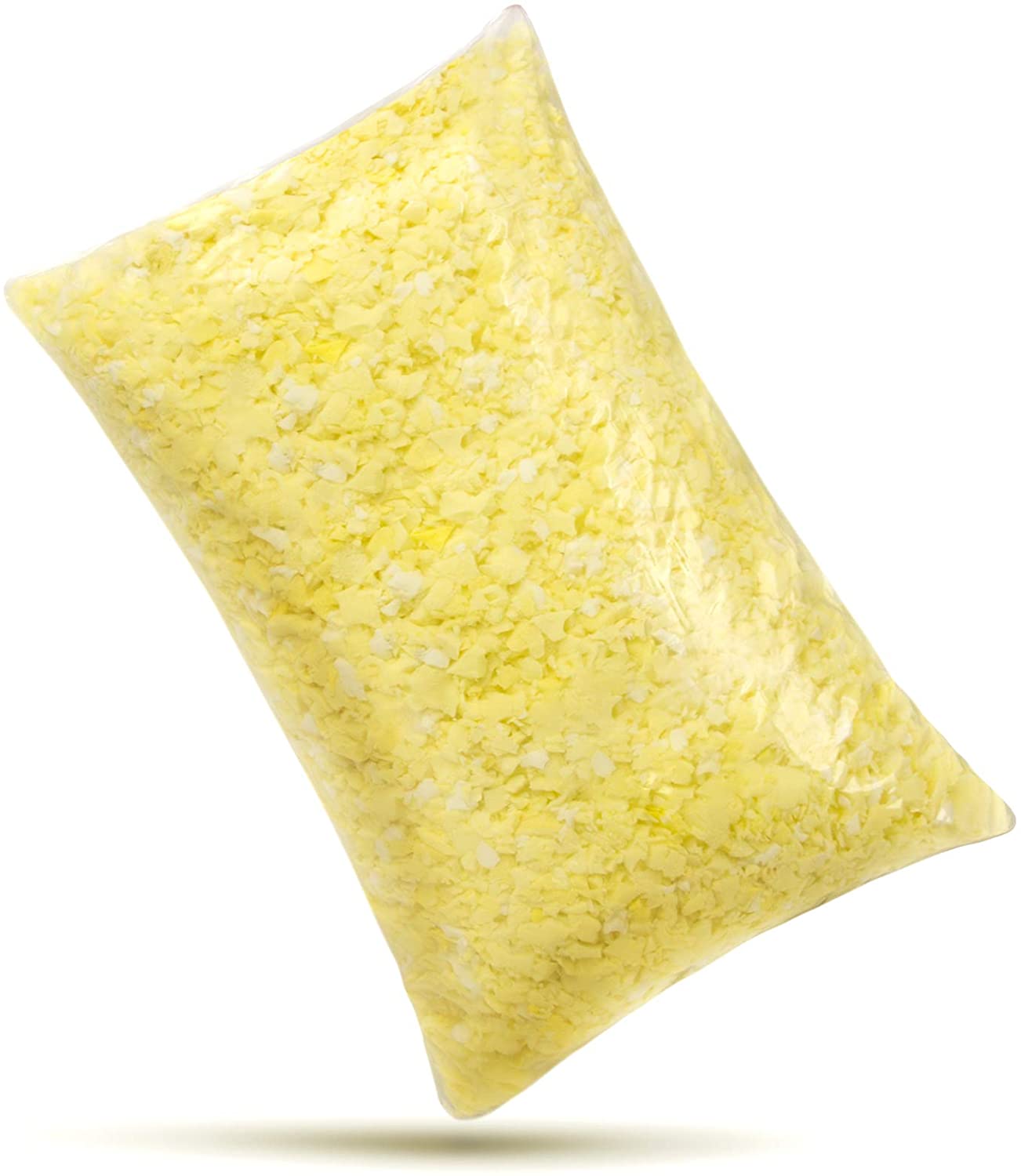 Additionally, the material is highly soft and can return to its original shape quickly, making it a much better choice than polystyrene beads. The high-density design of the material also makes it more comfortable and highly durable, so there is no need to worry about needing to refill your bean bags anytime soon.
Other than that, it is a multipurpose material, so you can easily use it to fill pet beds, pillows, cushions, and any other object.
CHECK LATEST PRICE
22. Mandzixin Premium Shredded Memory Foam
A well-known manufacturer of bedding products, Mandzixin especially focuses on designing products that promote better well-being and comfort. And this shredded memory foam from the brand is another exciting product that provides a great experience.
The foam is soft and quickly rebounds to its original state, making it an ideal option for all types of bean bags. It can also help relieve pressure from various pressure points by adjusting to the shape of the user, ensuring proper support.
Additionally, this multipurpose foam is very durable, making your bean bag last longer, and can be used for filling plush toys, pet beds, cushions, and more. The best part of this Mandzixin foam, however, is that it comes with a 100% satisfaction guarantee, so you can get refunds and replacements easily.
Bean Bag Fillers Verdict
Bean bags can be used in almost any room to provide a comfortable sitting place as well as for adding to the decor. And there are lots of options to choose from on the market, ranging from memory foam options to traditional polystyrene beads. Refilling a bean bag is also a more cost effective option than getting an all-new one.
Hopefully, these options will help you select the right filling material that will help restore your bean bag to its pristine condition and improve its lifespan. If there is some material left over, it can always be used for other items as well.
On that note, it's time to wrap up. Until next time!
Bean Bag Chair Related Articles
12 Best Bean Bag Chairs Reviewed