Ideas for arranging a living room with corner sofas guide, Home furniture, Property interior design tips, House decor advice
Ideas for arranging a living room with corner sofas advice
1 February 2022
Everyone can enjoy a beautifully decorated living room! All you need to do is take advantage of a few tips on interior design. Below you will find ideas that will help you create a unique atmosphere in your home. They are suitable for both small and large living rooms. Thanks to this, you will be able to organize space even in a small studio apartment.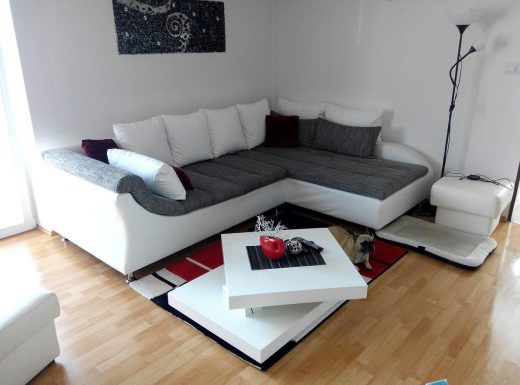 How to arrange a large living room?
Arranging a large living room is quite simple. This is because more space allows you to arrange the furniture in virtually any way you want. However, remember not to overdo it with the amount of furniture. Even a large living room can be easily cluttered. Focus on the relaxing qualities of this room. A great idea is to put one of the corner sofas in it. Such a piece of furniture can be large and therefore more people can sit on it.
If you place the TV set at the right distance from the sofa, you can even create your own small cinema. You will see how much pleasure you will get from watching interesting movies and series together. You must choose a matching coffee table for your sofa.
Well-composed shapes of these two pieces of furniture will create a very comfortable place to relax. You can easily diversify the interior with small decorations; for example a tasteful scented candle placed on a table. At the same time, you will have space to set up snacks and drinks.
Corner sofas in a small living room
Some say that a corner sofa should not be placed in a small living room. This is a myth that stems from the popular belief that all Corner Sofas are huge. Meanwhile, the size of the sofa can be adapted to the capabilities of your room. Inserting it is a perfect idea for arranging a tiny living room.
Why? Well, such a room should be divided into zones. By means of spot lighting and appropriate furniture arrangement, you define what specific places are for. The corner sofa has a shape that will perfectly define the seating area.
It is also a very functional piece of furniture because it can be unfolded. And so your relaxation area can turn into a mini-bedroom. During the day, you certainly want to sit comfortably and enjoy snacks or sipping coffee. You will need a table, preferably very light, and small. You should be able to move it easily so that it does not get in the way when you want to unfold the sofa in the evening.
It is a great pleasure to independently take care of the interior of the living room. Create a space around you that will allow you to rest after a hard day's work.
Comments on this guide to Ideas for arranging a living room with corner sofas article are welcome.
Furniture Articles
Furniture Posts
Vital rules of bedroom furniture placement tips
How to choose the perfect furniture for your garden
Give your Old Wood Furniture Pieces a New Look
8 tips to help you buy new furniture for your home
Building Articles
Residential Property
Comments / photos for the Ideas for arranging a living room with corner sofas advice page welcome