How to choose the right roman shades for your home, Window dressing design advice, room's décor
How To Choose The Right Roman Shades For Your Home
15 Aug 2022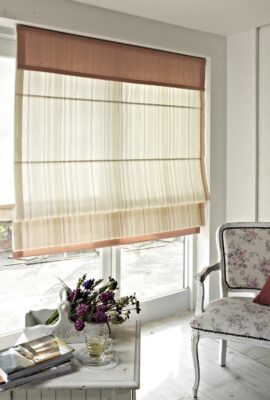 Roman shades are window treatments constructed with fabric and have a cord-controlled folding slat system to raise or lower them. You could call these a hybrid combination of drapes and blinds.
Custom roman shades offer the benefits of drapes and the modern minimalism of blinds.  Less voluminous and sleeker than custom drapes, more unstructured and softer than blinds, roman shades are a class apart in offering an unbeatable combination of beauty and utility.
First, let's know why roman shades are a good idea
Being neatly tailored and structured, roman shades don't hog wall space. They look uncluttered. These also offer amazing flexibility vis-à-vis light control, privacy, view, and insulation. Then, there is also the aesthetic angle.
By choosing the right fabric, you can use these to enhance your room's décor.  Neutral roman shades can give a subdued backdrop to showcase your bright rug or upholstery or wall art. Bold roman shades can become an eye-catching highlight in an otherwise sedate room. If your room windows have interesting eye-catching details that you don't want to be hidden by flowing drapes, roman shades can be your best choice for window treatments. Last but not the least; roman shades are also easy to install.
Second, let's know the key styles of roman shades
There are three popular styles of roman shades.
Flat fold with front slats –  Neat and simple, these roman shades have pleats that fold in a stack-like manner when raised.  Seams and slats are visible on the front in this style. This style works with any fabric in any décor style, though it is especially befitting for plain fabrics because the visible slats render an architectural pattern on these otherwise plain shades.
Flat fold with back slats – These roman shades are similar to flat fold shades with front lsats except for the fact that the seams and slats are sewn into the lining, and hence are not visible at the front. Since the front face of the shade is seamless without any optical breaks from slats, this style is highly recommended for patterned roman shades.
European or relaxed style – Rather laidback with curvy bottoms, these shades fall into a gentle elegant curve at the bottom.
Third, let's know the mounting options for roman shades
Roman shades can be mounted in two ways –
Inside mount roman shades: There are many benefits of the inside mount roman shades. In this mounting position, the hardware and shades are fitted neatly inside the window recess. These give a neat, tailored, and custom look.
Outside mount roman shades: In this mounting position,  the hardware and shades are mounted above the window frame either on the wall or ceiling. These work for shallow windows. Or if you don't have a show-worthy window frame, this mount will help hide it neatly.
Now that we know the key benefits, types, and mount options for roman shades, let us know the considerations to keep in my mind when you choose roman shades for your windows.
What's the décor style
Flat fold shades are best for modern spaces, offices and formal spaces. For casual, semi-formal, traditional, or feminine rooms, the relaxed roman shade style works best.
What's your space's color palette
Just as with custom curtains, your roman shades can complement or contrast with your space's color palette. If your room accessories are bold and bright, you can choose neutral roman shades to create a backdrop that lets the colors pop without becoming loud. On the other hand, if your room is minimalist and neutral, colorful roman shades with bold patterns can create a focal point.
What's the fabric of choice
Roman shades can be created in virtually any fabric – thick to sheer, plain to printed, silk to cotton to polyester to linen. You can choose a fabric as per your budget and liking.  If you want full privacy, go for a thicker fabric. If you want to increase the natural light of your room, go for a sheer or semi-sheer fabric. If you are trying to have a darker room, especially in the case of bedrooms, you can go for blackout roman shades. To get the best of both worlds, you can get lined roman shades that can block light effectively and still show off the pretty fabric at the front.
What's the room size
Roman shades are especially suited to small rooms as these do not 'eat up' space as regular drapes do. If the ceiling is at a low height, we recommend outside mount drapes that visually trick the eye to give an impression of height.
How much light blockage and sound insulation is required
Inside mounted shades have very little space between the window panes and the shade. This is better for blocking outside light and sound. In contrast, outside mounted shades have some space between the pane and the fabric. This allows more penetration of light and sound.
Do your windows have architectural details worth showing off
If your windows have beautiful contours or woodwork, and have enough frame depth, inside mounted roman shades are the best choice. Being fitted inside the window recess, these show off your window's frames and surroundings in full glory.
Does your window open to a great view
If you are lucky to have a great view (ocean, mountain, lake, garden, monument, etc), go for outside mounted roman shades. By mounting them a few inches higher than the frame edge, you can lift these to clear the window completely to showcase the unhindered view outside.
How often are your windows opened and shut
If your window in question is shut and opened frequently, it is best to go for flat fold roman shades. European relaxed style roman shades have to be set in neat pleats every time you lower them.
How much maintenance you can undertake
If you want the ease of maintenance, go for fabrics that can be home laundered and the ones that offer easy-peasy spot cleaning. If you are comfortable with regular drycleaning and expenses, you can even go for silk and brocade.
Comments on this How To Choose The Right Roman Shades For Your Home article are welcome.
Windows & Blinds
Windows Posts
Benefits of wooden natural blinds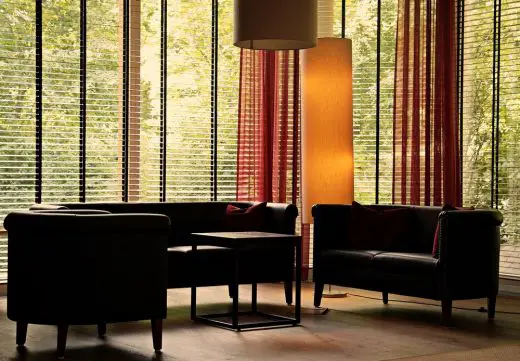 6 of the Hottest Window Blind Trends
How to choose best casement windows for your house
Where should you check out sash windows
Building Posts
Residential Architecture
Comments / photos for the Choose The Right Roman Shades For Your Home page welcome