Window Blind, Insulation, Ventilation, Residential Building Devices, Interior Design Help
Window Blinds – House Insulation
Residential Property Article
2 Dec 2013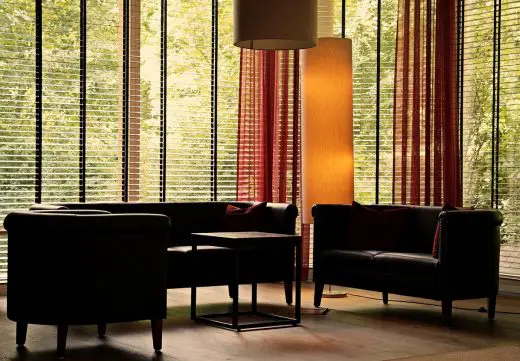 Window Blinds That Help Improve the Insulating Capabilities of Windows
Published on www.e-architect.com
Window Blinds
Although windows do a good job in improving the appearance and ventilation of a house, they also have this notorious reputation of being energy hogs, especially as they age. In fact, studies have shown that old windows account for as much as 50 percent of heat loss in the average home, resulting to higher electricity bills for homeowners.
Of course, no homeowner would want to pay up expensive energy bills each month or suffer the discomfort brought about by old, leaky windows. As such, thanks to blinds.com many choose to change their old windows with new and energy efficient ones to stop heat from escaping through them. While it makes sense to replace olds windows, this project does not come cheap and some homeowners simply cannot afford the costly initial expense.
Luckily, replacement is not the only option to beef up the energy efficiency of your windows. There are also blinds you can use that will deliver almost the same level of result as double glazed windows. Take note, however, that the use of such blinds is a temporary remedy and you will still have to replace your windows later on, especially if they are already in bad shape.
Cellular or honeycomb blinds
Cellular blinds, also referred to as honeycomb blinds, are made of a pleated material and they fold like an accordion to either top or bottom of the window. They provide maximum adjustability for light control, privacy and view. The energy efficiency of cellular blinds can be credited to their honeycomb-shaped pockets that trap air, making a layer of insulation. Basically, the larger the cells the blinds have, the better their thermal performance becomes.
Cellular blinds are typically installed inside the window opening. To get the best results from them, they should have edge tracks with good weather stripping so that air leakage can be further prevented. The edge tracks are magnetic and come in strips and are secured on both the inside edges of the window frame.
Insulated roller blinds
Quilted roller blinds are continuous face-mounted coverings that are either rolled up at the window top or are pulled up so the fabrics are folded at the top of the windows. The blinds are usually made of two layers of outer fabrics (usually nylon) and have a layer of insulating fibre sandwiched between two layers of metallic blanket materials. The insulating fibre provides the outer fabrics extra protection against sunlight damage.
Insulated roller blinds can be attached to window frames with Velcro or fitted plastic channels. Although they are bulky compared to other types of window treatments, they still roll up and down pretty well and they do an excellent job in preventing drafts and minimizing noise, while completely blocking off daylight and offering maximum privacy.
Both cellular and insulated roller blinds come in a wide variety of colours and sizes, so you do not have to sacrifice aesthetics over function and energy efficiency. Although they cost more than ordinary blinds, they are more inexpensive compared to having all your windows replaced. Also, the energy savings they can provide you in the long run will make up for their initial cost.
Window Blinds That Help Improve the Insulating Capabilities of Windows article received 021213
Property Articles
New Houses



photo : Daniel Hopkinson
We have 9 pages of new house selections with links to hundreds of individual project pages. Modern Houses, ie from the 20th century in the International Style, are located on a further page. We also list residences by country – see the links at the base of the page.
New House : Properties grouped by country
New Home : Properties grouped by city
Comments / photos for the Window Blinds That Help Improve the Insulating Capabilities of Windows – Domestic Technology Article page welcome