Mid-Century Designers Eames House USA, Pacific Palisades Los Angeles Home, No. 8
The Mid-Century Designers Eames House
June 16, 2020
Located in the Pacific Palisades, Los Angeles, is a landmark of mid 20th century modern architecture. Known as The Eames House or Case Study House No. 8, the design took place because of an architectural competition started by John Entenza called The Case Study House Programme.
In 1949 husband and wife, design duo Charles & Ray Eames designed and constructed their new home and studio. They lived in this home until their deaths, Charles in 1978 and Ray in 1988.
Eames House, Case Study House No. 8, Charles and Ray Eames, 1949, Chautauqua Boulevard, Pacific Palisades, Los Angeles, taken in 2014: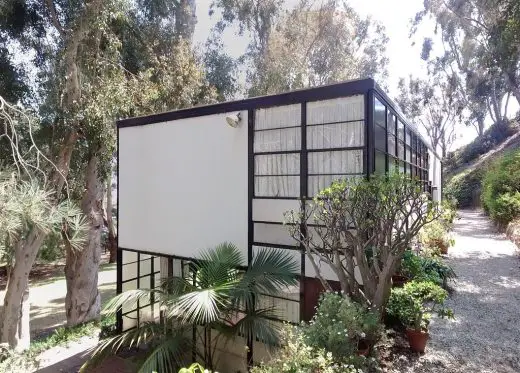 photo : Gunnar Klack, CC BY-SA 4.0 https://creativecommons.org/licenses/by-sa/4.0, via Wikimedia Commons
For anyone who has never heard of Charles and Ray Eames before today, they were famous mid-century designers, most well known for their furniture designs, that are still produced today even as replica designer furniture due to high demand. Although this wasn't the only field they worked in, they successfully experimented in graphic design, art, WWII designs and of course, architecture.
Their work concepts were inspired and driven by the needs of the user, and much like their furniture design, they set out to design their home in the same way, with both their own and guests' needs in mind. Their home echoed the way they lived their lives.
Both Charles and Ray believe in an iterative method when it comes to their work, they would keep redesigning and reimagining a project to accomplish the best outcome. Whether that was designing their iconic Eames Lounge Chair or Eiffel Chair ranges, or diving into the design of their home. Now their designer furniture replicas are sold on websites such as www.pash-classics.com for everyone to be able to enjoy with their affordable reproductions.
The details of the house were the product, they used honest use of materials and straightforward connections. It was designed specifically to meet their needs, however there will be universal needs that all humans will share.
Eames House Interior of Case Study House No. 8, Chautauqua Boulevard, Pacific Palisades, Los Angeles, CA, USA: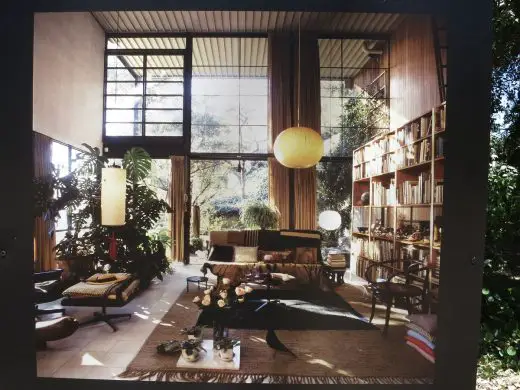 photo : edward stojakovic, CC BY 2.0 https://creativecommons.org/licenses/by/2.0, via Wikimedia Commons
The house was designed to nestle into the hillside instead of being placed on an imposing site, this decision was driven to preserve the nature surrounding them and for the house to serve a re-orientor. The openness of the chosen wood and being able to enjoy all the elements seamlessly. The scent, the sounds of birds, the shadows of trees, the unprecedented seasons all enjoyed from the comfort of their own home. The design would be a different experience if it wasn't for its unique location.
Providing the ability to easily relax was needed in an arising complicated lifestyle. The appreciation of nature is an essential part of life in the Eames House.
Consisting of two glass and rectangular boxes, the Eames House is split into two with one box being for residence and the other for a working studio. Public and private spaces in the home are naturally defined by what is visible from the outside. A parking or utility spot can be found on the side of the Studio. A court can be found between the two structures.
To support the house in the hillside, it is backed by an eight foot tall by 200 foot long concrete retaining wall. The structures are aligned on a central axis. At 17 feet tall, each of the boxes has a mezzanine balcony that overlooks the large central room.
Described as unselfconscious by Charles Eames, the house is now a historic landmark visited by people across the whole world.
Comments on this The Mid-Century Designers Eames House article are welcome.
Los Angeles Architectural Designs
Los Angeles Architectural Designs
Los Angeles Architecture Designs – architectural selection below:
Gardenhouse Building, 8600 Wilshire Boulevard, Wilshire Boulevard, Beverly Hills
Design: MAD Architects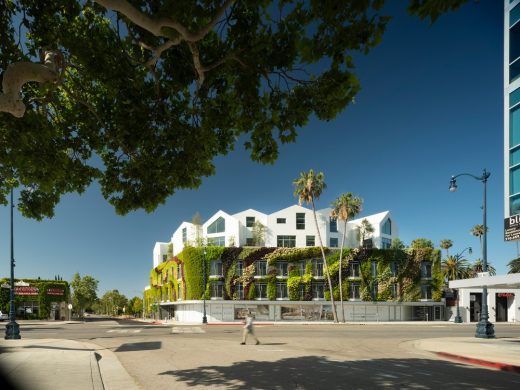 photo : Nic Lehoux
Gardenhouse Beverly Hills
Oak Pass House, Beverly Hills, Los Angeles County, California
Architects: Walker Workshop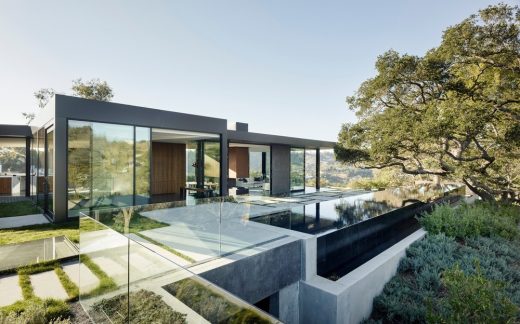 photograph : Joe Fletcher
Oak Pass House in Beverly Hills
Residential Property Articles
Herman Miller Furniture



image copyright Herman Miller
Herman Miller Eames Furniture
Comments / photos for the The Mid-Century Designers Eames House page welcome