Charles and Ray Eames Architect, Californian buildings, United States of America, Los Angeles, Designs
Charles and Ray Eames, Architect, USA
Modern American Architecture Practice
June 16, 2020
Case Study House No. 8
Located in the Pacific Palisades, Los Angeles, is a landmark of mid 20th century modern architecture. Known as The Eames House or Case Study House No. 8, the design took place because of an architectural competition started by John Entenza called The Case Study House Programme:
Case Study House No. 8 by Charles and Ray Eames
14 Sep 2012
Eames Furniture Design – Latest News
Herman Miller Announces Select Edition 2012
Eames LTR, for limited time, in Ray Eames colors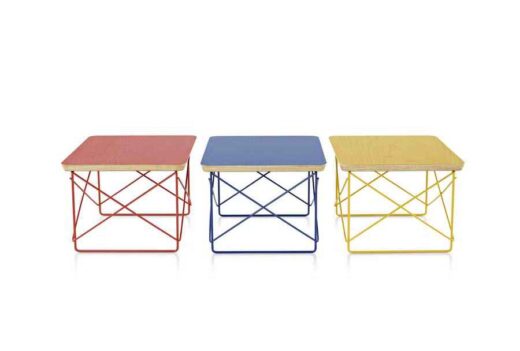 image copyright Herman Miller
Herman Miller Furniture
Starting in October, Herman Miller will offer a special limited run interpretation of its classic Eames Wire Base Low Tables (Eames LTR) in three colors that pay homage to Ray Eames on the 100th anniversary of her birth. Although it is difficult to distinguish the individual contributions of a creative duo such as Charles and Ray Eames, Ray clearly brought a gift for color.
Herman Miller has chosen three bold colors for this years Select Edition program that were Ray's favorites and used on the exterior panels of Case Study House #8, which she and Charles designed. The tables will be sold through the Spring of 2013, and then cease to be produced, giving these tables added appeal to collectors.
Please note these tables will only be available in the US and are not being shipped out to other countries.
13 Dec 2011
Charles and Ray Eames Video
Ice Cube Celebrates The Eames
Introduction to LA followed by look at Case Study House #8
Charles and Ray Eames – Key Projects
Major Building
Eames House aka Case Study House #8
1949)
Key Buildings by Charles and Ray Eames
Chronological order:
Sweetzer House, CA, USA
1930-33
St. Louis Post-Dispatch model home, USA
1933
St. Mary's Church, Helena, Arkansas, USA
1934
St. Mary's Church, Paragould, Arkansas, USA
1935
Dinsmoor House, USA
1936
Dean House, USA
1936
Meyer House, USA
1938
Bridge house aka Eames-Saarinen, USA
1945
Entenza House, USA
1949
Eames House, USA
1949
Max De Pree House, USA
1954
Charles and Ray Eames – Practice
Charles Ormond Eames, Jr (1907-78) and Bernice Alexandra "Ray" (née Kaiser) Eames (1912-88) were American designers. They made major contributions to modern architecture and furniture but also worked in the fields of industrial and graphic design, fine art and film.
Charles Eames
Charles Eames, Jr was born in St. Louis, Missouri. Charles was the nephew of St. Louis architect William S. Eames. By the age of 14 Charles worked at the Laclede Steel Company as a part-time laborer, where he learned about engineering, drawing, and architecture (and also first entertained the idea of one day becoming an architect).
Charles briefly studied architecture at Washington University in St. Louis on an architecture scholarship. He left after two years. He was reportedly dismissed from the university because his views were "too modern", though possibly from poor performance due to working many hours as an architect at the firm of Trueblood and Graf.
While at Washington University, Charles met his first wife, Catherine Woermann, whom he married in 1929. A year later, they had a daughter, Lucia.
In 1930, Charles began his own architectural practice in St. Louis with partner Charles Gray. They were later joined by a third partner, Walter Pauley.
Charles was greatly influenced by the Finnish architect Eliel Saarinen (whose son Eero Saarinen, also an architect, would become a partner and friend). At the Eliel Saarinen's invitation, Charles moved in 1938 with his wife Catherine and daughter Lucia to Michigan, to further study architecture at the Cranbrook Academy of Art, where he would become a teacher and head of the industrial design department. Together with Eero Saarinen he designed prize-winning furniture for New York's Museum of Modern Art "Organic Design in Home Furnishings" competition. Their work displayed the new technique of wood moulding (originally developed by Alvar Aalto), that they would further develop in many moulded plywood products.
In 1941, Charles and Catherine divorced, and he married his Cranbrook colleague Ray Kaiser, who was born in Sacramento, California. He moved with her to Los Angeles, California, where they would work and live for the rest of their lives.
In the late 1940s, as part of the Arts & Architecture magazine's "Case Study" program, Ray and Charles designed and built the groundbreaking Eames House, Case Study House #8, as their home. Located upon a cliff overlooking the Pacific Ocean, and hand-constructed within a matter of days entirely of pre-fabricated steel parts intended for industrial construction, it remains a milestone of modern architecture.
Ray Eames
Ray-Bernice Alexandra Kaiser Eames (1912 -88) was an American artist, designer, and filmmaker who, together with her husband Charles, is responsible for many classic, iconic designs of the 20th century.
Ray was born in Sacramento, California to Alexander and Edna Burr Kaiser. In 1933 she graduated from Bennett Women's College in Millbrook, New York, and moved to New York, where Ray studied abstract expressionist painting with Hans Hofmann. Ray was a founder of the American Abstract Artists group in 1936 and displayed paintings in their first show a year later at Riverside Museum in Manhattan.
In September 1940, Ray began studies at the Cranbrook Academy of Art in Bloomfield Hills, Michigan. Ray met Charles Eames while preparing drawings and models for the Organic Design in Home Furnishings competition and they were married the following year. Settling in Los Angeles, California, Charles and Ray would lead an outstanding career in design and architecture.
In 1943, 1944, and 1947, Ray Eames designed several covers for the landmark magazine, Arts & Architecture.
In the late 1940s, Ray Eames created several textile designs, two of which, Crosspatch and Sea Things, were produced by Schiffer Prints, a company that also produced textiles by Salvador Dalí and Frank Lloyd Wright. Original examples of Ray Eames textiles are held in many art museum collections. The Ray Eames textiles have been re-issued by Maharam as part of their Textiles of the Twentieth Century collection.
Ray Eames died in Los Angeles in 1988, ten years to the day after Charles.
More Charles and Ray Eames information online soon
Location: Los Angeles, southern California, USA
Charles and Ray Eames – Practice Information
Charles and Ray Eames
American architects
Charles Ormond Eames, Jr (1907-78)
Bernice Alexandra "Ray" (née Kaiser) Eames (1912-88)
Practice:
Architect studio was based at 901 Washington Boulevard, Venice, California, USA
The office existed from 1943-88.
Charles and Ray Eames – Key Furniture designs
Moulded-plywood DCW (Dining Chair Wood) + Moulded-plywood DCM (Dining Chair Metal with a plywood seat)
1945
Eames Lounge Chair
1956
Aluminum Group furniture
1958
Eames Chaise
1968
American Architecture



photo : Sara Sackner
20th Century Architects with work related to Charles and Ray Eames
Modern Architecture Links
Modern Architecture



photograph © Adrian Welch
Buildings / photos for the Charles and Ray Eames Architecture page welcome