Sustainable architecture design ideas, Zero-energy buildings, Home sustainability, Green building projects
6 Sustainable Architecture Design Ideas
15 November 2022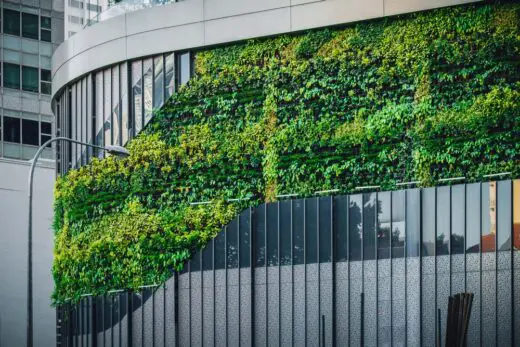 With increased concerns about climate change and environmental degradation, national governments, environmental agencies, contractors, and individuals have embraced the adoption of sustainable architecture globally. The goal of sustainable architecture is to reduce the negative effects on the environment and improve the health and comfort of the occupants of a building.
Sustainable architecture begins with choosing ecological building materials with minimal environmental impact. The design process also embraces green architecture, the use of renewable resources, natural ventilation and light, and recycled materials to achieve a zero-waste system. Below are the six best sustainable architecture designs construction experts should observe:
1. Adopt an Eco-Friendly Interior Design
Sustainability is certainly a sizzling topic when it comes to interior design. Anything green, eco, or environmentally friendly is held in high regard by interior designers. Fortunately, making the planet safer through interior design is simpler than you thought, especially with the guidance of interior design in Greenville SC pros. A sustainable interior design:
Reduces the production of harmful emissions and waste of resources
Improves indoor air and water quality
Enables easy temperature control
Saves on the costs of building maintenance
Increases property value
Promotes productivity of building occupants
Below are a few tips for achieving a sustainable interior design:
Hire a sustainable interior designer – Consulting a professional eco-friendly interior designer is a surefire way of creating a green abode. Sustainable interior designers can help you pick fixtures, appliances, and furniture with low environmental impact.
Source for local and fair-trade products – Mindful decision-making is the backbone of eco-friendly interior design. One such decision is supporting local manufacturers and fair-trade markets. Besides supporting local businesses, it eliminates the need for long-distance transport. Local products are also unique.
Consider retrofitting – Updating or reusing existing structures also helps reduce waste. Retrofitting involves strengthening built-ins and modernizing walls to add space. This saves on home renovation expenses and minimizes waste by avoiding demolishing and rebuilding.
Use low-impact materials – You should also choose sustainable interior design materials as much as possible. Avoid harmful or non-renewable construction products made from plastics, fossil fuels, polyester, Styrofoam, and nylon.
Recycle or reclaim furnishings – Outdated furniture, such as sofas, should be reupholstered and refinished. Thrift shopping and choosing antique or vintage décor also reduces wastage.
2. Install Green Roofs
Installing green roofs is another exciting way of achieving sustainability in architectural design. Green roofs are increasingly becoming popular worldwide, especially in Europe and North America, because of their perceived benefits. Below are the benefits of incorporating green roofs in architectural design:
Aesthetic enhancement – Rooftops covered with green vegetation are aesthetically pleasing. This helps make dense and concrete cities more appealing. It also provides additional clean and attractive spaces for residents.
Better water disposal – Most buildings are designed to shed rainwater through impenetrable roofs that channel water into the ground. While this protects the building and its occupants, it can contribute to flooding, especially during heavy rains. Extensive runoff also washes off bacteria and chemicals from harmful pesticides and animal waste, which filters into local water supplies. Plants in green roofs suck up rainwater, reducing runoff.
Improves air quality – Air quality in commercial and industrial communities is currently a serious concern. With increased pollution in such areas, plants can filter harmful contaminants and gasses, improving air quality. Green roofs also prevent the distribution of dust and particulate matter that can cause respiratory problems.
Improved energy efficiency – Unlike black tar roofs, green roofs absorb heat and provide natural insulation. A study by the National Research Council of Canada found that green roofs reduce energy demands by over 75% during summer.
3. Natural Ventilation
While most historical buildings had natural ventilation, the addition of mechanical systems and partition walls has compromised most of these buildings. However, with increased awareness of the cost of energy and its negative environmental effects, natural ventilation has become a sustainable method of reducing the cost and amount of energy consumption while maintaining a healthy indoor climate.
With proper design, natural ventilation can save 10% to 30% of energy consumption. Natural ventilation uses passive strategies to increase the free flow of outdoor air into the indoor environment for cooling and ventilation without relying on mechanical systems. Like other best practices for sustainable architecture, natural ventilation should be considered right from the start.
Research should be done during the pre construction stage to identify the best building position that allows maximum ventilation. Other design elements should also be incorporated to allow for free airflow. Construction professionals should consider various weather variables, such as humidity and wind, to make the building comfortable and energy efficient.
4. Use Low-Impact Construction Materials
Using eco-friendly building materials helps construction experts eliminate construction-related pollution. Cellulose insulation is a widely used, low-impact building material made from repurposed newspapers, which minimizes landfill pollution. Newspapers and magazines are treated with borate to decrease flammability and pest infestation.
Borate treatment also prevents mold development, protecting the occupants of the building from the harmful effects of mold growth. Construction experts can also use additional recycled building materials to decrease the overall carbon footprint. Besides recycled materials, deconstruction practice is increasingly becoming common. Here, individuals purchase materials for low cost and reuse them in new projects.
5. Use of Natural Lights and LED Systems
The use of natural lights and LED systems also significantly reduces energy use. Like most approaches to sustainable architecture, this practice aligns well with modular building designs, where large windows and frames are installed to allow natural light. Unfortunately, natural light can only be used during the daytime, making it prudent to incorporate LED lights during nighttime. LEDs reduce energy consumption through sustainable sourcing.
6. Keep the Ecosystem Intact
The natural habitat significantly affects general living conditions. Architects and construction professionals shouldn't interfere with the ecosystem unless necessary. Sustainable architects should incorporate various measures that promote an intact ecosystem in their green designs.
For instance, you should build around the ecosystem. The natural habitat should be left as is during construction. Adopting these designs ensures that residents enjoy clean air free from pollutants.
Sustainable Architecture Design Ideas – Endnote
There's a lot that architects can do to promote sustainable architectural design. The whole idea of green building revolves around identifying and implementing innovative ways of building, using renewable resources, and promoting energy efficiency.
Comments on this guide to Sustainable Architecture Design Ideas article are welcome.
Eco Architecture
Contemporary Green Architecture Design
Sustainable Timber Architecture
Sustainable Timber Architecture News
Low Carbon Building Standards Strategy for Scotland : Sullivan Report
Sustainable housing – Donside Urban Village
Buildings / photos for the 6 Sustainable Architecture Design Ideas page welcome