Surprising benefits of composite decking, Home patio space design tips, Garden deck
7 Surprising Benefits Of Composite Decking
7 June 2023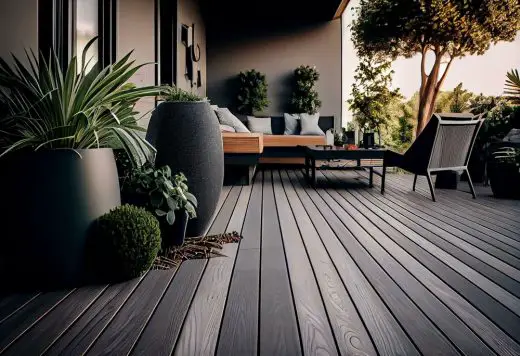 Ever gazed out your back door, daydreaming about a serene oasis where you can kick back, enjoy a cold drink, and soak up some sun? You might be picturing a classic wood deck—but it's time to rethink that vision. Welcome to the exciting realm of advanced decking materials like composite, a revolutionary approach transforming backyard spaces across the United States.
So, what makes this new generation of decking materials so unique? It's a fair question that reveals the hidden beauty and surprising benefits that make composite solutions a favorite among landscaping enthusiasts nationwide. No matter your yard's style, these cutting-edge materials can elevate its look while bringing along some surprising perks.
Without further ado, here are the remarkable advantages of upgrading your deck to composite:
Unmatched Durability
Composite decking, such as TimberTech decking, stands head and shoulders above the rest when it comes to resilience. These materials, a blend of recycled plastics and wood fibers, create a solid and durable surface. No need to worry about common problems that haunt traditional wooden decks, like splinters or warping. The composite's durability makes it an excellent choice for households with children and pets.
Furthermore, composite decking is highly resistant to weather damage. Whether enduring a scorching summer sun or standing strong during a freezing winter, your deck will maintain its integrity. It boasts exceptional resistance to fading, staining, scratching, and mold growth. This resilience means your deck will continue to look and perform beautifully for several decades with only minimal maintenance required.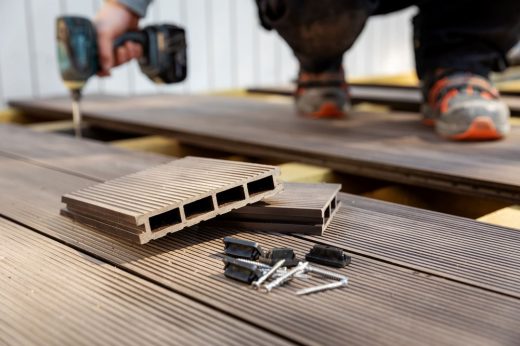 Low Maintenance
What does low maintenance mean when it comes to composite decking? Picture a deck that doesn't require yearly sanding, staining, or sealing. That's the liberation you get when choosing composite solutions. This choice simplifies your home maintenance routine and gifts you more time to savor your outdoor space.
A swift sweep and occasional wash are all it needs to keep your deck looking brand new. Say farewell to the traditional laborious upkeep routine. Instead, you'll spend your cherished moments lounging, dining, or entertaining on your stunning, hassle-free deck.
Eco-Friendly
The eco-friendly credentials of these decking options are impressive. You're investing in your home and fostering a sustainable future by choosing composite materials. As these products typically incorporate recycled materials, you reduce landfill waste from plastic and wood.
Moreover, the lengthy lifespan of these decks decreases the need for replacement, curbing waste even further. So, while basking in the glory of your new deck, you can also be proud of your choice for its contribution to minimizing your environmental footprint.
Variety Of Styles
The variety of styles composite solutions offer sets them apart from traditional options. Bid farewell to the limited palette of colors and textures found in conventional decking. Whether you prefer rich earth tones, cool grays, or the appearance of tropical hardwoods, there's a composite deck to match your taste.
What's more, these materials deliver the beauty of natural wood without the associated drawbacks. Each plank is unique, emulating the natural variation found in real wood. This means you can create a truly distinctive deck, enhancing your home's aesthetic appeal while adding significant value.
Increased Home Value
Upgrading to composite decking doesn't just yield a stunning outdoor space; it's a strategic move that boosts your home's value. The combination of durability, low maintenance, and aesthetic appeal makes these decks a desirable feature for many homebuyers.
As composite decking comes with an extended lifespan, potential buyers will see it as an added value, knowing they won't have to worry about replacing it soon. This feature suggests that investing in such options can offer significant returns if you decide to sell your home.
Cost-Effective In The Long Run
While it's true that these decking solutions demand a larger upfront investment compared to traditional options, it's crucial to view this as a long-term investment. Given their longevity and low maintenance requirements, composite materials often become less costly over time.
Consider this: you won't have to replace worn-out planks or pay for expensive treatments. Your deck will maintain its aesthetic and structural integrity year after year. The cost savings over the long-term, coupled with the added value to your home, make this a wise financial decision.
Comfort And Safety
One often overlooked aspect of these advanced decking options is the added comfort and safety they provide. Unlike traditional wood decking, composite materials don't splinter or crack, creating a safer environment for bare feet, kids, and pets. They often feature a slip-resistant surface, which can be particularly beneficial in wet climates.
Additionally, composite decks remain cool to the touch, even on hot summer days. This distinctive feature allows you to fully enjoy your outdoor space all year round without the discomfort of hot surfaces. It's another way these advanced decking options enhance the overall enjoyment of your outdoor space.
Takeaways
The advantages of composite decking are both surprising and compelling. It offers unparalleled durability, simplicity in maintenance, eco-friendly attributes, a wide variety of styles, and long-term cost-effectiveness.
As you dream about your perfect backyard, keep the exceptional benefits of composite decking in mind. It's more than a simple enhancement for your outdoor living space; it's a smart, stylish, and sustainable choice to transform your yard into the oasis you've always wanted.
Comments on this 7 Surprising Benefits Of Composite Decking article are welcome.
Decking Articles
Decking Posts
Does Composite Decking Add Value To Your Home?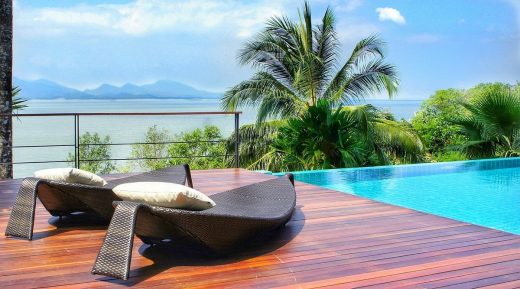 Tips for building a good looking deck
Tips for staining a previously wooden deck
Building Articles
Residential Architecture
Russian Hill, San Francisco, Northern California, USA
Design: Levy Art + Architecture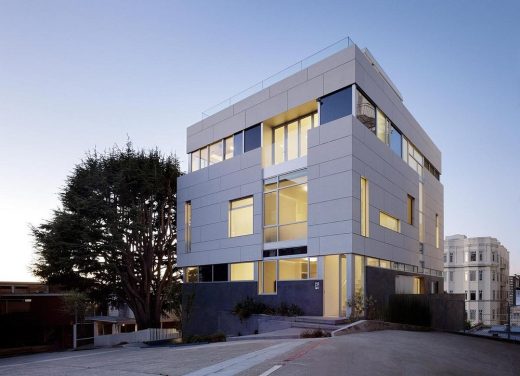 photo : Matthew Millman
Russian Hill Residences
Rhode Island Street, Potrero Hill, SF, California, USA
Design: CMA Development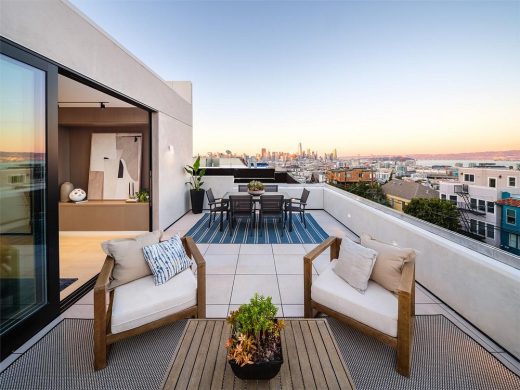 photo : Blake Marvin Photography
Rhode Island Street, Potrero Hill
Comments / photos for the Benefits Of Composite Decking page welcome