Simple Gate Design with Modern Touch Ideas of 2021 guide, Design Tips, Online Advice
Simple Gate Design with Modern Touch Ideas of 2021
20 Apr 2021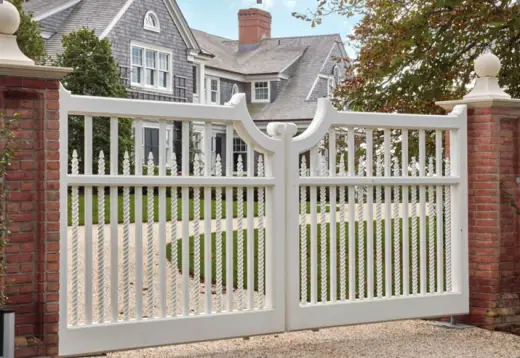 source: thearchdigest.com
Welcome to the 2021 Simple Gate Design
The first thing we consider when entering a home is the gates, and gates enhance the beauty of every home. They also ensure that a home's privacy and protection are maintained. When building a house, certain considerations must be made, and a good front gate is one of them. There are several different types of main gate design – see https://thearchitecturedesigns.com/gate-design-for-small-house/.
that are appropriate for various types of homes. If you're still unsure about what to get for your house, we can help. Annie Maloney can also help you find a home that meets your needs. The following are some of the easiest and most simple gate design for small house. As well as large houses that you can look at and possibly select one for your home:
Small-White Gate
This looks like a fairy – tale gate, and you might have seen something similar in children's imaginary sketches. These types of gates are highly attractive when accompanied by a flower garden. The small gate design aim is to ensure that the house looks great as well as beautiful.
There would be white wooden walls in the surrounding area. And in between, a simple gate with some wooden stripes would be constructed. These elements are combined to form this small gate. You can also add flowers to make it more visually appealing. These types of gates are highly attractive when accompanied by a flower garden.
Basic Iron gate
There isn't anything to say about this gate because it's so popular around the world. People love getting this gate because it appears to be beautiful. It is easily found in the market, and if you live in a small house with a small garden in front, this gate appears to be ideal.
You can see that the gate is made of iron, which guarantees its longevity. On this simple gate design, there is also small iron detailing, which makes it look absolutely stunning. This type of gate comes in a variety of colours, but rustic black or brown seems to work best.
Garden-Gate
This appears to be a garden gate, and if you have a wide garden with lots of flowers and plants, this gate will be the only thing you need in your house. You can place two stone blocks here and set your gate in between them, which should be green in colour to match the garden gate's concept. The gate would be one piece and open on both sides, and it would be small enough that only one person could enter the house or garden at a time.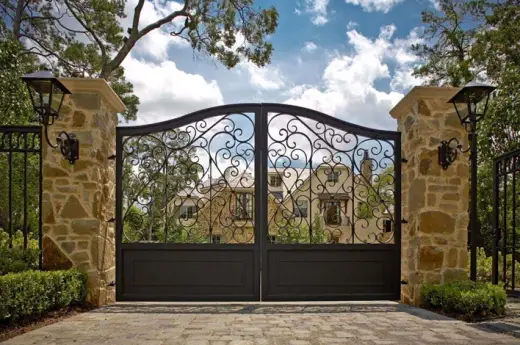 source: thearchitecturedesigns.com
Bungalow Gate
This gate seems to be ideal for bungalows, and it would be perfect if you have four-wheelers in your home because the car could easily enter from the gate. You can see that the gate is large enough, and the simple nature of the gate gives it an elegant and classy appearance. From the edge, the gate appears to be a bit oval, and then there are some wooden logs installed one after another to support this gate.
Private Chamber Gate
The door will protect your privacy, as the title indicates, and no one would be able to sneak into your house. And here, the door appears to be the building's main entrance. The reason for this is the concrete or cement framework that surrounds the entrance. Since the gate is made up of two wooden logs, it only opens in the middle. It also creates the impression of being both classy and elegant.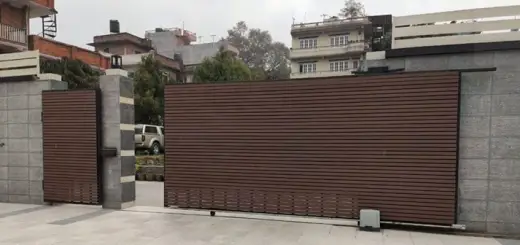 source: quikoitaly.com
Sliding Wooden Gate
This looks to be a Japanese wooden door, which would be perfect if you wanted both protection and privacy. An opaque wooden frame will be present here. The gate will be constructed by stacking huge wooden logs one on edge of the other. You can learn more about simple main gate design and more well designed gates at The Architecture ideas.
Old-Wood Gate
This appears to be a giant antique wooden door made entirely of wood. The wooden door is fully opaque, allowing one to see through it. If you have a farmhouse, this gate will work well for you, and you can leave it as is without painting it.
These were a few of the best as well as beautiful simple gate design 2021 options for your home.which will help you to know which entrance gate your home deserves.
Amo Residences is a new development located right at the main road of Ang Mo Kio Avenue 1 with its main gate facing Ang Mo Kio Hub. The design composes of modern contemporary black and white front that offers a good view of Ang Mo Kio District. Amo Residences is in a mature town in District 20 of Singapore. It is close to local amenities and schools of all stages. It is also near a Thomson East Coast Line MRT station. The development has a total gross floor area of 31,699 sq m. The condo is priced competitively in comparison to other nearby developments. It is expected to reach its T.O.P by 2022.
If you are looking to do some Residential Remodeling in Torrington, CT you can take time out to schedule a free consultation today with a dedicated team member
Comments on this guide to Simple Gate Design with Modern Touch Ideas of 2021 article are welcome.
Gates and Fences
Fencing Posts
Choose best fence for your garden and yard
Top 5 reasons why a fence is good for your home
Building
Residential Architecture Articles
Comments / photos for the Simple Gate Design with Modern Touch Ideas of 2021 advice page welcome