Top 5 Reasons Constructing a Fence Is Good for Your Home Advice, House Boundary Tips, Property Guide
Top 5 Reasons Constructing a Fence Is Good for Your Home
15 Sep 2020
Are you thinking of how to keep your property free of unwanted visitors? Installing a gate or fence could be your rescue. Aside from being an added security to your home, fencing can be a smart way to keep your children and pets from wandering off your property.
You even get to choose between a wooden or metallic fence and you can make your pick from the colors and designs that are already available on the market.
If you are still finding it difficult to make a choice that is because you are yet to see why constructing a fence around your home is a great idea. We have made it easy for you by highlighting some of these benefits that you are already missing out of.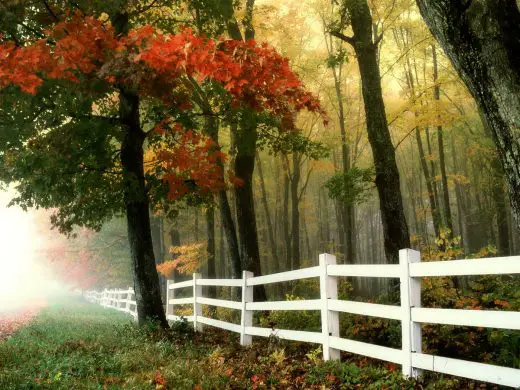 You will find them as you read along:
Set up Your Legal Boundaries
In some neighbourhoods, there has been contention between home owners because the boundary of their homes has not been properly defined. If that sounds like what happens where you live, then you have to get a professional surveyor to survey your property.
Doing a survey will help to clearly define your property lines and you can install a fence through to define the boundaries for good. While doing this, we will advise that you inform your neighbours and be very polite about it. That way, the disputes can be a thing of the past. Maybe you need a NY land surveyor because the laws are so different in NY than anywhere else in the country. They can ensure you follow NY regulations and keep your neighbors happy at the same time.
Your neighbors on the other hand could even be inspired to have their own demarcation done, just by seeing how you have handled yours.
Can Building A Fence Lower Your Home Insurance Premiums?
It will excite you to know that beyond securing your property, building a fence around your home can immediately reduce your insurance premium. Which means that you are already missing out on opportunities to save more, if you do not already have a perimeter fence?
Now that you know better, you can check online to compare home insurance quotes. While scanning, you might be surprised to find other benefits from AA's website, which can lower your premium rate. After all, who doesn't like the idea of being able to save some more, especially on insurance premiums? Everyone does!
Secure Your Pets In
Are you tired of trying to keep your pet from wandering off your property? Here is another reason why a fencing system isn't just a great idea but also a lasting solution.
A good fence around your property will prevent your pets from walking off it without your assistance, it would also mean that animals cannot walk around your home as they would have done on any other day. When shopping for an aluminum fence make sure to gauge your needs i.e. the size of your pets to decide what kind of fence would do the trick but also secure what's inside from getting out. There are many high-quality fences to choose from so your options are many.]
Think also of the fact that your children can play within the confines of the fence and you will never have to worry about their safety. The benefits of a perimeter fence is indeed enormous and worth having.
Enjoy More Privacy
Would you like to sit around in the garden to enjoy the cool breeze with a book in your hand? Having a boundary between you and the world outside is a great way to start.
It doesn't have to end at being a fantasy, because you can make it happen by building a fence around your home. You can also decide to have a time out with your friends and family in the backyard of your home without the prying eyes of the public.
Since that also sounds like a good idea to you then you should consult with a fence expert to advise you on the materials and designs that you will need to make it happen.
Some neighborhoods have association rules that guide the installation of perimeter fences, especially the maximum height of the fence. Find out if such rules apply where you live, so you do not get into trouble.
Consult All County Fence, your expert wooden fence contractor to understand how to extend the durability of your wood fence.
The Value of Your Property Increases
Having a beautiful perimeter fence can make your home attractive to potential buyers, at least that is if you want to sell it off.
Beyond its physical appearance, it could give them a sense of safety while on the property. However, if you are not thinking of selling off anytime soon, you can still have it built around your home as an indication that you plan to stay in the neighborhood for a much longer time.
If you live in a neighborhood where the occupants are concerned about the architecture and outlook of the community, asking for your realtors opinion can help you decide on how to structure the fence in a way that meets the standard of the community and still increase the value of your property.
Now that you already like the idea of a fence around your home, don't delay in building one for yourself.
Comments on this Top 5 Reasons Constructing a Fence Is Good for Your Home advice article are welcome.
Fences
Fencing Posts
Choose best fence for your garden and yard
Unique deer fencing to simplify greenspace challenges
GPS Dog Fence Vs In-ground Dog Fence
Building Articles
Comments / photos for the Top 5 Reasons Constructing a Fence Is Good for Your Home page welcome