Driveway gates buyer's guide advice, Scottish home drive Tips, Scotland property parking area railings
Driveway Gates Buyer's Guide
7 February 2022
The driveway of your home is one of the first things your guests see – and most often what welcomes you home after a long day.
So it goes without saying that a good driveway gate is an absolute necessity.
But what exactly constitutes 'good' when it comes to driveway gates?
This largely depends on the individual needs of each buyer – from budget to style preferences and lifestyle to long-term plans.
We've compiled a list of everything you need to consider when choosing the perfect gate for your driveway.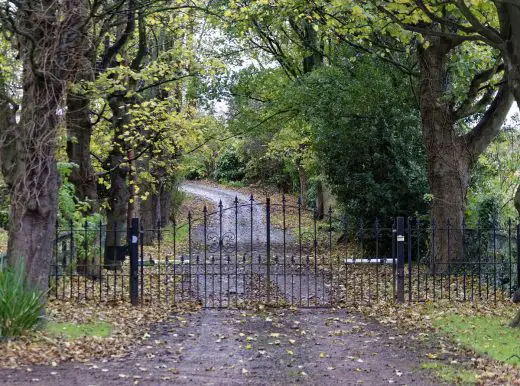 Opening Direction
Driveway gates can open by swinging inwards or outwards or by sliding to the side.
If you don't have a lot of space to work with, a sliding gate is a safe, simple and practical option.
If you have more space either on the inside or outside of your driveway, then a gate that swings open can give the exterior of your home that special touch of sophistication – although if you want to save a lot of time and effort, an automated gate is probably best for this type of gate opening mechanism.
Electric or Manual
Did you know that many gates that open manually are eventually left open throughout the day to avoid the constant effort of opening and closing the driveway gate?
In this way, the opening mechanism you choose for your gate (manual or electric/automated) can heavily impact the security of your home. It also affects where your children and pets can safely play.
A simple remote-controlled gate can simplify your day-to-day activities like this in countless ways.
While your budget and lifestyle are the most important factors when choosing between these two options, electric driveway gates are becoming more and more common. It is especially helpful when letting guests in during bad weather or for emergencies when time-saving is crucial.
Materials
The materials you choose for your driveway gate will affect a lot more than the aesthetics. Maintenance is a factor that can affect the costs of your gates in the long run.
You can choose from hardwearing metals like wrought iron, aluminium or stainless steel depending on your location. If you live on the coast and choose a metal that is not rust-resistant, for example, you may have to fight issues like rust, causing a need to regularly repaint your gates.
Timber driveway gates, on the other hand, can give the exterior of your home a contemporary look, but is best suited for milder climates. There is also the option of using a combination of materials – such as a metal-framed timber gate.
If the thought of constant maintenance and upkeep is too much over and above installing a brand new driveway gate, rest assured that many experienced companies offer maintenance-free metal and composite gates that are galvanised and powder coated to free you from staining, painting and overcoming rust.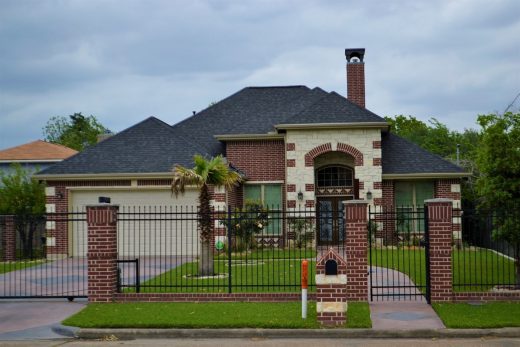 Style & Design
Your driveway gate takes up a large part of the outer aesthetics of your home and there is an abundance of designs to choose from to match the style of your house.
Whether you're looking for modern and sleek aluminium gates that play into an understated look or an embellished wrought iron gate fabricated with intricate patterns, there is something for everyone when it comes to driveway gates.
There are also countless ways to customise your gates to fit your style – and you can have your walk-in entrance gate re-done to complement your new driveway gate, too.
Privacy & Visibility
Another consideration when looking at the design of your new driveway gate is privacy. A gate that has a timber or composite centre means that your home is less visible from the street, while metal railing-style gates give more away.
How this affects you depends on whether you have a front garden that your children play in or your dogs spend the day, or on the type of window treatments used in the front section of your home.
If privacy isn't an issue, wrought-iron gates are a great option that adds a level of elegance to the front of your home. And if privacy is more important according to the design of your house, there are still many ways to achieve the style that classic wrought iron gates bring while still closing your space off from the public eye.
Safety & Security
A good driveway gate adds to the safety and security of your home.
Unlike with the privacy factor, this doesn't rely on whether your gate is solid or see-through. Rather, the sturdiness, strength and height along with security measures such as spikes or electric fencing have the biggest impact on safety.
A driveway gate made from high-quality materials with reliable opening and closing mechanisms is not only a crime deterrent but also gives you and your family peace of mind.
Comments on this Driveway gates buyer's guide advice article are welcome.
Driveways
Driveway Design and Maintenance
Top 5 reasons your driveway has cracks
An option for a beautiful driveway
Building Articles
Residential Architecture
Comments / photos for the Driveway gates buyer's guide – Cambuslang drive railings and ironwork in Strathclyde, central Scotland, UK, page welcome