Trusted New Roof in Raleigh, North Carolina Roofing Replacements Tips, US Home Advice
Raleigh Roofers, North Carolina
August 13, 2020
New Roof in Raleigh, NC
In general, a roof is the first protection of a house. As simple as this explanation is, that is the exact opposite of the components of a roof. Koala Roofing Raleigh says that the roof is not just one simple entity or structure that protects the house from external forces. It comprises a lot of intricate parts that work hand in hand to achieve the primary aim of a roof. These parts of a roof have different functions that they carry out to protect a house.
Not only is a roof used to protect a house, but it is also used to beautify a house. In addition to this, those parts and components of a roof also contribute to the color, style, and shape of a roof. A roof comprises many layers of materials that all work to achieve one common aim of protecting the house.
Downtown Raleigh from Western Boulevard Overpass: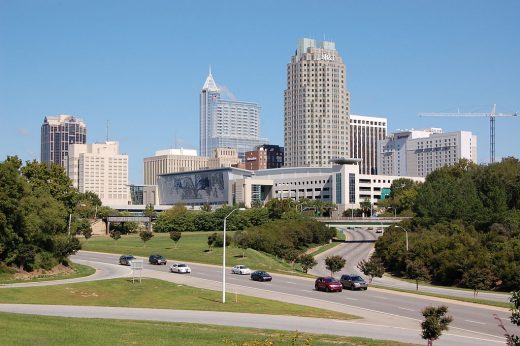 photo courtesy of Mark Turner, Public domain, via Wikimedia Commons
This article will highlight five of the essential parts of a house. We will also explain their different functions. Let's get started.
Five essential parts of a roof and their functions.
Shingles: shingles are the most commonly mentioned roof part. It is the outer cover of a roof. If you look up to your roof, or if you climb up to a roof, the shingles are what you see. They are rectangular and are placed from the bottom or ridge of a roof to its peak. Its primary function is that it prevents moisture from entering the house. While placing shingles, a good roofer interlaces the shingles to avoid the leakage of moisture. Shingles can be made from wood, slate, plastic, asphalt, etc.
Skylight: a skylight is an opening on the roof. This opening is usually a window, and it is placed on the roof. Its primary purpose is to allow sunlight into the house. It is also called roof light or roof window. It was first cited in ancient roman houses and later became famous for its usefulness. It is usually made of glass or any transparent material. The light that moves through it makes the attic of any storeroom directly under the roof to be illuminated. A roof's skylight can also be made from polycarbonate sheets and Fiber Reinforced Polymer (FRP)
Gutters: a gutter, as we all know, is a house's drainage system. Here, we are talking about the gutter for the roof. Yes, a roof needs a gutter. How else is it supposed to drain rainwater and melted snow?

The function of a roof's gutter is that it transports water from the roof to a house's primary drainage system. It protects the roof from holding rainwater or melted snow, which may lead to damage and leakage. It can also be called roof gutter.

Flashings: roof flashings are also used to protect the roof from leakages. However, unlike the shingles that cover every part of a roof, roof flashings are used to prevent water from going into a roof from the edges of roof features. These roof features may include chimney, vents, pipes, etc. roof flashings are used to redirect water from the joints and seams of these roof features.

These roof flashings are built in such a way that it connects to a valley and a gutter. When rainwater or melted snow hits the joints of roof features, the roofing flashings, if installed, direct the water to the valley. From there, the water moves further down the roof until it enters the roof's gutter. Roof flashings can be made from aluminum, lead, galvanized steel, metal, et.c.

Rafter: have you ever witnessed when a roof is being installed? If you have, did you notice those sticks that were placed side by side, those sticks that formed the skeleton of the roof? Well, those sticks are called pairs of rafters or a couple of rafters.

Its singular form is called a rafter. Like, you guessed, those sticks or rafters are the framework or the roof's skeleton. They aid the deck in supporting a roof.  They are built from the ridge of the roof and end outside the wall of a house. They form the structures that give extra roof space out a house's wall.
Finally, having the basic knowledge of the essential parts of a roof will help you when you are dealing with a roofer. I hope this article was of help to you.
Comments on this Raleigh Roofers, North Carolina, USA, home advice article are welcome.
Roofing Articles
Roofing Posts
First Time Replacing Your Roof
6 questions to ask when hiring residential roofing contractor
The Benefits of Liquid Roofing
USA Building Articles
New Roof in Bloomington, Indiana
New Roof in Thompsons Station, TN
Comments / photos for the Raleigh Roofers, North Carolina, United States of America page welcome