Moving to Stamford, Connecticut house relocation, Northeast America home move, CT property
What is It Like to Live in Stamford, CT?
June 22, 2023
Stamford is a city in Connecticut that has a population of 134,820 residents. The city is found in the state of Connecticut. Living in Stamford County is often considered to be among the most desirable places to live in all of Connecticut. The vast majority of individuals who call Stamford their home rent their homes, and the general vibe of the city is one that is a hybrid of urban and suburban settings.
Stamford is home to a plethora of restaurants, coffee shops, and parks, in addition to a large number of bars and nightclubs. Stamford is home to a considerable number of young families in addition to a large number of young professionals, and the population of the city is generally seen as being progressive.
Stamford, Connecticut, USA – USB Building interior: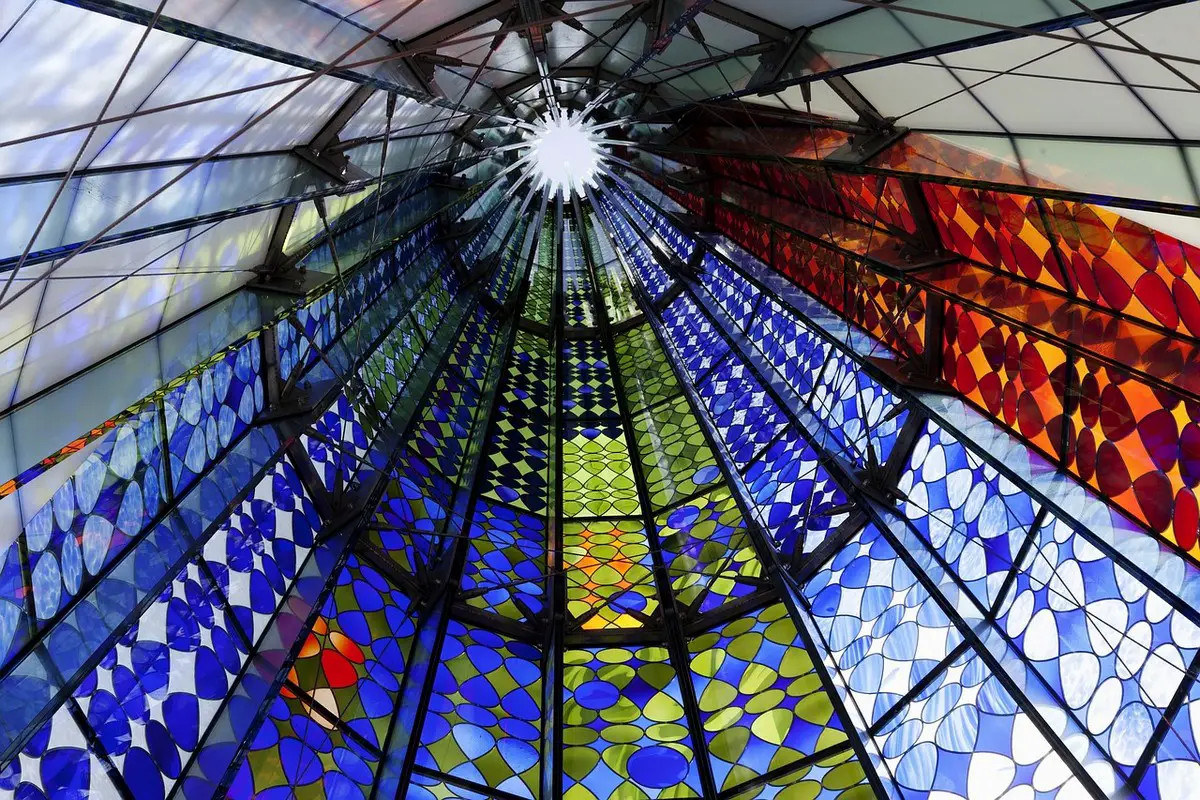 photo source : pixabay.com
The public schools in Stamford offer education of a significantly higher caliber than the average nationwide. Because of its location on the Long Island Sound and its proximity to New York City, the city is a favorite commuter city for individuals who work in the Big Apple (which can be reached in about 45 minutes by car). In the following paragraphs, we'll take a closer look at what it's like to call Stamford, Connecticut, home. Stamford is located in the state of Connecticut.
Housing
Stamford is a city that gives its citizens many different options when it comes to finding a place to live. There is a wide variety of housing options available, ranging from single-family homes and townhouses to opulent apartments and condominiums, as well as everything in between. Although the cost of living in Stamford is higher than the national average, the city also has a higher quality of life overall than the rest of the country. Stamford has an average monthly rent of roughly $2,000 for a studio or one-bedroom apartment, and the city's median price for a home is approximately $550,000.
Transportation
Since most of the people who live in Stamford are commuters, the city places a high value on public transportation that is easy to use. There is a train station in the city that offers direct connections to the city of New York, and the city as a whole is served by an extensive network of public transit.
Furthermore, the city is connected to a number of major highways, one of which is Interstate 95, making it easy to travel to other parts of Connecticut as well as further afield. The fact that Stamford provides its residents with a bike-share program in addition to having an infrastructure that is friendly to cyclists makes it far less difficult to get around the city by bike.
Education
There are both public and private schools with good reputations in the city of Stamford that serve students of all ages. The Stamford Public School District comprises a total of 33 schools, 16 of which are considered elementary schools, 5 of which are considered middle schools, and 3 of which are considered high schools.
The school district is well-known for the exceptional level of education that it provides to its more than 16,000 students, earning it a reputation for excellence in the field. Stamford is also home to a variety of famous private institutions, such as the King School, which is a day school that welcomes pupils of both sexes and serves students between the ages of three and twelve years old.
Entertainment
In the city of Stamford in Connecticut, there is a lively arts and entertainment scene. The city is home to a number of theaters, some of which are the Stamford Center for the Arts, the Palace Theatre, and the Avon Theatre Cinema Center. There are also a number of museums in the city. One of these is the Stamford Museum & Nature Center, which has displays about art, historical artifacts, and natural history.
Other museums in the area include the Stamford Museum of American Art and the Stamford Museum of American History. Because there are so many restaurants, pubs, and businesses in the downtown area of Stamford, it is an excellent place to go for a night out on the town because there is such a diverse selection of establishments to choose from.
Recreation
If you decide living in Stamford, Connecticut, means that you have a lot of options for getting outside and enjoying the fresh air and natural surroundings. One of the parks that can be found in the city is Cummings Park, which is located on the Long Island Sound and offers chances for swimming, boating, and fishing.
Cummings Park is just one of the parks that can be found in the city, which is home to a number of parks in total. Cove Island Park is yet another well-liked park in the neighborhood, and it is notable due to the presence of a beach, playgrounds, and picnic areas there. In addition, the city is home to a variety of golf courses, including the public Sterling Farms Golf Course, which features 18 holes and a driving range. This course is just one of many that can be found in the city.
Culture
Residents of Stamford hail from numerous countries, contributing to the city's rich cultural landscape. Throughout the course of the year, the city hosts a number of cultural events, such as the Stamford Irish Festival, the Stamford Greek Festival, and the Stamford Asian Festival, to recognize and honor the city's rich cultural diversity. Also, the city is home to a thriving music culture, with a variety of venues playing host to live music performances all through the year.
Safety
Living in Stamford, Connecticut, is the correct choice because it is a safe place because Stamford has a low overall crime rate. A busy police force is in place to protect the city, and the Stamford Police Department has won praise for the work it does in community policing. The city also has a fire service that is known for getting to emergencies quickly and doing a good job.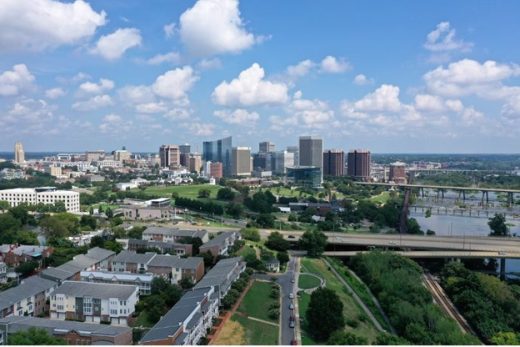 Final Thoughts
In conclusion, living in Stamford, Connecticut, is the best choice because it is an attractive coastal city that has a large number of people from different backgrounds and a high quality of life. The city provides residents with superior housing alternatives, an efficient and convenient public transportation network, and a superior educational system.
In addition, there is an abundance of possibilities for cultural engagement, recreational pursuits, and entertainment in the city. Stamford could be the ideal location for you to call home if you want to be close to New York City but still have access to a high-quality community. If you're searching for information about moving to Stamford or about pros and cons of living in Stamford contact moving companies in Stamford, CT.
Comments on this guide to Moving to Stamford, Connecticut USA article are welcome
Connecticut Buildings
New Canaan Residence
Design: Specht Harpman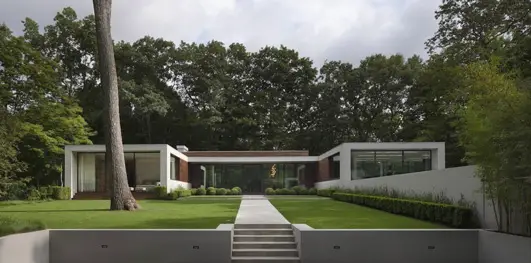 photo : Elizabeth Felicella
New Canaan Residence
Smith House, Darien – Celebrating 50 Years of Completion with New Photos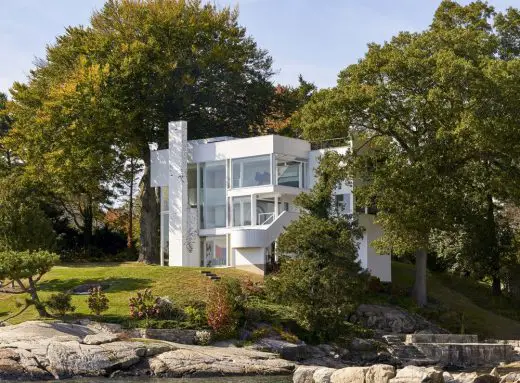 photo © Mike Schwartz
Smith House, Connecticut
Philip Johnson Glass House News, New Canaan
Date built: 1949; Architect: Philip Johnson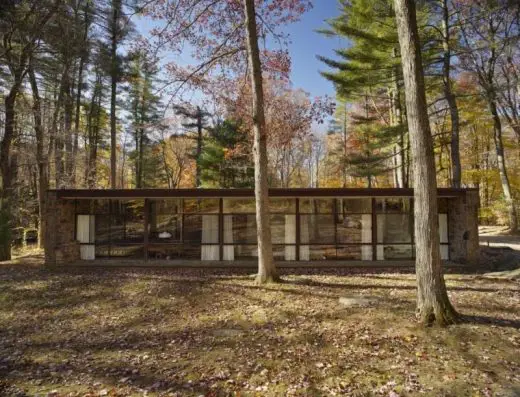 photo : Michael Biondo
Philip Johnson's Glass House
Residential Playhouse, Greenwich
Austin Patterson Disston Architects
New Connecticut House in Greenwich
American Architect Studios
Top counties to buy property in Connecticut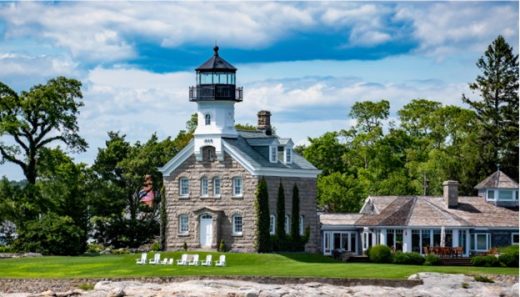 Comments / photos for the Moving to Stamford, Connecticut, USA page welcome.