Monthly Report for January 2019 Brian Carter, Studying Building Types, Architectural Article
Monthly Report for January 2019 by Brian Carter
Architecture Design, Building Type Discussion – article by Brian Carter, Buffalo, NY, USA
Jan 18, 2019
January 2019 Monthly Report by Brian Carter
Buffalo Calling
January – another month – but also a lookout over a new year. And, with 2019 in the United Kingdom introduced as uncharted territory, demands for walls and no government in the new world, transactional relationships everywhere showing scant concern for communities or well-being beyond individual calorie counts, the outlook appears bleak. It recalls the emptiness of Saul Steinberg's memorable sketch that outlined a view of the world from 9th Avenue.
Published on the cover of 'The New Yorker', it projected an eerie desolation that extended to the Pacific Ocean and beyond to three formless lumps forming the horizon labeled Japan, China and Russia.
However sudden discoveries that architecture was very much alive and well were encouraging and, as a consequence, those pessimistic projections for 2019 were radically reframed.
At London's Design Museum lines scribbled on yellow trace and simple card models explored housing and vernacular forms to suddenly highlight the remarkable potential of architecture. An impressive range of ideas devised by the architect Peter Barber, coupled with foresight and funding from local authorities, have created residential spaces designed, built and occupied in the face of an alarming housing crisis in the UK.
With 170.000 homeless people, 8,000 rough sleepers, 20,000 empty houses and 120 families losing their homes every day in London and a government consumed by Brexit, the situation is dire. How encouraging then to discover architects and clients collaborating to design and build innovative new social housing! The work is inspirational – as is the commitment of a national institution to present it and, in doing so, demonstrate that design matters.
Renzo Piano's work also inspires. Light structures, prompted by a love of boats and devised for global patrons, was exhibited alongside drawings at the Royal Academy. And albeit a stark contrast to the weighty masonry of housing designed by Barber, both further underline the potential of contemporary architecture.
Discovery of 'Code Builders and A Robotic Choreography' – an exhibition devised by London-based Mamou-Mani Architects and tucked into the remarkable domestic spaces of Sir John Soane's house –was another surprise. This "part demonstration, part prediction and part manifesto for a circular, shared and digitally crafted architecture" moves along, albeit slowly, while also referencing Soane's own pre-occupation with constructional innovation in ways that will hopefully provoke new research beyond the defines of tradition.
The news that an architect had been confirmed at the top of the 2019 STAGE top ten list was also quite a surprise. Steve Tompkins has been consistently working with colleagues at Haworth Tompkins to create new spaces for performance that also encourage community development in and around Liverpool's Everyman, the National Theatre, Bristol's Old Vic, Battersea, Sloane Square, Shepherds Bush and elsewhere. Here design is being recognise for its capacity to encourage creative talent, establish alternative cultural settings and foster civic pride.
This diverse range of work underlines the significance and design and highlights its potential to change. Hurrah for contemporary architecture – and for 2019!
BC/January19
Brian Carter, a registered architect in the UK, is Professor of Architecture at the University at Buffalo, The State University of New York.



Brian Carter
Architectural Design
American Architecture Links : links
New Palace of Justice in Cordoba design by Mecanoo architecten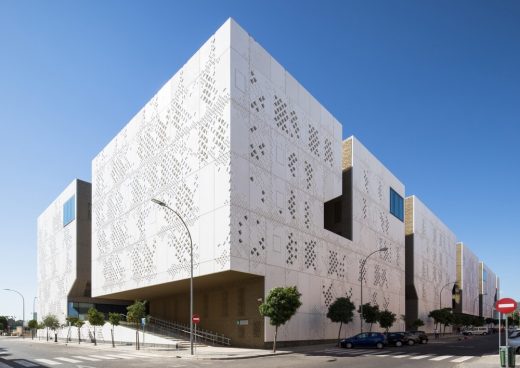 photo © Fernando Alda
Granada Architecture Walking Tours
Articles by Brian Carter
Articles by Brian Carter – Selection
Monumental shifts/New World Orders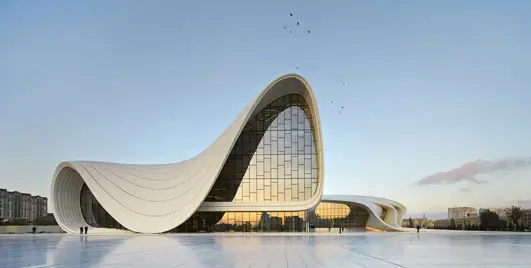 photograph : Hufton + Crow
Old World / New World Architecture
Comments / photos for the Monthly Report for January 2019 by Brian Carter Article page welcome